In 2008, 19-year-old Tighe Bullock's parents offered him a unique bargain.
If he agreed to transfer from the University of Vermont to good ol' West Virginia University, where tuition was far cheaper, they'd pay half his down payment on ... an old building.
The folks forked over $20,000 and Bullock sold his prized pickup for the other half. Yeah, it was a nice truck, Bullock said, to sell for that much in 2008. That $40,000 put a dent in the $155,000 he paid for his first West Side building, the genesis of what is known these days as Elk City. The note is about to be paid off, by the way.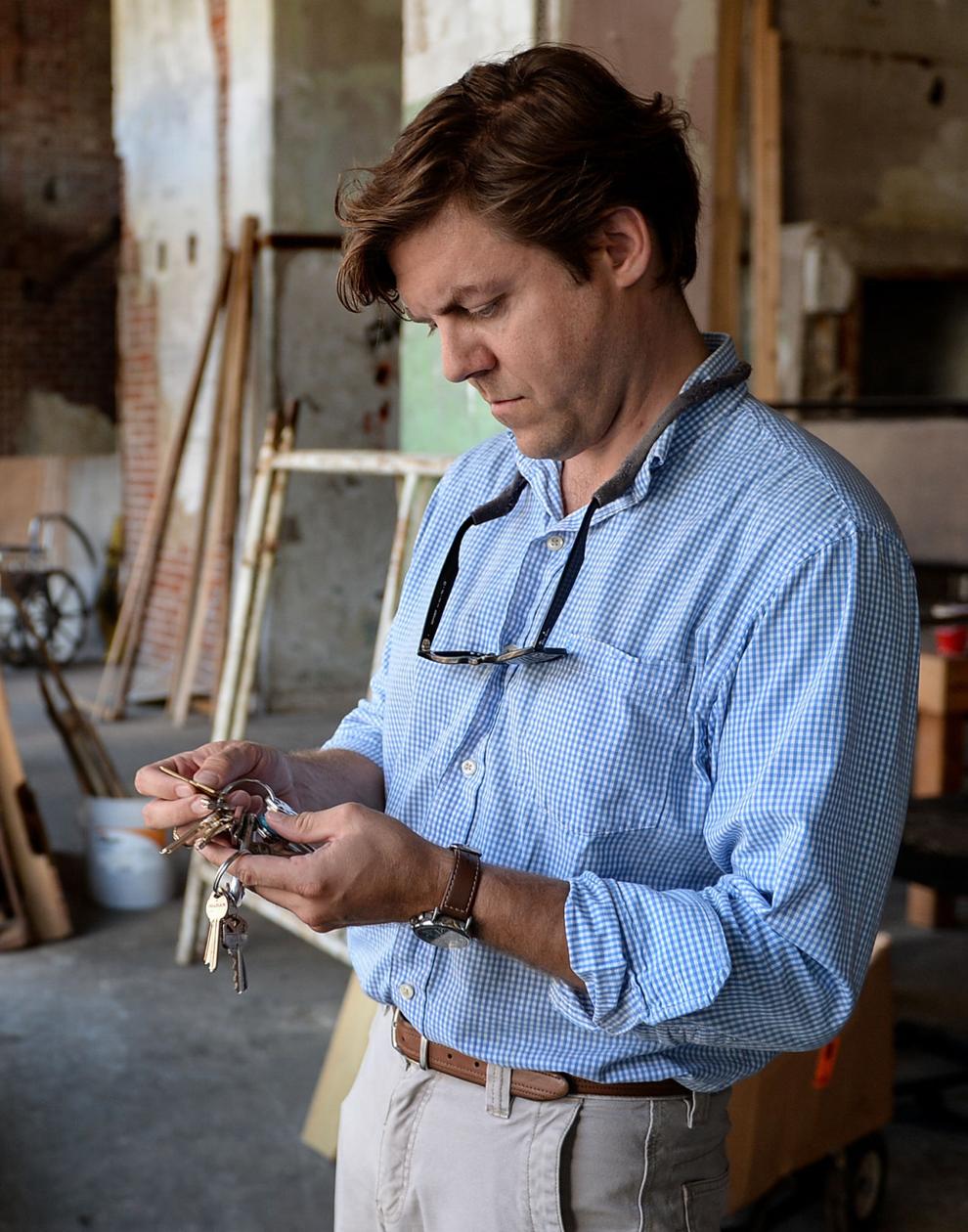 As instrumental as Bullock, now 32, has been in the district's rebirth, his roots aren't in the West Side. The family lived in the New River community of Thurmond before the town dried up and disappeared. They moved to the Edgewood section of Charleston on the West Side to be nearer civilization. His father, John, owns Gaddy Engineering, headquartered in Elk City.
Though he attended George Washington High School in South Hills, the young Bullock perused the West Side. It reminded him of his early days in Thurmond, where he remembered people abandoning ship.
"I thought, 'Is this going to be like Thurmond?' " Bullock asked. "My thought wasn't how we can turn this place into Gatlinburg or whatever, but just what first step can we take?"
Bullock and his father have bought and rehabilitated $1.3 million in structures in Elk City, according to online Kanawha County Assessor tax maps. Bullock Properties is sometimes the purchaser, if the transaction is mainstream and does not require special financing. Crawford Holdings bears the purchase name of Bullock's historic preservation projects, including the long-in-the-works rehab of the old Staats Hospital. Designed by noted architect John Norman, the building's roof had let in a large amount of water when Bullock bought it for $80,000 in 2014.
"I don't think it could have taken any more damage than six months or a year of that kind of water," Bullock said. "The fourth floor had started to collapse."
It's hard to keep up with Bullock, a slim, slight man with boyish handsomeness, a disarming manner and a sea of knowledge. The owner of degrees in accounting, business management and law, he can rattle off details on negotiating the intricacies of historic tax preservation credits, making moonshine and threading pipe, all in one breath.
"I'm not the best attorney or the best accountant," he said, "but I'm a damn good financier and construction guy."
For his historic Elk City reclamations, he buys older buildings, rehabilitates them and offers them to tenants. Or the tenant can choose to do the total ultimate buildout, saving him or her money. "Everything's negotiable," Bullock said.
Since 2018, Bullock Properties or Crawford Holdings has bought 10 Elk City properties, which currently house or will house 12 businesses.
He does it by tapping into grants, historic preservation tax credits and organizations such as the National Community Investment Fund, which agrees to take a second lien position on borderline projects. For instance, the fund might loan the $200,000 down payment on a $1 million redevelopment. The principal lender, however, will see its $800,000 long before the fund sees repayment of its smaller loan.
Bullock is eyeing $8 million in tax credits to finally haul in his Moby Dick, the former Staats Hospital building. Bullock received a $230,000 loan from the Charleston Urban Renewal Authority to rescue it and has come close to seeing it flower.
It is a massive, iconic building and the entry to Elk City from Bigley Avenue. It's easy to picture its marble columns cleaned and glistening, its many windows curtained by condominium owners. Downstairs, Bullock wants to create a 10,000-square-foot open mall, with 20-foot-high ceilings and a rear section that includes a mezzanine. He wants to have condominiums for rent by fall 2022.
The Staats deal has experienced two close losses. An arts organization and a technical school bowed out after initial interest.
His distillery, next door to the hospital building, is another matter. He and a crew already have constructed enough of a still to make a trial batch. With a cool enthusiasm, he offers an off-the-clock reporter a 120-proof taste. It is potent but smooth. The distillery space leaves a visitor agog, with gleaming copper and stainless steel everywhere. As the equipment shone, Bullock lit into a discussion of how whiskey is made, which, before the sip of high-octane juice, had already left the visitor's head spinning.
"We use whatever is at our disposal," he said. "My guys and I know how to get hold of raw materials and can make them into about whatever we want. That was my philosophy to begin with, let's use the assets at hand in this community."
In that vein, he paid $250,000 last year for a sizable chunk of land on nearby Railroad Avenue, across from the railroad tracks. Notable on the property are a large garage that father-and-son are turning into a woodworking and metal fabricating shop for their various ventures. It was there the men cut out the ash wood bar already installed in the 1863 pub, to be managed by Books and Brews owner Pat Pelley.
Bullock said his worth is in the real estate in which he is constantly building equity.
"I'm up to my eyeballs in debt," he said. "I'm the one holding the bag."
Commercial property broker Howard Swint said he admires the Bullocks.
"They've certainly been an innovator in the Class B property market for a number of years," Swint said. "They've demonstrated an ability to save a number of those buildings. They just have to remain economically viable enough for others to do the same."
Bullock is OK by Elk City Records owner Phil Melnick, a tenant.
"They're first-rate. They worked very closely with me to make this a nice presentable place ... All this [Elk City] wouldn't have happened if not for them getting behind it developmentally and financially. All these things had started to happen before I got here or I wouldn't be here."