It's next to the tracks on Railroad Avenue, which runs parallel to the rails from its West Side intersection with Maryland Avenue and Washington Street West to its short end about 100 yards away at Watts Street. Along the way is the rear of Denver's Depot, a venerable West Side watering hole.
But the rest is curious. A small, blockish building forms the rear foundation. The rest is metal slats, painted red, yellow and black; sturdy decking; and startlingly good art renderings from wandering artist Andy King.
King skillfully has presented in spray paint — among other animated figures — Hank Hill from "King of the Hill," Cleveland from "Family Guy" and Chef from "South Park." The slats and wood covered with artwork are a brightly colored surprise in the otherwise drab alley.
Still, it's the guts of Phat Daddy's on Da Tracks that carry the most interest. It began innocently enough, when John Bullock asked Cameron Cordon a question.
"Hey, Cameron. You want this chicken coop?" Bullock said.
"What would I want with a chicken coop?"
"You'll think of something."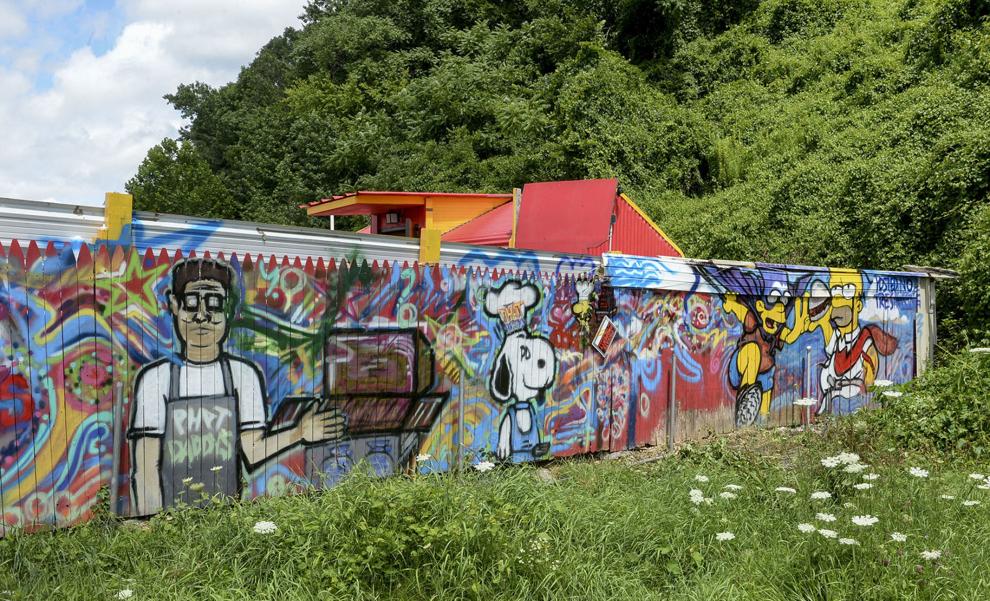 Bullock's son, Tighe, rescued the coop from a West Side Go-Mart, where it wound up after a family traveling from Massachusetts to Oklahoma suffered a blowout on their trailer and promptly ditched it. Knowing the Bullocks are noted scavengers, a friend alerted Tighe to the find and he retrieved the coop. Tighe has bought and rehabilitated Elk City properties since 2008, and his father has taken the lead on other ventures.
Cordon inspected the coop. It was more or less the size of a food booth, or small food truck. A lifelong culinarian, Cordon had wanted to own his business for some time. Suddenly, the coop appeared more valuable. In February 2020, after he lost his job cooking, he enlisted friends to help on the cheap. His dream seems ready to materialize — Phat Daddy's on Da Tracks. He plans on barbecuing brisket, pulled pork and whole chickens. Smoke should billow soon. Cordon said he is shooting for an August opening, although he already does catering.
"I'm 52," Cordon said in a phone interview. "I've been working for other people for so long and I feel this is my opportunity to step up my game. I've invested all my unemployment from last year into this."
John Bullock provided Cordon a piece of land for free, in effect expanding the burgeoning Elk City footprint. The Bullocks are trying to extend quaint-looking Elk City's western and southern reaches. To Cordon, John Bullock's overture is a show of kindness and good faith, despite their differences.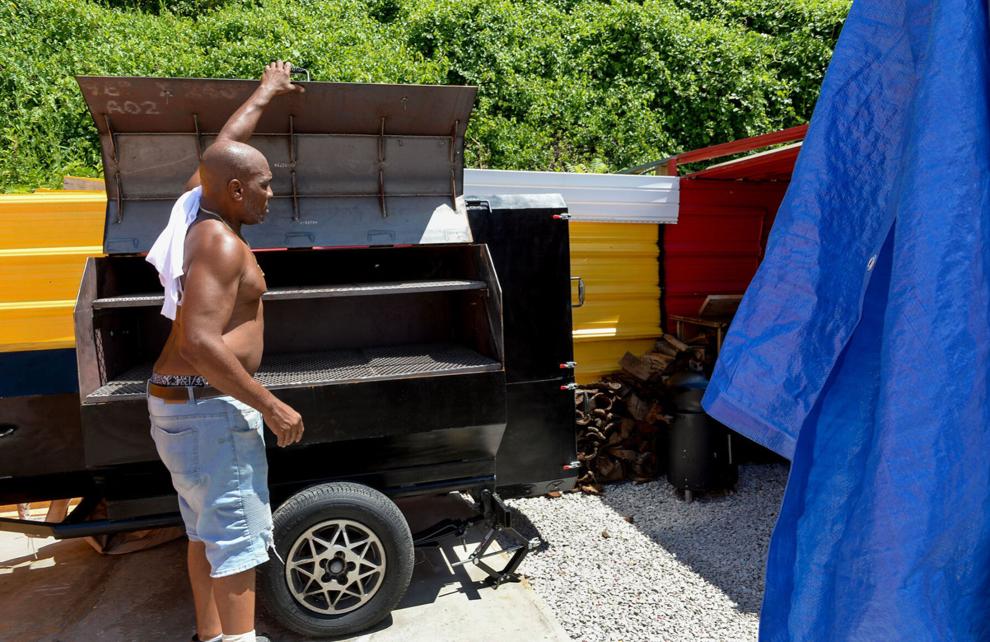 "He's a [former president Donald] Trump supporter, but his political opinions are his own," Cordon said of John Bullock. "That has no effect on how I see him as a person. As far as I'm concerned, they haven't flipped the script on me yet. They've been a help to me through this process."
The Bullocks have attracted criticism for not having enough Black merchant representation in Elk City. John Bullock hired Cordon's nephew to work construction and asked him if he knew anyone who wanted to start up a business. The nephew vouched for his uncle.
"He knows it's the right thing to do,'" Cordon said of Bullock. "He's in a Black community, one that has not been included in business and housing. It's been a struggle for a lot of Black people. We want businesses to thrive, and that's got to include everybody."
Cordon is not actually in Elk City. He is on "the other side of the tracks" and outside the district's boundary. Cordon, though, hastens to point out that John Bullock charged him no rent all of last year and has only recently begun to do so. It is less than $500 a month, he said.
"I don't pay attention to none of that," Cordon said. "I think my food will speak for itself. People will come. We'll put security cameras out there. I'll be doing some smoking, I'll be out there at night. ... I don't worry about what people say. I'm a Black man and this is America.
"I've been told I can't do this and I can't do that all my life. I'm not discouraged by any of that."
Tighe Bullock said Cordon should be ready to open soon. He said he spent part of Monday helping Cordon satisfy fire department regulations.
"Cameron has been great," Tighe Bullock said. "Every time he comes to a problem, he just takes it on the chin and keeps going. I've never heard him complain or act like anybody ever owed him anything. With every situation, it's more like, 'OK, what do we do next?' "
Monday afternoon caught Cordon and friends Billy Dyess, 55; Scott Lanham, 56; and King continuing to work on Phat Daddy's. Dyess and Cordon fretted over the soaring price of wholesale food. Cordon offered that he bought a brisket — the chest of a cow — last year for $60. They are up to $92 now, he said. Dyess said chicken wing prices are out of this world.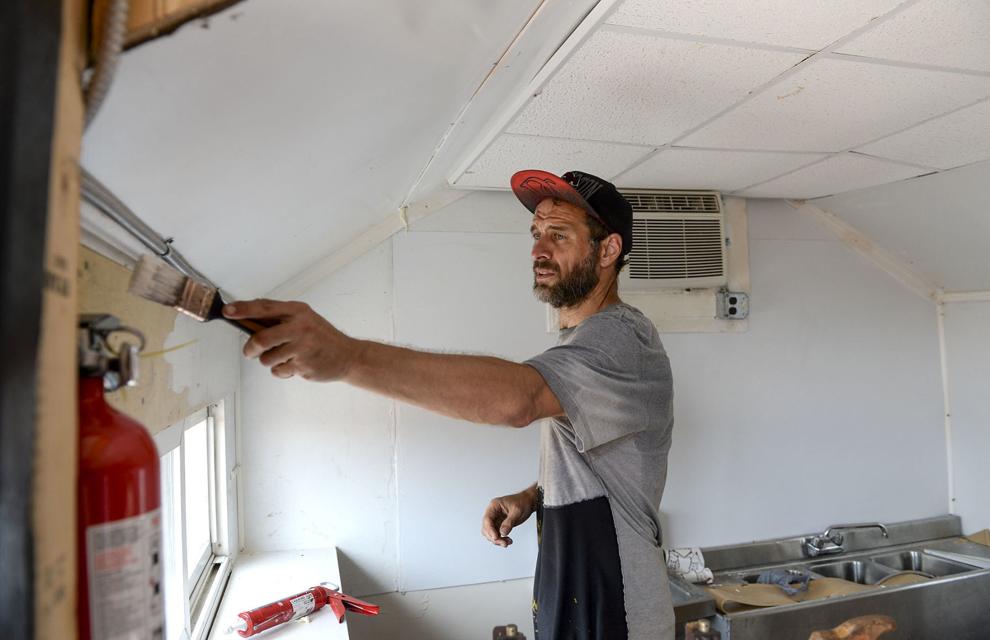 Dyess and Lanham are helping Cordon with electrical, plumbing and carpentry needs. Are they working for free?
"Aw, hell no!" Cordon said, laughing. "But they're doing it for a lot less than someone else would."
Mavery Davis, 37, lives in one of Tighe Bullock's apartments above Kinship Goods and Vandalia Donuts. He and the younger Bullock once were adversaries. At a Charleston Urban Renewal Authority meeting five years ago, Davis, who is Black, took issue with Bullock getting granted taxpayer money to finance residential and commercial ventures that only certain West Side residents could afford.
"I didn't think it was an appropriate investment for people that live on the West Side of Charleston," Davis said. "It's no slight against Tighe. He was doing what he was supposed to be doing as a businessman. I would have appreciated from [the authority] some acknowledgment that rents are not affordable."
Bullock said his rents are about $1-a-square-foot-per-month.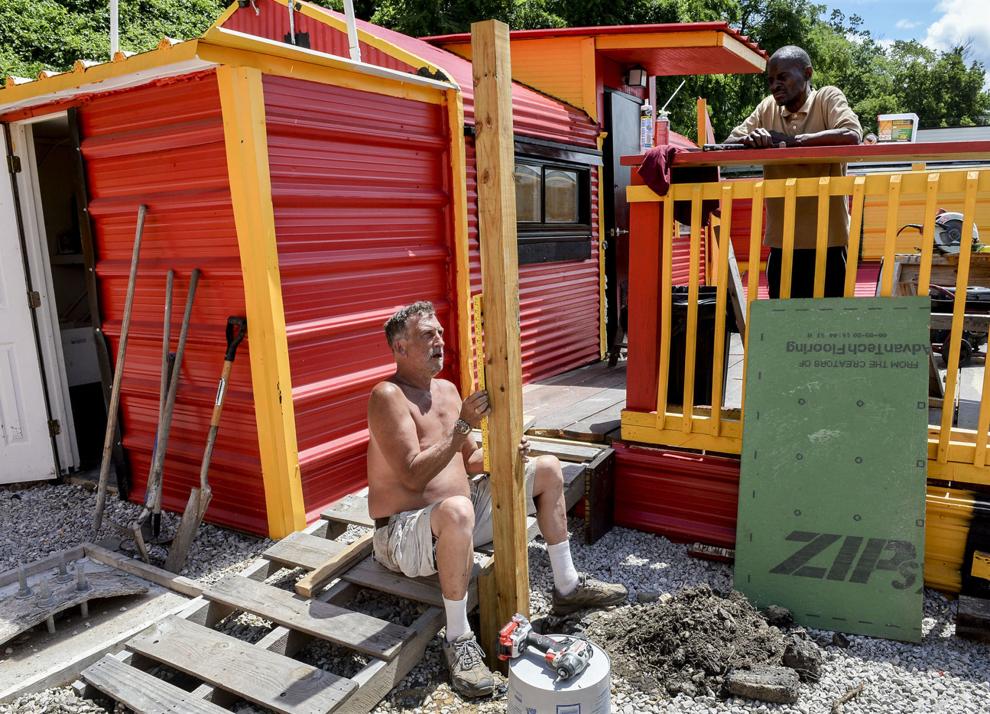 Since then, the two have become friends, and Davis has gotten involved in revitalization efforts himself. Through his position as an officer in the national organization Seed Commons, which possesses a $30 million business capital loan fund, he is trying to obtain a sizable loan for Cordon. Business owners who accept a loan from Seed Commons only pay the debt back once they are turning a profit.
The idea, Davis said, is to develop not merely for profit but to improve the whole West Side, not only Elk City. The Bullocks have become more sensitive to that cause, Davis said, with Phat Daddy's an example.
"The success of Phat Daddy's literally means that the potential future success of other businesses is just right around the corner," Davis said. "We can't fix everything, but we can take a specific situation and do our best to develop Phat Daddy's. Their success will allow us to pivot to help other developments and better include minorities and others on the lower end of the economic spectrum."