Even in the feel-good world of West Virginia's fledgling medical marijuana program, where proponents talk about pain relief and much-needed jobs, there looms one inescapable truth — you gotta have some dough to get in the game.
From simple application fees to fee permits to buildouts of dispensaries and growing-processing facilities, it's not a mom-and-pop operation.
Some CBD shop owners resent the state's Office of Medical Cannabis and the considerable financial demands it has placed on those and their kin yearning to supply medical marijuana and, eventually, they hope, recreational pot.
"I feel the state and the investors they awarded permits to are focused on financial gain and not the medicinal needs of the patients," said Kristal Reeves, owner of The Purple Leaf in South Charleston.
Reeves said large multi-state concerns granted licenses aren't educated in proper cannabinoid levels for patients, but most have been in either the medical or recreational side of weed for some time. State code requires the patient to have a valid medical card and the form of THC directed by the medical practitioner, but THC levels for particular ailments are not addressed.
An applicant for a grower-processor permit must have proof of $2 million in capital, $500,000 of which must be on deposit with one or more financial institutions. An applicant for a dispensary permit must prove at least $150,000 on deposit with one or more financial institutions.
Then there are the initial application fees. A dispensary application fee is $2,500, along with a refundable $10,000 permit fee. The application fee for growers and processors is $5,000, with a refundable $50,000 permit fee.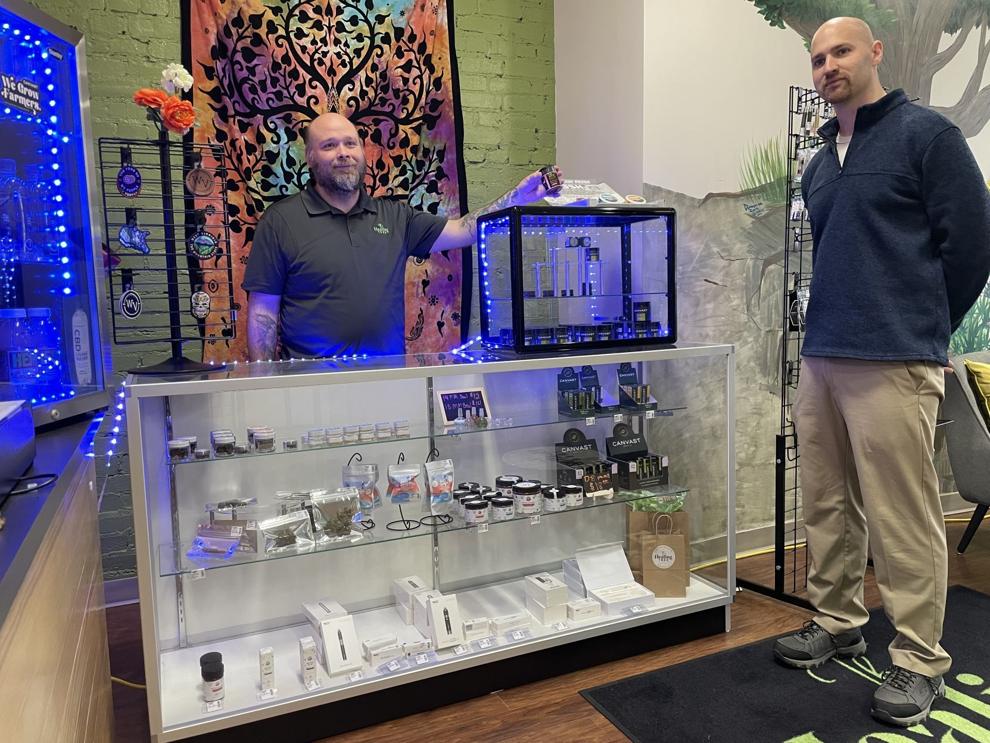 Both The Purple Leaf in South Charleston and The Healing Tree on Charleston's Hale Street sell a full spectrum of CBD products – oil tinctures, gummies, topical creams and smokeable CBD, along with the wildly popular Delta-8, a close molecular cousin to full THC. CBD contains pain-relieving qualities derived from the hemp plant, without the munchy-inducing features of THC.
He sells the same products as Reeves, but The Healing Tree's Joe DeGoff does not harbor the same resentment of the system.
"Yes, we were interested in doing a medical dispensary," DeGoff, 35, said. "The funds required are just more than we could do. We don't have those types of assets. We all have different things we can afford and not afford."
Rumors float that a dispensary is about to open in either Huntington or Morgantown. In an e-mail to the Gazette-Mail, the state Department of Health and Human Resources, speaking for the Office of Medical Cannabis, said none is yet operating, but "that is expected to change soon."
Those interested might say it's about time. Medical cannabis development suggests the pace of jitterbug lessons for stoners. Gov. Jim Justice signed the program into law in April 2017, making the Mountain State the 29th in the country to do so.
In summer 2019, more than two years after the bill's passage, former State Treasurer John Perdue awarded a banking contract to Element Federal Credit Union of Charleston. The issue suddenly became a crisis during that year's prior legislative session, with the implication that all that held the program back was one piece of the puzzle. How to bank the funds is always thorny with cannabis because it is still federally illegal.
Current Treasurer Riley Moore, the grandson of former Gov. Arch Moore, pounded Perdue on the issue, successfully, but August marked two years since resolution of the banking question. And at that, only three of the state's 10 registered growers are growing. Only 4,400 patients have been registered.
Those who attended the most recent Office of Medical Cannabis meeting learned that only about 1,000 plants are in the flowering stage. A cannabis plant yields "buds," or "flower," which is cut from the plant and processed in forms allowable under the state's medical cannabis program. Smokable marijuana is not allowed.
Licenses have been issued to 100 dispensaries, 10 growers and 10 processors. Of the six vertically licensed companies, four are registered with the Secretary of State's Office. Only one, Tariff Labs, has both a West Virginia headquarters and majority ownership. Spencer's Dave Heeter is listed as organizer, with Steve Bowers as manager.
Cumberland, Maryland; Chicago; Houston; and Gibsonia, Pennsylvania, are the listed homes of the other companies' officers. On the surface, it appears the medical cannabis program is going the way of the coal industry's origins — out-of-state interests profiting from the favorable environment, both naturally and politically, of West Virginia.
The Department of Health and Human Resources acknowledges this reality, if not the coal analogy, stating in an email that "a majority of the permit holders are based outside of West Virginia."
Though he hails from Fairmont coal country, DeGoff isn't so sure that a proliferation of outside money should be that unexpected.
"Other states have more experience than we have had," DeGoff said. "If somebody from California wanted to start a coal mine, they might call us. You call up somebody with experience. I'm very, very ill equipped to know how much it would take to run a medical marijuana business. It's not like opening up a store to sell widgets. You've got to track it from seed to sale."
DeGoff also points out none of the expenses is tax deductible, since marijuana is still federally illegal.
An outsider and his manager
Kevin Waugh, 43, of Putnam County, is forgiving of the state's slow progress.
"West Virginia has always been known to take its time on things," Waugh said. "It has been a very long, drawn-out process. I think the state wants to make sure things are done right the first time."
A stocky, round-faced fellow, he sort of resembles a slimmer Chumley from "Pawn Stars." He works for Colby Migicovsky, 30, of Fort Lauderdale, Florida, a tall, handsome guy, rich and personable.
Migicovsky owns a law degree from Arizona State University and works full-time in the cannabis industry. In West Virginia, his firm, Compiler Wellness, LLC, has permits to operate three dispensaries, in Kanawha City, Cross Lanes and Huntington.
The Kanawha City location will be located across MacCorkle Avenue from Drug Emporium. The Cross Lanes shop will be part of the Planet Fitness building and the Huntington location will be near the Marshall University football stadium, Waugh said.
Waugh has worked as a Realtor most of his life and had reached somewhat of a career crossroads when the cannabis opportunity arose. He is already a custodial grandfather. He also struggles with ankylosing spondylitis, a chronic inflammatory disease that affects the spine. He said marijuana helps ease those pains.
A family member has battled drug addition in a scenario readily familiar to West Virginia. An opioid epidemic is strangled by a physician crackdown, only to be replaced by heroin. Waugh said cannabis could be used to treat opioid withdrawal, removing equally deadly heroin.
As for outside money, Waugh said, "One way to look at it is we'll have hundreds of millions of dollars invested in West Virginia for years to come." Otherwise, "it would just be money invested in other states."
Migicovsky is affable and makes no bones about running a multi-state organization. Because his mother knew Waugh, Migicovsky brought in the local boy to run the business
"I've always seen West Virginia as a win," Migicovsky said. "I anticipated it would start out slow and catch fire later. The greater good of the industry will come to light."
He said some states have placed restrictions on the amount of outside ownership a state could have among its permit holders. Montana initially required a permit holder to grant 75% permit ownership to an in-state concern, a rather socialist move in a conservative state. Missouri placed it at 51%, but both states since have rescinded the requirements.
Migicovsky said he got into legal marijuana while doing an internship at a law firm. He asked for a $2-an-hour raise and got turned down. He left for California upon graduation. He helped other companies get licenses.
"I thought, 'Why am I doing this for other people when I should be doing it for myself?' The people I'm working with represent much more than a business. It's a culture. You can help and touch a lot of people. It's not just about the sexiness."
As for weed itself, Migicovsky said, "How many times do people get angry with each other when they're smoking together?"
He said the goal is opposite in West Virginia than in California – to eventually become a vertical provider and create business from a raw environment. As for the THC content to which Reeves refers, he considers anywhere from 10% to 15% the "sweet spot," though a recent Wake Forest University study says 5% is high enough.
Some local CBD operators have forecasted that medical marijuana will be more expensive than what other states charge for legal recreational use, but the website Leafbuyer says the opposite is the case. States generally charge far lower taxes for medical cannabis, because of the permitted medical necessity.
Migicovsky cited other benefits in allowing the marijuana industry into a community. Serious companies don't run "head shops," with tons of paraphernalia and tie-dyed T-shirts, he said, and often sponsor community interests, such as Little League baseball.
Though profits after taxes will go to Migicovsky and other investors, Waugh points out the state will get the tax money — and the jobs. "People interested in jobs are from around here," said Waugh, who will manage the dispensaries.
So far, Compiler Wellness is only licensed to run the three dispensaries — no growing or processing. As for how licenses in all three categories were granted, the DHHR said criteria included "relevant experience and education, organizational structure and permit-specific policies and procedures."
Into the fray steps Heeter, a rumbly-voiced man.
He and Bowers made their start-up money the hard way, with construction projects for the Department of Highways and Army Corps of Engineers. Anyone who travels now from Logan to Man has Heeter and Bowers partially to thank. The harrowing two-lane road, which claimed many lives over the years, is now a much safer, $350 million, four-lane connector.
"We had 15 minutes to close down traffic and put off a shot" to blow up the old road, he recalled of the construction.
There is a simple reason why more in-state residents aren't involved in medical marijuana, he said. They didn't fill out complete applications. He said he had experience in such matters, from bidding for construction jobs. What's more, he enlisted the help of Fire Land Scientific from Ohio.
Tariff Labs has 10 dispensary licenses and licenses to grow and process. He intends to have dispensaries throughout the state and his first plants in the ground by Dec. 1 in a state-of-the-art, indoor facility in Jackson County. That facility is under construction, he said.
"We're going to cover most of the state, from top to bottom," he said. "We had a professional proposal writer before we ever partnered with Fire Land."
He estimates he will have invested about $12 million in application fees, permits and buildouts in dispensaries, growing and processing.
"Right now, we have very little patient count," he said. "For 10 growers to be successful you need about 40,000."
Conditions acceptable for medical marijuana are relatively stringent. Unlike more lenient states that allow conditions such as anxiety, depression and insomnia, West Virginia's program is limited to:
• Position status for human immunodeficiency virus or acquired immune deficiency syndrome
• Amyotrophic lateral sclerosis
• Damage to the nervous tissue of the spinal cord with objective neurological indication of intractable spasticity
• Post-traumatic stress disorder
• Severe chronic or intractable pain
• Terminal illness that is defined as a medical prognosis of life expectancy of approximately one year or less if the illness runs its normal course
Despite the uncertainty, Heeter is willing to take the leap.
"It's a lot of risk," he said. "I'm nervous but excited for the opportunity. And it'll be a good opportunity for West Virginia. New jobs for our community. I've always been an employer."