MORGANTOWN — Greg and Kristy Sypolt don't eat out much.
Chemotherapy destroyed the bottom of Greg's esophagus. Food can get trapped in his throat. When it happens in public, it's not pretty, he said. Drinking water can be difficult.
Greg was diagnosed with breast cancer in 2018, the same year Mylan Pharmaceuticals laid off his wife and 400 of her coworkers. After working almost five years at the generic drug manufacturing plant, Kristy had secured a life-altering career.
"It was a rewarding job," she said. "I spent all my days out of that place trying to get back in."
Her husband's current employer is Viatris, the corporation formed after Mylan and Upjohn, a company under Pfizer, merged in November 2020. One month later, Viatris announced it would be laying off all 1,500 remaining employees as part of its "global restructuring initiative". On Monday, Viatris sent a letter formally notifying United Steelworkers Local 8-957 of its plans to cease operations, with 764 union workers to be laid off July 31.
Greg Sypolt likely will be among those out the door, unless he's one of the nearly 60 employees that will be kept for "limited winddown and closure activities" before the plant permanently shuts down March 31, 2022. Soon to be 56, Sypolt said he is fearful. He wonders what company would invest in a bruised and battered shop-floor worker nearing retirement age.
Carla Shultz, a 13-year plant employee, faces similarly slim prospects. She'll be 61 in August. Both are confident they will never again land a job that offers Mylan's wages, benefits, choice of shift and health insurance. Shultz watches over her mother, Barbara Franks, and her grandchildren in the daytime after her midnight shift. She said she tries to catch a nap before she leaves for work from Blacksville, a 45-minute drive from her mother's home.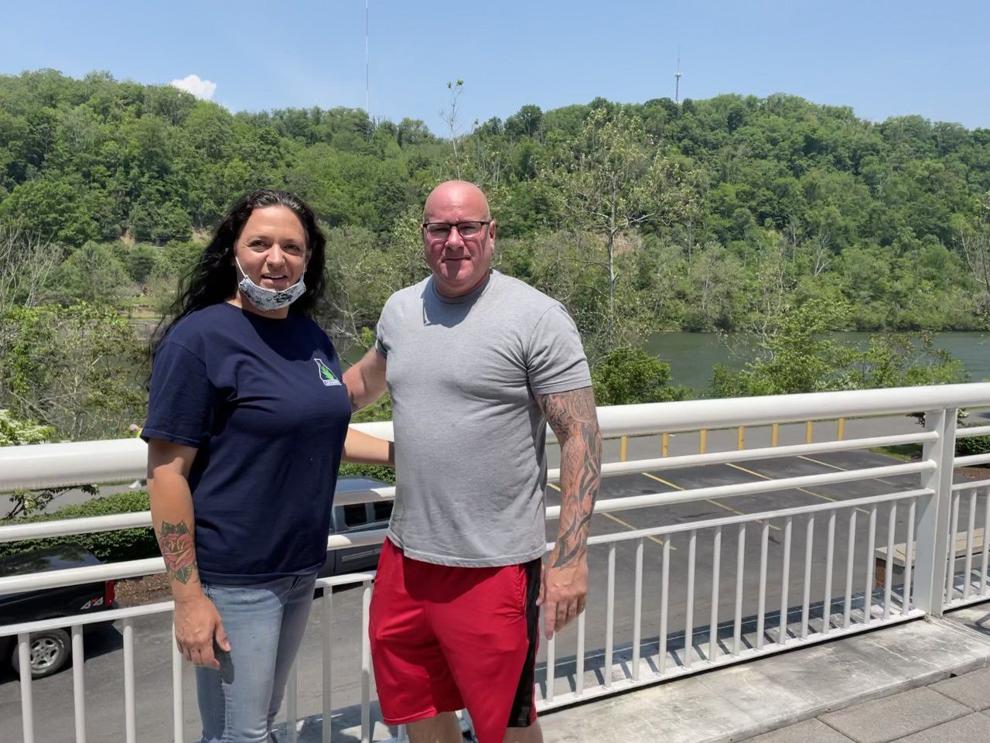 The three spent most of last month quarantined together in Franks' home after they all caught COVID-19. Shultz, who works in packaging, had just thrown out her back. So caring for her mother, who will remain on a 24/7 oxygen supply for months following her infection, was challenging, she said.
Ten years ago, her mother was "totally paralyzed" after being diagnosed with Guillain-Barré syndrome, a rare but serious autoimmune disorder that attacks the body's nervous system — causing paralysis in its worst cases. Shultz said her mother powered through and regained her ability to walk. Three years ago, she beat colon cancer. Today, she lives with pulmonary fibrosis.
Franks survives largely thanks to $7,000 monthly payments for chemotherapy pills she still must take and through $600 payments for insulin, Shultz said. Those haven't been a problem until recently. Mylan's health insurance kept the family covered. Now she relies on medicine payment programs through hospitals and drug companies.
Across the Monongahela River in East Fairmont, Theresa Godfrey wonders where she's going to come up with money for her insulin. The 17-year packaging employee recently obtained an advanced insulin pump and glucose monitor that work in sync to raise and lower her blood sugar levels when needed. Godfrey has brittle diabetes, a severe form of the disease that causes unpredictable swings in glucose levels. The automatic monitoring system is vital.
This monitor itself cost $16,000, Godfrey said, and she must keep three months', or $2,700, worth of insulin at the ready. Insurance has covered that. It won't for long.
"There's no way in heck I'm gonna be able to afford that on my own," she said. "The insurance is my lifeline. I don't know what I'm going to do without it."
Godfrey's husband, Eric, also will be laid off from the plant. Both will lose their health insurance. Their first casualty likely will be Godfrey's 2019 white Ford Ranger, she said. Then, they'll figure out whether they can afford a home together. They married in November.
Greg and Kristy Sypolt were just beginning to recover financially when the layoff announcement was issued. After Mylan, Kristy found a job as a pharmacy field service worker — albeit requiring her to travel for long periods at a time. The two bought a house in March 2019 and a new truck in November. Mylan produced and paid for the dementia medication used by Greg's mother.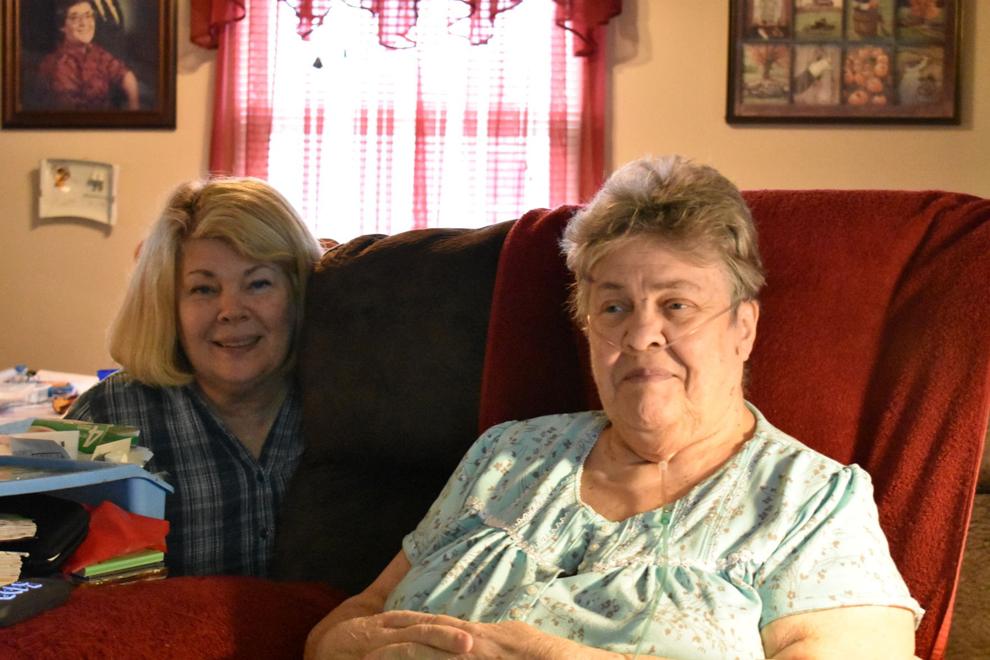 Now staring down $280,000 in debt and facing a mountain of uncertainty, the clouds surrounding Mylan's closure are casting even darker shadows over families like the Sypolts.
"I don't even know if I can afford all this. The fear of losing your home and losing everything that you worked for," Greg said "It's really depressing."
Doing it right
Mylan's Morgantown plant did not make EpiPens.
That didn't stop people from accosting its employees in public. Outside the facility's black metal fences, workers hid their pride for the beloved company name. A scandal so seemingly evil — to swell profits, a corporation skyrocketing the price of a life-saving drug often used by children — it invoked international outrage. People assigned blame, much of it going to shop-floor workers.
"We were actually afraid to wear our logos out in public because of threats," Shultz said. "We went from being very, very proud to, 'Oh, we don't work at Mylan.'"
Longtime employees said the plant Milan Puskar built, or at least the environment he fostered, ceased to exist over time.
In 1961, Puskar and an Army veteran he met through service in Japan co-founded Mylan Pharmaceuticals in an abandoned skating rink in White Sulphur Springs. Four years later, the eventual flagship 22-acre Morgantown facility on Chestnut Ridge Road opened its doors. The plant grew into one of the largest generic drug makers in the world.
Puskar had a way of doing things. Quality was the first and only answer. Every detail mattered.
"Do it right, or don't do it at all," was the saying he championed.
But union workers say a series of missteps and quality-cutting practices brought about Mylan's fall.
The Pittsburgh Post-Gazette reported in 2007 that Heather Bresch, recently promoted as the drug giant's chief operating officer, did not complete all of her college courses and was improperly awarded a master's degree in business from West Virginia University. WVU President Mike Garrison, a former Mylan lobbyist and high school classmate of Bresch's, resigned amid the controversy. Bresch is the daughter of Sen. Joe Manchin, D-W.Va., who was governor at the time.
Losing market share to up-and-coming Indian generic drug companies, CEO Robert Coury positioned Mylan to become the first United States company to buy a publicly traded Indian company. The deal closed in 2007, and it gave Mylan a global platform. The deal also brought aboard top executive Rajiv Malik, who worked previously at Ranbaxy, a pioneering Indian drug maker. He brought his team to Morgantown.
Longtime union employees pointed to the decade that followed the deal and Malik's arrival as the period of terminal change. Stitched name tags came off the uniforms. Corporate micromanagement became progressively burdensome. Employee morale tanked.
Most atrocious, they said, was the shift in workers' expected performance. Rising healthcare and brand-name medicine costs exploded the world's generic drug market. Foreign manufacturers took up significant real estate in Mylan's business. Speed and cost rose in importance.
That didn't sit right in Morgantown — not on Puskar's shop floor, employees said. So, the toxic relationship persisted.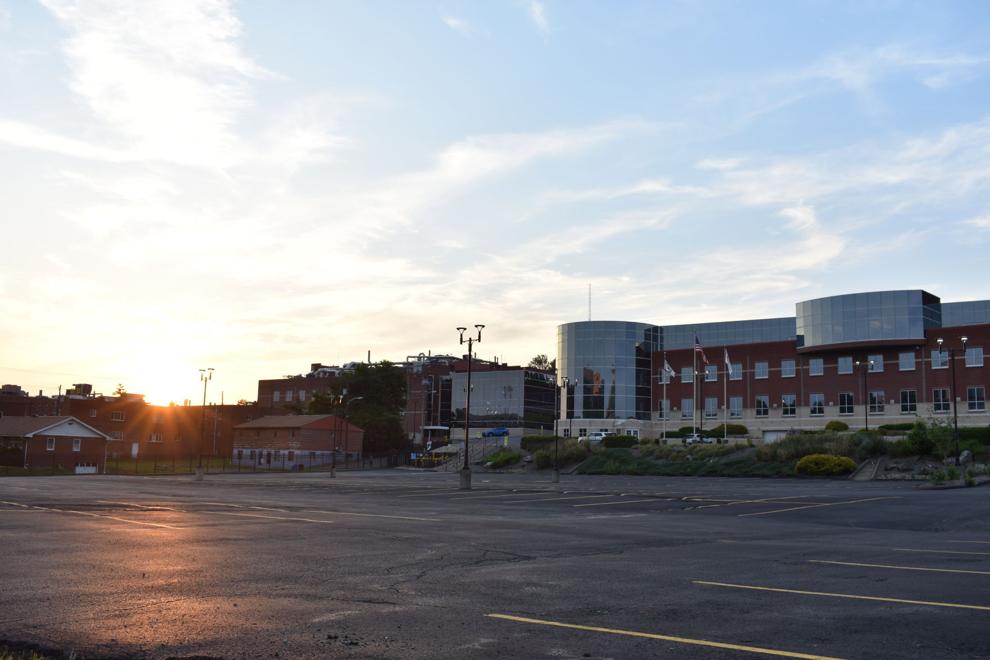 Then came the scandal over EpiPen, the brand name for an automatic device used inject epinephrine, a drug used to combat a severe allergic reaction, known as anaphylaxis. Its effects can be life-saving.
In August 2016, Mylan executives hiked the price for a pack of two EpiPens from $100 to $600. Congressional hearings followed. Public relations became a nightmare. The public was quick to point out executives' salaries: Bresch and Malik each were making more than $25 million a year by 2014.
Executives at Mylan anonymously told a New York Times columnist in 2017 that in response to public outcry over the EpiPen price hike, Coury "raised both his middle fingers and explained, using colorful language, that anyone criticizing Mylan, including its employees, ought to go copulate with themselves. Critics in Congress and on Wall Street, he said, should do the same. And regulators at the Food and Drug Administration? They, too, deserved a round of anatomically challenging self-fulfillment." Mylan denied this occurred.
Two months later, Mylan agreed to pay $465 million to the federal government after settling a lawsuit in which the company knowingly misclassified EpiPen as a generic drug to avoid paying rebates owed primarily to Medicaid.
The Food and Drug Administration also started investigating Mylan's facilities worldwide over claims of cooked data. Malik and his team built the company's Indian operations into a profits powerhouse, a whistleblower claimed, and their practices had corrupted the Morgantown facility. The agency put Mylan on notice with a 32-page warning letter.
Malik now serves as Viatris' president and Coury, its executive chairman. Bresch retired last year with a projected $37.6 million payout from the merger. As part of the global restructuring, the company expects $1 billion less in costs by the end of 2024 or sooner.
Workers were cut down in the corporate crossfire. Those who remained at Mylan after each layoff didn't claim their workplace in public. Benefits, insurance and wage negotiations changed for the hastier, they said. Gone were the days of Puskar and the personal relationships he developed with employees.
The Morgantown plant has churned out 16 billion to 20 billion oral solid dosages a year for the nearly last decade. Workers did not make EpiPens, and years of correcting confrontations from friends and strangers hasn't changed the public narrative.
While Viatris is the name of the plant on Chestnut Ridge Road, the Mylan sign still sits out front.
Radio silence
In a large conference room in the Morgantown Marriott at Waterfront Place, plant workers in the United Steelworkers Local 8-957 gathered Tuesday for regular union meetings.
Officials from the Pittsburgh international office joined the local union heads at the speakers' tables up front. These were the first face-to-face meetings since the closure announcement. The sessions were members-only — 150 to 200 people at each — closed to public and the media, save for one Gazette-Mail reporter.
The main topic remained ongoing severance negotiations between the union and Viatris. Their current contract stretches from March 2017 to March 2023. The union has called for wages and insurance to be fully paid until then.
Viatirs' counteroffer was to pay wages and insurance for every week the employee had worked at the plant — meaning only people who had worked at the plant for 87 years could receive their full contractual benefits. The union called the offer "totally offensive."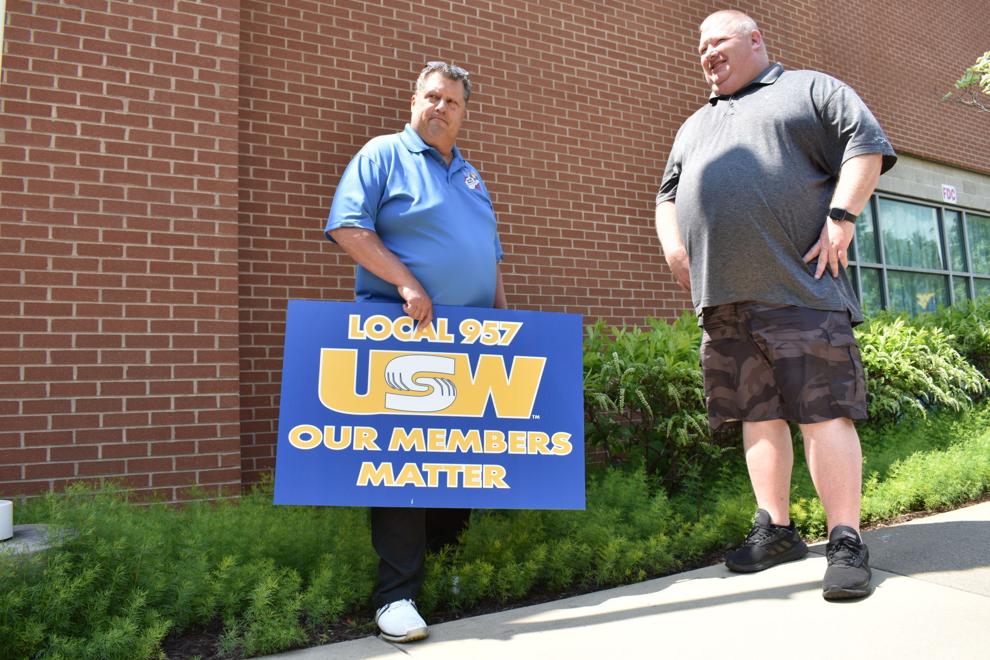 In an emailed statement, Viatiris said negotiations remain active. Severance packages for the hundreds of non-union employees have been made available. Details were not disclosed. The decision to close the Morganton facility "was a decision Viatris did not take lightly," the email read. "We remain dedicated to treating those impacted fairly and with respect as we continue to work through this process."
The union meetings were emotional. How will our severance affect our unemployment? What about the few of us still working past July 31? Why are top executives still making millions of dollars? Where are our politicians? Is there anything we can do to help?
Union heads emphasized patience. It was the last thing members wanted to hear.
While patience is what he's preaching to his members, Local 8-957 President Joe Gouzd said he wants the opposite from lawmakers. Here are nearly 1,500 well-paid workers, primarily living in north central West Virginia communities — many with deep family roots — being shoved aside in broad daylight. So where's the outrage?
"The bottom line is it's a lack of responsibility to the integrity of the people in the state of West Virginia and our workers affected in other states," Gouzd said. "Really, it's a lack of respect for humanity."
Members settled on a few names to blame.
They harshly criticized Gov. Jim Justice, Manchin and Sen. Shelley Moore Capito, R-W.Va., for what they described as total silence on the closure. Workers are left talking into the void. It's exactly what the corporate executives want, they said.
Justice did not respond to a request for comment. The governor's office did not answer emailed questions about whether Justice had formed a task force, which state lawmakers passed resolutions calling on him to do, or whether he's contacted potential operators to keep the plant open.
Manchin said in a statement he is committed to keeping the workers in place.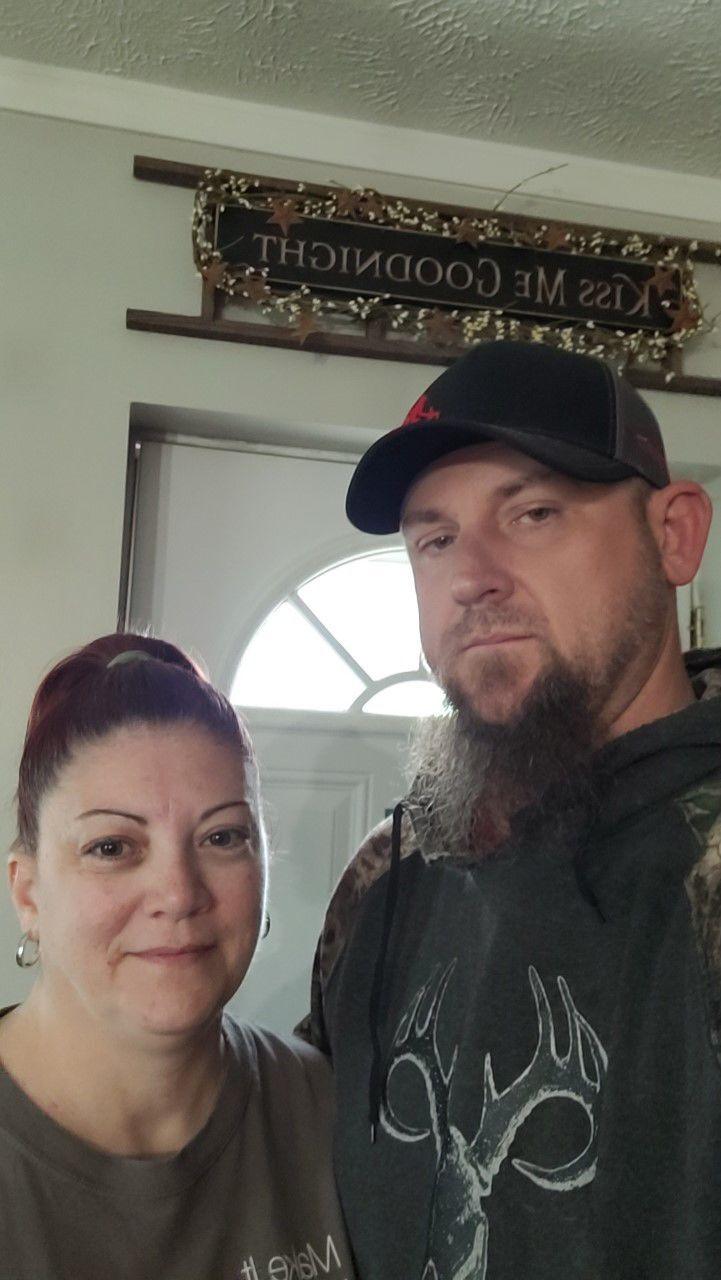 "This plant is a world-class facility and one of the largest oral solid dose manufacturing facilities in the world," he said. "I continue to engage in conversations with Viatris, the county, the Morgantown Area Partnership and the state to find a solution that protects every single job."
A Capito staffer cited meetings between the senator, Monongalia County and union leaders and people in the community about the closure.
The union has called on President Joe Biden to intervene. He campaigned on saving union jobs and keeping manufacturing jobs in the United States. So far, neither Biden nor anyone else has stepped forward with a plan to save the plant.
If a company is going to swoop in, buy the facility, employ its high-wage union workers and save the day, Gouzd said, he has heard nothing about it. His theory is politicians at the city, county, state and federal level don't want to attach their names to a dying plant and ensuing worker exodus.
Gouzd singled out Delegate Danielle Walker, D-Monogalia, as a sole fighter in public for the workers. While lawmakers talk with the union privately, Gouzd said, Walker has been the only elected official who showed up to the union hall early this year and took members' concerns public.
Another day in America
The order struck the plant like a bolt of lightning.
In the first weeks of the pandemic, small-scale French and Chinese clinical studies showed positive anecdotal evidence that hydroxychloroquine, an anti-malaria drug, could provide therapy for patients with severe COVID-19 infections. President Donald Trump called for mass production of the drug.
Mylan employees answered that call. The company announced it would ramp up production of hydroxychloroquine to meet global demand. Mylan also donated an additional 10 million tablets "ahead of schedule" to the U.S. Department of Health and Human Services to bolster its emergency use program. Mylan was the only drugmaker supplying 200-milligram doses of hydroxychloroquine for the World Health Organization's clinical trials.
Advanced trials proved the drug to be largely inefficient at preventing fatal cases of the virus, but regardless, Mylan employees stood proud. A deadly virus shut down the world. The most powerful office on the planet asked Americans to step up, and Trump found the ones willing to do so.
Mylan's shop-floor workers blasted past expectations, and for the first time in a long time, they said, the floor felt like Puskar's again. Machines were humming. Morale rose as employees said they again felt purpose in their work.
So the closure announcement hit like a metal pipe to the teeth.
"We were busting our butts to get that hydroxychloroquine out and feeling like we were able to help society so much," Shultz said. "We thought we were headed in the right direction."
At the Waterfront meetings, the overarching truth couldn't be ignored. Longtime members couldn't believe their plant was next. They'd seen for decades corporate greed shutter manufacturing facilities and scatter their well-paid union brothers and sisters across the country.
Shultz said she'll soon join her husband in forced early retirement. He was part of layoffs a decade ago at the Federal No. 2 coal mine in Fairview. She said he easily had another decade left in him.
She wondered why America continues to sacrifice its people for cheap foreign labor. Workers proved they could step up and provide for the country when called upon. Why would no one return the favor?
"This country has to be self-sufficient," she said. "It's not going to go that way if our jobs are going overseas."
"It's a bunch of bull----," Franks said.
Union Vice President Bill Hawkins is headed out of West Virginia. Far from retirement and with children enrolled in local schools, Hawkins said his family is headed for Florida after he's laid off. He's seen this one before.
Well-paying union jobs evaporated near his hometown of Paris, Pennsylvania, just east of Weirton, after the steel mill closed. Its workers were driven outward. Those who stayed worked low-paying gigs in retail. Hawkins, like many West Virginians in the next decade who will contribute to thelargest state population decline in the country, said there's not much left for his family here in these mountains.
John Deskins, director of the Bureau of Business and Economic research at WVU, said it could take two to three years to regain the 1,500 jobs — 1% of the workforce in Monongalia, Marion, Preston and Hairrson counties combined — brought by the closure. With the high wages these workers earn, the region's economy and small businesses will bear a disproportional high burden.
"The impact is very closely related to the amount of income lost," Deskins said.
Midnight shift employees, who work Sunday to Thursday, expect an end to their Friday nights at Kegler's bar down the street from the plant. Employees predict this won't be the only local business missing Mylan's paychecks. Godfrey said communities throughout the state and southwestern Pennsylvania will feel the effects.
"It's not just one community. It's several communities that work there," she said. "And it's going to be bad."
Mylan's closure brings further American reliance on foreign drug makers. In 2019, roughly 40% of the world's generic drug supply was manufactured in India. A full 80% of the active ingredients in all drugs, whether brand-name or generic, are made in India and China.
Generic drugs have become essential to affordable health care. But corporate earnings remain large due to significantly less stringent health and safety guidelines in foreign factories.
The workplace today is a long cry from Puskar's days, employees said. Puskar went on the shop floor. He shook your hand. He knew your name.
Gone with Mylan is its employees' community involvement. Godfrey and Shultz belong to the "Women of Steel," a philanthropic group of female plant workers created in Puskar's memory after his death in 2011. Godfrey said she's recently taken over the group's homeless project, where she coordinates donations to local shelters. She said she might now end up in a shelter line herself.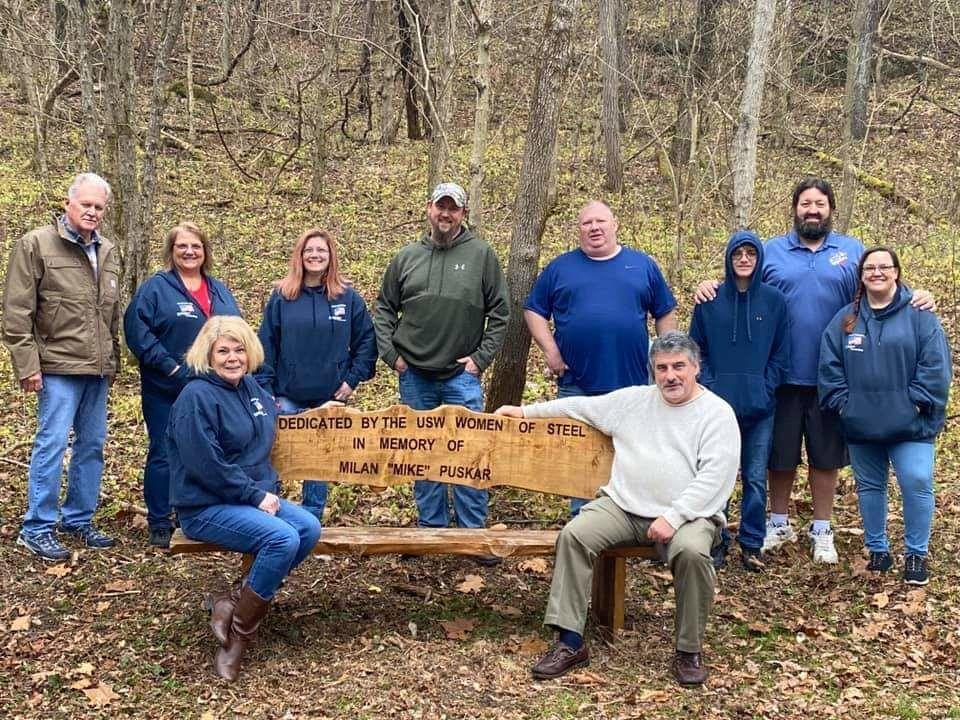 In fall 2011, Godfrey and Shultz's coworker Tammy Teagarden was murdered by her husband. He killed himself and their two young children. The Women of Steel have donated consistently to domestic violence resource centers in West Virginia and Pennsylvania, where Teagarden lived, to honor her and her children. They held a final event with these centers on Mother's Day, providing a catered dinner and parting gift bags for the women and children, they said.
"Now that's all going to come to an end," Shultz said.
Some Mylan employees said they feared retaliation for speaking to the media or the public about the plant closure. Members cited a privacy policy a union attorney described as "a scare tactic." Still, some asked their names not to be disclosed.
Gouzd said he won't stay silent until his people get the help they deserve.
"Let 'em fire my a--," he said.
While the final chapter of Mylan's history has yet to be written, Gouzd has a pretty good summary for the book.
"We're losing our jobs, and for all the wrong reasons."