GLEN FORK — Pinkey Mullens doesn't worry about much.
Not the leukemia he was diagnosed with three years ago. Not the bone marrow transplant or tremors and fainting spells that have followed. Not his skyrocketing blood pressure since beginning chemotherapy.
Sitting at the dining room table of his Glen Fork log home in Wyoming County, Mullens, 68, smiled often. When his wife, Cathy, observed he hasn't regained his strength since his bone marrow transplant, he said he's coming back.
"I've been working on my abs," Mullens said. "I'm just working on one big 'un."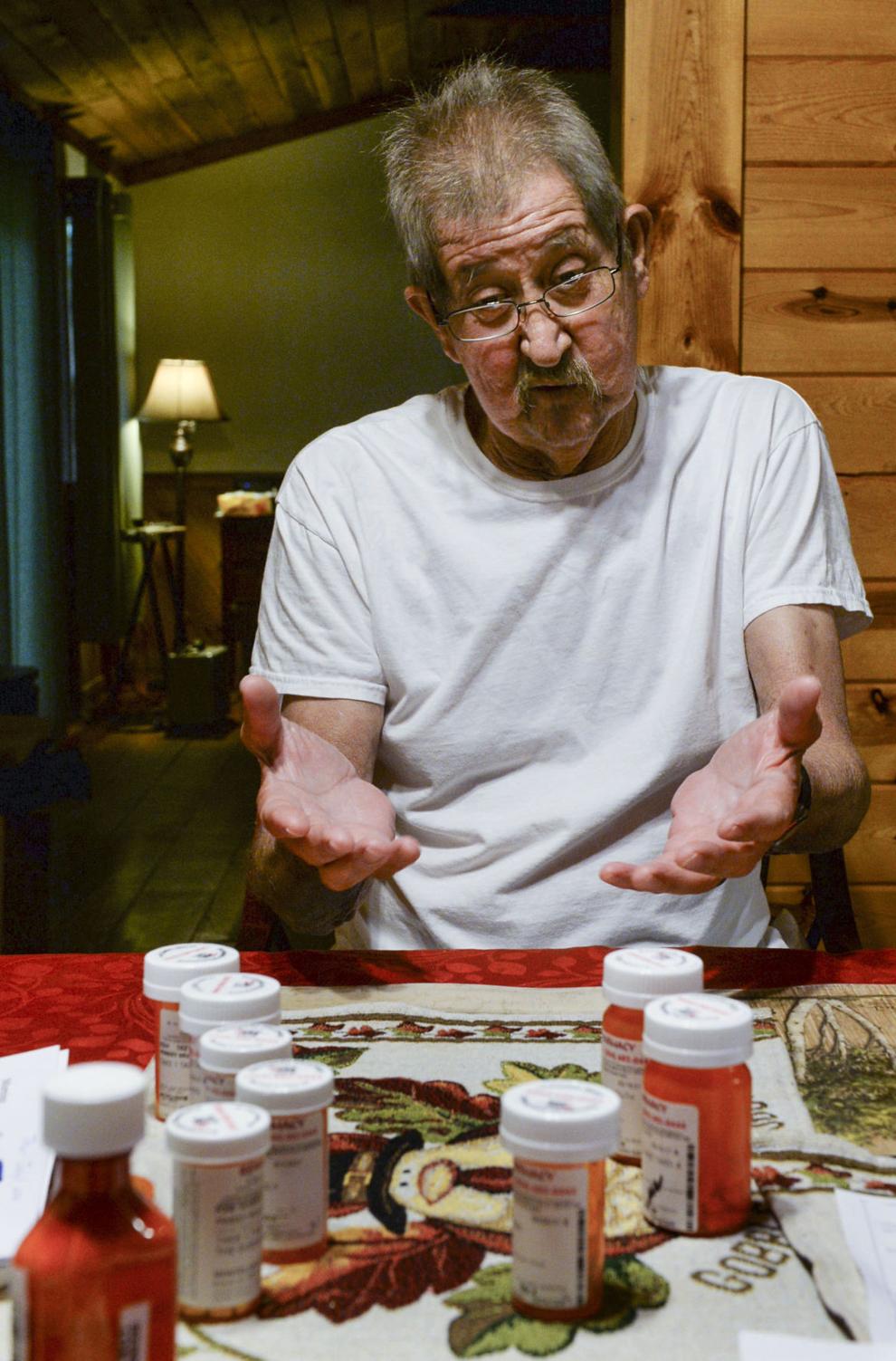 Mullens' gaunt 158-pound frame swayed in his chair as he reenacted the "hillbilly jig" he said he does when his doctors take him off a medication.
"People say, 'Why are you so happy all the time? You've got cancer.' So?" Mullens said. "I didn't die today so far. Tomorrow, I'll let you know if I'm here."
His dining room is also his craft room, teeming with treasures he's made from metal and wood, including sheet metal roses like those he's given to his nurses and fellow cancer patients at J.W. Ruby Memorial Hospital in Morgantown.
"If I'm able to make something and give it to someone to bring a smile on their face, boy, I've done good," Mullens said. "That's my philosophy. I live till I die and go home. That's the way I see it. I'm not worried about it."
The 10 prescription pill bottles on the table in front of Mullens reminded him of the one thing that does bother him.
"I do get mad when I can't get my medicine," Mullens said.
His prescription drug coverage was interrupted twice last month, dragging out a history of dangerous interruptions that has beleaguered the couple for the past three to four years.
The longest they said they've gone without coverage is three weeks, from May to last month. They recalled going up to a week without some medications, adding that Renegade Pharmacy in Oceana will give them four to five days' worth of the most critical medications to sustain them until their coverage is restored.
Cathy doesn't know when she shows up at the pharmacy whether her husband's medicine will be covered.
"It's very stressful," she said, choking back tears. "The medical problem is bad enough."
Pinkey Mullens and other retired coal miners say Gov. Jim Justice's coal companies repeatedly have failed to provide them prescription drug coverage after agreeing to do so in a collective bargaining agreement with the United Mine Workers of America at the end of 2016.
"If I owned a company and one of my retirees come down with cancer," Mullens said, "I would go out of my way to make sure that they have insurance."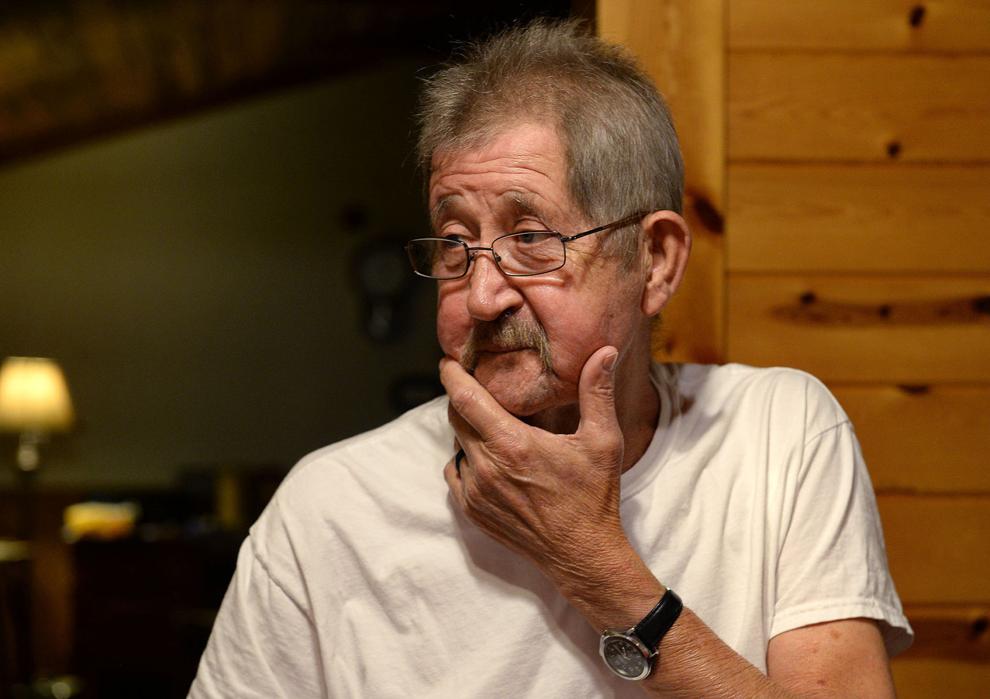 Retirees and their dependents began contacting the UMWA about unpaid medical and prescription drug bills in late 2017, according to the union, which has said retirees were forced to pay out of pocket for drugs, go without medical treatment and refrain from filling prescriptions because of inability to pay.
The companies told the UMWA they were switching insurance carriers. In March or April 2018, new insurance cards were issued to the companies' retirees, the union said in a June 2019 letter to Justice's Bluestone Energy Group.
"It's just an ongoing thing with them here in the last few years," said Tony Jones, 62, of Princeton, president of UMWA Local 6025 in Bishop, Virginia, near the McDowell County border. He retired in 2011 after working for Justice Energy Co. Inc. and Bluestone Coal Corporation. "You never know when [the coverage] is gonna be turned off."
Members continued going without treatment and refraining from filling prescriptions after the new insurance cards were distributed, the union said in the 2019 letter, reporting some members learned from their insurance provider that their claims were covered but the companies' self-funded account lacked funds to pay the bills.
The union and four retired miners filed a federal lawsuit in August 2019 against four Justice coal companies to enforce that agreement.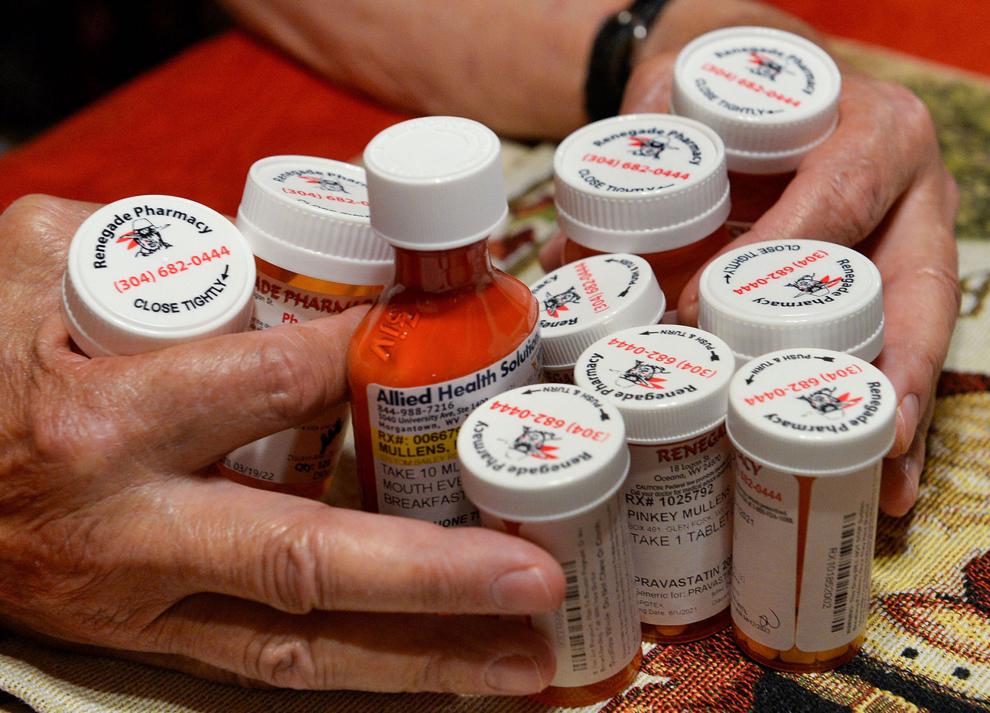 In January 2020, the four miners and the union reached a deal with Justice Energy Company, Keystone Service Industries, Bluestone Coal, Double-Bonus Coal Company and Southern Coal Corporation to resolve the miners' motion for a preliminary injunction ordering the companies to provide medical and prescription drug benefits.
Over the next 14 months, the parties worked to resolve outstanding claims until reaching an agreement to resolve the lawsuit in March.
Less than six weeks after the Justice coal companies agreed to provide uninterrupted health care and prescription drug coverage to eligible retirees and dependents, the union and the retired miners — James E. Graham II of Monroe County; Dennis Adkins of Jacksonville, North Carolina; Roger Wriston of Fayette County; and David Polk of Wyoming County – told the U.S. Court for the Southern District of West Virginia the companies were still failing to provide drug coverage.
The companies last month agreed again to provide uninterrupted health care and drug coverage. That accord was less than two weeks old when the union and four retirees submitted another filing June 16 alleging the companies had allowed a lapse in drug coverage for the 10th time in less than nine months.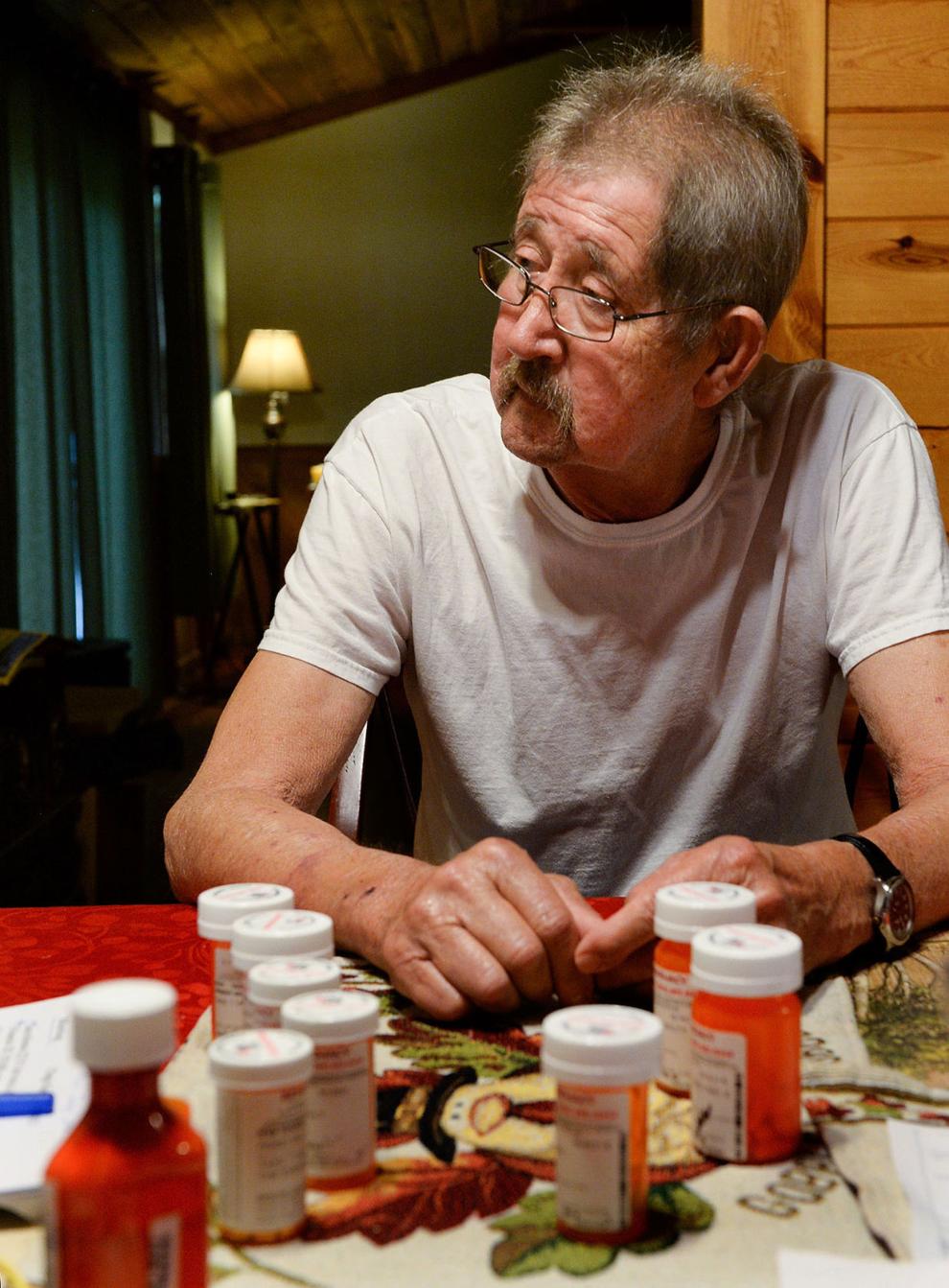 Jones said he has had to pay out of pocket and be reimbursed by CVS Pharmacy after his insurance claim was resubmitted.
"Some of the people can't afford to pay for some of the prescriptions out of their pocket," Jones said.
Jones recalled his coverage was interrupted in April, May and June. The coverage outages typically last for roughly a week, he said.
Keystone Service Industries retiree Harry Gregory of Mercer County said in a declaration the union and four miners filed in federal court in May that interruptions in his drug coverage had occurred about once a month since the beginning of the year, causing him and his family to put off buying some drugs, including one that cost $3,000 a month.
Andrew Lafferty of McDowell County, another Keystone Services retiree, said in a declaration filed in May he and his wife had to put off buying some drugs due to regular coverage interruptions.
UMWA officials have said in court filings that retirees have been given no warning that drug coverage would be canceled. Some retirees attempted to contact the companies but couldn't.
Neither the Governor's Office nor an attorney representing the companies responded to requests for comment. The companies also could not be reached for comment.
"We just want what is owed"
When Pinkey's coverage is interrupted, Cathy calls Connie Vance, whose LinkedIn page lists her as director of benefit administration at the Greenbrier, the White Sulphur Springs resort controlled by the Justice family. Cathy said she rarely reaches Vance.
Vance did not return a request for comment, but her voicemail greeting noted Tuesday that a prescription drug coverage issue had been corrected.
The UMWA and retired miners withdrew their pending contempt motion Tuesday, reserving the right to renew it if the companies fail to comply with a June 3 consent order requiring them to provide uninterrupted health care and drug coverage.
Pinkey Mullens said Wednesday that Vance reported coverage had been restored, but the couple's peace of mind has long been shattered.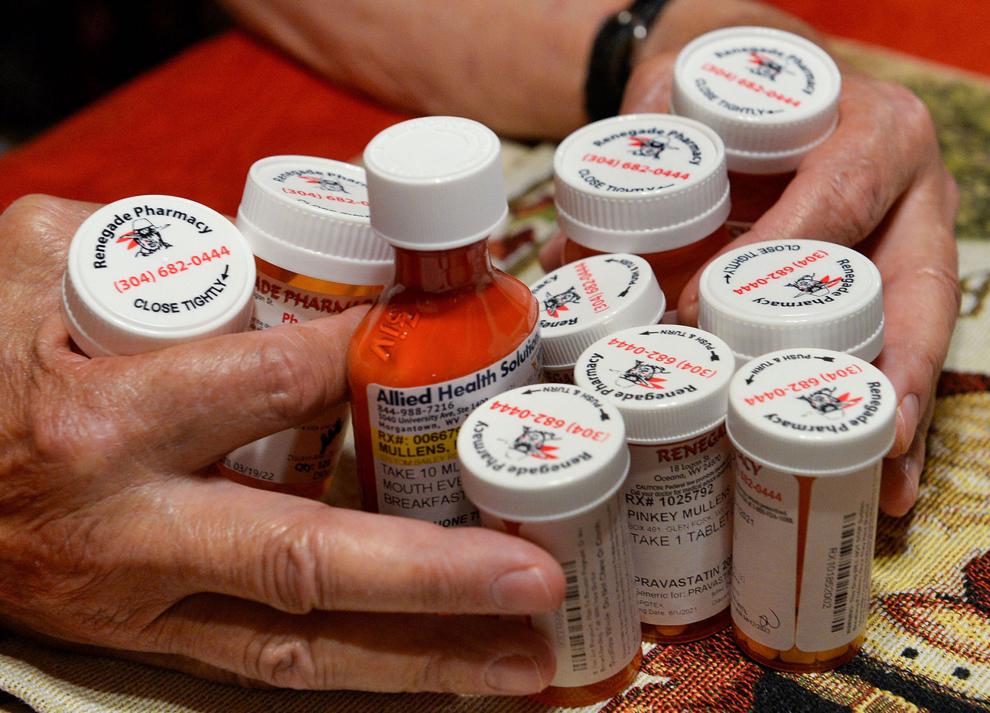 "We just want what is owed to Pinkey and the other retirees," Cathy said. "That's it, plain and simple, and just to live out our life hassle-free and go see a doctor and pick up their medication and get his retirement check with no hassle. I don't think that's asking very much. [Justice] has already got his work out of his retirees that made him millions of dollars. That's all we ask for is the retirement benefits that they're all entitled to."
Upon taking office in 2017, Justice said he would put his children in charge of his family's business operations. The Secretary of State's Office lists Justice's son James C. "Jay" Justice III and daughter Jillean L. Justice as directors of all four companies in the union and miners' lawsuit. Jay Justice is listed as president of all four.
The governor has suggested in court proceedings and interviews since taking office that he remains familiar with his coal companies' operations.
In 2019, Justice shared operational details with reporters about the Pinnacle mine preparation plant in Wyoming County that one of his companies had recently bought, less than 11 months after he recounted negotiations between his companies and Pinnacle Mining Company at a settlement conference after his companies filed a federal lawsuit against Pinnacle for alleged negligent deviation from approved drilling plans.
Justice coal companies have faced legal trouble regarding the health and safety of their employees before.
Nearly two dozen of the family's companies agreed in April 2020 to pay roughly $5 million to settle a federal lawsuit claiming they failed to pay mine safety fines.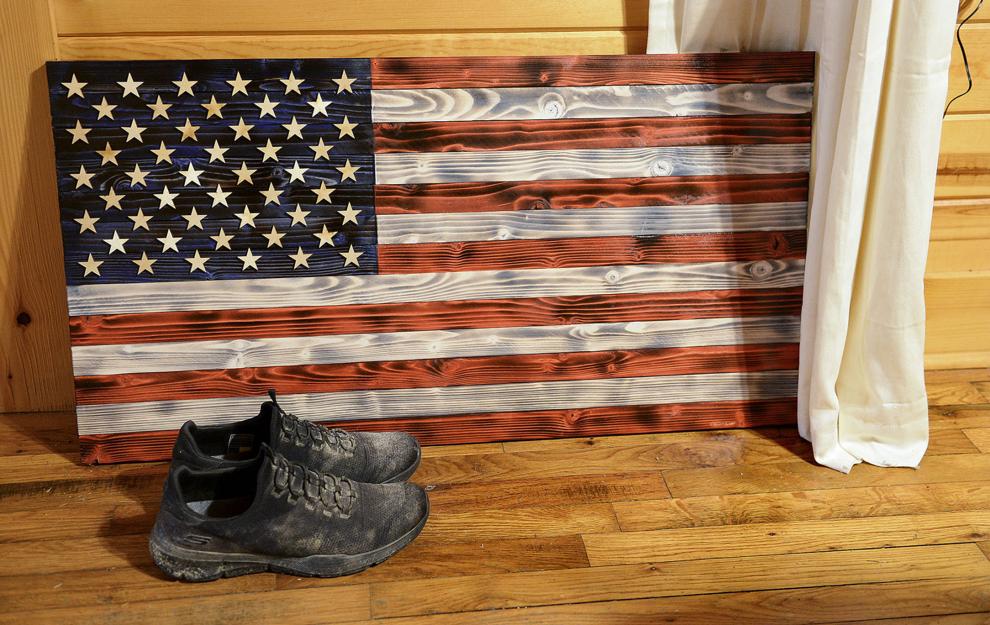 Federal Mine Safety and Health Administration inspectors found nearly 2,300 violations at Justice-owned mines in West Virginia, Tennessee, Kentucky and Virginia over a five-year period ending in May 2019, according to the initial complaint in a 2019 lawsuit by the feds.
A Gazette-Mail analysis of West Virginia Office of Miners' Health, Safety and Training data found Justice-owned companies have been assessed about $200,000 for some 200 state mine safety violations since 2018, including $107,500 for two violations of a state statute requiring operators to immediately notify an inspector of an accident or serious personal injury.
The Justice family's financial troubles have spilled over into court repeatedly in recent months.
Justice and his wife, Cathy, and their son and three family companies sued Greensill Capital Limited in federal court in New York in March, alleging the global lender committed fraud in a long-term financing arrangement that included Bluestone paying $108 million in fees and another $100 million in warrants to purchase stakes in the coal company.
The governor acknowledged earlier this month that he personally guaranteed loans from Greensill that The Wall Street Journal reported total nearly $700 million.
Justice, his wife and son and 11 family businesses, including The Greenbrier Hotel Corp. and Greenbrier-related sports and recreation entities, also are seeking at least $421 million in damages from Carter Bank & Trust, which they alleged in a federal lawsuit induced them into loan defaults.
Not on the delivery route
Justice spent Wednesday traveling across the state to personally deliver prizes to winners of the $10 million COVID-19 vaccination incentive sweepstakes.
He handed a ceremonial $1 million check to a Princeton woman employed at the Bill Cole Automall in Bluefield, whose namesake contributed a maximum $2,800 contribution in September to Justice, Cole's opponent in the 2016 gubernatorial race that Justice won as a Democrat before switching to the Republican Party.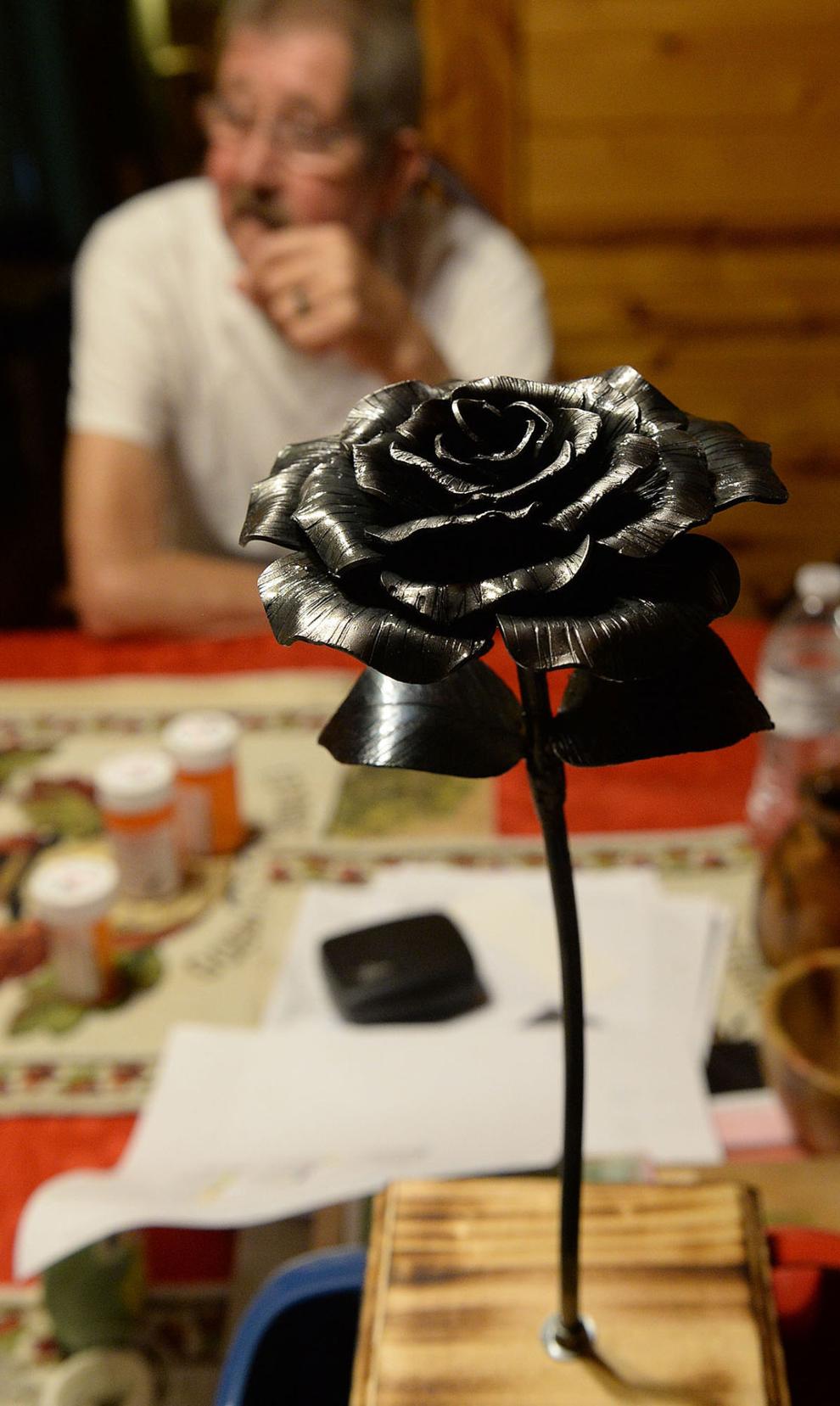 The governor delivered a custom-outfitted truck in Fairmont to a city resident. He delivered another truck to a Clendenin man at a Hardee's in Big Chimney.
Two days earlier, Cathy Mullens turned 62. Cathy and Pinkey celebrated at home, still not understanding why the Justices won't deliver for them.
"It's a little hard to go anywhere with the condition I've got," Pinkey said.
Pinkey loves hunting but doesn't go in the woods anymore to avoid getting a fungal infection that could kill him. He's had bouts with diarrhea and nausea that have made his four-hour trips to Morgantown for cancer care especially daunting.
He takes budesonide to reduce his diarrhea and metoprolol to keep his blood pressure in check. He takes two capsules every morning and every evening of tacrolimus, a medication that helps keep his transplanted bone marrow from attacking him. He has to take atovaquone with the tacrolimus to guard against infection since tacrolimus weakens the immune system to help accept transplanted organs.
Fourteen years after retiring from the Double-Bonus Coal Company to cap a three-decade coal mining career in which he persevered through 16-hour shifts and an accident that broke his ribs, Mullens' body is mustering another rally. He learned he was in full remission in April, though his doctors have stopped short of calling him cancer-free.
"But with that being said, it can come back anytime," he said.
Whether it's 12 hours to craft a single sheet metal rose or a second to smile, Pinkey is willing to put in the time.
When it comes to getting his medications, though, Pinkey and Cathy don't see fit to wait.
"It's almost like they're trying to kill me," Pinkey said. "They don't care. That's the bottom line. They don't care."