GreenPower Motor Co. President Brendan Riley said he didn't necessarily pursue the cheapest labor and cost-of-living markets when he and West Virginia officials began courting each other over a new electric bus plant announced Jan. 12.
The plant will be located behind the planned Park Place shopping center in South Charleston, a long-in-the-works project built on the site of a former fly ash pond. The bus plant will set up shop in a building that formerly housed Smith Fastener, now known as Motor City Industrial after a 2019 buyout. Motor City Industrial is still in operation there.
"In costs of doing business, I'd say West Virginia is an 8 out of 10 and California is 12 out of 10," Riley said. "But we could have gone to some more Southern states or some of the Plains states." He noted that, by and large, West Virginia's housing costs are in keeping with the other two areas.
"Charleston was never a cheap market," he said. "It's not the biggest or the wealthiest, but it's still the state capital and people will always want to live in the state capital. It's a beautiful place."
Riley said the presence of the former Union Carbide Tech Center, now partly occupied by BridgeValley Community and Technical College, is intriguing, as is the Kanawha Valley's position within 550 miles of Chicago to the west; 492 miles to New York in the north; and 531 miles from Savannah, Georgia, to the south.
GreenPower expects to be operational in South Charleston later this year. Motor City Industrial will relocate. The bus maker's ultimate footprint will be about 9.5 acres, including a 3.5-acre parcel of land adjacent to the building, hence the expansion possibility. The building is 80,000 square feet.
GreenPower will operate under a lease/purchase agreement. According to a news release, the deal will require no cash up front. Monthly lease payments begin nine months after production, and each will be applied to the purchase of the property.
Other incentives include the state's commitment to purchase at least $15 million worth of buses and $3.5 million in employment incentives to GreenPower for jobs created. GreenPower will assume ownership of the properties once total lease and incentive payments reach $6.7 million. So job creation, not more money out of its pocket, will aid GreenPower in eventually acquiring the land.
The company's corporate headquarters is in Vancouver, Canada. It maintains a sales and administration office in Rancho Cucamonga, California, according to the company website. Assembly has taken place in Porterville, California, in the San Joaquin Valley, according to the site. Riley said there are no plans to cease production there.
GreenPower wanted to be somewhere in the Mid-Atlantic region, Riley said, because the two largest electric school bus markets outside California are in Texas, New York and Florida. He lauded the area's access to Interstate 64, railways and barges.
"And the people are very sharp," he said. "Very down to earth, very nice, good manners. A lot of personal character and integrity."
Electric vehicles are not always what a situation calls for, Riley said. Although a battery-powered school bus can go from 120 to 140 miles on a single charge, that limit could be reached in a county as vast and sparsely populated as, say, Pocahontas, in the Eastern West Virginia mountains.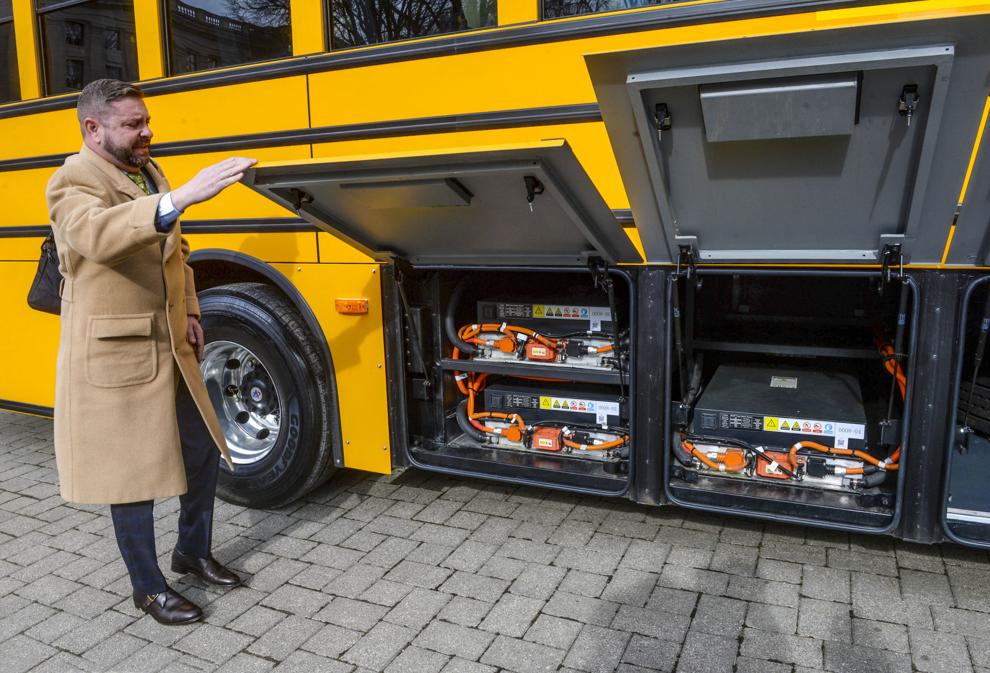 "A school bus battery is its most expensive component," Riley said. "When you start getting up to bigger and bigger batteries, maybe diesel or another fuel makes more sense. We're honest in our conversations. Some places may not be the right fit, and we have to focus on the right fit."
But Secretary for Economic Development Mitch Carmichael said GreenPower intends to ship vehicles all over the country, so conditions in West Virginia alone will not dictate project viability. West Virginia is one of the most rural states in the country.
"It's interesting that a state which relies on the fossil fuel industry is also participating in a new-age economy," Carmichael said, "while we still have the many advantages of fossil fuels. We know that the charge will still be supplied by power plants. I'm like anybody else. I want clean air, clean water and lower emissions. Hopefully, the producers of electric will also be able to transfer to renewables."
Carmichael said the genesis of GreenPower's appearance in West Virginia can be traced to a member of his economic development staff who discovered that the company was looking to expand. Carmichael flew to California to meet Riley, arriving one day and leaving the next night on a red-eye flight.
"We're thrilled with them as a company," Carmichael said. "[Electric vehicles] represent a new dynamic in the automobile industry marketplace, something we're now seeing in the mass transit world."
Riley said views of electrical vehicles can sometimes be polarizing. Fans say they can do anything while naysayers give them credit for nothing. The truth is somewhere in the middle, he said.
He takes the same approach when it comes to pitching his company.
"We're not here to say you can't use coal or you can't burn diesel," Riley said. "We're not a company that's going to force people to adapt overnight. We don't want to force people to adopt our vehicles at all. We want it to be a choice."
Riley said he expects an entry-level worker to make at or near $20 an hour, which equates to gross pay of a little more than $40,000 a year. Some might make more, some less, depending on how skilled they are and how much training they take advantage of. He said he hopes BridgeValley can aid in that quest.