John's Lock & Key Service, a 65-year-old McFarland Street fixture, is up for sale.
Johnny Gilkeson, 70, is the son of original owner John Gilkeson, who died in 1979 at only 57 years old.
In his absence, the business has soldiered on over the decades, cutting keys and providing locksmith services for the greater Kanawha Valley.
It all takes place from a little cubbyhole on McFarland Street, next to the still-buoyant Taste of India, a vacant storefront and a hole in the block where a building burned down at least 15 years ago. Next to it is yet another vacant structure, West Virginia Junior College, owned by Sacred Heart Co-Cathedral. It is for lease.
But despite being a hidden island of commerce amid dismal surroundings, business is just fine. The expertise of John's Lock allows it to compete against other key makers, such as Lowe's or larger hardware stores. Today's keys have to be precise enough to satisfy today's persnickety locks, Gilkeson said.
That covers today's keys. Gilkeson has old locks covered, too, with a whole wall of blank keys to fit any situation. Only serious lock shops maintain that level of stock. It's all packed into a fairly small space, but pleasantly. Gilkeson is proud of the business he inherited, but ready to call it a day.
"I'd like to retire," he said. "I've got enough to do with 10 head of cattle."
Gilkeson said a locksmith is interested in taking over the venerable business. That person would not need any tutoring or transition assistance. He is hopeful enough that he took the "For Sale" sign out of the window.
"People have been such loyal customers," he said. "I'll miss them more than anything."
Despite presiding over a business in the bowels of downtown, Gilkeson and his wife live in rural Fayette County and raise cattle. So did his mom and dad, when his dad ran the original business on McFarland, two doors up from the current space. A parking lot is there now.
Pat Ramsey, 74, often minds the store when Johnny Gilkeson is on the road fixing and installing locks and such.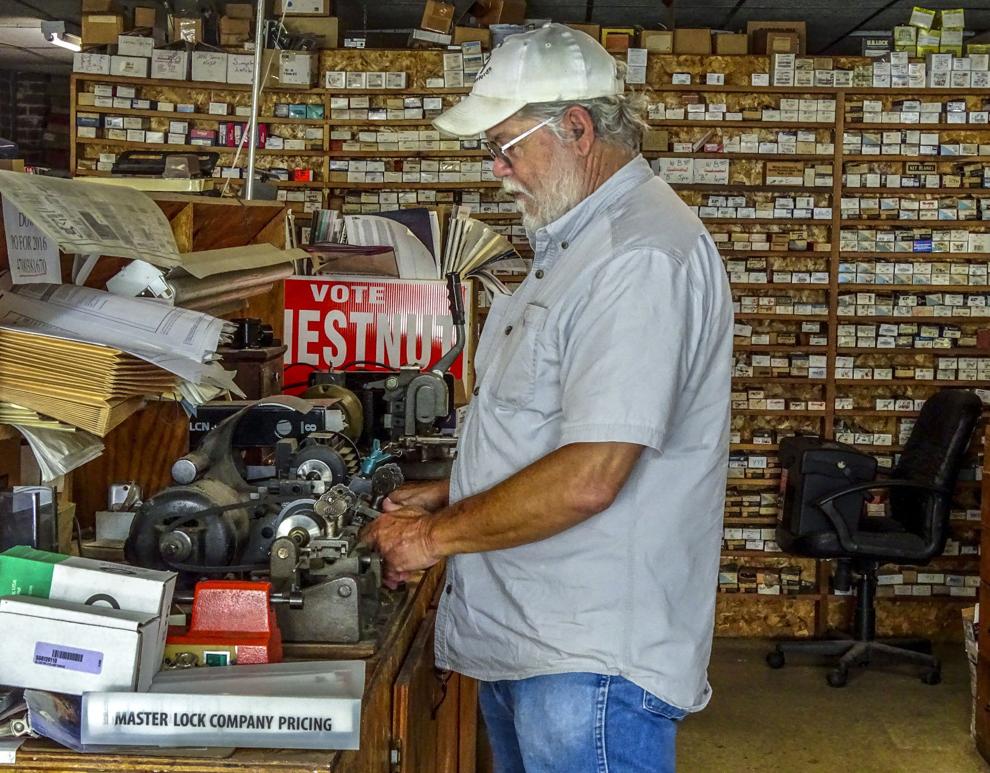 "I feel like I've been doing some good," Ramsey said a couple of weeks ago. "I play a little solitaire when it gets slow. I helped them computerize their books."
Gilkeson feels a little sad, both about selling the business and the changes in downtown he has witnessed.
"A lot has changed down here in my lifetime," he said. "There used to be a restaurant across the street, The Hub. You had the Holley Hotel. Blossom Dairy was going great guns."
The Blossom is closed, and the Holley Hotel site and all the land around it is a sea of parking lots.
Gilkeson said he remembers a time when downtown Charleston was both more alive and safer.
"You could run up and down these streets and not worry about anything," Gilkeson said. "Foot traffic has disappeared."
Ramsey echoes the mourning.
"People are just closing up and going home," Ramsey said. "Small businesses are suffering bad."
But unlike a traditional retail operation, Gilkeson doesn't depend on people just ambling by. Most folks know which key cutter and locksmith they prefer. John's Lock has been around long enough to acquire customer generations.
Gilkeson has been able to hold on because keys and locksmithing don't translate well to internet commerce. But he doesn't see young people gravitating toward nuts-and-bolts work.
"Young people don't want to do anything with their hands," he said. "People need welders, electricians, pipefitters ... . Back in my day, a man or a woman would kill for an apprenticeship like that."
On a fall-like Thursday, Johnny Gilkeson did what he loves. He made a few keys and shot the bull with customers. One complained of a case of poison ivy.
"Oh shoot, I can look at that stuff and get it," Gilkeson said. The two commiserated for a while. Gilkeson told the man his daughter once had a case that required a shot of some kind.
He seemed relaxed, ready to move on to the next phase and his beloved bovines.
"When I get mad at the world," he said, "I go watch the cattle eat."