"In half a minute Mrs. Cratchit entered — flushed, but smiling proudly — with the pudding, like a speckled cannon-ball, so hard and firm, blazing in half of half-a-quartern of ignited brandy, and bedight with Christmas holly stuck into the top."
When I first read Charles Dickens' 1843 timeless classic, "A Christmas Carol," it wasn't just the ghosts that piqued my youthful imagination. I had serious questions about Mrs. Cratchit's pudding.
Obviously, this mysterious foodstuff was very different from the banana pudding cups I routinely grabbed from the fridge. What was in it? Why was it shaped like a cannonball? And why did the family get so excited over a dessert?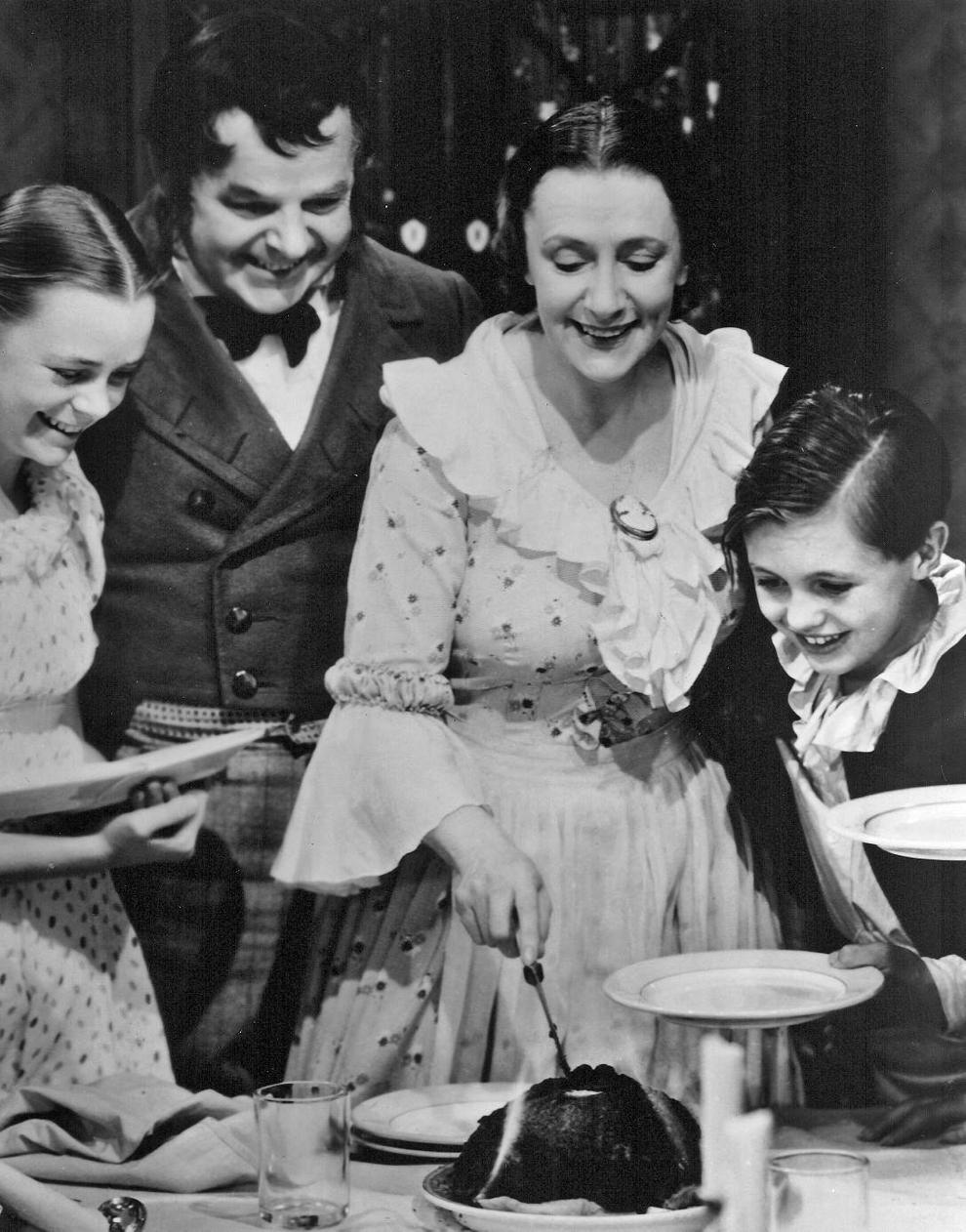 Alas, the screen adaptations of "A Christmas Carol" were of little help. Most leave out the pudding scene, instead letting the Christmas goose steal the limelight.
One exception was the 1938 film that stars Reginald Owen as Scrooge, which TCM airs sometimes during the holidays. At the end of the Cratchits' family dinner (a not-so-humble affair in this version), the flaming pudding is presented as Mrs. Cratchit's "greatest success." (This film was also the screen debut of a 13-year-old June Lockhart.)
Much later, I learned that Christmas puddings were actually plum puddings, also called figgy puddings. The latter name is older — as evidenced by the merry folk song where the carolers make a demand, "Now bring us some figgy pudding," followed by a threat, "We won't go until we get some." So much for tidings of great joy.
Though I sang that song in many a school Christmas pageant, never once did I get offered any figgy pudding. Even Tiny Tim had more luck.
The truth is, although these puddings are still a staple of a British Christmas table, the tradition did not survive in America into modern times. So, this year I decided to pay tribute to Christmases past (hopefully, without one of Dickens' ghosts showing up), and satisfy a childhood curiosity by attempting to make my own Victorian-style Christmas pudding.
What's in a plum pudding?
First, we need to sort out the meaning of the word "pudding." In British English, pudding was a generic term for a boiled dessert. Keep in mind most Victorian households did not have ovens, but all social classes could boil their food.
To make a boiled pudding, the batter was put in a pudding cloth and boiled for hours until the batter set. In old drawings this is why plum puddings are pictured as round. Most modern recipes, on the other hand, call for steaming the batter in a pudding mold or basin. Steaming is the easier method. As I was to learn, a lot can go wrong when you use cloth.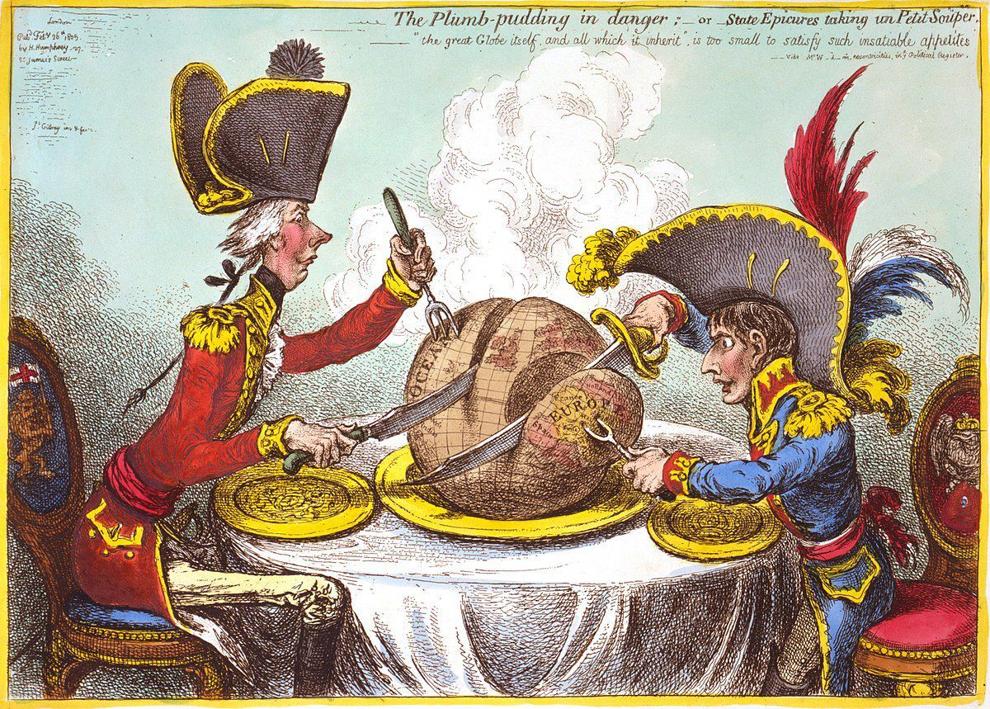 Second, plum puddings do not contain plums or figs. In Dickens' time, these were generic terms for dried fruit — chiefly raisins.
Cookbooks from the 19th century give us a record of how people made English plum puddings. Here's a typical recipe of the time from "Mrs. Winslow's" cookbook for 1879: "One pound raisins, one pound currants, one pound suet, one pound flour, half pound citron, one nutmeg, one tablespoonful allspice, six eggs, one pound brown sugar, one wine-glass brandy; boil six hours."
The currants here are tiny raisins. A citron is a large citrus fruit that is a foundation fruit of today's varieties. Note that the recipe calls for a whole, grated nutmeg. Nutmeg was already a popular ingredient in cooking, and also used medicinally.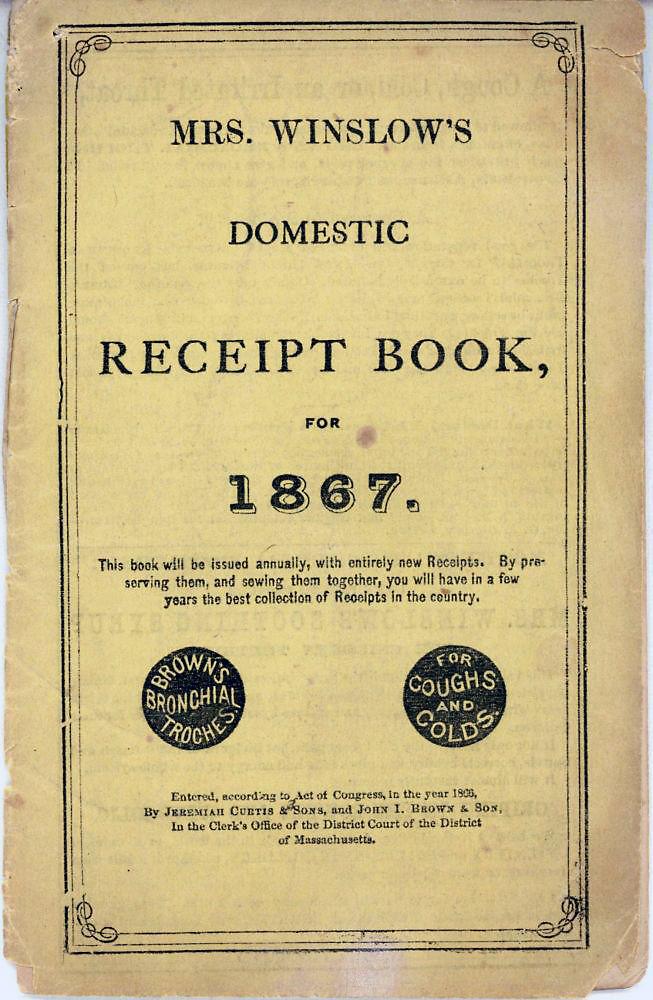 Which brings us to the most difficult ingredient to procure: suet. Mrs. Winslow's recipe calls for one pound of suet. All plum pudding recipes of the era used suet. What is this stuff?
Do it with suet
Suet is an animal fat — specifically beef kidney fat. This is a hard, waxy fat that surrounds a cow's kidneys (mutton was also used). Here's how it's described on the Serious Eats website: "Suet owes its versatility to its texture: it is the firmest of all the animal fats we use for cooking and possesses the highest melting point."
In the U.S., beef suet is not a commercial product. Supermarkets don't carry it, meat shops generally don't offer it. (Don't use the suet cakes mixed with birdseed at Tractor Supply ... that's, um, for the birds.)
But the Brits still use suet in puddings, where the suet's high melting point keeps the fat from melting into the batter before it sets, resulting in a spongier texture. For convenience, British supermarkets sell a dehydrated, shredded suet in boxes, sold under the brand name "Atora." This can be ordered online, but there are reported import issues.
No doubt there are independent butchers and local producers willing to sell someone fresh suet. I called around with no luck. So, I was left to find a comparable substitute.
Common substitutes for beef suet are butter, lard (rendered pig fat), tallow (rendered beef fat) or vegetable shortening. Cooks who make their pudding the traditional way insist these ingredients will change the texture and flavor of your dish.
For example, here's what Lori Elliott wrote on the "Our Heritage of Health" blog about her experience using butter: "I substituted butter when I made this recipe because I don't have access to a source of good-quality suet right now, but unfortunately butter does change the texture of the pudding somewhat. Because the butter melts faster than suet does the finished pudding can be denser and heavier than it was originally intended to be..."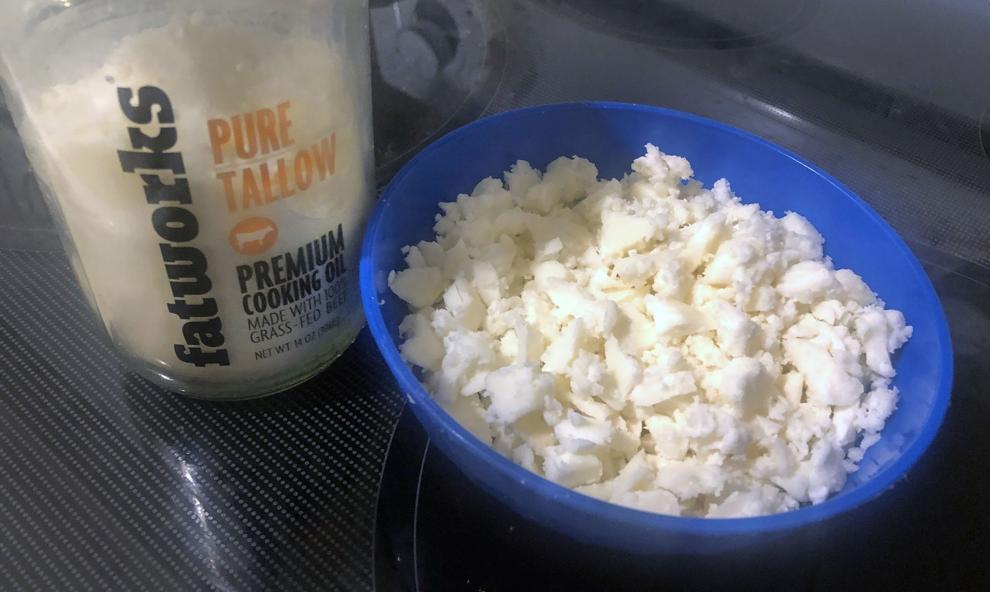 If you wish to avoid animal fat, there's always vegetable shortening, such as Crisco. Some cooks say these hydrogenated oils are an acceptable substitute. But to me, they are a processed industrial product disguised as food.
An online search finally found a domestic product that looked like a good substitute. I found it at the Jas. Townsend & Son website (www.townsends.us). This company specializes in "living history" accessories. They also have a cooking channel on YouTube. The site has a listing for Fatworks Pure Tallow, made from 100% grass-fed beef.
"If you can't find raw kidney-fat suet locally, or if you have neither the time nor the inclination to mess with preparing it, Fatworks Premium Tallow is an excellent option for you," according to the website.
I ordered a jar and got it five days later. I was ready to make my plum pudding.
Misadventures in boiling
Since I wanted an authentic Victorian boiled pudding, I followed a recipe based closely on Mrs. Winslow's original (see sidebar), but using reduced portions. Once I had all the ingredients assembled, making the batter was easy. The technique of boiling was still somewhat mysterious to me, but I watched a couple of videos and decided to give it a shot.
For my first attempt, I used a square piece of thin, tightly woven, white cotton. I boiled the cloth for 20 minutes, as instructed.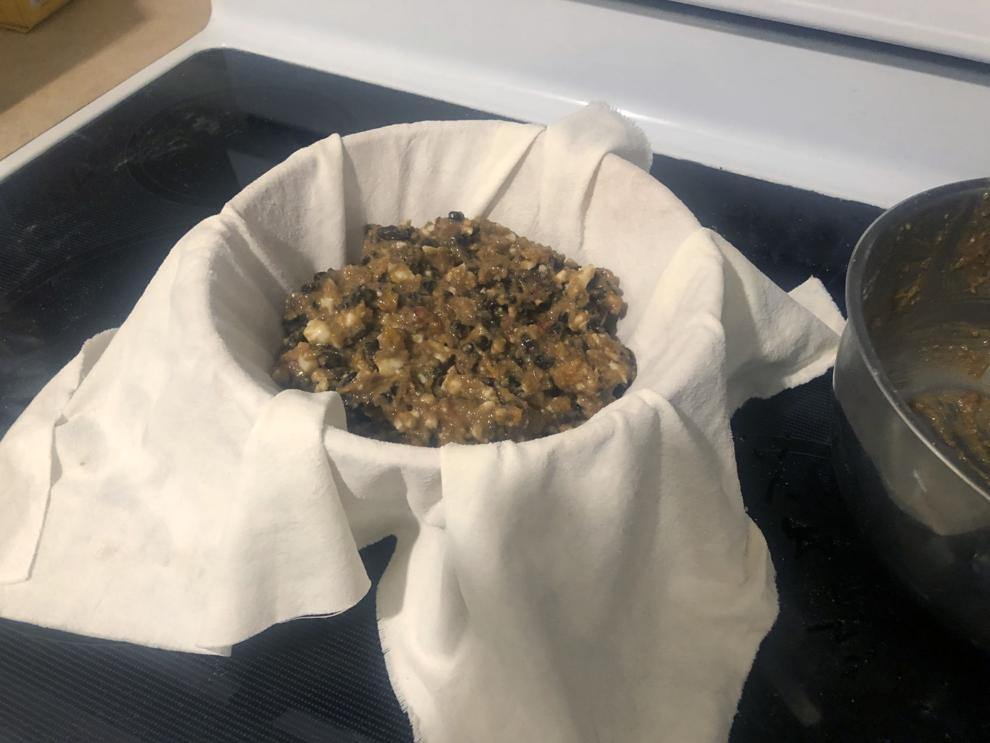 After it cooled, I laid it out on a counter top, floured one side, then dumped the batter into the middle, forming a ball shape. I gathered up the ends, tied them together with string and dumped the bag into a large pot of boiling water — after first putting a plate upside down in the bottom of the pot to keep the bag from scorching. I let it boil about four hours.
When I cut the string and opened the bag, I had a soggy mess on my hands.
After performing a pudding postmortem, I realized I had made several mistakes. For starters, I used the wrong kind of cloth. More research showed I needed a thicker cloth like calico; an experienced pudding cook online suggested using a plain flour sack towel. These are available at Walmart in bundles.
Second, I flubbed my flouring. You don't just do a dusting. You spread about a cup of flour (you can't use too much) over the cloth, then rub it in rigorously with your hand. This forms a skin that keeps water from seeping into the batter.
Finally, my water level wasn't high enough. The water needs to cover nearly all the bag — up to just below where you tied it off. And make sure it's tied as tight as you can get it. For my second try, I used two strings and made about 20 loops around the cloth. My pudding bag looked like it came from the set of "Hang 'Em High."
With these modifications, my next attempt at boiling a "pud" (British slang) went off without a hitch. I let it boil three and a half hours, then hung the bag up to dry overnight.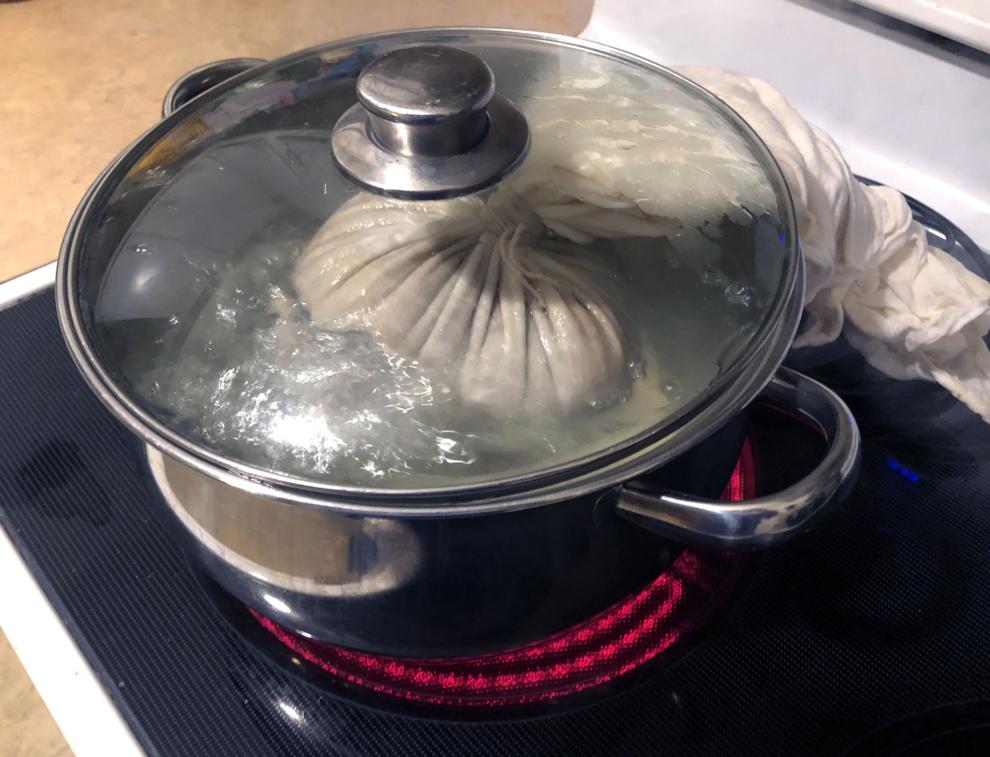 In the morning, I carefully peeled off the cloth. I didn't quite get a cannonball shape, but close enough. More importantly, it held together. I wrapped it in parchment paper and aluminum foil and stored it in the fridge.
Pyrotechnic presentation
It was common in Victorian times for folks to make their puds weeks before Christmas on "Stir-up Sunday," the last Sunday prior to the season of Advent.
The name comes from the "Anglican Book of Common Prayer," where the reading for that Sunday includes the phrase "Stir up, we beseech thee, O Lord, the wills of thy faithful people."
Families would make the pudding on this day, with each member taking a turn stirring the mixture. The finished pudding would be stored in a cool, dark place until Christmas, then reheated by boiling for a couple of hours.
Dickens' story does not refer to this custom. But one custom Mrs. Cratchit does follow is setting the pudding alight for the grand post-dinner presentation.
I most definitely wanted to light mine on fire.
My daughter, Jess, and her fiancé, Joe Barnhart, agreed to be a part of my project. They chipped in to make the sauce, while I prepared to flambé the pudding.
All recipes call for a sauce of some kind. We went with a simple hot buttered rum sauce. I had the rum on hand anyway, because the brandy I used for the pudding wasn't high-enough proof to ignite easily. The liquor needs to be 80 proof or above; I figured dousing the pud with 100-proof rum would do the trick.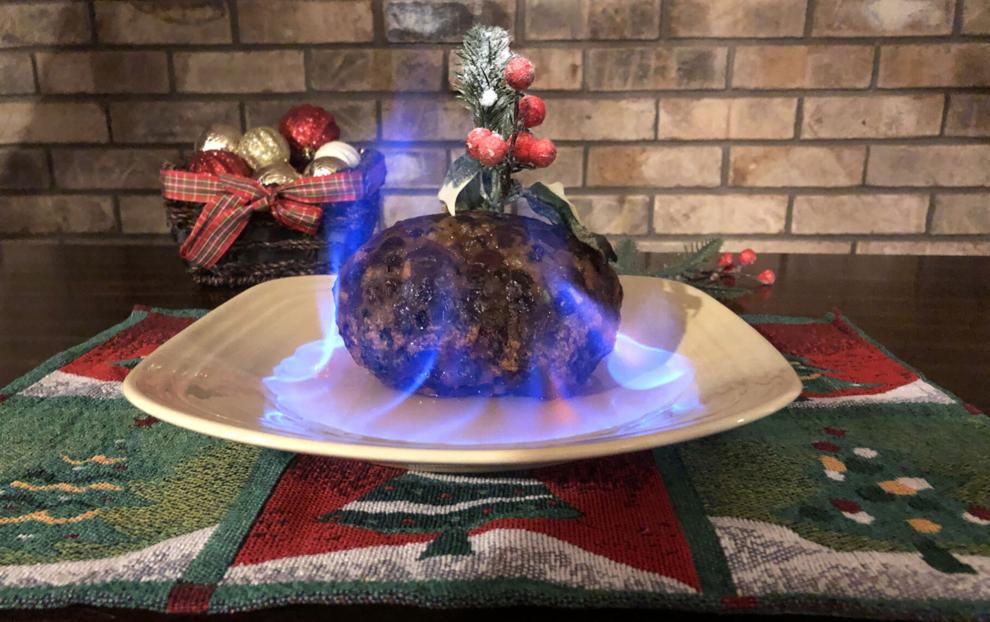 We succeeded in lighting it, and, with the lights turned down, the blue flame cascading up the sides of the pudding looked suitably impressive. Even magical. Next time, though, I'll remove the fake holly sprig from the top before it starts to melt (or burn, if you use a real one like Mrs. Cratchit did — perhaps an oversight on Dickens' part?).
'Pudding' it to the test
Presentation over, and fire snuffed out with no casualties, it was time for a taste test. There was no way I was going to reboil the pudding; instead, we gently reheated it in a microwave, then served it with the sauce.
Joe took a slice, noting that "It smells like raisins and cherries."
"That's pretty good, actually. It's like a softer, super-moist fruitcake. All the Christmas spices you would want. And the sauce is amazing."
Jess tried a bite and took a moment to savor the taste experience. "The texture's a little weird for me," she said. "But I like the spiciness."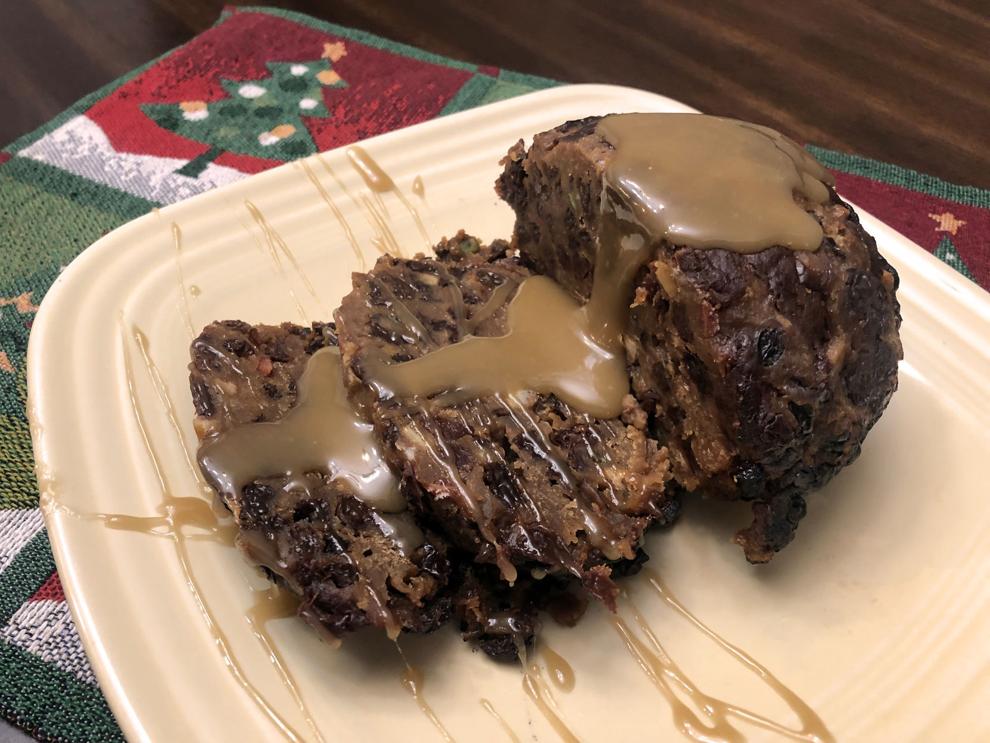 The texture of a boiled plum pudding is indeed different. It's rich and fruity, with complex flavors that aren't too sugary. I found it to be an interesting mix of sweet and savory.
Joe agreed. "There's a savoriness to it, but it's a bready savory. It doesn't taste like beef or anything. It's savory like a buttery dinner roll is savory."
Ultimately, we all agreed that the pudding was a success, and that it "tastes like Christmas."
Which is surely all that Mrs. Cratchit and other erstwhile cooks of Christmases past could wish for.