Thirty-three years ago, walking and biking enthusiasts, railroad history buffs, conservation and parks groups, and active-transportation activists formed the Rails-to-Trails Conservancy. The organization works coast to coast, supporting the development of thousands of miles of rail trails and multi-use trails for millions of people to explore and enjoy.
According to the Rails-to-Trails Conservancy, there are 2,131 open rail trails comprising 24,075 miles in the U.S. Another 812 rail-trail projects are in development, which will add another 8,684 miles.
West Virginia has 67 rail trails with 566 miles of open rail and logging trails. The state is developing 14 new projects with a potential of adding 135 more miles of trails.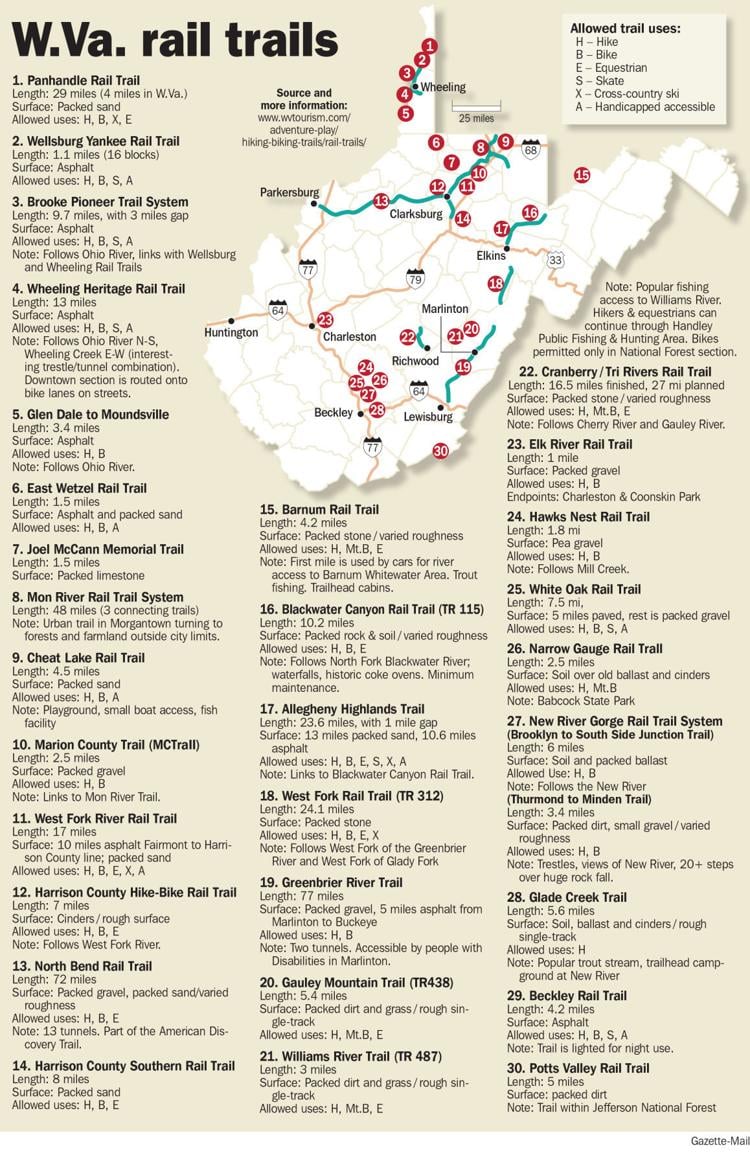 "Rail trails were originally railroad corridors and are perfect for multi-use trails because the terrains are flat or gently sloped and often connect communities and industries," said Ella Belling, West Virginia Rails to Trails Council president. "They are generally wide enough to accommodate hiking, biking, horse-riding and cross-country skiing, so they are ideal for year-round recreation use."
Belling cautions that old logging rail trails are often steeper and narrower than a typical rail trail. She also recommends that trail users check beforehand to see what activities are allowed. "Many do not allow equestrian use, for instance," she said.
"Some trails are managed by state parks, others by municipalities, cities or counties. Some trails, like the Meadow River Trail, which is managed by Fayette and Greenbrier counties, are partnership projects."
Belling, who is also executive director of the Mon River Trails, said trails are as popular with residents as they are with tourists.
Valerie Pritt, Greenbrier Valley Convention and Visitors Bureau communications director agrees. "I walk my dog along the Greenbrier River Trail and see many local faces every time I walk," she said. "There is a real sense of community for residents and tourists as they enjoy the trail, history and beautiful scenery along the Greenbrier River."
There are more closed railways that could be developed. "There are 80 miles of abandoned rail corridors in West Virginia that have trail potential," Belling said. "The challenge facing many of these corridors will be developing innovative ways of negotiating easements or recreational license agreements for public use.
"We know that linking rail-trails together to form longer-distance trails can increase tourism and economic benefits for our state," she said. "The Industrial Heartland Trails Coalition is developing a 1,400-mile trail system through Pennsylvania, New York, Ohio and West Virginia. The New River Gorge Alliance is promoting a regional system connecting gateway communities, national and state parks in Fayette, Nicholas, Raleigh, Greenbrier and Summers counties."
With a length of 78 miles, the Greenbrier River Trail is the longest rail trail in West Virginia. The trail runs through Greenbrier and Pocahontas counties, crosses 35 bridges, goes through two tunnels and cuts through some of the state's most remote areas. It is one of 50 Millennium Legacy Trails in the U.S., and was rated one of the top 10 hiking trails in the country by Backpacker Magazine.
"The Greenbrier River Trail is definitely a destination for those who want to fish, mountain bike, hike and horseback ride," Pritt said. "But it is much more than that because it offers soft adventure and wonderful opportunities to enjoy the natural scenic beauty of our state for visitors who may be here to enjoy historic and cultural activities as well."
Pritt said one of the advantages of a rail trail is that people who enjoy different activities can all be on the trail at the same time.
Like Belling, she appreciates the enthusiasm that residents have for the trail. "West Virginia State Parks is responsible for the trail," she said. "And the Friends of the Greenbrier River Trail are strong supporters and help keep the trail special."
Two local Lewisburg outfitters offer mountain bike rentals and shuttle services for the trail.
The Mon River Trail system is a network of four trails that spiral out of Morgantown in an interconnected system that spans nearly 50 miles. The Mon River Trail North comes down from Pennsylvania, following the Monongahela River. It blends with the Caperton Trail that links Star City and Morgantown. In downtown Morgantown the trail splits; the Mon River Trail South continues south, and the Deckers Creek Trail heads east past Reedsville.
"The trails provide tourism interest and economic growth. When they are used for events like races and festivals, they bring locals and tourists together," said Belling, "This gives us a great opportunity to introduce people to our hospitality, our history, cultural events and educational opportunities."
She encourages anyone planning a hike or ride on a rail trail to check ahead for trail status. Local convention and visitors bureaus are good resources for trip-planning information.
For more information on the state's trail program and West Virginia trails, visit wvrailtrails.org.