Editor's note: In December 2020, Matthew Douglas Perry of Hurricane published his first book, "You Are So Far Behind, You Think You Are in Front," about his life with his late father and military veteran, MSgt. Frank Perry, also known familiarly and fondly as "The Master Sergeant."
Just in time for Independence Day, Perry shares three stories from the book about his father's military experiences and wartime and other recollections.
'He seems pretty hard core'
Like most combat veterans, my father didn't talk much about his 21 years in the Army. In fact, I had never seen Dad in his full dress uniform until Wednesday, Sept. 12, 2001.
I was at work that day, still numb and just going through the motions, and, like most Americans, still trying to process the events of the day before. Around 2 p.m. that afternoon, Angie called and said Dad was asking if I could come home early. He needed me to take him somewhere.
This was shocking to me. Dad had never asked me to leave work early. Angie was a stay-at-home mom then and normally took Dad to the store and to all of his appointments. I asked if she could take him, but she answered no, that Dad wanted me to do it.
This worried me, so I quickly left work and headed out to pick him up.
I got to Dad's about 3 p.m., not knowing what to expect. When I went into the kitchen, I was surprised to see the Master Sergeant, not Dad. He was sitting there in full uniform, medals and all. I had only seen Dad in his dress uniform once before in my life. And never with all his medals, not just the ribbons only.
"Hey, Jack. Take me to the Recruiting Center over in St. Albans."
"The Army Recruiting Center. You know, in the St. Albans Mall."
"Yeah, I know where it is. Why you wanna go there?"
"I need to talk to the sergeant."
The drive was short and made in total silence. We got to the mall, and Dad got out of the car and just walked on in, not waiting on me to go with him.
I caught up with him in time to see Dad walk up to the desk. The sergeant behind the desk, who only had three stripes, looked up when he saw my dad standing before him. Then his eyes got wide, and he jumped to his feet and gave my Dad a very crisp salute. Dad returned the salute and said, "Sergeant, who is top?"
The sergeant pointed to the back office and called out to someone. Another older sergeant walked out of the back office and shook Dad's hand. This sergeant was a Sergeant First Class, with five stripes.
"What can I do for you, Master Sergeant?"
"You have a minute to talk, son? Can we go into your office?"
They walked into the back office and shut the door. I sat down in the lobby to wait.
The sergeant from behind the desk asked, "That your father?"
"He seems pretty hard core."
"Yeah, you have no idea."
"Where did he get his Silver Star?"
"He won't say. I don't know."
I sat there waiting, wondering what Dad was up to, wishing I had walked back into the office of the Sergeant First Class with him. But knowing him, he would not have allowed me to.
After some time passed, Dad came out of the back office.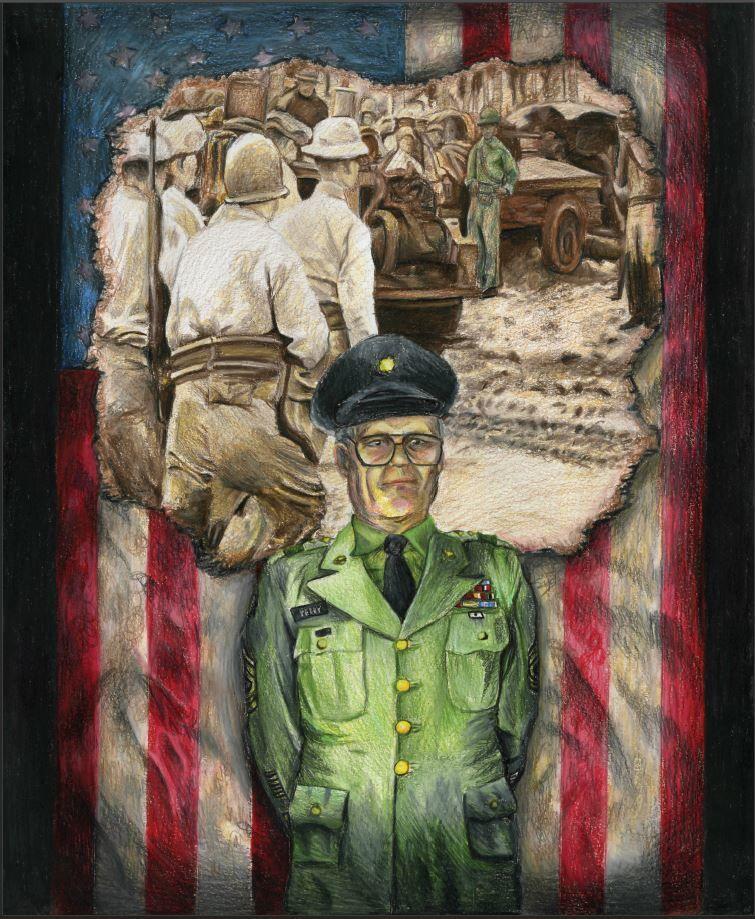 As he walked by me, he said, "Come on. Let's go."
I followed him out to the car and we got in. "How did that go?" I asked.
"Son, let me tell you something. If you have anything you want to do in this life, get it done now. Because before you know it, everyone will think you are too old to do anything."
"Dad, you are 78 years old. Did you expect them to let you fight?"
"No, of course not. But they could have sent me to the Combat Engineering School and I could teach recruits. Blowing things up has not changed that much."
"Take me to Captain D's. I want a fish dinner. And get your mother something, too."
To the Master Sergeant, things were very simple, very black and white. The United States had been attacked and it was his duty to defend it. Oaths had been given, and now they would be fulfilled again. It did not matter that it had been 60 years since Dad had first enlisted.
Meeting Gen. MacArthur
During the early to mid-1990s, there were a lot of 50th anniversary World War II-type shows on TV. One October evening in 1994, I came home from work and stopped to check on Dad. He was sitting in his kitchen watching the little TV. There was a special on about the 50th anniversary of the landing at Leyte Gulf in the Philippines.
"Hey, Jack." (Dad called everyone "Jack.")
"Hey, Dad. What are you doing?"
"Just sawing a board." (This was Dad's standard reply when you asked a stupid question.)
"I mean what are you watching?" I asked.
"A show about the landings in Leyte Gulf. I was there, you know."
"Yeah, I knew you were in the Philippines."
"No, no, not just in the Philippines. I was there at Leyte Gulf. On the beach when MacArthur came ashore."
"Yeah. You know the famous picture with him wading in from the boats on the beach?"
"Yes," I replied. "I've seen it."
Dad continued. "My engineering regiment was split into two groups. Half were boats and landing craft for moving heavy equipment onto the shore. The other half that I was in was for the construction part on land. Me and my guys were on the beach with a bulldozer making a road to get trucks and supplies inland. When we heard MacArthur was landing on our beach, we stopped to watch."
"Yeah. I had volunteered to be a scout and help clear the beach before the landing. I had already been there for three days when the landing happened. Clearing the beach and setting lights so the boats would know where to come in."
"You volunteered for that?"
"Yeah. I volunteered for everything. Let's watch and see if they get this right."
We watched the documentary for 15 minutes or so as they recounted the build-up and preparation for the landings.
As they moved on to the landing itself, instead of the usual showing of a still photo, the actual newsreel showed MacArthur getting out of the boat and walking through the surf and up to the beach. As the camera panned to follow him up the beach, Dad banged the kitchen counter with his hand.
He cried out, "Look, Doug! There I am!"
"That's me in the back. The guy with his hands on his hips watching. I was smoking a cigar."
"Yeah, sure as hell was, and they didn't get it right."
"What do you mean, Dad? It was a newsreel movie. What was not right?"
"That was not the first time!"
"Yeah. They had to do it twice. Something was wrong with the camera the first time. MacArthur and all of them had to get back on the boat and get out again."
"Really? That's interesting. So, for 50 years, every time we've seen that famous pic of MacArthur wading ashore it was actually the second time, he did it?"
"Well, that's crazy," I replied. "Wonder why they didn't talk about that?"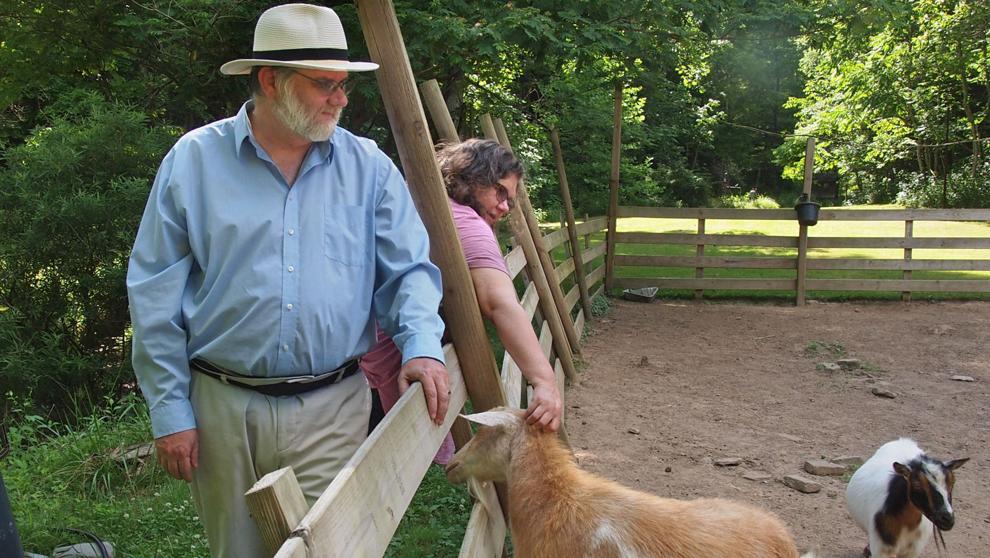 Dad answered, "MacArthur probably ordered them not to. He was big on ceremony and having things just so."
"Maybe so," was my response.
"That was the second time I met MacArthur. The first was when I got my Silver Star. Then I ran into him again a few weeks later. I was running the 'dozer making a road to an airfield we were building. I look up and there comes the general in his jeep with his crew. I stopped the 'dozer to let them pass and the general stopped, too.
"I saluted, and he yelled up to me, 'How is it going, Sergeant?'
"'Good, sir,' I answered.
"'Carry on, Sergeant,' he said, and I replied, 'Yes, sir.'
"When I saluted a second time, I realized I still had my cigar in my mouth and was glad I didn't get yelled at."
"Well, Dad, I suspect he had his pipe, didn't he?"
"Yeah, but he was MacArthur. You don't understand, Doug. At that time in that part of the world, MacArthur was everything. More important than even the president. I should have given him a real salute."
Having said that, the Master Sergeant stood up, faced the TV, snapped to attention and saluted the image of Gen. Douglas MacArthur.
Korean plumbing conundrum
Some of Dad's military stories were downright funny. When I came home from work one day after we had moved into the new house, Angie was waiting for me in the driveway. This was never a good sign. This kind of reception would normally have to do with something our son, Chance, had done. I wondered what it was this time.
I have often quipped that if Angie was as happy to see me as the dog is, we would have a happier life. Her reply is always the same, which is, "If I was that happy to see you, you would wonder about me."
This day would not be that day. "You need to go speak to your father" was the greeting I received upon stepping out of the car.
"OK," I said as I started toward the sliding glass door that leads to the garage we had converted into a family room.
"Not that way! He is out back!" called Angie.
I looked past Angie and the mop I now noticed in her hand and saw my portable air compressor by the bathroom door. I started to ask but was met with "the look."
So, I walk around back and find Dad talking to the horse about something or other.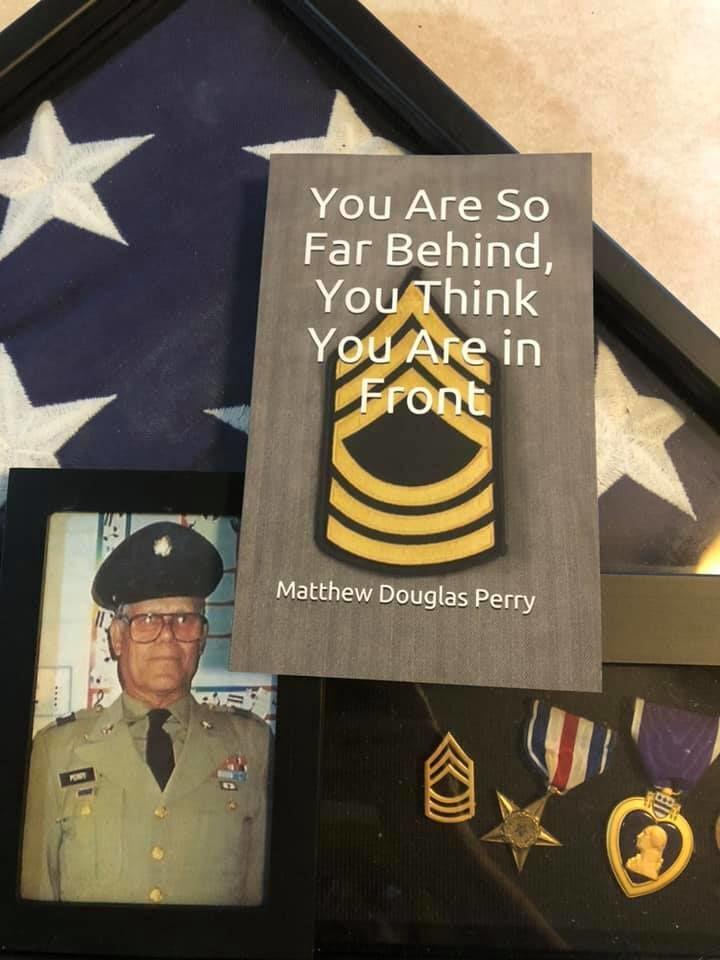 "Hey, did I ever tell you about the time I got in trouble in Korea?" Dad says casually as he picks up a handful of grass he has raked up. He hands a mouthful to the horse through the fence.
He proceeds to tell me this story.
"After the landings at Inchon, my company followed the advance towards Seoul. When the capital was secured, the combat engineers were ordered to get the city back up and running. Fix things get the utilities up and so on.
"That winter, my battalion was camped out in tents in a park close to the downtown area. Well, the enlisted men were camped there. The officers from the battalion and the other headquarters brass had taken over a hotel nearby.
"On one particularly cold day, a new greenhorn lieutenant, we called them all 'Louies,' came charging over to my tent. He was yelling and screaming about the toilets being clogged up in the officer's hotel. I told him they should try [it] outside in the outhouses with us.
"He didn't care for that remark much and got right pissed. After a little more back and forth, the Louie ordered us to 'Get those toilets working immediately, by any means necessary, and to do it right now!'
"So, I smiled, saluted, and said 'Yes, sir!'
"I organized my men, and we drove over to the hotel with one of those big air compressors that you have to tow behind a truck. We rigged up a hose and ran it into the building, through the lobby and into one of the bathrooms.
"After feeding as much of the hose as we could into the commode, I went out to the air compressor and fired that son of a bitch up.
"Water and [feces] blew up out of every toilet in the building. From the first floor all the way up to the top floor. High enough to hit the ceiling of most of the bathrooms. Officers came running and screaming out of the building to my truck and air compressor. They were all yelling and cussing, demanding to know what the hell I was doing and what was going on.
"I said Lt. Jones ordered me to unclog the toilets by 'any means necessary and to do it right now.' There was a lot of yelling at Lt. Jones and me. Kinda like there was in your house today."
The Master Sergeant handed the horse another handful of grass and said, "The commode in the garage was stopped up. I fixed it with the compressor; might be a little water in the floor, the walls and the ceiling."
More information about "You Are So Far Behind, You Think You Are in Front" is available at www.MSGTPerry.com or on Facebook. The book is for sale on Amazon and in stores at Tamarack and Keller's Survival in Cross Lanes. A portion of the proceeds from book sales goes to the Innocent Lives Foundation.