Before today's giant theme parks with elaborate rides named for cartoons, movies and superheroes, there were trolley parks.
The parks were built by trolley companies in the late 19th and early 20th centuries as a way to get workers and their families to ride the trolleys on weekends and holidays. At first they were simple picnic groves, but most later added carousels, other rides and live entertainment.
By 1919, just after World War I, there were more than 1,500 amusement parks around the country, and most of them were trolley parks, according to the National Amusement Park Historical Association. But as autos replaced trolleys, the streetcars and their parks faded away.
Today, the association says, only 11 of the nation's trolley parks remain in operation. Camden Park in Huntington, West Virginia's only operating amusement park, is one of them.
But West Virginia once had a number of other trolley parks, all of them long closed. Here's a look at a few of them:
Rock Springs Park
Rock Springs Park was an amusement park located at Chester, in Hancock County, at the tip of West Virginia's Northern Panhandle. While its lush valley of shade trees and cool springs attracted picnickers as early as the 1880s, Rock Springs was opened as a commercial park in May 1897.
Like many other parks, its development was connected to the street car system. A new bridge over the Ohio River had opened a few months before, carrying a trolley line directly to the park's entrance. During the next decade, developers J. E. McDonald and C. A. Smith made the park a regional showcase.
In its peak years, Rock Springs employed 350 workers and had daily attendances as high as 20,000. Popular rides were the Old Mill, Shoot-the-Chutes and the Scenic Railway. Fun seekers could also swim, boat, stroll the gardens, see a stage production, visit the zoo or dance in the casino.
By the 1950s, the park was vastly reduced in size and grandeur, but continued to operate until 1970 when the rerouting of U.S. Route 30 began. The rerouting would take the highway straight through the old park. All the buildings were sold at public auction in 1974 to make way for the rerouted road and a new Ohio River bridge that replaced the old Chester bridge that once brought in thousands of park patrons.
Luna Park
Luna Park, a trolley park served by the Charleston Interurban Railway Company, was built in 1912 on the north bank of the Kanawha River.
At the park's main entrance on Park Avenue stood a large, wooden fence with two flag-topped spires. Behind the fence, a footbridge led to level ground where park-goers could ride the Royal Giant Dips Coaster, a merry-go-round and Ferris wheel. Visitors could play games of chance and skill on the midway and picnic under shade trees.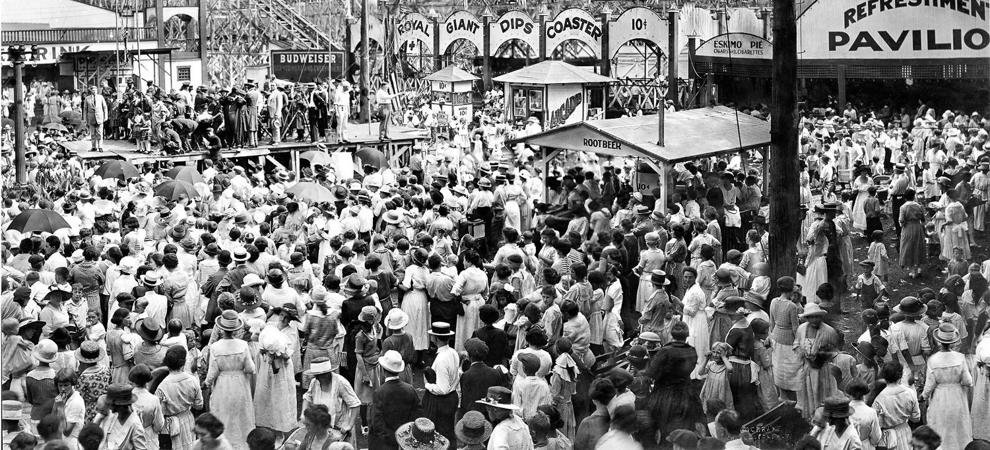 Other park attractions included a zoo, skating rink, boxing ring and dance pavilion. Special entertainment included free outdoor movies, hot air balloons and trapeze artists. People walked to the park or rode streetcars. Excursion boats from Gallipolis and Point Pleasant sometimes stopped at the park to let off passengers.
On May 5, 1923, a fire started by welders working on a new swimming pool destroyed most of the park. Although Luna's owners announced that they would rebuild, the park never reopened. Eventually single-family houses were constructed on the site.
In 2012, the National Park Service designated 40 acres of Charleston's West Side, including the area once occupied by Luna Park, as the Luna Park Historic District.
Terrapin Park
In 1898, Charles H. Shattuck, president of the Parkersburg Electric Power and Street Railway, built a trolley park at the intersection of Dudley Avenue and 25th Street. He named it Terrapin Park because of a small, humped-up knoll on the property. The following year he built the Terrapin Park Casino — not a gambling casino as we use the term today, but a multi-purpose building that included a 2,000-seat auditorium.
In 1913, Henry L. Brenig expanded Terrapin Park by adding a roller coaster, carousel, dance hall and skating rink and other items. In 1916, Paul and Jack Crane took over the park and had two good seasons, but when the park closed for the season after Labor Day in 1918, a fire broke out that all but leveled it. The owners had no insurance and the park was not rebuilt.
Paden Park
In 1904, the Ohio Valley and Duquesne Glass Companies partnered to build Paden Park on land in south Paden City, installing a baseball field, open-air dance floor, confectionary and carousel. The park proved popular but didn't come into full flower until 1909 when the Union Traction Company, which operated the Sistersville-New Martinsville trolley line, built the two-story Paden Park Pavilion.
The pavilion's first floor had a large ballroom that replaced the open-air dance floor on the park grounds. The second floor featured a big skating rink. Although the last trolley in Tyler County ceased operation in 1930, Paden Park lived on until 1943.
Oak Park
Located about one mile west of Masontown, in Preston County, Oak Park was built in 1909 by the Morgantown & Kingwood Railroad. The park was an easy train ride from Morgantown.
On weekends and holidays, it attracted thousands of fun seekers, not just from West Virginia, but also from neighboring Pennsylvania and Maryland. On August 25, 1909, 14 trains brought more than 4,000 people to the park.
Oak Park's attractions included a 65-foot wooden slide, two roller coasters, walking paths, picnic areas, a carousel, a Ferris wheel, a swimming hole, paddle boats and carnival-style game stands. One of the main attractions was the baseball games played at the park between teams formed in surrounding towns and by mine companies.
The park closed in 1930, a victim of the Great Depression.