Because of lingering concerns about COVID-19, West Virginians didn't get much of a Vandalia Gathering this year. We aren't getting an Appalachian String Band Festival, either.
So when I got an offer to come to Allegheny Echoes, in Pocahontas County, I could scarcely turn it down. It was a chance to go see and hear live old-time music and visit Marlinton, the home of the annual West Virginia Roadkill Cook-off.
When Allegheny Echoes organizers gave me a couple of options for when I might visit during the week-long event, they mentioned a "wild meat night."
As an old news friend used to say, "Where there's food, there's news."
I couldn't pass it up, so I made the roughly three-hour drive into Marlinton, checked in at the Marlinton Motor Inn, and then was repeatedly knocked over by some really top-shelf fiddle, banjo and mandolin playing.
There were little concerts during the day, but things really took off after dark. That's when the entire motor inn turned into a pint-sized version of the string band festival, with small groups of musicians gathering outside of different motel rooms to play tunes and maybe have a few beers.
While at Allegheny Echoes, I spent a little time talking to banjo picker Richard Hefner and his ensemble about life during the pandemic. Like a lot of performers, he'd been stalled for the better part of a year, and was just getting back into playing around people.
"The worst part of it," he said, "was there was a good long time there when I didn't even want to pick up anything to play at all."
As the music played on into the night, a dedicated crew fed the crowd a late dinner of pork, venison, clams and something I'm about 90% sure were meatballs in barbecue sauce — 90% sure.
Between the afternoon show and the evening jams, I wandered around Marlinton, got a Hawaiian pizza at Alfredo's Italian & Greek restaurant and then visited the 4th Avenue Gallery of Fine Arts & Crafts, an artist co-op located inside a former C&O Railroad depot.
I poked my head in at the Pocahontas County Opera House and admired the bandstand that stood outside of it.
Through all of Pocahontas County, I had nothing like a cell phone signal, though area businesses, the local library and the motor inn had Wi-Fi. I couldn't place a call, but I could post whatever I wanted to Facebook.
In the morning, I grabbed coffee and a muffin at Dirtbean Café and Bike Shop. Coffee, pastries, ice cream and light meals were downstairs. Bicycles and bicycle repair was upstairs.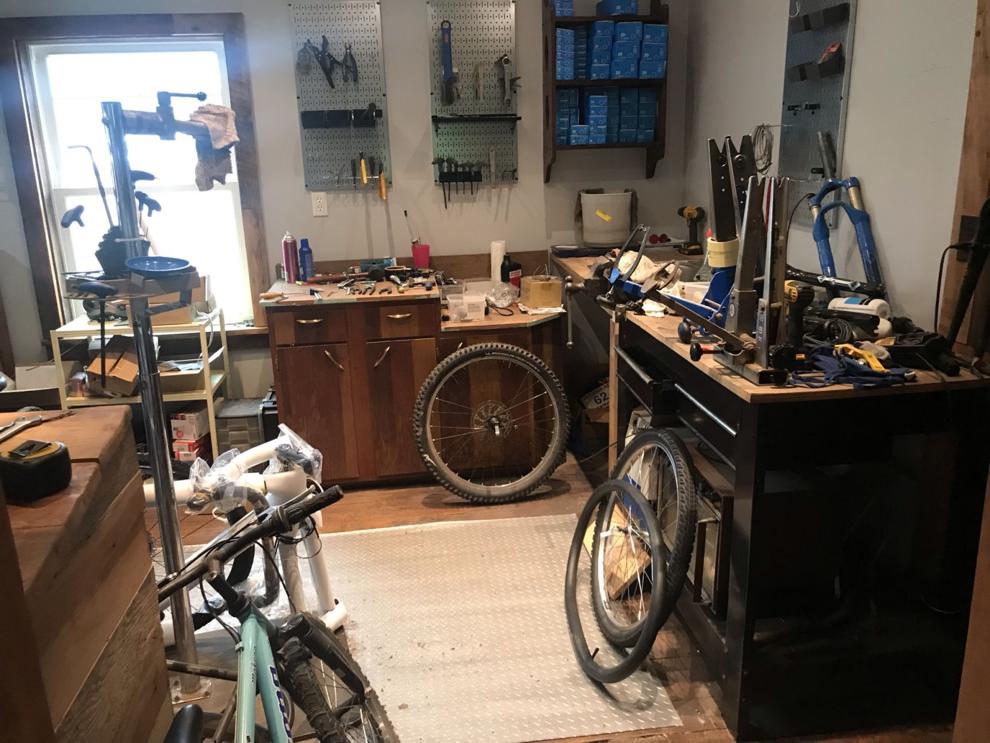 I didn't get a bike, but the coffee was pretty good. The beans were local, roasted just up the road in Richwood at the Cherry River Roasting Company.
The owner seemed harried the morning I visited. She was tired and having to replace the air conditioner. She was also a little anxious about the future.
"It's hard to get enough people who want to work," she told me.
Other places to eat
Appalachia Kitchen
(Snowshoe)
Foxfire Grille (Snowshoe)
Pit stops
Snowshoe Mountain Resort (Snowshoe)
Falls of Hills Creek
(Monongahela National Forest)
Greenbrier River Trail
(Trailhead in Marlinton)
Events
Blues, Brews & BBQs Festival, July 31-Aug. 1 (Snowshoe)
Appalachian Heritage Day, Aug. 7 (Cass Scenic Railroad State Park)
Watoga State Park Mountain Trail Challenge, Aug. 14
(Watoga State Park)