When Jeff Helmick and Heather Skeens exchanged vows at Charleston's First Baptist Church on August 27, they took the next step in a historic journey that began with his parents 54 years ago — to the day.
"It turned out, they were the first biracial couple in the state of West Virginia to get a [marriage] license," said his aunt, Mattie James, who attended both ceremonies — and never realized there was police presence at the first.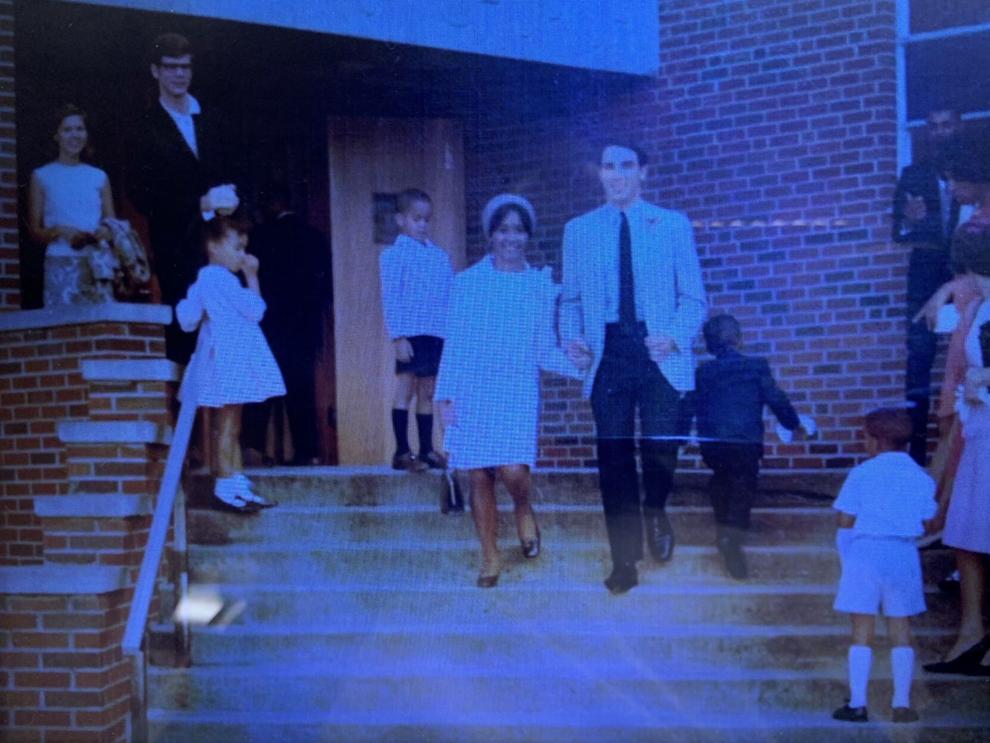 Under the headline "First Mixed Marriage License Granted Here," a Charleston Gazette story published on Aug. 13, 1967 announced a license had been granted for West Virginia's first interracial marriage.
"It went to a white man, 24-year-old David Joseph Helmick of Cleveland, and a Negro woman, 23-year-old Juliette Burrell" of Charleston, read the article. "It is the first marriage license knowingly issued to persons of the two races in the history of West Virginia."
Raised in Charleston, Julie, as she was known, finished high school at 16 and graduated from West Virginia State University at 20 — then moved to Cleveland for her first teaching job, where she met her future husband.
"Obviously, it was a huge, huge thing for them to go in there and ask for a marriage license," said the couple's son, Jeff, 52, who lives in Cleveland.
The license request followed a June 12 ruling from the Supreme Court that barred the state of Virginia from prohibiting interracial marriages – essentially declaring similar laws in 15 other states, including West Virginia, to be unconstitutional.
Two months later, the Helmick-Burrell request in Kanawha County was treated — almost — like any other. But according to the article, the clerk, who still had nothing on record in his office freeing him from the restrictions in state code, asked for an opinion. Prosecutor Charles M. Walker told him the license should be processed in a normal manner without regard to the statutes in question, and the license was issued that day.
The wedding took place on August 27, 1967.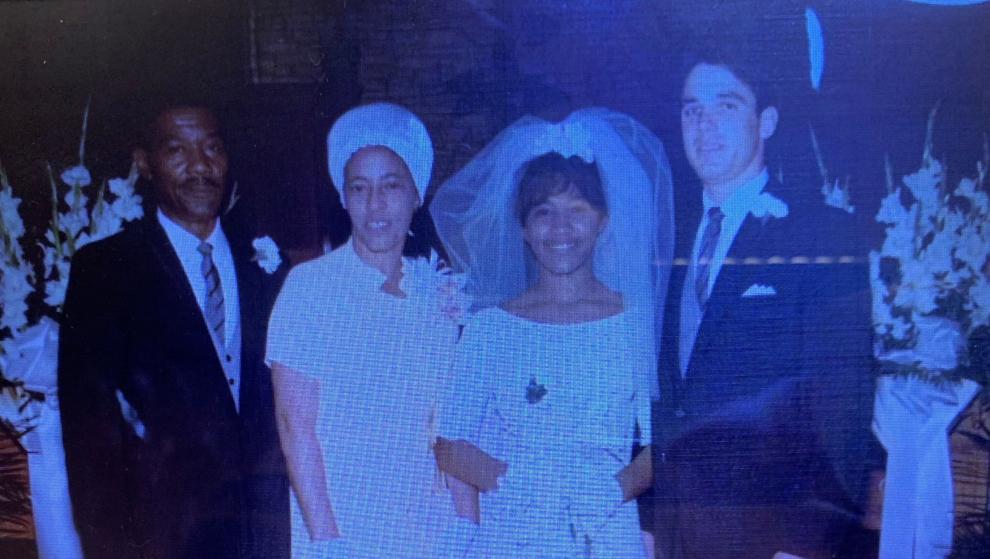 The union, like a lot of same race marriages, didn't last forever. Jeff was in elementary school when his parents divorced. His dad passed a few years ago, and his mom suffers now from dementia.
But they both fostered in him, he said, a culture of appreciation for diversity, acceptance and fairness — qualities he sees in his new wife.
"That's the only reason we chose this date, as a tribute to them and the historical significance of it," said Heather Skeens Helmick, a Charleston-based ophthalmologist.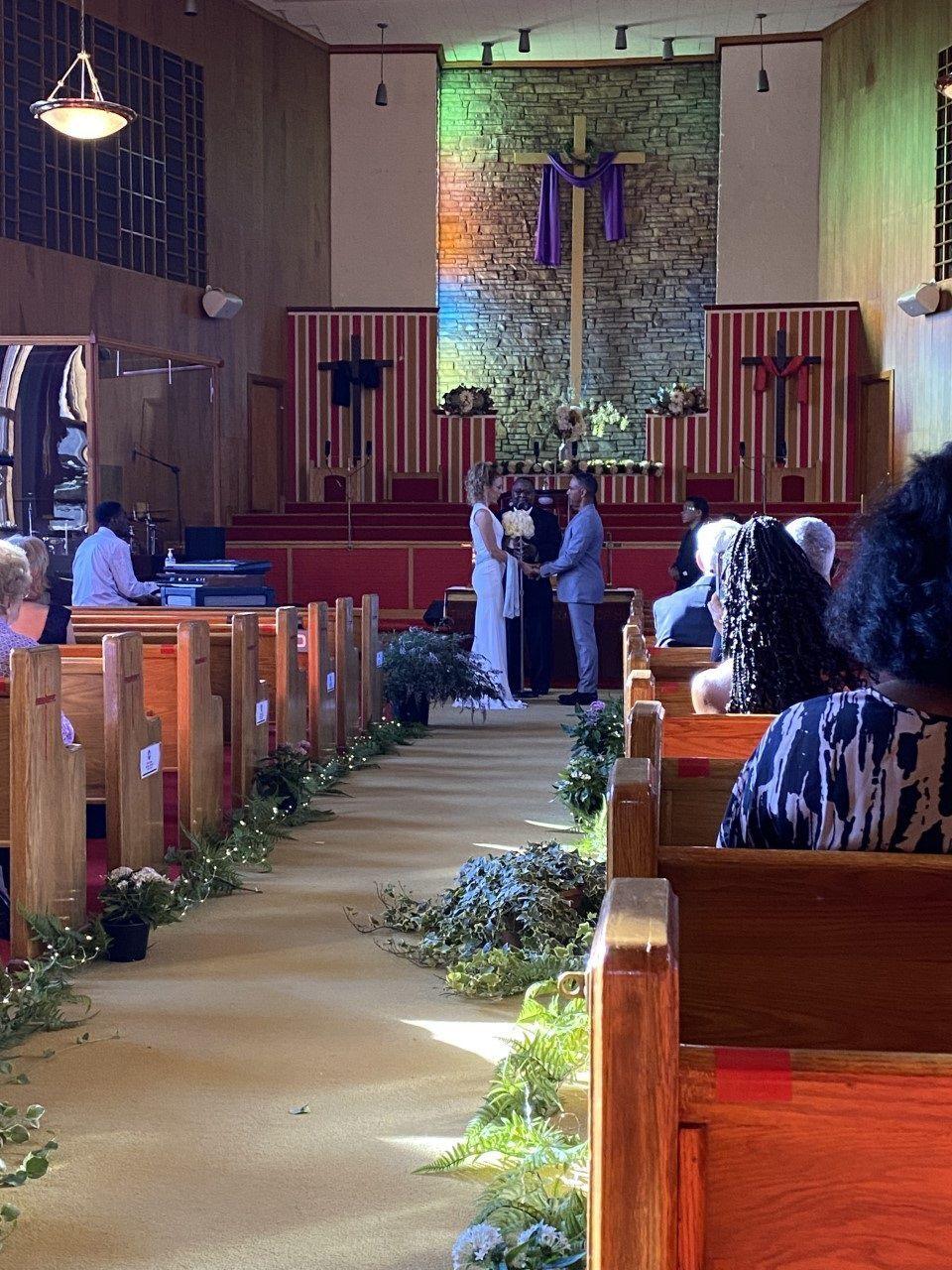 Besides the date, there are other similarities: he's from Cleveland, she's from Charleston; she's white, he's Black. And family members — then and now — celebrated the unions for the love they symbolized, rather than the statements they made.
"She met Dave and brought him home, and we all fell in love with him, too. He was a really nice guy," said James.
"He was very kind to my sister, and that's what we were concerned with, you know, how he treated her."
Despite racial tensions across the country at the time — the peak of civil unrest in the United States — there didn't seem to be as much here, she said.
"Not to say that there was not unequal treatment in West Virginia because there was — but we were able to eat anywhere we wanted to eat. We were able to get jobs," she said.
When West Virginia schools were integrated in the years following the landmark 1954 Supreme Court ruling in Brown v. Board of Education, "We didn't have any problems. There were no riots. We felt welcome in the schools. Nobody was there hollering telling us, 'Go back,'" she said.
Still, there were some issues. Like the time a lady very intentionally dumped a plate of food on his mother in a restaurant, he said, or the place in Cleveland the couple wanted to rent.
"My dad called, and they said they had vacancy and then when they showed up to look at it they said there was no apartment available," said Jeff.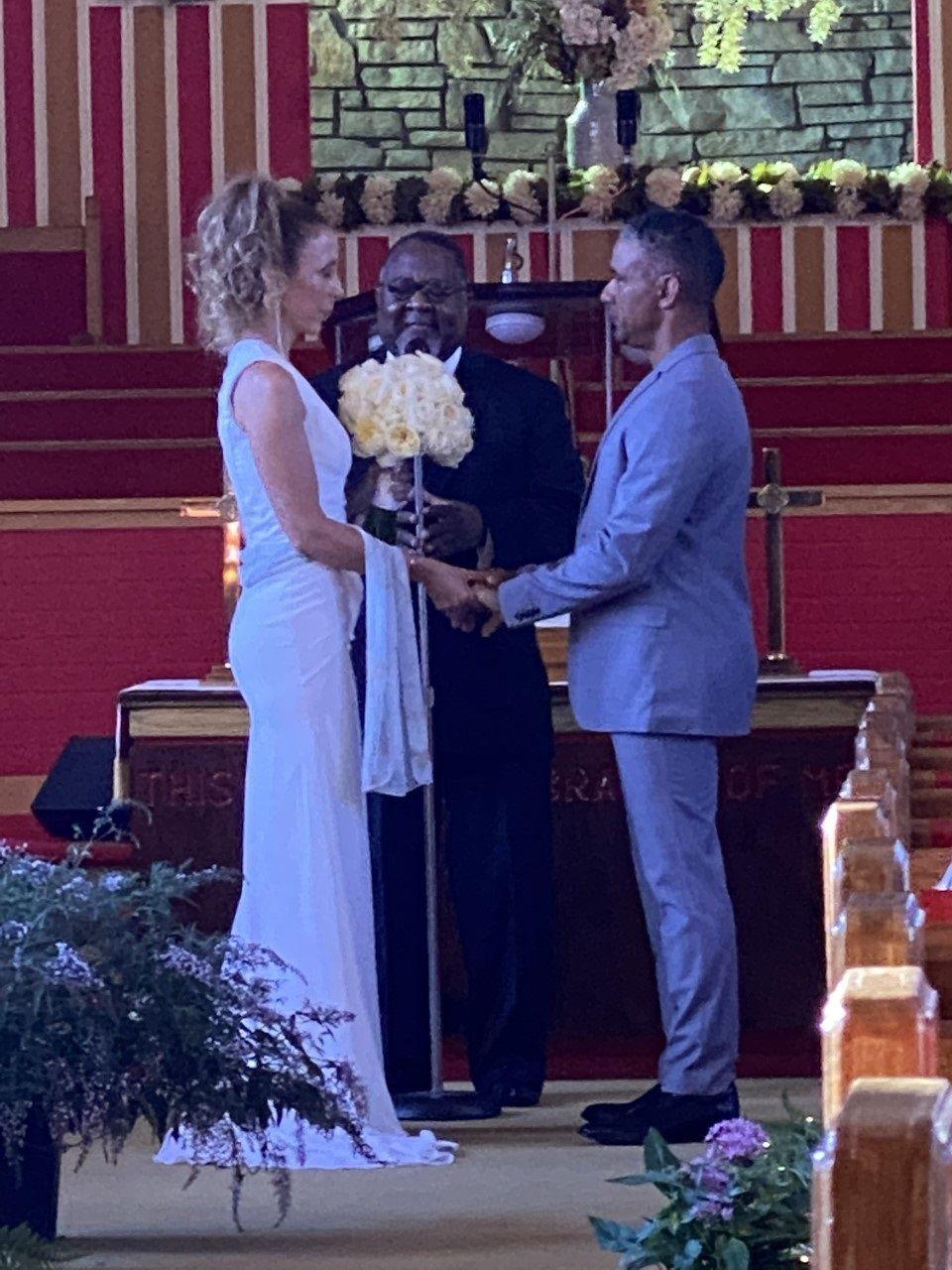 And the issues haven't all gone away. As a Black man today, he added, he's learned how to handle certain situations — but it was a shock to Heather when he was pulled over after dark with a headlight out in St. Albans several years ago.
"And I saw Jeff when he immediately took his insurance card, driver's license, put them into his hands and put both of his hands out the window, holding his information before the officer got to the car. And I said, 'What are you doing?' And he said, 'I need him to see my hands and to know that I'm not armed and that I have the information. I'm going to comply,'" she remembered.
"And I thought, 'You know, I've never even thought about that. Like, in my life.' And it made me so sad. Like, I never had to think that way."
She was shocked — and angered — more recently by what they both feel was a racially motivated traffic stop in Ravenswood.
The officer, said Jeff, "asked me where I was going and said he got me for erratic driving. Just asked me a lot of questions ... 'Are there any drugs in the car?' 'If I bring the drug dog out here, is he going to tear your car up?' I said 'Man, I don't drink or smoke. I have some golf clubs in the back. And a lunch box up here. That's about it.'"
Injustice, he said, might be more subtle now than it was in his parents' time — but it's also more visible with the spread of cellphone cameras.
"Even my kids, they think things are different, but they've had a rude awakening the last couple of years in terms of events across the country," he said.
"We've come a long way, but we have a long way to go," said the Rev. Paul A. Dunn, pastor of the First Baptist Church, who presided over the Helmick-Skeens ceremony.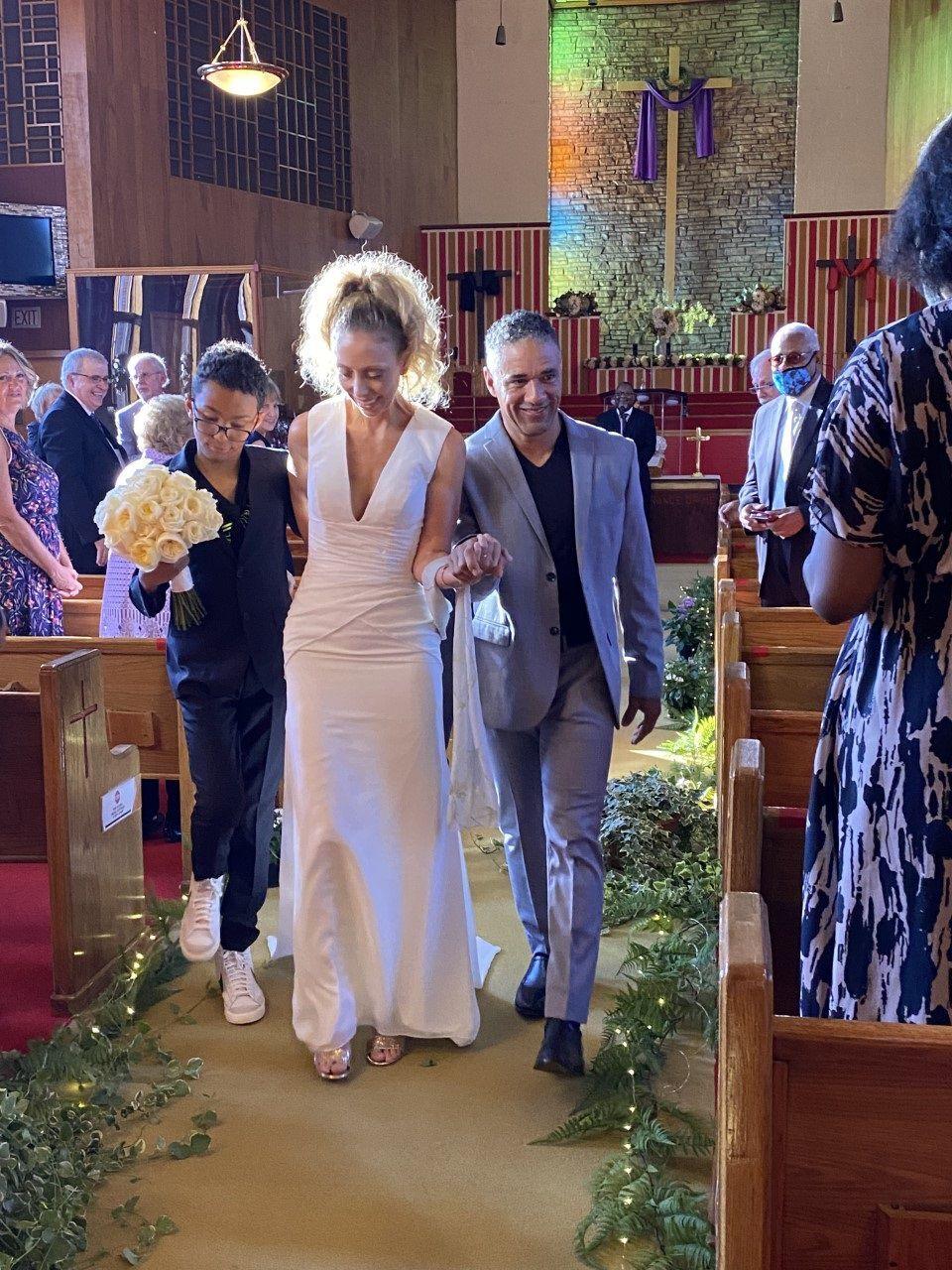 "We still are bound by the issues of skin color and race. So it is prevalent in the world we live in today, just as it was in biblical times and just as it was in '67."
And yet, he said, the first miracle in the Bible was the wedding at Canaan.
So when they thought about their own union, the ceremony itself, Jeff and Heather wanted the pastor, in the same sanctuary where his parents once exchanged vows, to speak to the lessons they hope will live on.
"It lets us know that love has no boundaries, and that love should not be limited to color, race, ethnicity or Creed. Love is for all people," Dunn told the congregation.
For Jeff, it all comes down to the words of his mom, spoken so often through the years that he can hear them now, even if she can't speak them.
"My mom always said you like who you like, you love who you love ... and she always said she would love who I love."