Stacy Jacques first met her two-day-old daughter at the Applebees in Kanawha City on a frigid December day in 2007.
"She was in a little onesie. It was freezing cold. I had nothing. I thought she would at least come with clothes," said Jacques.
The birth mom had relinquished rights immediately — and hadn't decided what the baby girl should be called.
"I had all of 10 seconds to come up with her name — Abigail Grace."
Abby, now 13, is one of 27 children Jacques has helped to raise, including a biological daughter who's now four, and 26 foster children. She's adopted four of them. And she's preparing to take in more.
"I'm hopefully going to do teen moms. I'm going to do more difficult sibling groups as well but teen moms is what I really want to do — help people keep their kids," she said.
"That's what all this time in the system has taught me, that people just need help."
May is National Foster Care Month. The latest available figures from the West Virginia Department of Health and Human Resources show 6,857 West Virginia children in the foster care system, with a wide variety of placements designed to ensure their safety. Many are kinship placements, with relatives or family friends. At the end of last year, there were just over 3,500 certified foster homes in West Virginia — some, with multiple placements at the same time.
"During National Foster Care Month, we want to draw attention to the immeasurable effort put forth by child welfare staff, kinship/relative providers, resource homes, and many others to ensure child safety, permanency, and well-being," said Linda Watts, Commissioner for the Bureau for Children and Families within the West Virginia Department of Health and Human Resources.
"We hope to also shine a light on the continued need for more certified foster parents in West Virginia."
The first foster care placement for Christie and Summer Linger-Hunt of Kanawha County came in the 2018. Actually, there were three siblings.
"Going from no children in the house to three children in the house was a big adjustment, between the ages of two and 10," said Summer.
Best friends since grade school, they knew once they got married that they would like to consider foster care — in part, because Christie was briefly in foster care as a child herself, and the overall experience was a good one.
"I don't remember all of the details but there were just some happy moments with that family. I thought, 'I want to be able to show a child a good, safe place,'" she said.
While she was in care, "my mom got the help she needed" so that she could return home and — with hard work on both sides — today they have a good mother-daughter relationship.
That first placement lasted roughly a year. After a break to do temporary placements and respite care for other foster families, they got a pre-schooler who also eventually went to a pre-adoptive home.
Then they had two children under two years of age placed with them just as COVID-19, with all of its frenzy and chaos, was ramping up.
"We didn't have anything. We didn't have a car seat. We didn't have a bassinet. It was panic mode," said Summer.
"This was at the height of the pandemic and ... they put a limit on everything. You could only get two cans of formula. You could only get two packs of diapers. You could only get two packs of wipes. And when you're getting two children under two, one who is very, very young, that was absolutely crazy," said Christie.
"We were blessed to be able to have a bunch of family and friends pitch in to help us."
Jacques, too, said the help from her family has been critical to her success in fostering.
Her first placement was a baby boy. She had been on a competitive career track. But that all changed when he came along.
"My life goal was not to be a high powered attorney. It was to be a mom. Once I held that baby in my arms, I knew I was meant to be a mom," she said.
He "was exposed to substances in utero," and is now her 14-year-old son.
"They said he would never walk or talk. He runs track. He's in 8th grade. He has intellectual delays and he has some issues but he does everything and he's going to have a successful life," she said.
Her teen daughter, she said, has severe fetal alcohol syndrome. "She does fantastic. She is a typical teenager."
Another son, Dakoda, "came to me and couldn't read the alphabet when he was 8 and he graduated with honors last year. He's at Marshall, full ride. He's earned a full ride because his grades were so good," she said.
The angry teen with Reactive Attachment Disorder, who falsely reported her for having a home covered in black mold?
"She was legitimately angry and she was angry that she was being abandoned again. I adopted her at 14. ... She's now a successful adult, holds down a job, maintains an apartment."
But these long term foster parents know, it's not all sunshine and rainbows.
"There are difficult days. There are challenging placements where the behavior sometimes feels like more than you can handle because as a result of trauma children sometimes do need the extra help. At the end of the day sometimes your heart just has to be there," said Christie.
The heart, though, is perhaps what prevents many would-be foster families from getting involved: the risk of losing the kids, even for the right reasons, is too hard. Too painful.
For the Linger-Hunts, the three siblings in that first placement ended up going to a pre-adoptive home more suited to meeting all of their needs.
"How do you wake up for over a year being called 'Mom' to kids and then you wake up and walk into a room expecting to pick up a child that's not in that bed because you forgot they left the night before? You don't just wake up one morning and like, you're not their mom any more. It doesn't work like that," said Christie.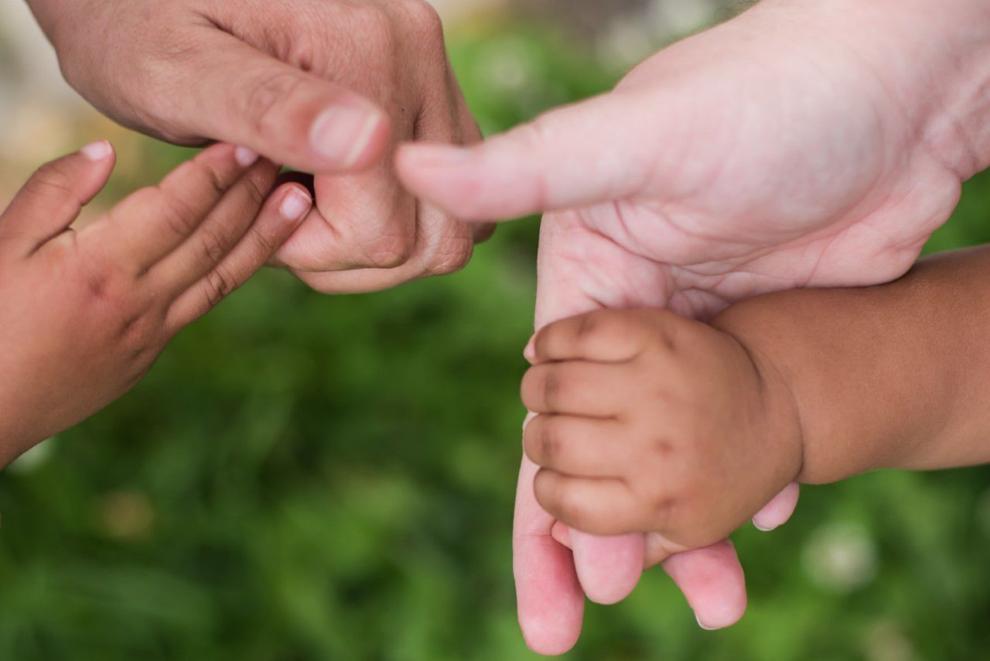 It took time before they were ready for another placement.
All three foster parents say they handle the heartbreak by recognizing the goal of reunification from the very beginning, and by trusting all of the different people in the system, as stressed and imperfect as it might be, to work. Even when they've heard horror stories about the biological parents.
"I had two kids that, when I got them, I'd been told the baby had had a broken rib, the children were left alone in an apartment at night while the parents went off to work. But as I got to know them I discovered that the parents were working three jobs. They had recently moved to the area. They had no social support. They loved these kids … and they worked their butts off to get them back," said Jacques.
"Once they got better jobs and got some parenting, those kids are doing fantastic with their mom and dad."
And that broken rib? The baby was premature. They now say it was an injury sustained during a difficult birth.
"There are parents who shouldn't get their kids back. But that's not the majority of kids in the foster care system. Most of the kids are there for neglect, or their parents' drug use, and those are both conditions we can treat. Poverty and drug use we can treat," said Jacques.
Except in cases of abuse, she said, "the system should provide everybody with the resources they need that if they work hard they can get their kids back."
Part of her mission, she said, is to help the parents fix whatever the problem is so their kids can go home.
"I want kids to go back. That's what a life time of fostering has taught me is that, I love all my adopted kids and they are all better off with me because their families were not ones you could go back to. But all the kids that have gone back that I've had in foster care are doing well, and a lot more have gone back than have stayed," she added.
The two little girls Christie and Summer are fostering now have a mom who is on track for reunification.
"The relationship we have with her is unlike any we've had with a bio placement before and it's a testament to what [child protective services] will allow. ... Because we've built such a good relationship with their biological mother, she's asked if we will continue to be a part of their lives," said Summer.
"I better be the first on the babysitter list," said Christie, laughing. "We've loved these girls for so long it would be an honor to watch them for a couple of hours."
That doesn't mean it will be easy.
"Even when they're going somewhere and you know it's right and it's happy, even when you're super supportive and love that, there's still a bit of a loss. They will always be a piece of who you are. I've never been pregnant.
"I've never given birth but I do have five daughters and two sons. They're not in my home anymore but they're in my heart," she said.