BARBOURSVILLE — Huntington is famous for its hot dogs, even holding a hot dog festival each year. So perhaps it's no surprise that Dog Haus Biergarten would open a location nearby.
Dog Haus is a franchise of restaurants that was founded in Pasadena, California, in 2010. Priding themselves on their gourmet hot dogs and sausages while other restaurants strive to be the best they dub themselves "The Absolute Wurst."
The Barboursville location is the 51st location in the chain, which currently operates in 16 states.
It is owned locally by Vicki Dunn-Marshall and Carissa Marshall, and opened quietly on Dec. 17.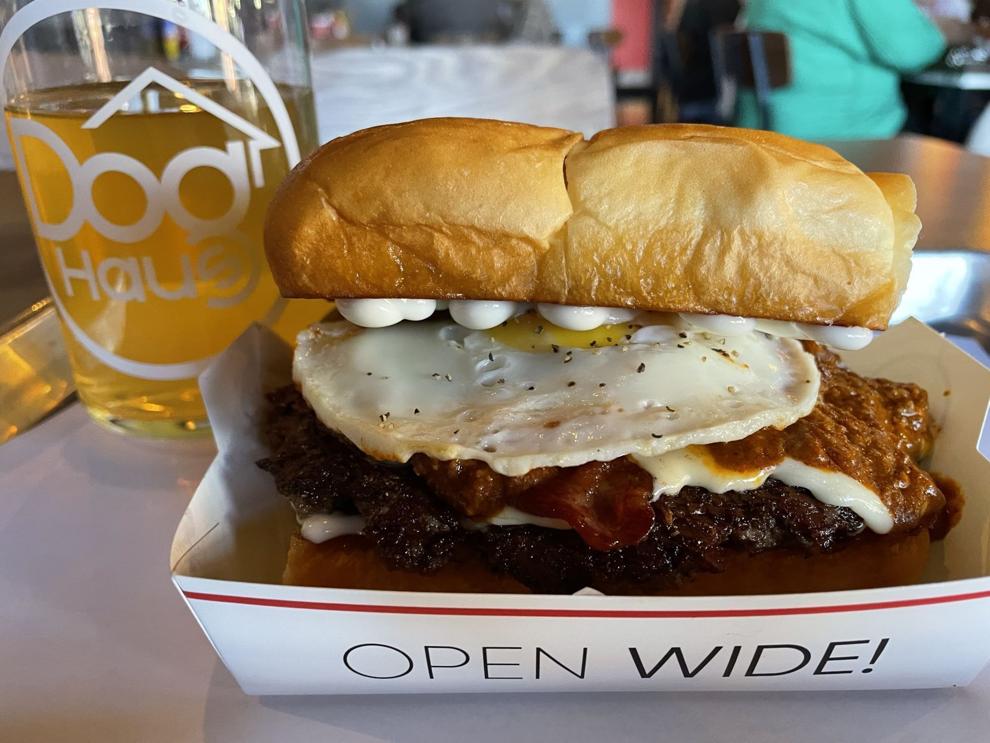 "Vicki and Carissa really loved the community here and looked at what they could bring that was new and creative to the area. They thought this was the perfect fit," said Sabrina Donahue-Moore, marketing director for the Dog Haus. "This plaza Village Shops had been under construction since [the pandemic]. We broke ground on this face around the beginning of the year in February. Building something during the pandemic definitely brought upon a lot of struggles, but we made a commitment to be persistent to open this up for the area. We were still in training but we wanted to go ahead and open up to the public. We did a couple of days of test runs with friends and family then we wanted to continue our training while we opened up. We are planning on doing a grand opening and a ribbon cutting on the 6th of January."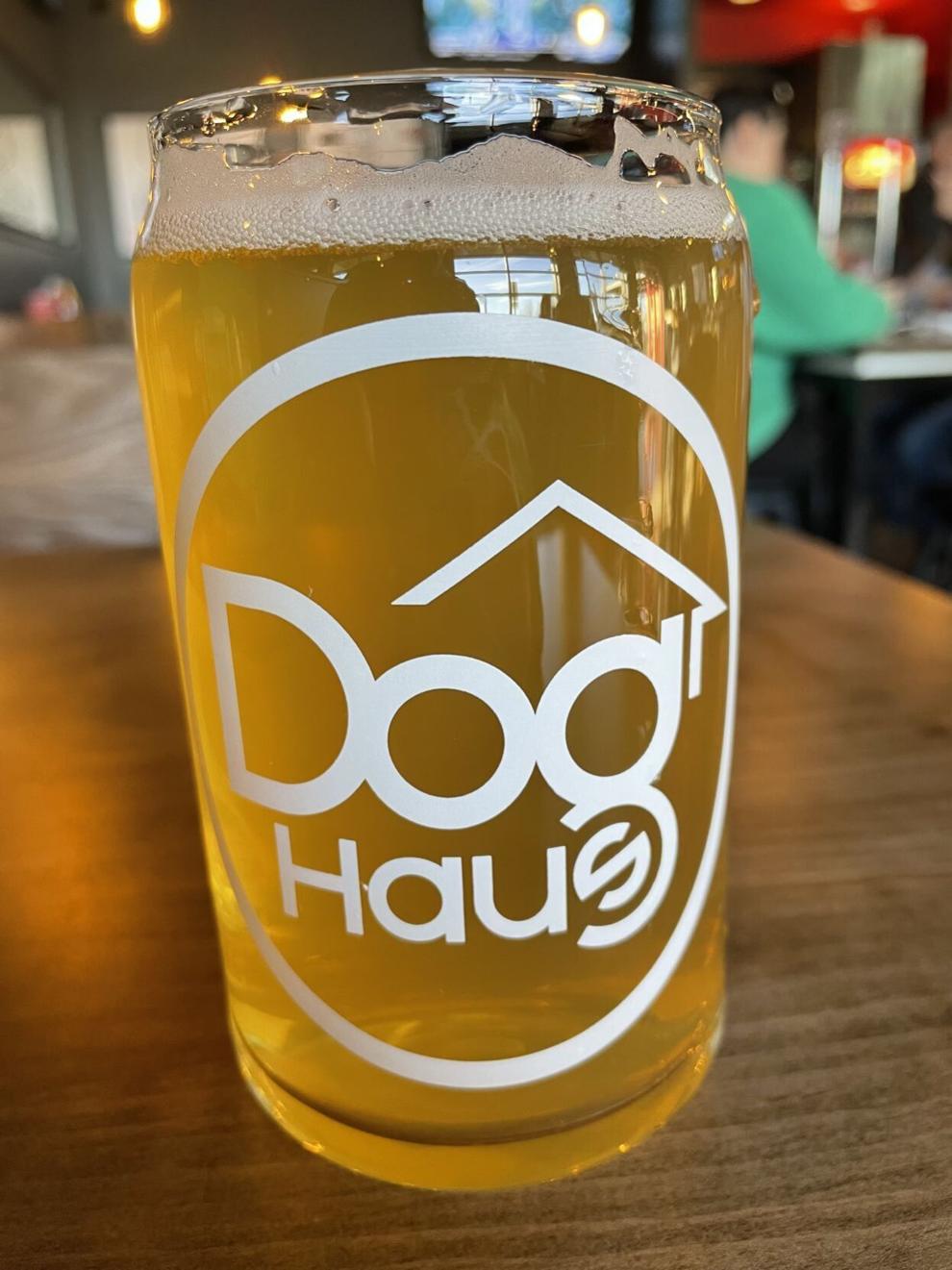 "This location is our first in West Virginia. We had a dog added to the menu specifically to mark the occasion. It is called 'Almost Heaven.' It's our version of a West Virginia hot dog. It has chili, onions, mustard and slaw. It looks absolutely delicious and to be honest it really is 'Almost Heaven' — it tastes delicious," Donahue-Moore said. "We have a wide variety on the menu that will appeal to many different people. The underlying thing that I think really sets us apart is the quality of the meat that we have. Our dogs are 100% beef. Our meat has no antibiotics and is hormone-free. I love that we also have a variety of plant-based proteins for people who are vegetarians or just cutting back on their meat. Honestly, you can't go wrong with any of our chicken sandwiches, our sausages or our burgers. We have something for everyone."
Customers can choose from a variety of extra-large hot dogs served on King's Hawaiian Rolls. These include the Cowboy ($7.99) a dog wrapped in bacon topped with cheese sauce, crispy onions and BBQ sauce. There is also an assortment of sausages such as Das Brat ($7.99), which has caramelized onions, sauerkraut and spicy brown mustard. There's also the T-Mex ($8.49), which is a pepperjack cheese stuffed chorizo beef sausage topped with avocado, slaw, pickled jalapenos and pickled peppers topped with a chipotle aioli. Among the burgers are The Hangover ($10.99), which has white American cheese, smoked bacon, chili, a fried egg and mayo.
There is also a breakfast menu featuring breakfast burritos, bowls, quesadillas and tacos. Among the offerings are The Fonz ($12.49 burrito, $12.99 bowl), which has three eggs, a spicy Italian sausage, pastrami, white American cheese, tater tots and spicy mayo.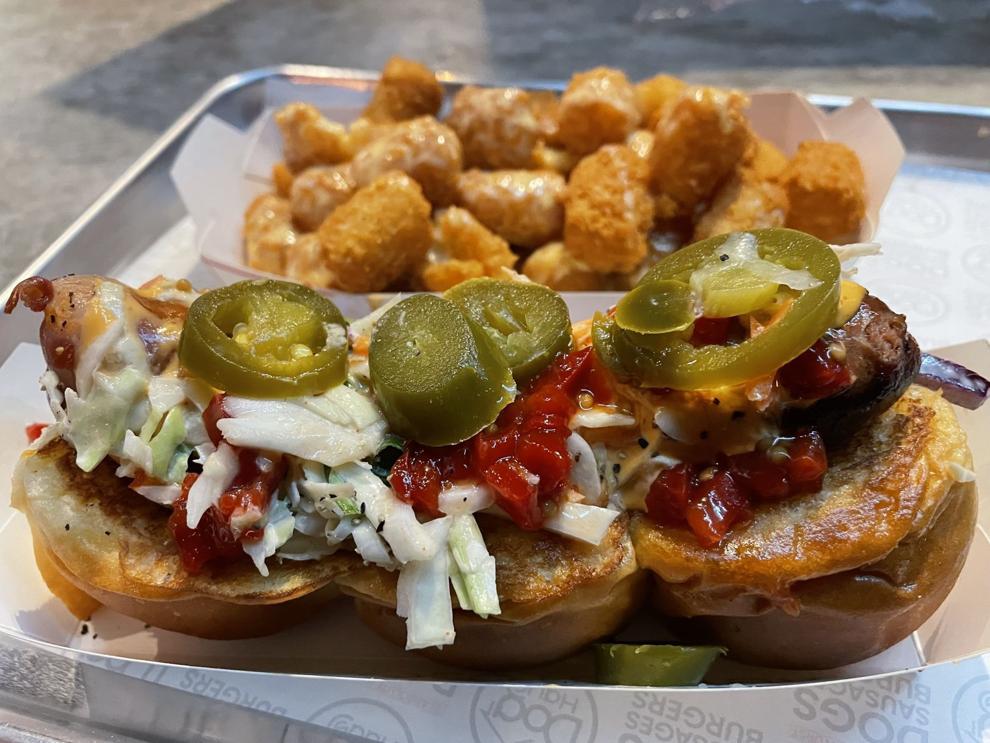 "Like with our dogs, we try to appeal to everybody with our beer selection. We don't want to isolate anyone and have a good variety that appeals to all different types of people and what their beer wants are. We have domestics on tap, local beers and well recognized craft beers as well. We are going to keep that list updated and evolving," Donahue-Moore said. "We also have a signature cocktail menu, which was created by Phil Willis who has been featured on 'Bar Rescue.' They are very fun and very refreshing. They will be moving on with different cocktails as we move along."The Dog Haus Biergarten is located at 6310 U.S. 60 in Barboursville next to Food Fair. It is currently open from 7 a.m. until 10 p.m. Monday through Thursday and from 7 a.m. until 11 p.m. Friday and Saturday. Sunday hours are from 9 a.m. until 9 p.m.