BARBOURSVILLE — Trying to get Michelle Hill to disclose the secret recipe behind her wildly popular chocolate-covered cherries is like asking Santa to hand over the naughty list. It's not going to happen.
"You take this and this and this and this and put it all together and stick it in the refrigerator to chill for a while," she said with a twinkling smile.
Don't be fooled by the teasing attitude. She gets this question a lot. And she is completely serious about keeping her secret recipe a secret — even from loyal and trusted employees.
"I don't know what the recipe is," said Caitie Adams, a high school student in the midst of her first chocolate-covered cherry season. She pinched the carefully blended fondant Hill has made, wrapping it around maraschino cherries flown in from Michigan.
Years ago, when Cindy Robinson started wrapping the cherries and dipping them into a molten chocolate blend, she knew the recipe was "a delicate subject," and said she offered to sign a non-disclosure agreement.
Ultimately, she decided she didn't want the details, so she wouldn't have to worry about accidentally revealing something important about the ingredients or the process Hill had so painstakingly worked to perfect.
"She's been offered quite a large sum for that recipe and she's held on to it, so it must be pretty valuable to her," Robinson said.
Hill confirmed the offer came in 2003, for $150,000. The person behind it is "confidential," she said, "but it's a very well-known, very famous man — a famous chef."
It might seem like a lot of money. But it took her more than two decades of work to get the process just right.
"Twenty-five years divided by 150,000 is what, $6,000 per year that I would have been paid? All my crazy work, my hard work of being obsessive, is only worth $6,000?"
That "crazy work" all started well before the quarter-century mark, when her mother shared a recipe for chocolate-covered cherries. It was OK, but not great. Thus began a quest — which became an obsession, really — for a better outcome.
For that, she turned to some guinea pigs — friends and family who agreed to test her ongoing experiments.
"I gathered my guinea pigs, and every time I made a batch, these guinea pigs got samplings. And 25 years of making this, you do get a lot of guinea pigs," she said.
Post-it notes covered her kitchen cabinets with scribbled details for every change she made — a different kind of cherry, a different brand of chocolate or a new addition to the fondant.
"In 1999, all of my guinea pigs said to me at once, 'Whatever you did, stop.'"
It was time to stop handing out free samples and start selling. Perfection, it seemed, had finally arrived.
Coincidentally, so had the internet. A friend who was into the newfangled World Wide Web suggested she go online. So, for $99 she bought a valuable domain name: chocolatecoveredcherries.com.
She uses that domain even though her company is now called Tibbenham Chocolates of West Virginia, incorporating her mother's maiden name.
So, it must have been tempting earlier this year, when she got another lucrative offer: Someone wanted her website address. It wasn't clear exactly what the other company was selling, but with a little digging, Hill realized it had nothing to do with what she was making. So she turned that offer down, too.
"They wanted the website name for something that was not very nice, and I chose not to have my good name splattered with what they planned to use it for," she said.
Since 1999, she has turned her obsession into a business she's proud of, even if she only practices her culinary art two months out of each year. From mid-November to mid-January, the back of her WV Quilt shop — where she has installed enough sinks and sterile work space to meet health department regulations — becomes a chocolate-covered cherry factory.
The bright-red fruit is wiped dry to prevent leakage, then wrapped in that special fondant, dipped by hand into creamy chocolate and set to dry and harden. The team cranks out as many as 800 cherries in a single day. There are ten to every box, which sell for $18 each or $21 for cherries that have been soaked in Crown Royal whiskey for a month.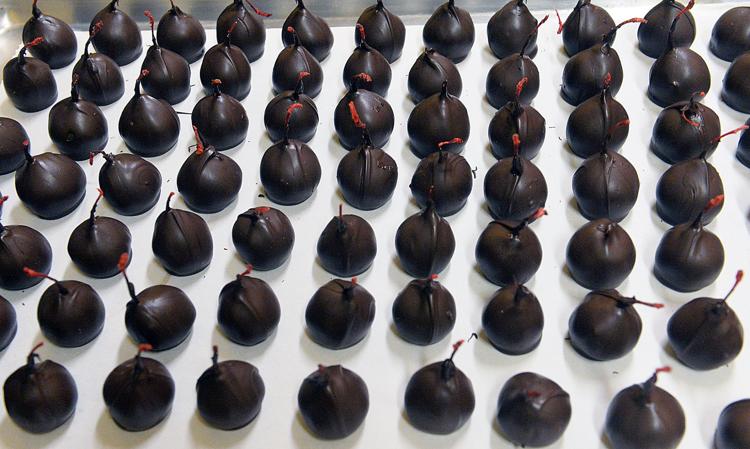 They will make an estimated 1,500 boxes or more to be picked up in person or shipped all over the country. A bigger production might mean having to compromise in ways she's not willing to do.
"The chocolate I use doesn't like to be above 72 degrees," she said. "And I don't use any preservatives. If we go into mass production, I'd have to add wax to the chocolate. I'd have to add preservatives, and I don't think it would taste the same."
The experience has made her life richer in ways she never imagined. But at the end of the day, everything has a price. Hill sometimes thinks back to that $150,000 offer she had, and stops to ponder what price she might take.
"Add another zero on that, and I would've considered it," she admitted. "And it is that good. ... Without a doubt, it's a million-dollar recipe."
Tibbenham's Chocolate Covered Cherries are available at the WV Quilt shop, located at 642 Main Street in Barboursville, and at LaFontaine's, located at 418 10th Street in Huntington. They can also be ordered online at chocolatecoveredcherries.com. For more information, contact Tibbenham Chocolates at 304-302-5400.