Not everyone can remember where and when they met Charly "Jupiter" Hamilton, Charleston's most well-known visual artist.
Hamilton, who died September 21 at the age of 73, had been a part of the city for so long that it was difficult to imagine a time when the grinning, bushy-haired artist hadn't been here.
His art is everywhere in Charleston — on the walls of area businesses and in the homes of local residents.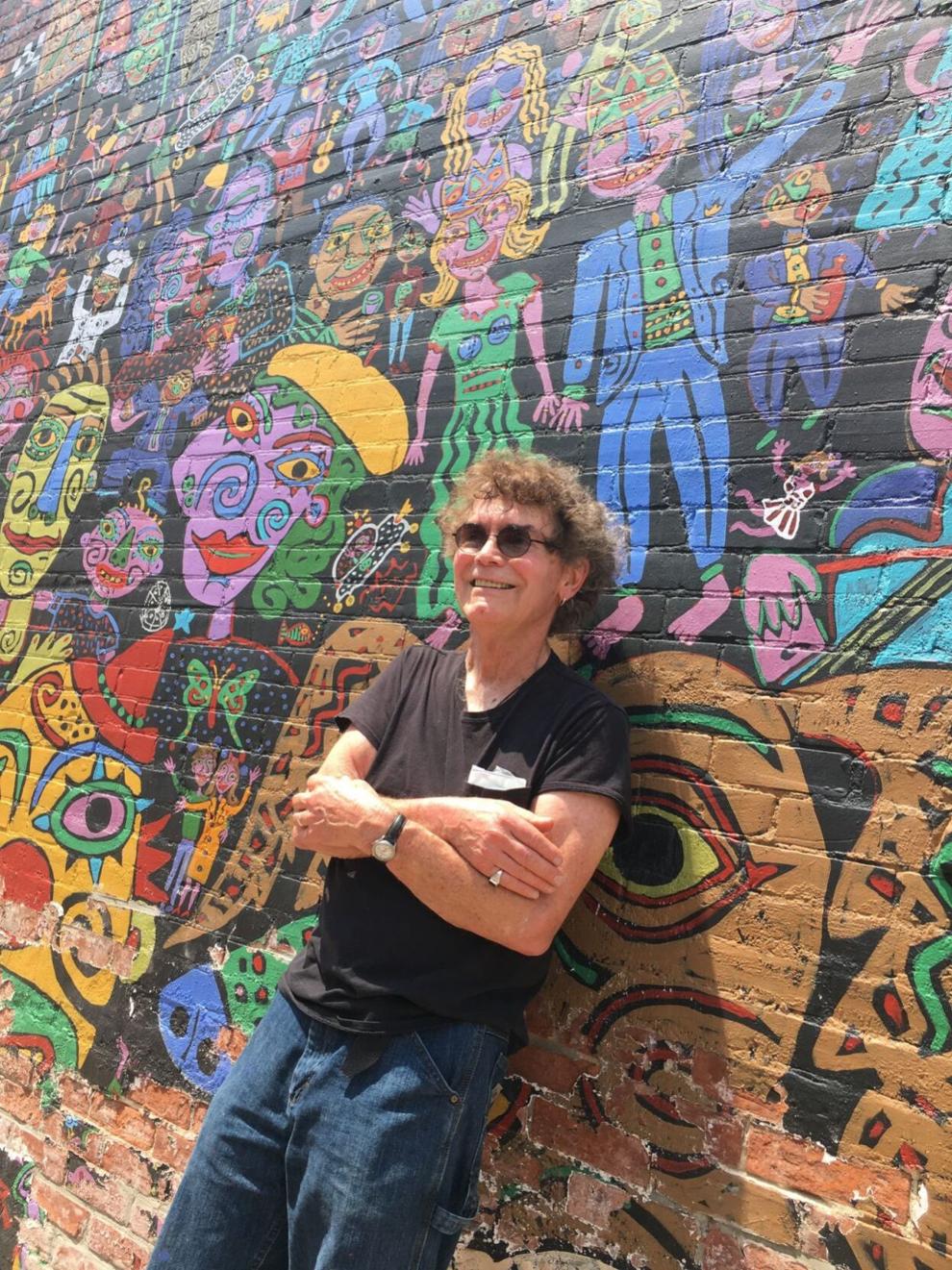 Charleston City Public Art Director Jeff Pierson said, "It's a bad joke, but I like to say that Charly and I arrived in Charleston at the same time — in 1977. That's when he first moved here and when I was born."
Pierson couldn't remember when he first met Charly, but Rhoda Hamilton could.
"Charly was a lifeguard at Grace Park Pool in North Carolina," she said. "He was the only lifeguard who wasn't on the swim team."
On a dare from some friends, Rhoda said she went up to talk to him at the pool.
"I was 14 and not dating material," she said.
Rhoda said hello and Charly sang to her, "The House of the Rising Sun."
She laughed at the memory.
"He didn't have a very good singing voice," she said. "But he used to sing that to me, and it would melt my heart."
Rhoda said she went to Grace Park Pool every day after that, all summer long, but they didn't start dating until she turned 16.
Rhoda remembered a teenage Charly Hamilton as being much like the grown man, full of intelligence and humor.
"And he had that long hair and a motorcycle," she said. "He was my James Dean."
Her father didn't like him much, Rhoda recalled. Charly was just another farm boy up the road, working at his father's dairy — but not really.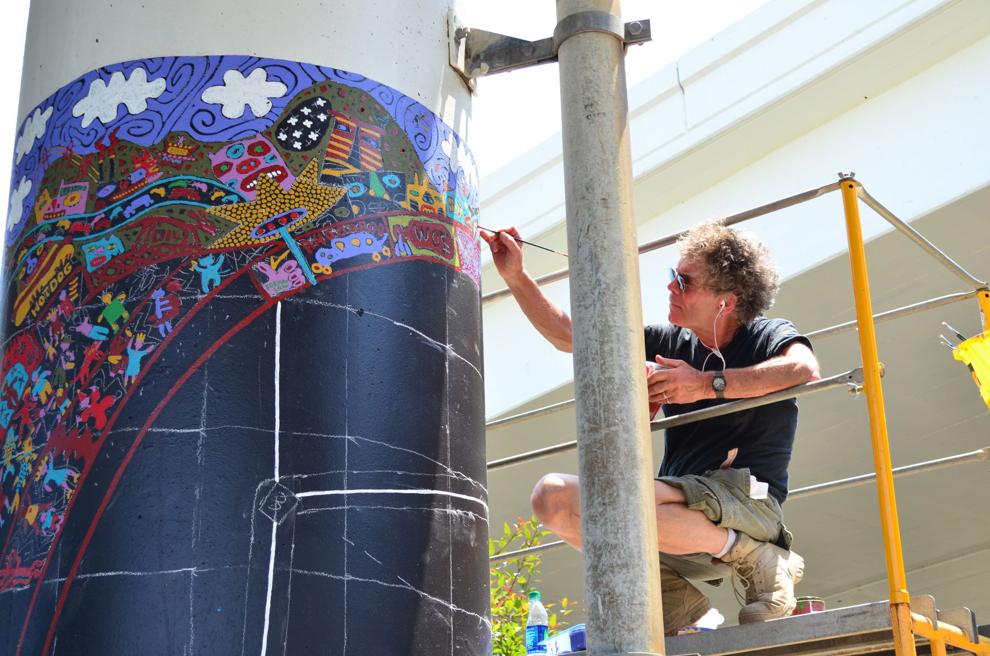 "My uncle used to read the hog report on the radio," Rhoda said. "Charly said he used to listen to it every morning as he milked the cows."
She laughed and said she wasn't entirely sure if he listened because it was her uncle or if Charly just liked hogs. He wasn't clear on the subject, but she hoped it was because of her.
After high school, Charly enlisted in the Navy and went to Vietnam, where he was gone for years. They lost touch and she went on to the University of North Carolina at Chapel Hill.
After Charly got out of the service, he joined the art program at the same university.
"But by then he was married and had a baby," she said. "We became friends. I became friends with his wife."
Charly, she said, was brilliant. The artist Marvin Saltzman was his advisor and mentor.
"He let Charly do straight art at UNC," she said. "The university would tell him to sign up for something like Modern History 101. Charly would go in and see Marvin and Marvin would let him drop the class and take yet another art class."
He took a cafeteria approach to his education the entire time he was at UNC, though Rhoda didn't stick around to see all of it. Her education took her west to the University of Missouri, where she became a family nurse practitioner.
She and Charly lost touch again — for decades.
Then at a birthday party, friends gave her a baker's box as a gift.
Rhoda remarked that it reminded her of her first boyfriend's art. One of the friends asked her for his name and then later asked if she'd contact Charly for him.
Rhoda said, "I was like, 'What, you can't dial a phone?'"
But she called and called and sent him an email. He didn't respond.
"The thing about Charly is that he didn't answer calls or emails," Rhoda said. "He was always busy doing art."
Irritated, Rhoda called again and left a message.
She said, "I don't know what kind of businessman you are, but if you don't answer the phone, you won't make a sale."
"The magic word," she laughed.
From there, the two talked every day. He was divorced by then. Some forty years after they first met, they began dating all over again and things got serious.
In 2011, Rhoda began flying out to Charleston once a month for a visit, just to see if she liked the area, if she was willing to move to West Virginia.
Rhoda said she fell in love with Charleston, too, made it her home, and the two were married May 1, 2012.
"We got married on Mark Wolfe's porch," she said. "We got flowers and a pie from Kroger's. It wasn't a big affair."
Rhoda said her husband enjoyed a life of arts and letters. They read constantly and Charly wrote poetry.
"We listened to opera every Sunday afternoon," she said. "We always wanted to go see it at the Met. We just never got to."
Charly's art was influenced and inspired by nature, Rhoda said. West Virginia's natural beauty was something her husband drew upon again and again.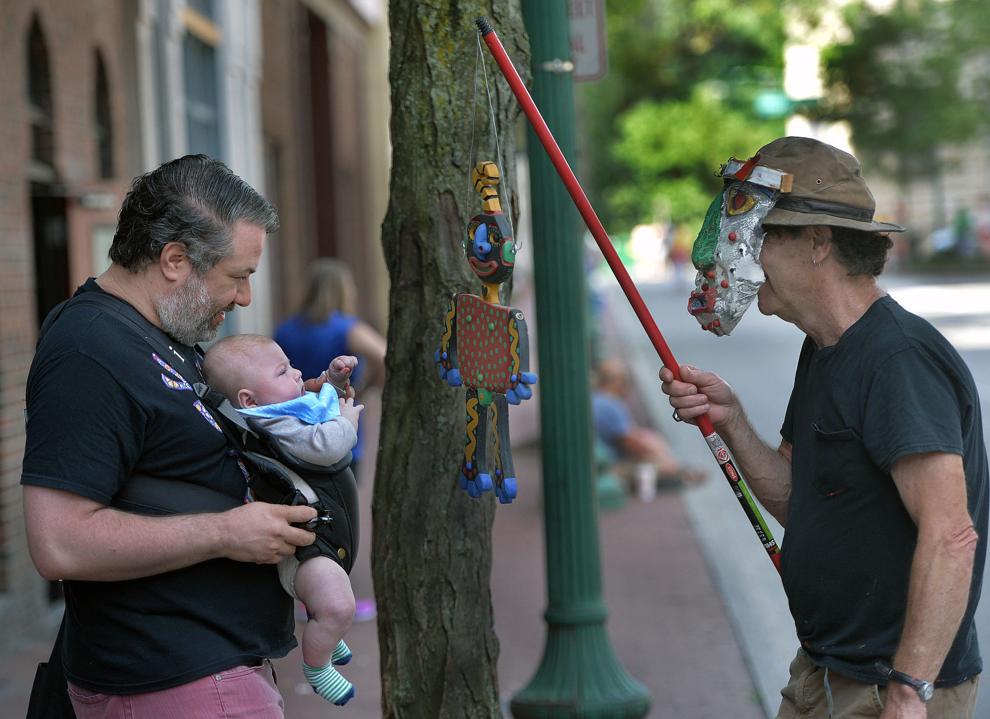 "We loved to walk," she said. "We used to hike at Kanawha State Forest. That was one of his favorite places. It was a place we could go to get away from everyone."
Once, they staged a fake wedding in the forest — just the two of them and their dogs.
Even after Charly's health began to fade, Rhoda said he still loved to get out and walk. The trails at Kanawha State Forest were too much, but they still walked the Carriage Trail in Charleston.
Charly loved West Virginia, loved the city and enjoyed his celebrated status as a prominent artist.
"He was famous everywhere," she said. "People know him all over the country. They know him in Europe, but he didn't let it give him a big head. He was always very friendly, funny and kind. He'd talk to anyone."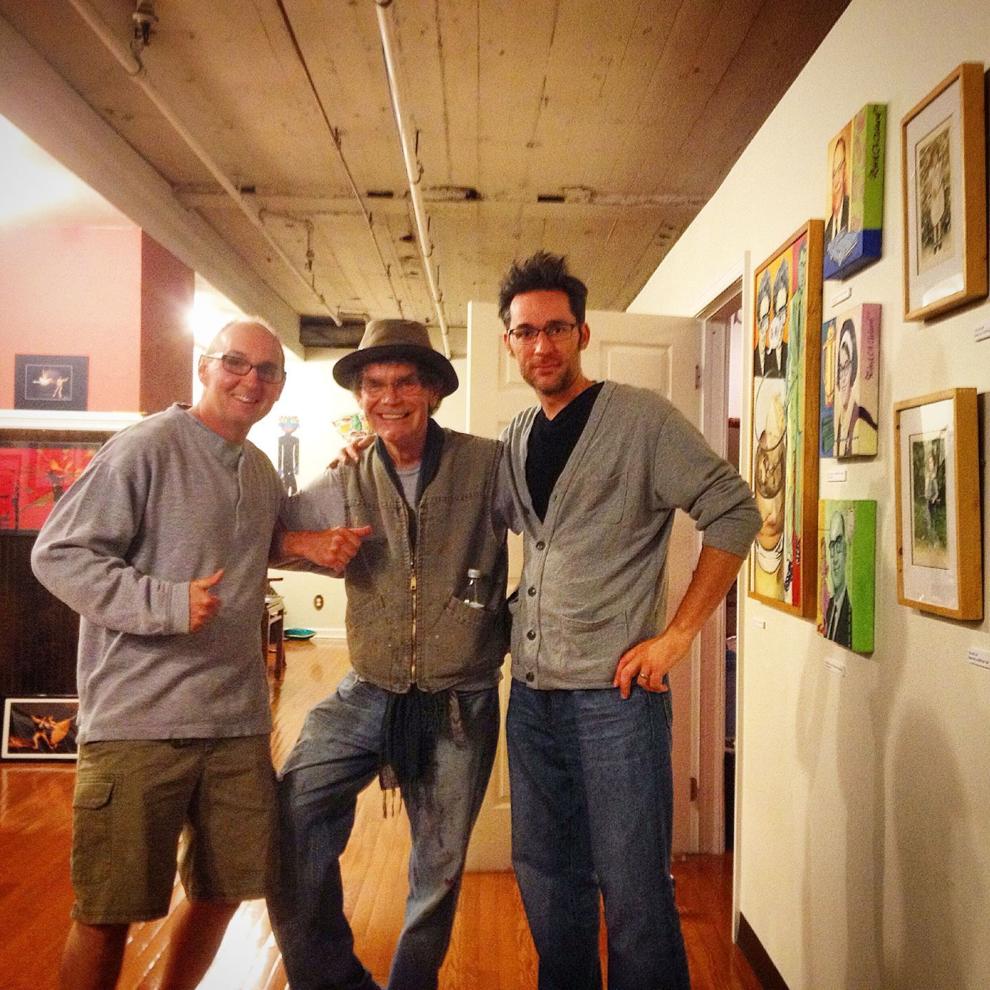 Pierson expected that was true of a lot of people.
"He had such a large group of supporters," he said. "He had so many friends."
Artist Ian Bode was a friend and collaborator.
"We got so close, we'd squabble some," Bode said. "You only do that when you get close to someone."
Bode, arguably, the second most well-known artist in Charleston, he said he met Charly when he was a bartender and Charly was struggling with alcohol.
"I knew him as the guy you had to cut off," Bode said.
But he added that he'd known Charly's art since he was a kid in school.
"And I loved it," he said.
Over the years, they became friends and Bode learned from Charly.
"I don't want to say that if there was no Charly there'd be no me, but I stand on the shoulders of giants and Charly's shoulders were very big," he said.
Pierson said, "I never met an artist who could show you his imagination so vividly. When I look at something he made, I know I'm looking inside of Charly's head. You don't always get that with visual artists."
Charly Hamilton's work turns up all over the place, sometimes in unexpected places. Two murals have been a part of the "Mountain Stage" set for years, though show co-founder and former executive producer Andy Ridenour said nobody seemed to remember how or why they got them.
Ridenour said they'd been talking about replacing the drum baffles on the stage. The baffles redirect the sound from the cymbals and toms away from the vocalists' microphones and also give everyone's ears on stage a break.
"Charly's work just arrived one day," Ridenour said.
They've used the murals ever since.
"We were always grateful for his generosity," he said. "We've always loved the art Charly shared with the show."
Charly's best-known piece is probably the "Wonder Mural" in the Elk City section of Charleston's West Side. Since its completion at the end of 2014, it's been a frequent stop for both city visitors and longtime residents, photographed on cellphones countless times.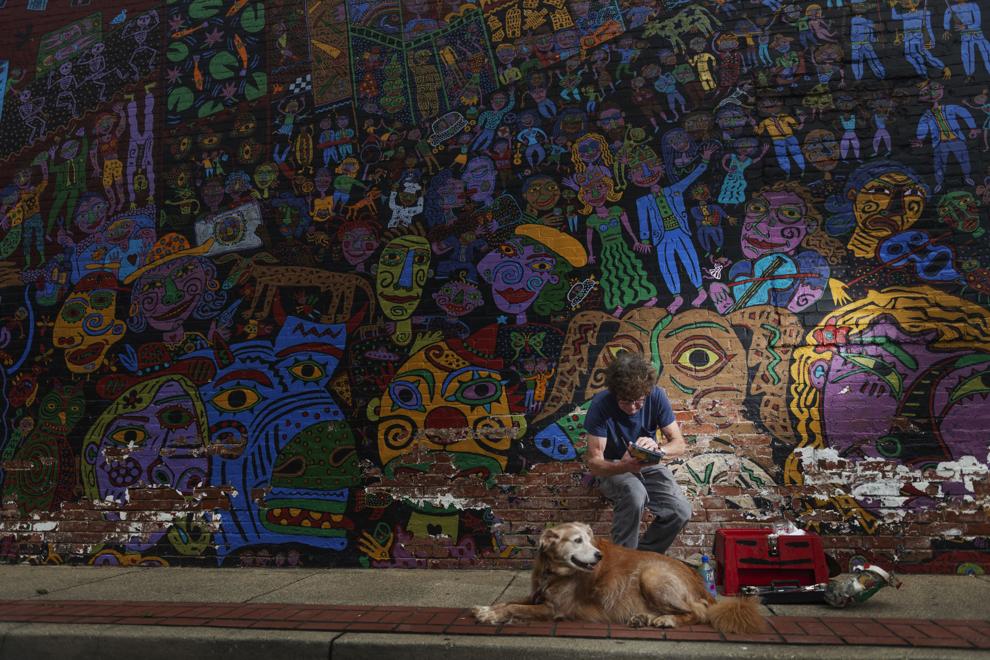 Pierson said Charly was asked to create a mural that would do more than decorate a wall but would also change a community.
"Charly pulled it off," he said.
What makes the mural special is that it not only celebrates the community, the mural documents it, Pierson said.
Charly's work was full of stories. Many of the images were stories about the people of Charleston. Some of them represented interactions the artist had while painting.
Pierson said, "If you came by enough times and talked to him, he'd put you in the mural."
Some of the stories of the mural are documented. It was a project Charly was working on, but Pierson didn't think it had been completed. Time ran out.
Charly's passing was a shock, but not a surprise. His health had been failing for some time, though Rhoda said she'd done everything she could to keep him clear-headed, pain-free and able to function all the way up until the end.
He was still making art within a short time of his death.
As was the way of his life, a certain amount of merriment followed him even into death. Several area artists, friends of Charly, among them Bode, Rob Cleland, Jamie Miller and Pierson, worked on the simple pine casket that would house Charly's remains when he was cremated.
They painted on it, drew on the wood, and attached their art to celebrate the man.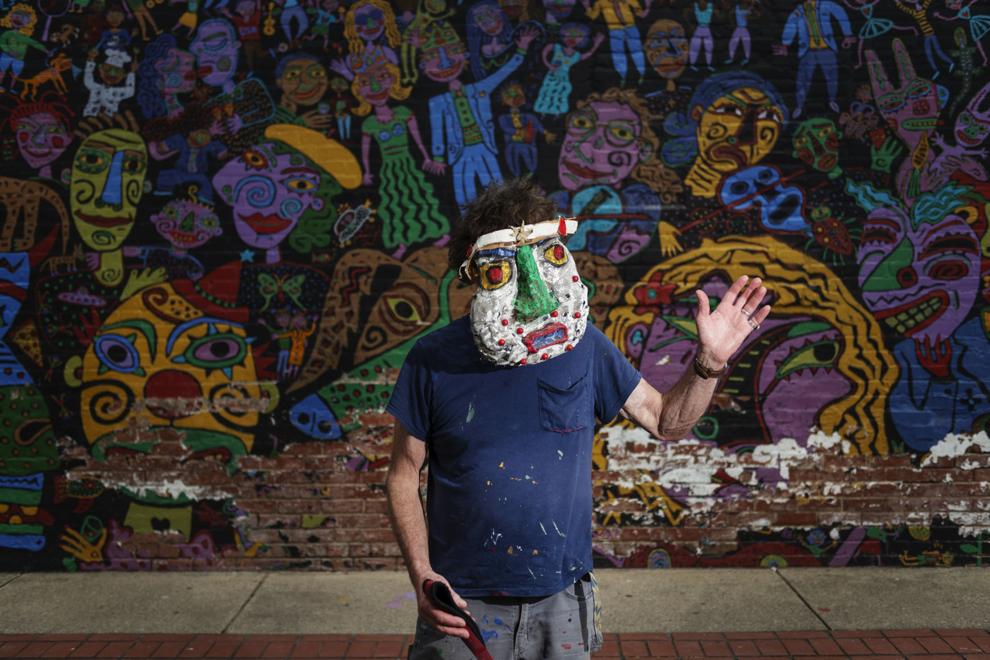 His memorial service included hotdogs and a beer toast.
Mayor Amy Shuler Goodwin said, "With Charly's passing, we lost a great artist, a great character and a beloved citizen. He wanted to make people happy, even when he wasn't feeling that great."
His absence from Charleston will be felt for a long time, she said.
The loss, naturally, will be felt most profoundly by his wife of nine years, the woman who said she fell in love almost instantly with a funny, bright and wildly creative long-haired boy who couldn't sing a note.
"We had a wonderful life in Charleston," Rhoda said. "I just wish we'd had more years."