Andrew and Jessica Angulo had planned on just taking a selfie. Maybe a couple, to share with family and friends.
"And we said, 'Let's go to the Capitol, take photos at the Capitol ... It's my favorite place," said Jessica, the lone West Virginia native among them and tour guide by default.
But the Capitol was closed.
"And he's like, 'Well, there's got to be a reason for it,'" she said.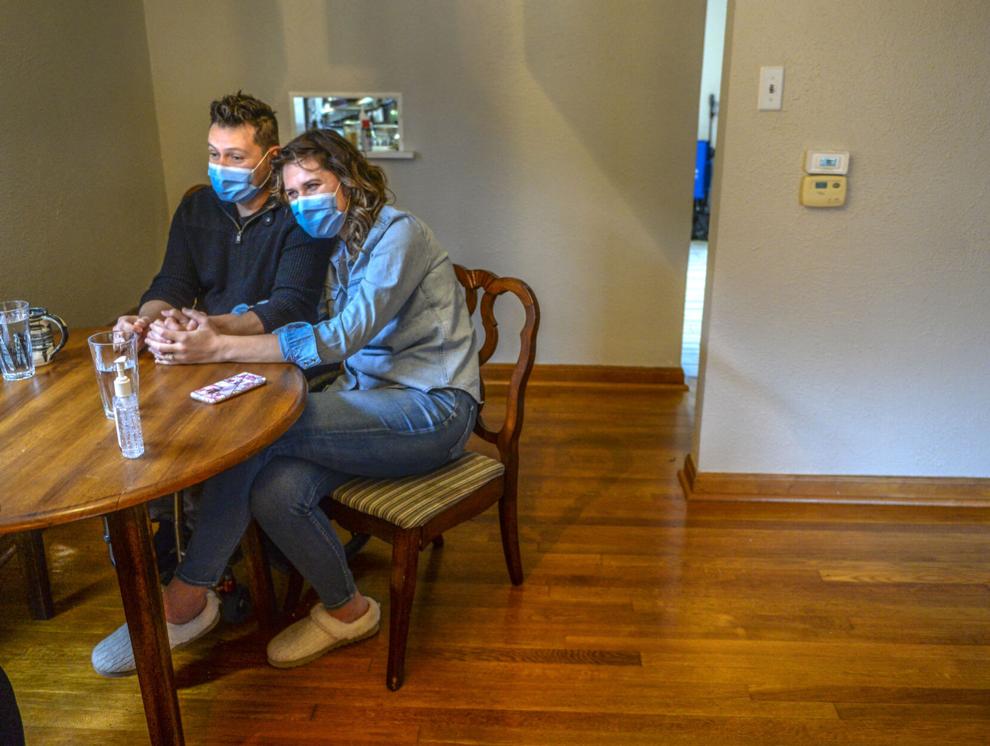 They wound up at the Haddad Riverfront Park, where they'd been earlier in the day, with that compass they'd already seen embedded on the pavement, and the ramp, which they needed.
"I said, 'This is a good spot for a photo,'" said Andrew.
Except there was a guy with a few other folks heading the same way.
"I said, 'We better hurry. He's going to try to take our spot.'"
It was just such a good spot.
And such an important picture.
They stepped up their pace a bit, and the group noticed them.
"And this gentleman ... he said, 'Hey, were you the couple at the courthouse this morning?' And Jess yells out, 'Yes, we were,'" said Andrew. "And he's like, 'Hey, I was there.'"
Entering the courthouse had been a little intimidating.
"When we went in, we saw all of these hardened men, you know," said Andrew.
"They were just, 'What do you want?' And then by the time we left, they're like, 'Hey, congratulations.' Like, they were just like a bunch of buddies. It was wonderful."
Jeremy Burns was one of those men at the courthouse, checking people in. He and his wife also own Burns Exposures Photography.
When he noticed the tripod the couple was carrying, he called out.
"I yelled at them and said, 'Hey, didn't you guys get married today?' They said, 'Yeah.'"
"He said, 'Hang on, I'll take some photos of you guys,'" said Andrew.
"They were so appreciative. They offered to pay us, and we didn't accept any payment. It's just, pay it forward," said Jeremy. "But we never expected anything like this."
"Honestly, at the time, we didn't think much of it," said Cathleen Burns.
"We didn't know that they didn't have any kind of photographer or any pictures from their wedding day ... When we found out that these were basically the only pictures of their wedding, it felt amazing to do that for them."
Maybe it was the picture-perfect, West Virginia autumn day.
Maybe it was the golden-orange sunset.
Or the giddy flush of excitement, the newlywed glow.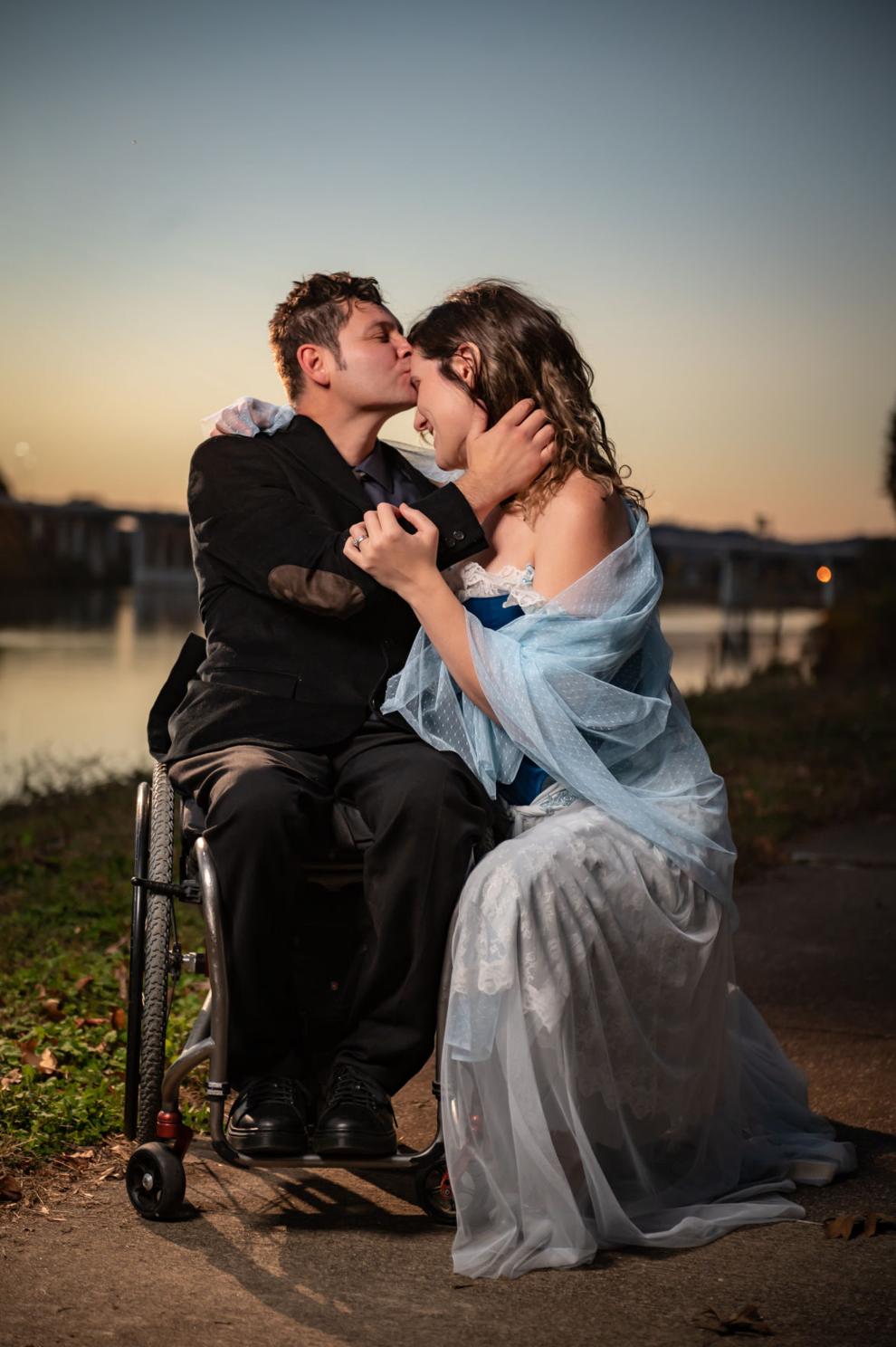 But when Cathleen and Jeremy posted the pictures to their company Facebook page a few days later, "We had just this outpouring of people wanting to support them, which was phenomenal," said Cathleen.
"We had one couple who wanted to buy a canvas to hang in their home. Another person who is purchasing a wedding album so they can have a hard copy to always remember their wedding day," said Cathleen.
A local wedding magazine offered a spread in an upcoming issue.
Andrew and Jessica grinned at the memory. "We felt kind of unqualified," she said, "like ragamuffin stars."
There were hundreds of shares, roughly 1,500 likes.
"Our brother contacted me ... whooping and hollering and saying, you know, 'You guys are on my feed.'"
And few of those people have any idea about what it took for Andrew and Jessica to tie the knot.
After all, it was only the second time they'd seen each other in person.
Andrew and Jessica first connected online, through a Facebook page, with a common interest in visual arts and faith.
She was in Wayne County, West Virginia. He was in Los Angeles.
And right away — sight unseen — there was a spark.
"Our story really in a nutshell is that we have learned to be grateful for the good in our life that God's given," said Jessica.
Which is often the kind of thing people say when they've been through something hard.
"Well, the obvious is, you know, I'm in the chair," said Andrew. "I look at it as a blessing. It's a second chance in life. "
He had a motorcycle accident in 2009.
"I suffered a spinal cord injury and T7, specifically, spinal cord injury ... I have some feelings and such, but basically I'm compromised from the waist down. Obviously that was really traumatic. And it changed my life," he said.
"You're walking, you know, and you're interacting normally with people. And now you're looking to need assistance, whether to open doors or to literally just go down the street, and just find that some people interact with you differently."
Around that same time, Jessica was injured in a traumatic skiing accident that still affects her today.
And along the way, they had both faced relationships that hadn't gone the way they'd hoped.
And so by the time they connected in 2017, they were cautious. Wary, even.
"I came to a place where I told God, 'I'm open.' I said, 'I don't care what he looks like. I don't care how much money he makes. I don't care what he does. I don't care where he's from. But I want somebody that I can fall in love with in their spirit and that's what holds us,'" said Jessica.
"Honestly, I regretted praying it a little bit afterwards because, you know, you have to be strong and love is a scary thing."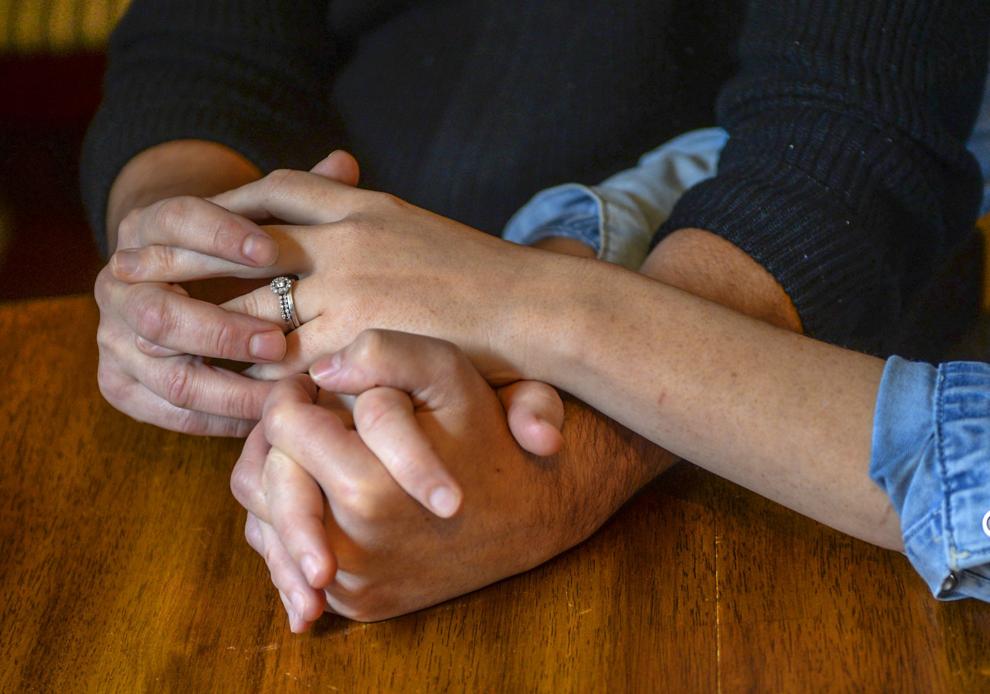 They began texting, and eventually each began to wonder if the other was an answer to prayer.
"Then we started talking on the phone and then it's like, 'Okay, let's see each other for the first time,'" said Andrew.
But the first photo she sent just showed her foot, next to a compass on the ground at her family's Wayne County farm.
"I felt a little bit nervous, you know ... I couldn't see him or interact with him. And I was just guarded, really guarded," said Jessica.
"Of course, in my own impatient way, I'm like, what is going on here? But that compass became a symbol for us because it's like, you know, she's on the east, I'm on the west. And we always said, and the Lord's our true north, you know ... so the compass always meant something," said Andrew.
If he worried that she might be hiding something, those fears evaporated soon enough.
"When I finally saw the picture of her ... I was like, 'Oh my gosh, she's gorgeous.'"
Thousands of miles apart, they managed to spend hours together every day.
But actually getting together in person seemed impossible. Life kept getting in the way.
"One of the things that we always said is, 'All we need to do is just sit down and meet for coffee,'" said Andrew.
It wasn't until December 2019 that the entire universe seemed to line up on a random Tuesday.
"She called me out of the blue and she said, 'Guess what?' And I said, 'What's that?' She says, 'I can come and see you.' And I was like, 'Wow, when?' 'This weekend.'"
He resisted the urge to say it was too soon, and spent several days frantically cleaning his place and clearing his calendar.
It was a magical week, and parting at the end was hard.
"I said, 'Honey, we're going to come back together. We're going to make it back together,'" said Andrew.
Then COVID-19 hit, with its travel restrictions and health care guidelines. It would take almost a year to make good on that promise. It felt at times as though they were destined to part.
Finally, in November 2020, Andrew made a decision: It was time.
"There was just a moment of clarity ... I essentially said, 'I'm coming to you and I'm coming to you right now.' And that was October and I flew in," he said.
He was working freelance, remotely. He bought a round trip ticket and packed everything he might need, including a small, sparkly gift he'd bought for her some time ago.
"We had quite a reunion, and just like, 'Wow, I can't believe you're here again,'" said Andrew.
It was a spectacular West Virginia fall. He hadn't lived with four seasons before. It was all so magical.
"And there was one night and I said, 'Let's make a nice quiet dinner.' And we had it by candlelight ... And basically I proposed to her," he said.
All along, as it turned out, the biggest barriers to getting together had come from within. Now, whatever obstacles remained, they knew in that moment would work themselves out.
But actually tying the knot? That was its own special challenge.
After all the months — and years — of waiting and hoping, Andrew knew exactly what to do — and what not to do.
"I said, 'I'm not going. I'm not going back.' I gave her the ring and essentially said, 'Alright, let's go get our marriage license. Let's go get our marriage license. Come on. Let's do it,'" he said.
"Scared the life out of me," Jessica said with a laugh. But she was ready, too.
They made an impromptu trip to Charleston for the license and noticed multiple signs along the way: their song, "Waymaker," by Michael Smith, playing on the radio as they pulled into the garage. A guard at the entrance, wearing a "Waymaker" mask. Finding that compass on the pavement at Haddad Park after they secured the license.
Coincidence? Sure, maybe. But after all the strife, suddenly it all just seemed so right.
"We went back to the hotel and I said, 'Okay, we're staying two nights. Let's just get married,'" said Andrew. "Like, 'We're here. Let's just find somebody who can marry us.'"
They got phone numbers for the judges in circuit court and family court. The divvied up the list and started calling. Sometimes, it was just a flat "no." Some judges were willing to do a ceremony by Zoom — but then, what was the point of being in Charleston?
"We were trying to get married basically either that night or the next day, you know, and nobody was available," said Andrew. "There was only one, Judge [Tera] Salango. Her office said, 'Hey, we could do it, but it won't be 'til next week ... And I said, 'Oh, well, we're hoping to try to get married tonight or tomorrow.'"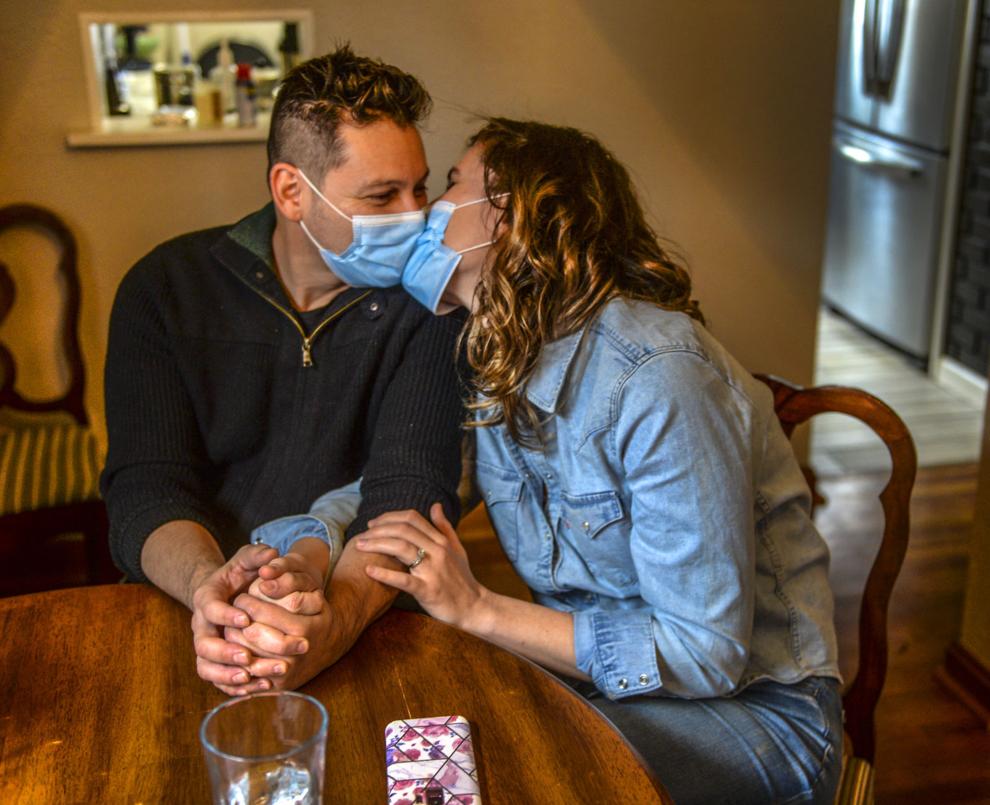 He made his best sales pitch.
"'We're here in Charleston ... She's got a dress. I got my jacket. We're ready to go."
"We made a trip to town," laughed Jessica.
Their eagerness didn't change the outcome, though. So they made the appointment for the following week, and started calling local pastors — to no avail. Back at the farm a few days later, they had a message, asking if they still wanted to get married.
They looked at each other. It wasn't a beach ceremony at the Pacific Ocean. It wasn't a celebration in front of family and friends. But what they really wanted, at the end of the day, was to become husband and wife — however it happened.
"We've said maybe later on we'll do like a blessing, a dinner, celebration of some sort," said Jessica.
But for now, it would just be the two of them.
"And so we prepared. We got excited. We loaded up the car and ... we didn't announce it to anybody," said Andrew.
She carefully laid out his suit and tie, and spent half the night working on her dress. It would be first thing in the morning.
They pulled into the garage, and the same song came on again, almost on cue.
And once they made it past security, the imposing courthouse seemed to take on a festive atmosphere.
"All the deputies were congratulating us and happy ... Everybody wanted to pop in and be a part of it," said Andrew. "The judge, she was so nice. She's very sweet. She just kept telling us how happy we look, what a beautiful couple we were, and how nice it was."
They had gone in alone, but it felt as if they were surrounded by friends. They brought their Bible, exchanged their vows and got emotional, right on cue.
They tried to take a video, but his batteries died in the courtroom.
It was imperfectly perfect.
After they rested, though, and grabbed a bite, there was one more thing.
"I said, 'I want, like, a wedding photo. Really bad,'" said Jessica.
When they ended up back at Haddad Park, with the compass and the gorgeous sunset and the professional photography team that seemed to be there just for them, it was the culmination of a long-awaited, much-anticipated day full of love. And strength. Courage. And hope.
And maybe, they said, there's inspiration in their story for others.
"Just the way that I take it that God wants people to have hope. And so, when we see people having hope, it just catches fire," said Jessica.