If you closed your eyes and tried to imagine the kind of home a psychic would live in, you might come up with something very much like the bright blue, one story place in Dunbar where Ann Reynolds dwells — along with various four-legged creatures.
"Come in, come in," she calls to visitors in a voice made famous from several decades of telling fortunes on area radio stations. Beckoning from the doorway, she is statuesque, even in leopard print slippers, with a swirl of hair — still flaming red — that adds maybe half a foot to her height.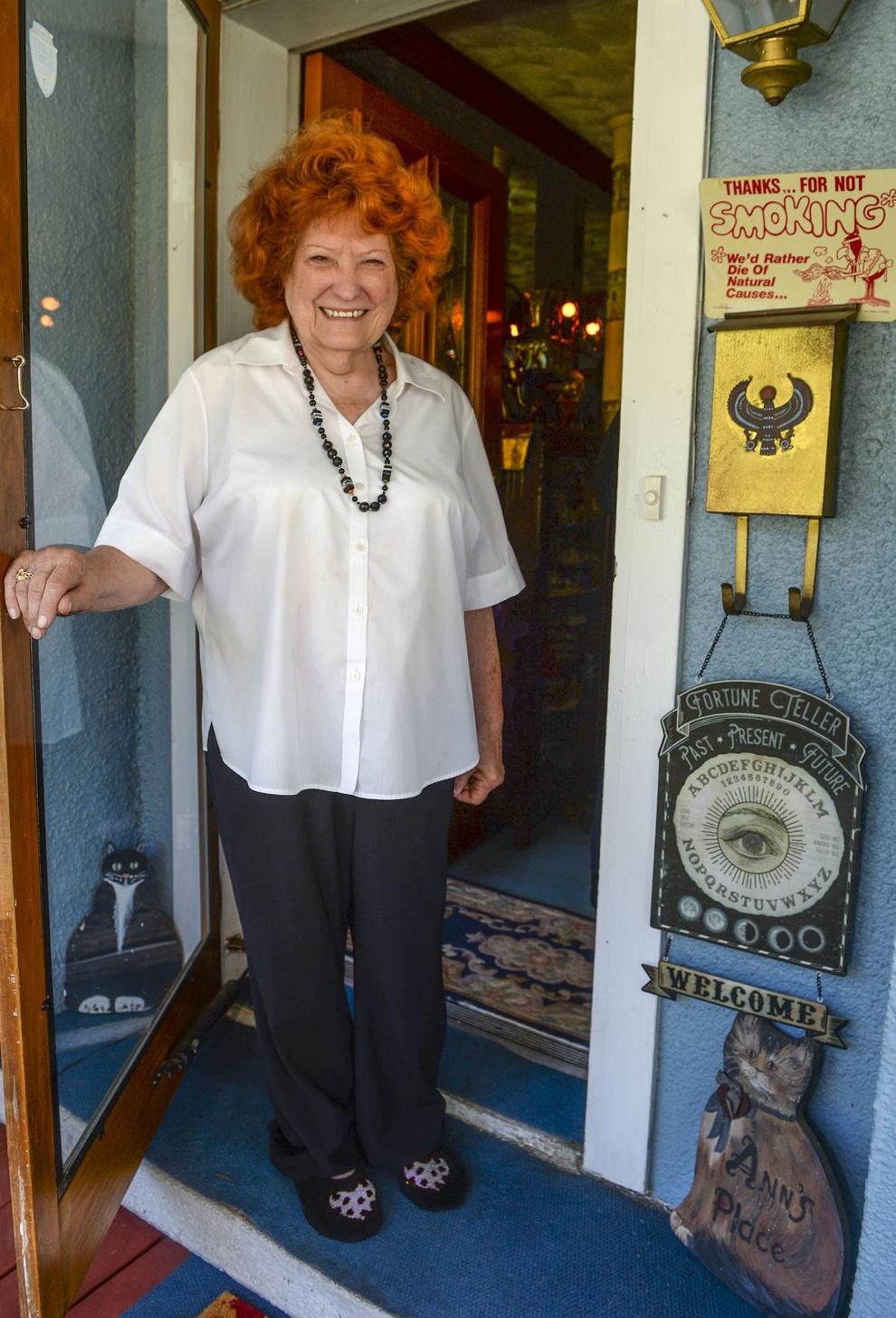 Of course, to actually get in the place, you have to walk past two cement lions, 13 — count them — wooden cats, and a sign that reads "Come In If You Dare."
Inside, it's hard to know where to look first.
"I don't mean to be a hoarder," Ann says, half apologetically.
The thing is, she doesn't really seem like a hoarder — maybe just a remarkably prolific collector of pretty much anything imaginable.
There are antique books and old pictures, a stained glass window and two pianos that she doesn't play. A glaring gargoyle on top of the refrigerator. A mannequin dressed in a soldier's uniform. A child's bed designed to look like a stage coach.
"It's a bunk bed," she explains — because it's not exactly obvious at first glance. It is covered — and filled — with stuffed animals and toys.
"Be kind of hard to sleep in there right now," she mutters.
There are three live cats inside the house, up to 17 at one point that would come and go from the back yard. Those that she can catch have all been fixed.
"And I'm taking a couple of cats to the vet and the neighbor down the street, she pulls up and goes, 'I knew it! You're stealing cats and selling them!'"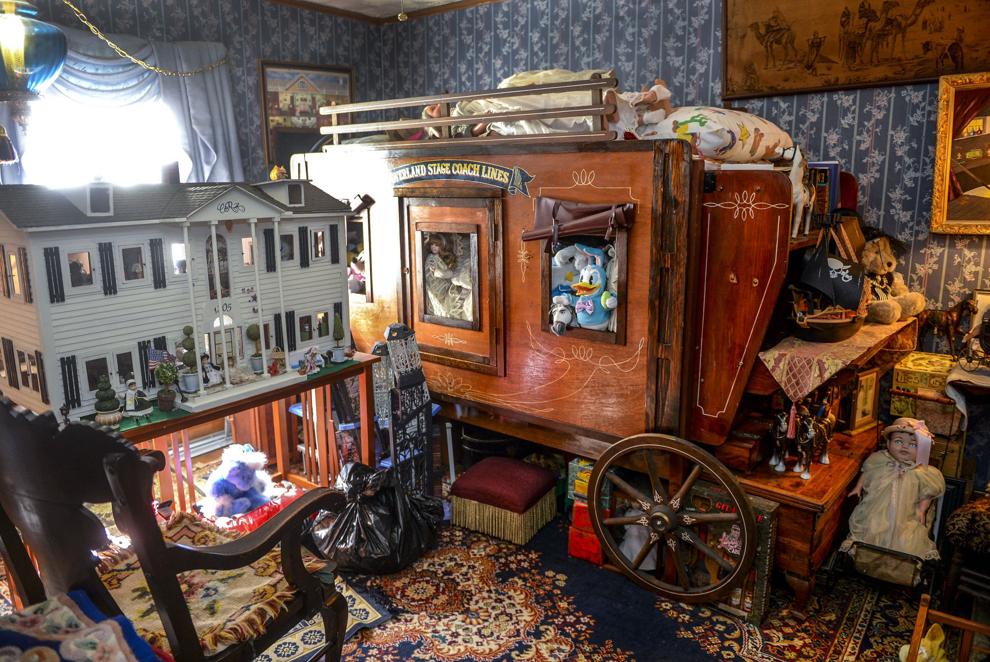 Ann snorts at the memory.
"Selling 'em? I couldn't give these bastards away with a free bag of cat food."
She checks the back yard several times to be sure there's enough food, water and dry bedding for each of them.
Back inside, there are several knights in shining armor, quite possibly watching your every move.
Dolls and tchotchkes cover every square inch. And doll houses — well over a dozen — are on display in every room, including the laundry room.
Pro tip: When you go to the rest room — and there's a good chance you'll need to, since this isn't likely to be a quick visit — make sure you know how to get out. Because when the door closes, you're staring at what looks like a wall full of books where the door used to be.
"I cut the back off of books. I stapled 'em right to the door," she says matter-of-factly.
"I like those old movies where the hidden room is behind the bookcase. And so that's what I was going for. But I've had people come in here, like one poor little old lady. She came in to use the bathroom. 'Help! Help! I can't find my way back out!' She was trying to get out through the closet."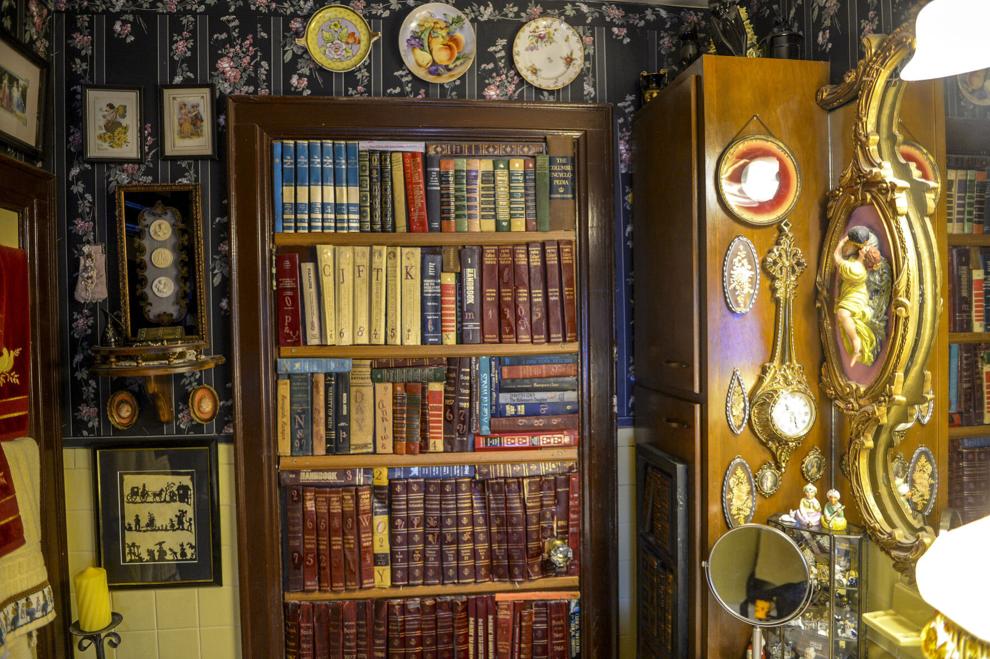 Every single thing has a story. So there are lots of stories.
"Good evening," says a tall, mustached butler-like figure with what might be a dead animal hanging off one shoulder.
"That's Delbert," Ann explains casually. "I got him at the flea market for $11.50."
"I say, you are looking wonderful this evening," Delbert deadpans in a low, slow monotone. "But then again, I say a lot of things."
There are Asian artifacts, artificial mummies, Egyptian pharoahs — "I think I was there in a another lifetime" — and a collection of keys covering an entire wall.
"I had a psychiatrist come here one time. He says, 'Do you realize that keys are a phallic symbol?' I said, 'Really? I think I'll start collecting boxes now.'"
Ann grins. Her tone is dry. Her timing is perfect. But then she becomes serious for a moment.
"To me, it represents unlocking treasures and unlocking wisdom and knowledge," she says.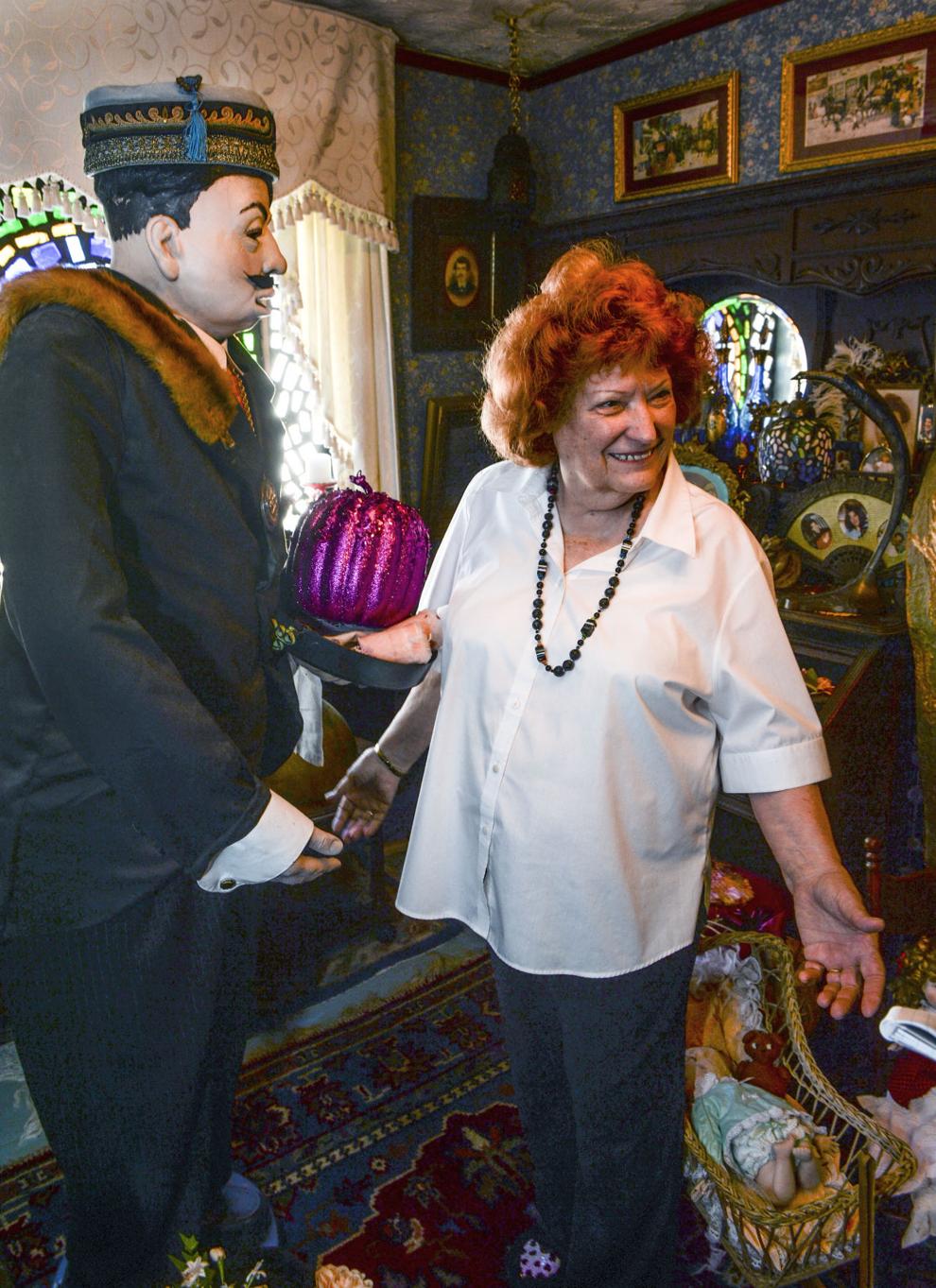 And maybe that explains her attraction to keys. Because that's exactly how she sees her work as a psychic.
Ann grew up with her parents, two sisters and a brother in North Charleston.
"North Charleston was called dog town in those days. They used to say there was more dogs than there was people," she says, and pauses.
"We were on the lower end of the scale for having things."
She learned at an early age that she was a little different.
"I would dream things, see things. I knew how to astral project. That's where you take your soul out of body and fly at night — if you ever woke up and startled, well, that's where your soul is gone out of your body and traveled. And then you came back too fast, and it makes you jump."
What good is that, you ask?
"You have freedom. You can go anywhere you want to. You can see anything you want to. You can visit anybody you want to, whatever your state of mind is at the time."
She married right out of high school and the newlyweds moved to California. She began to study fortune telling and liked it. So much so that when she returned to West Virginia a few years later with three young children and no husband, she continued her studies and began telling fortunes herself.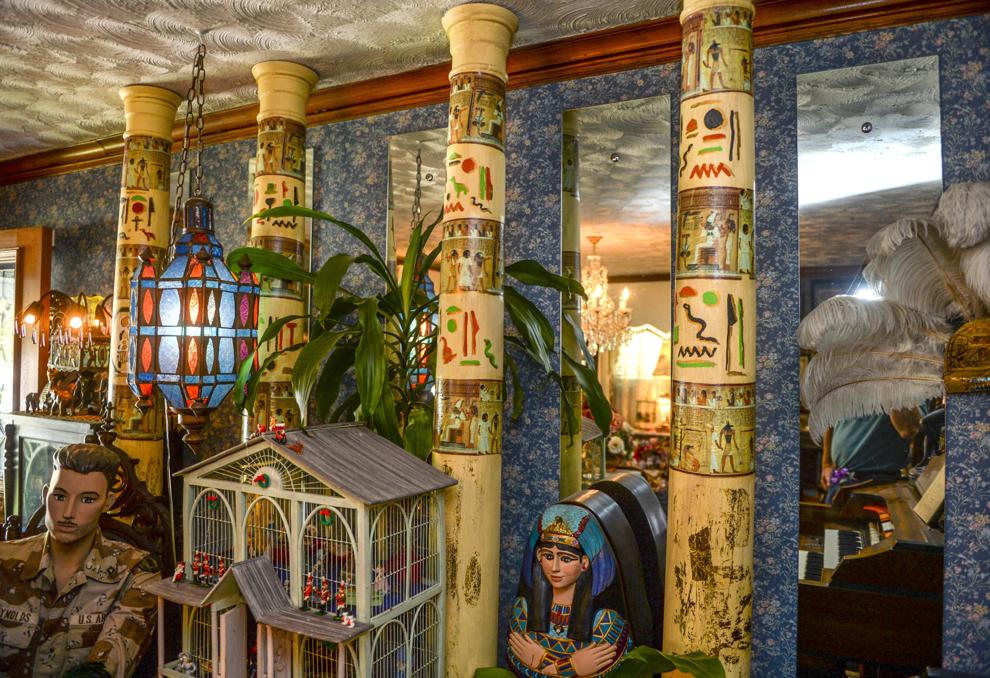 "I was fascinated by it. I liked it," she said.
Her mom, on the other hand, wasn't so happy about her chosen career.
"No, no she wasn't. If I'd've failed, [her mom would have said] 'She's still the black sheep of the family."
"I never ask people their names because they think I have a little black book that I can look at things. They call me on the phone. 'Do you need my name?' I say 'No.'"
She clearly enjoys the mystique of it all.
"This is my favorite — favorite — favorite. Ask me if I'm a medium."
"No, I'm an extra-large."
She cackles at her own joke.
But some of it — much of it, actually — has been deadly serious. People come to her when they want, or maybe need, some answers.
"A lot of times people come here, they've lost a relative, their mom or their dad or somebody. And they're just a bundle of nerves and crying and upset. And they want closure.
"I've had mothers come here wanting to know, did their child suffer because they were on drugs, and did they have a bad death? Did they know they were dying. I get those kinds of questions and it would break your heart to answer them."
But answer them she does, as truthfully as she knows how.
"One kid, his mother came to me and he had gone overseas. He was in the military, had gotten shot, lived — miraculously lived. Came back, got hit by a car and killed. She said, 'Just explain it to me.' I said, 'I will.' I said, 'He made a deal with God when he was over there that he wanted to see his family ... just one more time. And then he was prepared to go. And he got to do that.'"
Was she seeing into the past, reading from another realm? Or looking into the depths of her own kind and generous spirit?
Maybe she's not even sure.
"I wanted her to have something in her heart that she could live with. And that's what I gave her."
Eventually, word got around and, "I started doing a radio show on V100 with Steve Bishop. Then I went to WQBE with Al Woody. Then I went to [Electric] 102 with several different disc jockeys. The last one was Coach Kidd. And so I was in radio for about 20 years," she said.
"Basically people just called in, we did it for an hour ... and she would just give quick readings or people would say ... 'What do I need to do to get money?'" remembered Jeff "Coach" Kidd.
"There were times when it was serious but there were also times when we wanted to be funny and I'd crack a joke ... but yet her readings were serious and she took what she did seriously."
It was easy to tell, from the tone of the person on the other line, if they really needed some advice.
"It was for entertainment purposes but the phones lit up. I mean, when she was on, they did not stop," he said.
Two decades in, said Ann, "The disc jockeys kept getting younger and younger and I kept getting older and older, and I could barely tolerate the music. It was time for me to get out of there."
She still did psychic readings — still does — but leaving radio left her with some extra time. She began collecting dollhouses in earnest, along with every conceivable tiny piece of furniture those dolls might ever need.
In every house, there are tiny dolls, celebrating Christmas or Easter or – something.
All of the dolls, all of the stuff, she said, makes her happy.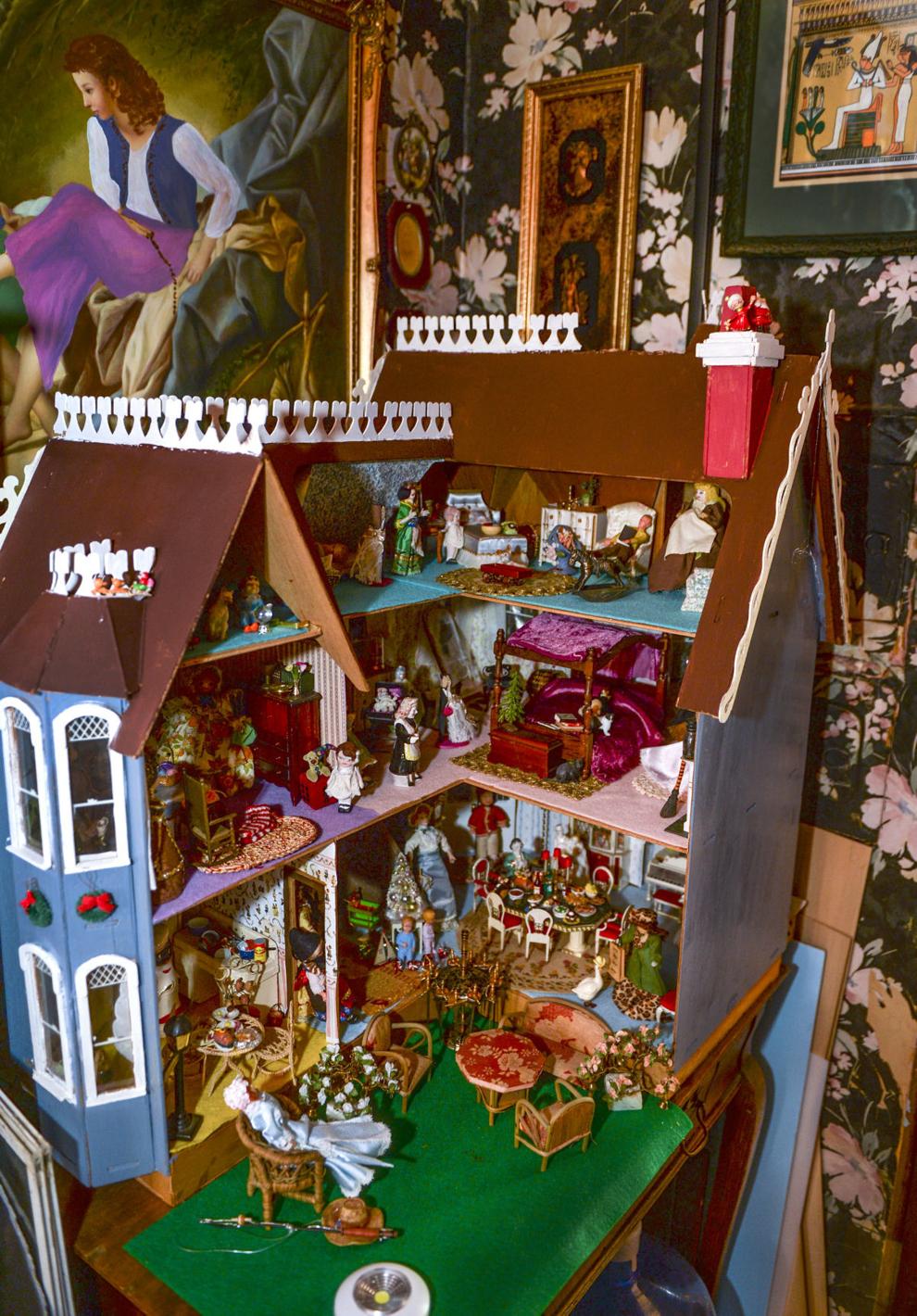 "As a child, I lived in grunge and poverty, and I want to be able to look in any direction and be happy at what I see."
She wants that for other people, too.
In her spare time, she took a broader look at the real world all around her. Including the staff at the Tudor's Biscuit World and Gino's Pizza franchise, practically next door, where she ate at least one meal almost every day.
"My son was overseas and I'm here by myself, and Christmas is coming. And I realize I'm going to be all by myself through Christmas. And I decided that I would get a Santa Claus outfit."
Ann gathered the gifts and organized a party, collecting toys for those with young children, along with jewelry and aftershave for the workers she saw every day. She even found someone to play the role of Santa Claus.
"It was just out of the kindness of her heart," said Carol Dickens, a former manager of the Dunbar location and now a district supervisor.
No one, including Ann, is sure when the Christmas gifts began — maybe 17 or 18 years ago. But they're going strong.
"She's just a very good person," said Ray Burke, president of Better Foods, Inc., which operates Gino's and Tudors.
"You have instances where someone might have a fire or might have this or that and along with another individual she's just very good at helping and doing things for people. She'll figure out someone that needs something for Christmas and she'll gather up little gifts and buy little things and help people out."
It's not much, says Ann. But there are a lot of employees. It takes her the better part of a year to gather the items.
She likes to think she has a sense for what each person might need.
"I had somebody say, 'Well, there's other restaurants, or other places.' I said, 'This is in my backyard. I know where this is. I can't do it for everybody. I can't feed every cat in the world. But I can feed the ones that are showing up at my back door.'"
Ann Reynolds can be reached at 304-768-6574.