CLAY COUNTY — The news release from Par Mar Stores sounded promising for a county well known as a food desert.
"Grocery store finally coming to Clay County," the headline trumpeted. Great news for a county that, according to multiple news accounts over the years, has had a terrible time keeping a grocery store.
But perception is not always reality.
Small Town Market, in Clay, sells fresh meat and fruit. It opened in 2019, before COVID-19 wreaked havoc. Its owners, Sarah and B.J. Williams, serve fresh meat and produce, even delivering food to people who can't get there.
Then there's House's Supermarket, which has operated at Bickmore since 1979, about 10 miles from the new Par Mar in Maysel and a few miles south of the town of Clay corporate limits. That's a hop, skip and a jump by Clay standards. Colene House, who owns the business with her husband, B.A., said she is baffled that Clay County is continually classified as being without a grocery store.
"I don't know why they say that, but they do," said Colene House, 75, who was busy with customers Wednesday, the same day Par Mar held a media event to publicize its entry into the Clay food market on Friday. "It's crazy. We sell everything Kroger does, except fresh meat. We do have fresh ground beef."
House sells refrigerated bacon, hot dogs, Polish sausage, cheese, ham, pepperoni and bologna. Frozen chicken, sausage and liver are also available, along with eggs, dairy, bread and beer. Just don't expect fresh steak, pork chops and the like. It honors WIC coupons and carries baby formula.
House said she and husband B.A., 77, buy their stock from several ordinary suppliers, including one from North Carolina. House also sells gas; she whipped out a receipt Wednesday of more than $4,000 in gas sales last month to a local employer which makes trusses for buildings.
A fresh produce truck arrives every two weeks. House's produce section, while not robust, included several heads of lettuce and some fruit Wednesday. The frozen section carried what one would expect — hamburger patties, meatballs, pizzas and garlic bread, to name a few.
Customer Helen Haynes bought flour Wednesday. "I'm glad you have flour because no one else does," she said. "I've been to three different Walmarts."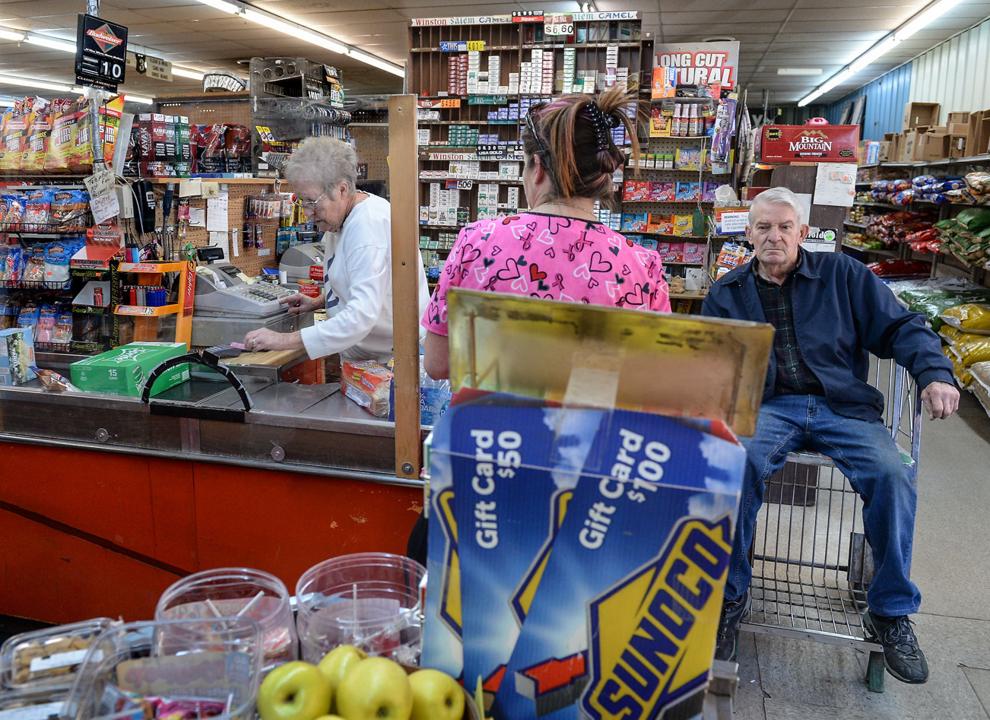 House said her store has served Clay County through the 2012 derecho and the COVID-19 pandemic.
"Last year, people were scooping up loose pinto beans like they'd never see beans again," she said. "We sell to regular people. In the evening, lines are backed up." House had to take a Wednesday evening call on another phone to get away from the background din.
Par Mar, headquartered in Marietta, Ohio, will buy its groceries from IGA. Both have their logos emblazoned on what used to be a gas station and convenience store, Bullard's Quick Stop. Par Mar agreed to take over operation of Bullard's, whose owner was looking to get out of running a business.
Upon a quick walkthrough Wednesday during stocking ahead of Friday's opening, the store still appeared more of a convenience store than a grocery store. When told of a reporter's impression, Par Mar spokesman Dave Allen said, "Yeah, but when you've got nothing ..."
Another wing boasted a line of canned goods and other items. Allen said the store will also sell frozen and refrigerated meat. In other words, what House sells, with far less room. House's building is much larger than the Par Mar store, with aisle after aisle stocked.
"There's always room for expansion here," said Allen, who also doubles as a conservative talk show personality in Charleston.
The presence of the House store came up during casual conversation Wednesday, as a television crew filmed a spot and suppliers stayed busy. People are averse to shopping at House's, a bystander said, for reasons he had trouble clarifying. "They're real privatized," he said.
One Google review praised House's for being a quick drive for local residents, if a bit expensive. A reporter did not inquire about prices Wednesday. In past media accounts of Clay's food situation, residents complained of driving 40 miles for groceries. No mention was ever made of House's market.
Par Mar operates stores in four states, its release said, adding that "the people of Clay County have been in desperate need of a full line grocery store for some time. We are happy to be in Clay County and look forward to being a vital part of the community for years to come. Clay County is a rapidly growing area, and we look forward to serving the area's grocery and gasoline needs."
Between 2018 and 2019 the population of Clay County declined from 8,785 to 8,709. Median household income declined from $35,875 to $35,024, a −2.37% decrease, according to U.S. Census data. Clay's per-capita income of $16,827 is second lowest in the state, ahead of only McDowell County.
Par Mar will surely add to the food supply in a poor county. Television stations interviewed local residents this week who sounded excited about the Par Mar opening.
Contacted Wednesday evening about House, Par Mar's Allen said, "I've never even heard of [House.] I'm basing this on what people of the community have told me, that there wasn't a full-time grocery store. I guess you can just add us to the list. That's just what we've been told by the people who live there. I wish them the best."