More than two weeks have passed since the end of West Virginia's first statewide public school employees strike, which was also the first to include both teachers and school service personnel.
Time was needed to prove it was actually over. Proposals backed by one or more state union leaders to end the strike, first by switching to rolling walkouts of several counties at a time, then by asking workers to trust Republican Gov. Jim Justice's support of higher pay increases and a task force, didn't do the trick.
The strike did end, as did this year's regular legislative session, without laws to provide enough dedicated, long-term funding to avoid cuts to Public Employees Insurance Agency health benefits. Past and proposed cuts were major — perhaps the foremost — drivers of the work stoppage.
But lawmakers also didn't pass other bills public school workers opposed, including legislation that would have reduced the role of seniority in layoffs and transfers and lowered alternative teacher certification requirements.
Plus, by the time the strike ended, a 5 percent pay increase — five times the original proposal for next school year — went from proposal to law and expanded to cover more than just school employees.
Also, current PEIA costs and coverage were frozen through mid-2019, a promise solidified days after the strike's end through the historically early passage of the state budget bill. By then, Justice had signed an order establishing his promised PEIA Task Force, directing it to begin meeting days after the session ended.
If PEIA changes ultimately don't satisfy school employees, the time until the state's next teacher strike may be a lot shorter than the gap between the first in 1990 and the second in 2018.
The strike's beginning and end were driven by employees influenced by organizers, who provided them a forum, county union leaders, who incited action, and state union leaders, who at times suggested tamping down striking but also galvanized that action.
'Yellow fever' rumors and a Facebook group
PEIA covers more than 200,000 people, or roughly one of every nine West Virginians.
For several years, until around fiscal year 2016, PEIA spent its reserve fund to avoid cutting benefits. Since then, the PEIA Finance Board has made more cuts to the program each year, following public hearings.
In November 2015, amid what would become an annual routine, the Bluefield Daily Telegraph ran a letter to the editor from Joe White, executive director of the West Virginia School Service Personnel Association — a statewide union that mostly includes non-teaching school employees, like bus drivers, cooks and custodians.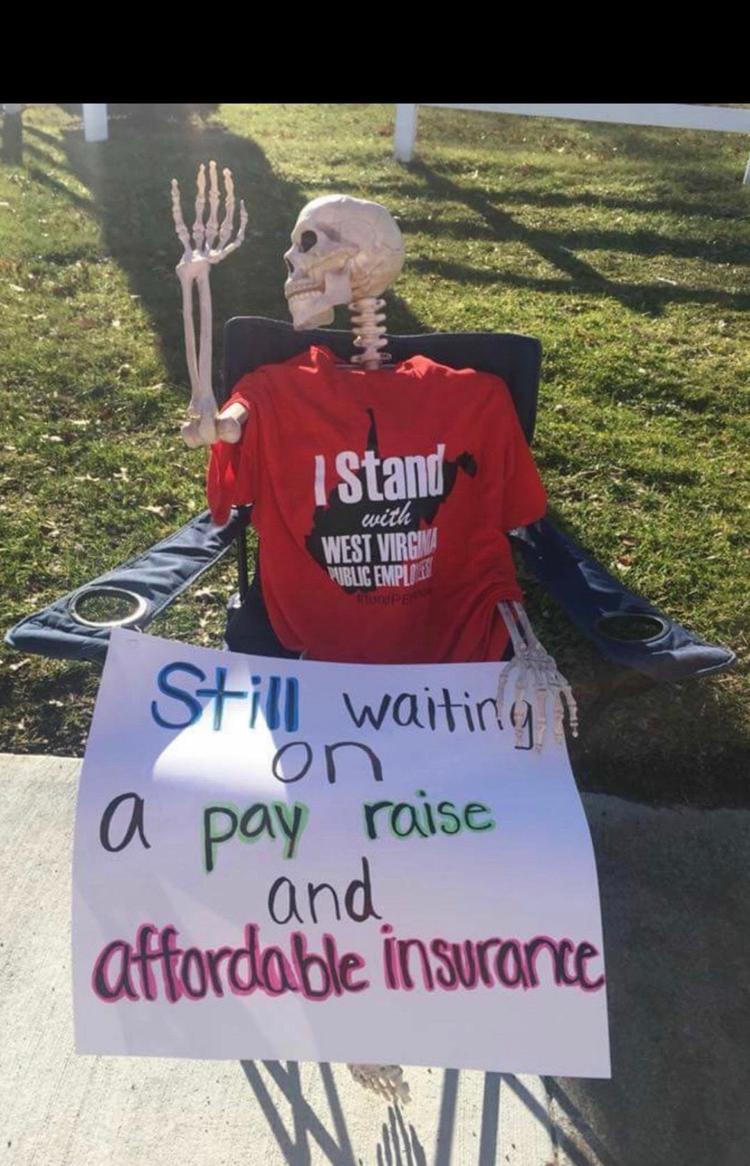 "Once again PEIA is proposing major cuts that would increase deductibles, out-of-pocket costs and premiums for employees," White wrote. "The current legislative leadership is attacking West Virginia workers. They're going after nearly everything that workers have fought for over the years.
"If these cuts happen, I foresee an epidemic of yellow fever facing West Virginia," White wrote. "Not the fever caused from a mosquito bite. The yellow fever caused by the absence of yellow buses travelling the roadways. The Legislature must be held accountable."
The board approved significant benefit cuts the following month, but it retracted them days before they were to take effect, after lawmakers raised tobacco taxes, approved $120 million in spending cuts and account sweeps, and took $70 million from the Rainy Day fund to end an impasse over the state budget. PEIA Director Ted Cheatham said it was the first time in years the state provided new funding for PEIA.
Still, school workers faced premium increases starting July 1, 2016. Their coverage was cut again for the current fiscal year, which started July 1, 2017.
Jay O'Neal, a Stonewall Jackson Middle teacher and treasurer of Kanawha County's branch of the National Education Association, started a Facebook group in October 2017. He said he started it partly to unify educators across unions — the state branches of the NEA and the American Federation of Teachers.
"I'd always been frustrated that we have multiple teachers unions that all want the same thing, but we spend so much time trying to out-recruit the others," O'Neal said.
South Charleston High teacher Emily Comer said she became an administrator in the group not long after O'Neal set it up.
"It was initially West Virginia Teachers United, and [O'Neal] was in WVEA. I'm in AFT, and we just wanted to bring together teachers from both unions," Comer said. "Where we have two unions, it seems like if AFT did an event, then only people in AFT would come to that event. And if WVEA did an event, only people from WVEA would come."
"We weren't thinking about a strike," Comer said. "[But] if we can get people from all three unions talking together, we can be in a better position to organize."
Amy Neal, a Cabell Midland High teacher and president of Cabell County's AFT arm, said this was part of her speech at a November 2017 PEIA hearing:
"Our legislators want to punish us, yet again, by raising our premiums, co-pays and deductibles. To this, I say thank you! Yes, I said thank you.
"Normally, at these meetings you will have a handful of retirees and some disgruntled classroom teachers. I have not seen this much solidarity within the West Virginia public educational system since 1990. Our legislators have successfully gotten central office employees, administrators, teachers, cooks, aides, custodians, bus drivers and secretaries to be as one, not just in Cabell County, but all 55 counties in West Virginia."
"The anger, it seemed to be kind of more palpable," O'Neal said of the fall 2017 PEIA hearings.
He said proposals to base premiums on total family income rather than employee income probably fed that, as did the GO365 wellness plan, which would've given employees points for things like completing health assessments and meeting health goals but raised premiums and deductibles for those who didn't earn enough points.
The secret Facebook group, named West Virginia Public Employees United, was eventually opened to all public employees. But Comer said to join, an existing member had to invite you, and an administrator or moderator had to approve you.
Comer said as of December the group had "maybe 1,000 or so, maybe a little more than that, and it just grew exponentially. And I remember by the time of the MLK Day rally on Jan. 15, we had so many requests to join we couldn't keep up with them."
O'Neal said that in early January, someone — he can't remember who — posted in the group something like, "When are we going to strike?"
"I noticed activity in the group really, really shot up," O'Neal said.
Ryan Frankenberry, state director of the West Virginia Working Families Party and a former AFT lobbyist, said people in the group were also discussing in detail bills that never made committee agendas.
Comer said people had been going through "the proper channels," like attending committee meetings and town halls. She said people contacted their legislators, who responded in ways that suggested they didn't care. O'Neal said people would post lawmakers' responses.
"And then we all saw collectively that those proper channels were getting us nowhere," Comer said.
In 2017, Justice proposed a 2 percent pay raise for teachers, which lawmakers removed from his wide-reaching education bill before passing it.
This year, in his Jan. 10 State of the State address, Justice asked lawmakers to approve a 1 percent raise for teachers, with further 1 percent increases in each of the next four years.
At a WVEA rally five days later, on Martin Luther King Jr. Day, attendees booed Justice's proposal.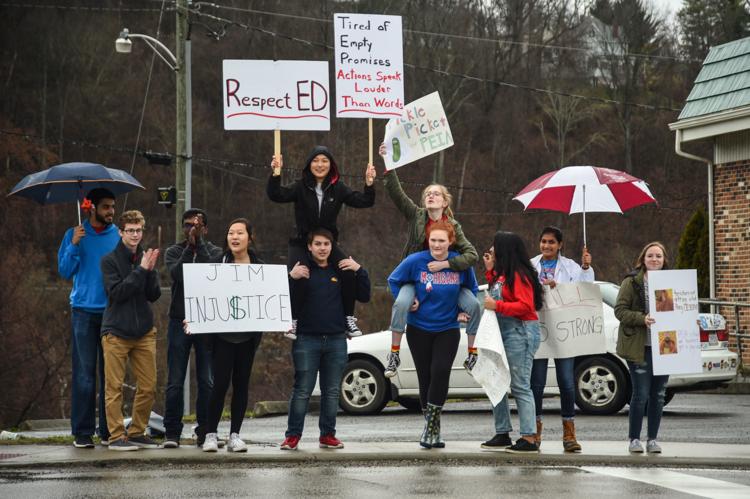 "I want you to encourage your colleagues to get involved on the state and local level because it's not just about us here, it's about every teacher, every educator, every service professional in the state of West Virginia," WVEA President Dale Lee said at the rally.
"Now, we were successful in that back in 1990," Lee continued. "That's because educators stood up all over the state and their county. I've heard a lot of people talk about, 'It's time for a walkout; it's time for a strike.' But those are not the first steps in that decision. It's not the first step in what we should do to achieve our goals, and if we were to get back to that, there's a lot of groundwork that needs to be laid beforehand both in our local schools and our counties and our communities."
Lee said that before the 1990 strike, "People used to attend school board meetings and let them know what's going on. They attended regional meetings, and they lobbied their legislators, not only here in Charleston, but back home on the weekend."
Southern West Virginia walks out first
Brandon Wolford, a Lenore K-8 teacher and president of Mingo County's WVEA arm, noted that in 2014, lawmakers raised teacher pay statewide by $1,000.
That bill also said, "It is the goal of the Legislature to increase the state minimum salary for teachers with zero years of experience and [a bachelor's] degree, including the equity supplement, to at least $43,000 by fiscal year 2019."
Republicans took over the Legislature that fall, and no more pay raises followed.
At the start of this year's legislative session and less than six months before fiscal year 2019, starting pay, including equity for a teacher with a bachelor's degree, was still about $33,000, though county boards of education may choose to add to the state figure.
Wolford noted the PEIA changes and said the plan to base premiums on total family income "was the one thing that really got everybody going." But he also said GO365 was the "straw that broke the camel's back" and that the strike wasn't all about insurance.
"It seems like every legislative session, they were trying to take a little more, they were trying to do something with seniority, they wanted to stop payroll deductions," Wolford said.
After the MLK Day rally, Wolford said he was contacted by a union representative who said workers in neighboring Wyoming County were ready to walk out. Wolford said an employee told him, "We want to do Fed Up Friday. Everybody would just close down schools and go to Charleston."
Wolford said he called an emergency meeting of all Mingo school employees, both union and nonunion, for Jan. 23.
"We were the first to vote to participate in Fed Up Friday," he said, even though Wyoming County "had given me the idea a day or two before."
He said Mingo was told state-level union leaders wanted to wait to see what legislators would do and got suggestions "to not go ahead and go out on strike, it was too early ... They wanted us to start with letters. They wanted us to do maybe rallies on weekends, before school, after school."
But, he said, the message was still that the state unions would support whatever the local unions decided.
"I went ahead and I just stood up and told them, 'Look we're the local here. This is what we're doing. I appreciate your advice, and we're not having it.' And I made the motion, everyone agreed and we're going out Friday," Wolford said.
He said Wyoming met the next day. That same day, AFT-WV President Christine Campbell broached the word "strike" at a joint union rally in Charleston. But Campbell said talk of a strike had come from the local level, not from union leaders.
A day or two after Wyoming met, Logan County voted to walk out, said Wolford, who attended the Logan meeting.
"I guess I kind of got a riot started," he said.
Wolford said that after Logan members weren't happy with responses from officers and state union representatives, he argued that a small number of counties demonstrating could make a difference.
"That was when the tide started turning in the other direction and the people started speaking up, and I said, 'If you make the motion, you have to do what the majority said.' And then I left," Wolford said. "I ended up getting a call after that telling me not to go to any other local meetings other than my own."
Wolford wouldn't say who told him that, because he didn't know if the person was just a messenger.
"I wouldn't say they weren't for it at the beginning, but they were saying it's too soon," Wolford said of state union leaders. "They wanted us to wait until we had all the momentum to go together, and at the time, they didn't feel like we had it."
On Jan. 29, the Monday before Mingo, Wyoming and Logan workers walked out on Fed Up Friday, state-level union leaders suggested they didn't know how many counties would take part.
Bob Brown, an AFT union lobbyist who led the state organization during the 1990 strike, said AFT was sending staff to county meetings "to figure out what's going on."
White, the WVSSPA executive director who warned of "yellow fever" walkouts, said Jan. 29 he wasn't advocating for a walkout or strike.
"I just don't think it's the right time, but that's me, that's me. We work with our membership," White said.
"If this is something that the membership wants to do, it's got to be something with solidarity across the board. It can't be sporadic," he said. "If it's a random walkout and 10 or 12 decide to walk out and five or six stay, 10 or 12 may be terminated. It's very possible, and that's what scares me the most."
Wolford suggested state-level union leaders were reluctant to support the strike publicly because "they knew that an injunction would be slapped on the organization quicker than each individual county."
In 1990, the state Supreme Court ruled that "public employees have no right to strike in the absence of express legislation or, at the very least, appropriate statutory provisions for collective bargaining, mediation, and arbitration."
A few days before the Fed Up Friday walkouts, Justice asked that PEIA insurees who didn't comply with GO365 not be punished with higher premiums and deductibles.
But the day of the work stoppages, when the first wave of hundreds of school employees flooded the state Capitol, the governor said, "I really believe steadfastly we should hold" to his idea of five annual 1 percent pay raises.
The next week, he mentioned the idea of delaying PEIA coverage changes. House Speaker Tim Armstead, R-Kanawha, said House leaders agreed with the idea.
Lee, the WVEA president, said during that week, WVEA and AFT-WV proposed counties vote to give the state union leaders authorization for some type of action.
On Feb. 12, as PEIA board members held new hearings on Justice's proposal to freeze PEIA coverage changes at least through mid-2019, White again warned of bus driver walkouts, and board members heard what would become a mantra: "A freeze is not a fix."
Two weeks after the first walkouts, there were more Feb. 16 from seven counties — not just Southern ones, but Cabell County, which didn't take part in the 1990 strike, and counties in the Northern Panhandle.
The next day, union leaders, having received vote tallies from across the state, announced that teachers and school employees would strike statewide Feb. 22-23.
That day, the WVSSPA posted on Facebook that if no progress was made during the two days, "rolling walkouts" involving "several counties each day" would begin the following Monday. White said that elicited many responses, and a consensus from members saying that wouldn't work.
"These are the members, these are the employees who are doing this, and right now we're just along for the ride," White said at the time.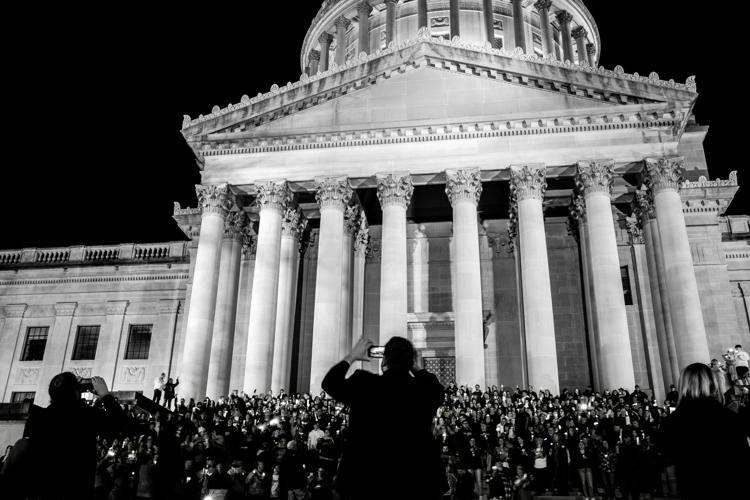 Strike refuses to end
The day before the statewide strike began, West Virginia Attorney General Patrick Morrisey called the action illegal and said his office was "prepared to support" state agencies, boards and county schools superintendents. None, at least publicly, took him up on his offer.
Justice signed a bill the same day that would have given teachers and school service personnel an extra 2 percent in pay next school year, and an additional 1 percent in following years.
Regardless, the statewide strike began the next day, Feb. 22. The following afternoon, state union leaders said the strike would continue Monday and would remain statewide.
"When's enough enough?" Justice asked Feb. 23. "Doing more than what has already been proposed at this time, based on the numbers that I have, would be ridiculous to do."
So the strike continued Feb. 26-27. It was after 6 p.m. Feb. 27 when Justice and state union leaders emerged from negotiations and announced what they thought would be a deal to end the strike.
Justice, before quickly heading off to coach his girl's basketball team, proposed raising revenue estimates for next fiscal year by $58 million — a proposition many lawmakers found dubious — and replacing the previous pay raise bill with a 5 percent increase for school workers and a 3 percent raise for all state employees, all effective July 1 instead of spread out over several years.
As for PEIA, Justice proposed a task force to study the problem.
After state union leaders emerged from a news conference, they greeted a crowd of at least hundreds gathered on the Capitol steps. Video from CNN shows them cheering, but then booing and chanting, "Back to the table!" in response to the proposal.
"We kept saying all along that you couldn't fix PEIA in the 10 days left in the session, you really had to have a long-range plan for that," Lee said afterward. "Now, I don't know because I was in the press conference with the governor, but I was told that there were certain legislators that went out and got the crowd riled up with a 'freeze is not a fix.'"
That evening, Senate President Mitch Carmichael, R-Jackson, told West Virginia MetroNews, "It would be completely frivolous and ridiculous to embrace this proposal this far down the session."
On Feb. 28, the strike showed no sign of abating, with continued chants of, "A freeze is not a fix!" and new chants of, "We got sold out!"
At a church near the Capitol, Kris Mallory, assistant to the AFT-WV president, talked up the proposed deal and shared concerns about "how quick the public can divide us" and injunctions, saying if "we go back on our own terms," it would "reserve our right for a work stoppage."
Lee, standing beside other union leaders, said after 6 p.m. Feb. 28 that they still "believe the best course of action at this time is to return to school tomorrow, however we realize that not everyone will."
The strike, in fact, continued statewide March 1, with thousands of people still showing up daily at the Capitol, and March 2, when schools superintendents from more than 40 counties told Carmichael they thought passing the 5 percent increase would end the strike.
By Saturday, when the Republican-controlled Senate continued to oppose the 5 percent increase, state union leaders changed their public message.
"Until this bill passes at 5 percent, we will be out indefinitely," Lee said.
The following Tuesday, March 6, Justice waded into a crowd of striking employees, abruptly announcing that he had the Senate backing not just a 5 percent pay raise for school employees, but also for a new deal for state employees to receive a 5 percent raise.
Justice signed that legislation, and the strike ended March 6 without the long-term funding solution for PEIA some said spurred them to keep striking despite their state union leaders' advice.
Some PEIA funding measures did pass, but nothing that would provide the extra tens of millions Cheatham, the PEIA director, said was needed to keep benefit cuts or cost increases at bay.
Lee said there was a significant difference between Feb. 27, when workers booed the proposal to end the strike, and March 6, when it actually ended. He said there was communication, and further details surfaced about the task force, such as "specific dates, times, a deadline for specific recommendations, specific people who would be on it."
The PEIA Task Force first met March 13. What changes task force members can bring about remain to be seen. But Lee summed up the strike as, "We won."
"The credit belongs to the people who took the step and stayed united — for nine days," Lee said.