Five West Virginia schools were abandoned after the June 2016 flood. So far, not one has been rebuilt.
Steel supports and concrete walls are now rising for the new Herbert Hoover High, in Kanawha County. But about 8 miles up Elk River Road, the new Clendenin Elementary is just a dirt road leading up a hill. You would probably miss it if not for the sign full of politicians' names, boasting about the project.
A month after the flood, more than 600 people huddled inside Elkview Middle School seeking information about the future of the high school. The former Kanawha schools superintendent estimated it would take two to three years to build, an estimate he said included steps such as land acquisition and design.
In Nicholas County, new pavement and a storm drain are about the only visible evidence of work toward replacing Richwood Middle and Richwood High. In Summersville, the site of the new Summersville Middle School remains a rolling, grassy field.
Nicholas schools Superintendent Donna Burge-Tetrick said students are projected to be in the new buildings for the 2024-2025 school year — eight years after the flood.
Summersville still has Nicholas County High, which survived the flood. And most Hoover students at least got to attend sixth-eighth grade in the still-standing Elkview Middle.
But because Richwood lost both its middle school and its high school, Richwood High may in coming years start graduating students who haven't attended a normal school since sixth grade.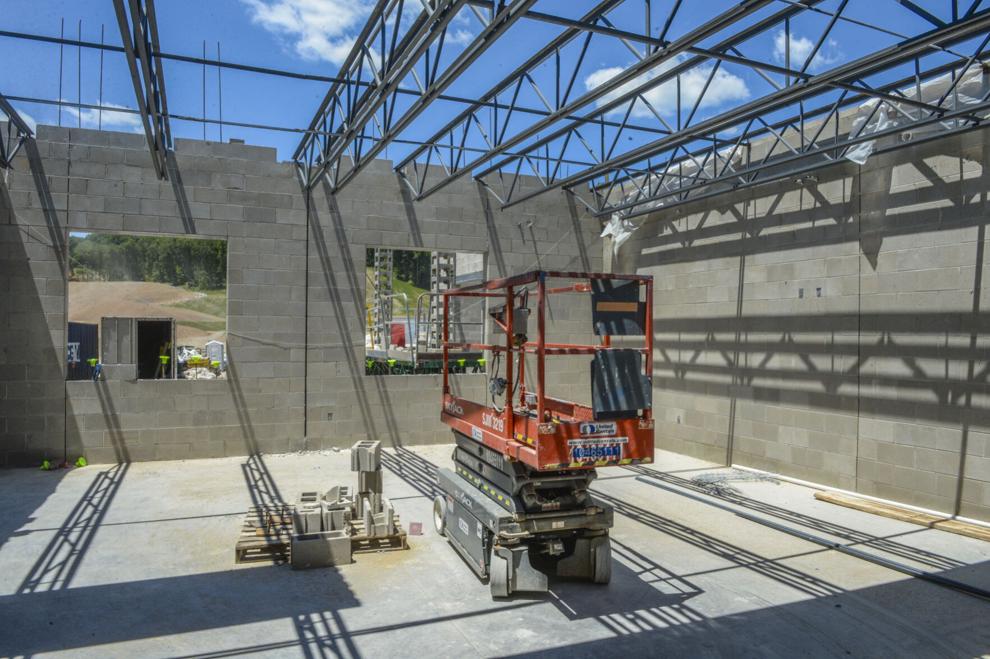 "I wish we still had our school, I do," said Hannah Curry, a rising Richwood High sophomore. "I wish I would've had the experience. Again, my family, my parents went to that school, my grandma went to that school, my other grandma went to that school, I mean, and I don't?"
The flood happened, and the former Richwood Middle building closed, the summer before Curry's fifth-grade year. Gauging her chances of attending the new Richwood High, she said, "I don't believe we will, by the time I graduate. Maybe my brother will, maybe."
Rising Richwood junior Alexa Ragano said she went to sixth grade in Pittsburgh before transferring to the trailer classrooms, sometimes called portables or pods, that now make up Richwood Middle.
"I believe that there's a chance that maybe the current up-going eighth graders might be the first graduating class out of it," Ragano said of the new Richwood High. "But I definitely will not be in the inside of that school.
"I think I'm just so used to the pods and how they are that if I don't get to go to the school, I mean, it's whatever."
The Hoover High, Richwood High and Richwood Middle students learn in trailers next to permanent school buildings they also partially use. They don't have lockers, so they have to carry whatever they need around with them.
Hoover students share the cafeteria, gym and auditorium of Elkview Middle, the school they already passed through if they're from the area.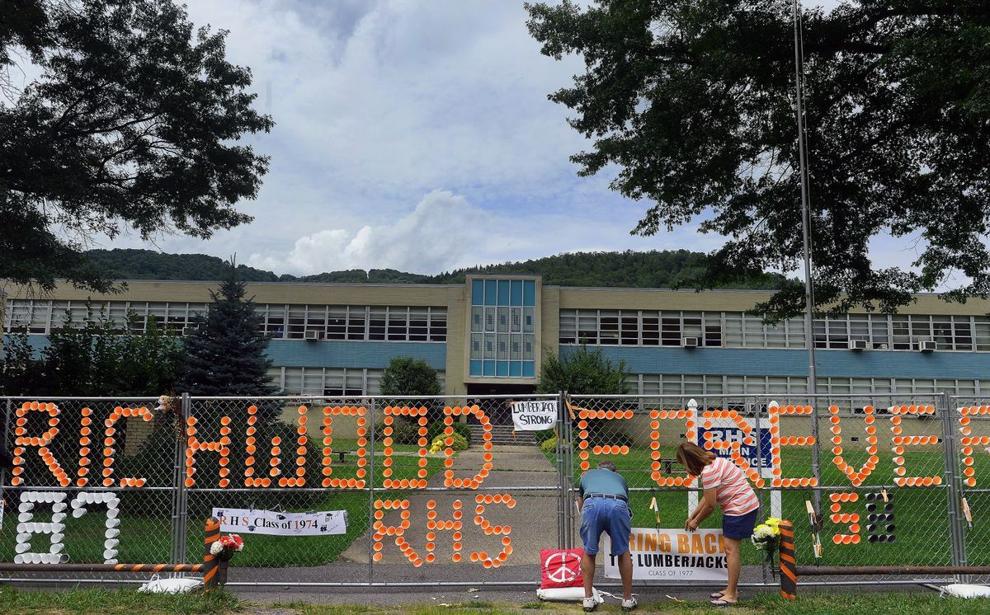 Richwood High students have been spread between the former Beaver Elementary building and trailers set up next to that once-abandoned elementary school.
Until that's done, the middle schoolers will join the high schoolers at the Beaver Elementary complex. That's over 20 minutes from Richwood, by car.
The scenario doesn't sound appealing to Ragano, who said she likes Richwood better than Pittsburgh because she doesn't like crowds.
"I think it's gonna be a mess," she said. "It's gonna be a huge mess, there's not gonna be room for anything."
Curry said, "The walkways at the Richwood High School, they're kind of falling apart, and now we're bringing the middle school over there."
In an email, Burge-Tetrick noted enrollment has declined. She said Richwood principals "confirmed that there was ample space at the Richwood High School pods for all students."
"That stake is about the 50-yard line," Chuck Smith said last week, pointing at a marker rising from a level plain of dirt that will one day be Hoover's football stadium.
Smith pointed to another spot level with the field, saying there's about 140 feet of fill dirt beneath it. He pointed to the ring of surrounding mountainsides that were shaved off, providing enough soil to fill the deep valley.
Smith, the Kanawha school system's head of facilities planning, said about 2.3 million cubic yards of dirt will have moved around the site by the completion date.
There will be a football stadium, a practice football field, a baseball field, softball field and two soccer fields. While the football fields are partially atop fill dirt, the school building itself perches atop pre-existing ground, Smith said.
Walls of concrete blocks and steel ceiling supports have begun to form the first floor of the two-story academic wing. Massive funneled grout and mortar mixing machines fed the wall building last week.
In the incipient extracurricular wing, the concrete heart of the dividing wall between the main gym and auxiliary gym was almost complete. The band room, choir room, auditorium, stage and other areas will follow.
Smith said there will be a geothermal heating and cooling system, where Hoover will send water or glycol into 400-500 foot wells to cool or heat it to the constant underground temperature, and then use that to efficiently warm or cool the school.
"It's a pretty massive project," Smith said.
Smith said the planned building completion date is the end of 2022 or beginning of 2023. But the pandemic has impacted construction elsewhere.
"COVID has created material and supply chain breakdowns, and we're hopeful that it does not impact our project significantly," he said.
Aside from the pandemic, Smith said "we are dealing with the enormous amount of regulations and red tape" regarding these federally funded flood recovery projects.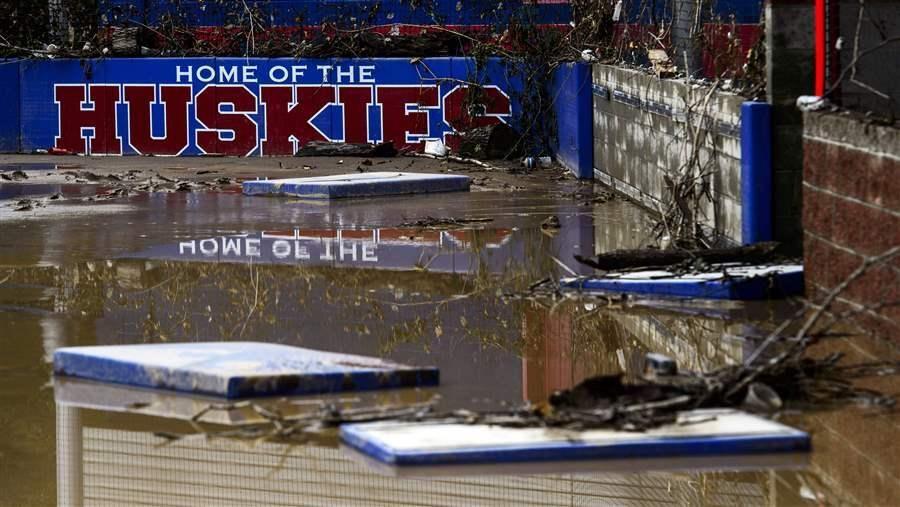 The Federal Emergency Management Agency is still expected to pay 90% of the cost to rebuild these schools in Kanawha and Nicholas counties. But, if West Virginians fail to follow federal regulations, FEMA may try to claw back money.
"I know this has been a long process," Smith said. "We are making every effort possible to ensure that we are building a facility that the people of the Elk River community can be proud of and will last a very, very long time.
"We're doing the best we can to ensure that we get it completed as quickly as possible, to get these students and this community back in this school as soon as possible."
While it can be difficult to pinpoint an exact reason for the construction delays experienced in both Kanawha and Nicholas counties, litigation has further complicated and slowed the process.
An oil and gas company is suing to claim ownership of the land and mineral rights at the Clendenin Elementary site. And the Nicholas Board of Education unsuccessfully sued the state Board of Education, trying to overturn the state board's denial of the county board's earlier rebuilding plan. That plan wouldn't have rebuilt any Richwood schools and instead would've used the FEMA money only to rebuild and consolidate in Summersville.
Burge-Tetrick, the Nicholas superintendent, wrote that the pandemic has delayed environmental permits for the Summersville Middle site. That's the Glade Creek Business Park, where the county board still plans to build a new Nicholas County High and relocate the county vocational school, alongside replacing Summersville Middle.
"The Nicholas County Board has been involved in multiple lawsuits, an attempted injunction, a mediation process and a global pandemic, all that has slowed construction," she wrote. "It took a year to complete environmental assessments."
She also pointed to the processes that FEMA requires.
Whatever the reasons for the delay, every passing year means more students are graduating from the trailer versions of these schools.
Ethan Walker didn't get to graduate from a new Herbert Hoover High.
"I think it would've been awesome to be able to go there," Walker said. "Maybe be the first senior class to be in there. But, like, I understand that building a school obviously takes a bunch of time. It would've been cool, but it's fine, I get it, I understand.
"Yeah, it sucks that I won't get to go to it, but you know, that's alright, that's fine with me. It is what it is."
Hoover students often mention the alternating perils and pleasures of having to travel outside walkways from trailer to trailer.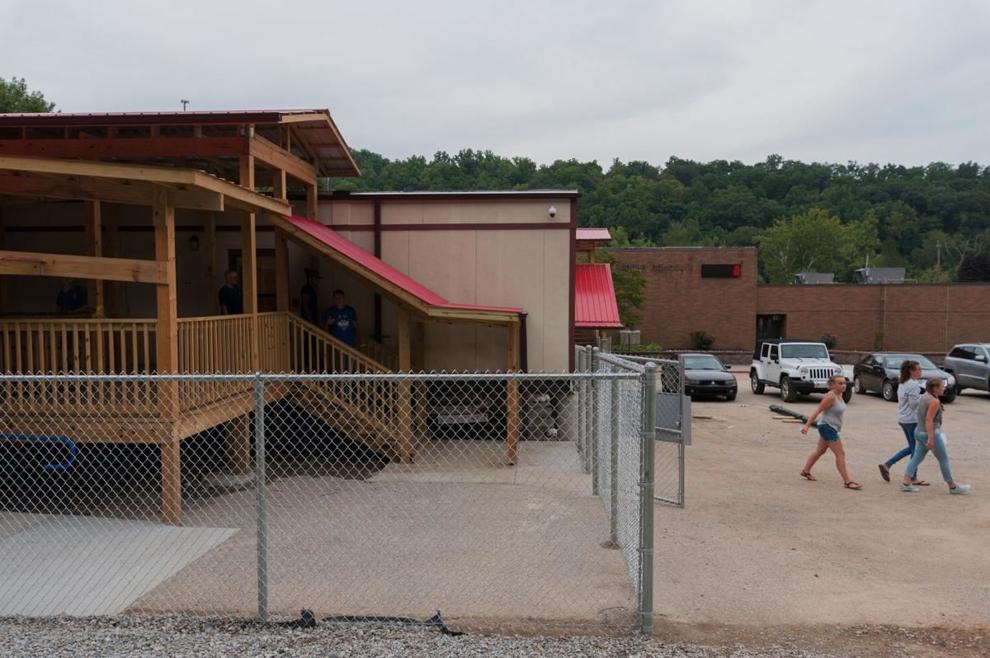 "Pretty much whatever the weather was, that was the condition of our hallways," Walker said. "Rain, sleet, snow, whatever it was, ice in the hallways, definitely. But it was really nice on the warm days."
"I'll miss actually going to school, I guess," he said. "That's ... I never thought I'd say that, but I actually miss it. And I'll miss hanging out with my friends there, and I miss my teachers and I guess, just, everything about it — other than homework. I won't miss the homework, I won't miss that, but just about everything else I'll miss."
Lane Ramsey, a rising Hoover junior, said, "This is all I've experienced as a high schooler, and, I mean, from other schools I've went to it feels normal. It's a good school to go to."
With the years dragging on without new schools, the longtime assertion continues in Richwood that the Nicholas school system could have fixed the flood-damaged schools, instead of demolishing them.
"I think there's more that they could have done to save our actual high school, like put up a floodwall, fix what was wrong with the actual school and not just throw us in the pods," Ragano said.
Curry, the rising Richwood sophomore, said the new school is "going to be a nice, pretty school." But she lamented that it still won't be the one her family went to.
"I mean, it's kinda sad," she said.