VIENNA — Ohio Valley University was already struggling financially when, in July, lightning apparently took down the servers at the small Christian university in Wood County, school President Michael Ross said.
The incident has prevented most Ohio Valley students from getting transcripts to confirm the degrees, credits and grades they have earned, Ross said. It has also affected the school's ability to distribute federal funds to students and pay employees.
Ross said he thinks roughly 125 current or former students have requested transcripts since July. A couple of students who did not wish to be named said they received financial aid checks, money they use for their own expenses, weeks or months late.
Ross said the server drives have returned from a California data recovery center and are currently being installed, but he couldn't say when they will be fully online.
A former student, Jalissa Mahaney, said she needed a transcript for the nearby Parkersburg college she wanted to attend. One of the students who requested anonymity told the Gazette-Mail she failed to get a fellowship without a transcript.
In an interview last week, Ross said he didn't know exactly how many of the school's 80 workers haven't been paid, and he didn't say whether it was a majority of employees. He said some have gone without any pay to this point.
"We've had regular meetings, regular updates that, look, if you have a need, come to us, you know, we'll figure out how to fill it," Ross said. "And you know, we might have a few right now who are recent requests that we haven't met just because of cash flow."
Ross also didn't provide a number, or even a rough estimate, for how much total is owed in back pay. West Virginia Higher Education Chancellor Sarah Tucker said the state Higher Education Policy Commission, which oversees four-year colleges, has received an employee complaint.
"Teachers aren't getting paid," said another student who wished to remain anonymous.
The university has also missed some payments to vendors, Ross said. Again, he said he couldn't provide an actual or estimated past-due bill.
"A lot of our vendors, at this point, because they've carried us for so long, are forcing us to do things," Ross said, mentioning some balances going back to 2014. He said there have been threats to cut off services like electricity, forcing payment.
Ross said the nonpayment to employees and vendors is also related to the servers: It has impeded receiving federal funding, like federal student loans, Pell Grants for financially disadvantaged students, and work-study funding.
He said Ohio Valley, a private school, hasn't yet required students to pay tuition or fees this semester if it hasn't yet been able to process their federal aid.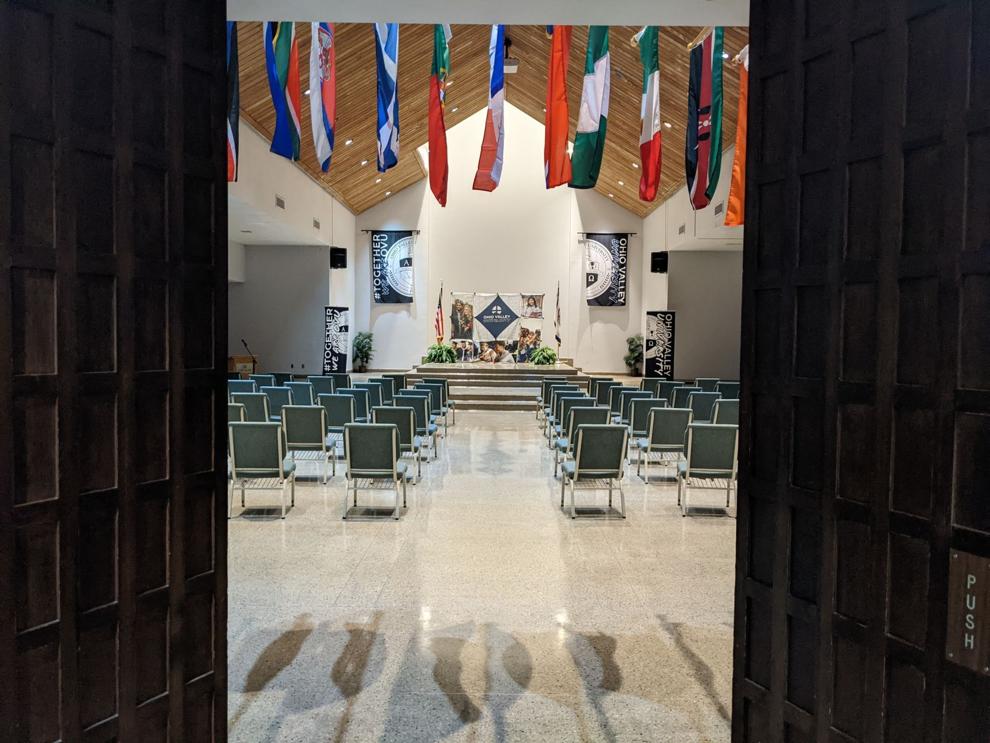 "Our revenue source is student tuition and that student tuition is always connected to federal aid," Ross said. "And so all the data that is required for us to draw down federal aid is connected to the server. We have done some workarounds and we are doing that slowly, but it's much slower."
Many college students rely on receiving overage or refund checks, which provide them federal funding left over after their college deducts tuition and fees. One of the aforementioned Ohio Valley students who wished to remain anonymous said she didn't receive her check until the start of this month. The semester began in mid-August.
"That's one of many students' problems is they're not able to provide for students that don't live on campus and commute, money-wise, to just feed ourselves and get from Point A to Point B," she said.
Ross said he didn't receive that complaint.
"We are starting to see student payments," Ross said. "We are starting to pull down our federal aid."
Ongoing enrollment decline
Server issues aside, Ohio Valley has been financially struggling for years. Ross, who became president in January 2019, said the server issues "just created yet another hurdle."
"The Institution's [composite financial index] scores have been 'below the zone' for the last 11 years," the Higher Learning Commission wrote in June 2020 to Ross.
"While the institution has adopted a plan and undertaken several initiatives in recent months, it has not succeeded in halting the decline of its retention, persistence and completion rates," the letter said. "The ongoing enrollment decline has negatively impacted the financial health of the institution. Given the current pandemic, there is no strong evidence that the institution will be able to meet its projected goal of 350 students for fall 2020."
As of about two weeks ago, well into fall 2021, full-time enrollment was roughly 175, Ross said. He estimated there are "maybe a dozen" part-time students.
Ross estimated the university is roughly $21 million in debt. It can't currently pay it down; Ross said Ohio Valley is in "technical forbearance" on $15 million of that amount while it negotiates with the debt holders to significantly lower that burden.
In October 2020, a judge ruled Ohio Valley owes its former food vendor, Aladdin, $1.2 million, including for unpaid pre-pandemic bills. It was a default judgment after Ohio Valley never responded to the lawsuit.
Ross said the university is negotiating with Aladdin on that debt, which is part of the $21 million total.
Since the time of the Higher Learning Commission's letter, the university has been freed from being the guarantor of a $5 million loan to an entity called the ACE Educational Foundation, according to Ross and ACE's president. This means the school is no longer at risk of having to repay that loan itself.
A Higher Learning Commission review team visited Ohio Valley this month. Spokeswoman Heather Berg said the accreditor "does not comment on institutional accreditation processes that are in progress to ensure integrity in HLC's decision-making."
Asked if the university plans to stay open, Ross said, "yes, but, I don't know what the future holds, I mean our goal is to not close. That is our long-term — we have no intent at this point of making a decision to close."
He said he has a State of the University speech Thursday, when he's going to "lay out a pretty detailed plan." He mentioned increasing enrollment and fundraising.
The university does own a coal seam worth an estimated $15 million, but Ross said it's in the middle of coal not belonging to Ohio Valley.
"There's no mining expected until 2026 and the way coal is, right — it's pushed even further," he said.
The anonymous student who said she failed to get a fellowship due to not having a transcript still said the school has "so much potential."
"You know the kids here are some of the best kids I've ever met," she said. "And the teachers here will do anything for you. So it's almost the school is kind of stuck between a rock and a hard place right now."