The West Virginia Board of Education approved closing eight public schools Thursday, including three McDowell County elementaries and Kanawha County's Cedar Grove Middle School.
The closures also include Mineral County's Fort Ashby Primary, Wiley Ford Primary and Frankfort Intermediate and Wayne County's Buffalo Elementary schools.
The local boards of education of all four counties already had approved the closures.
However, according to the state school board, the closures won't happen if counties don't receive consolidation funding from the School Building Authority. Every year, the authority gets far more requests from county school systems than it can fund.
The authority board is scheduled to meet at 10 a.m. Monday at the state school board's Charleston headquarters to vote on which school systems will receive its major annual school building and renovation grants. The authority is opening the meeting room only to the news media, citing COVID-19. The meeting is being streamed online.
According to overview notes provided by authority staff, McDowell County is requesting up to $18.7 million to build a new school to consolidate three: Fall River, Kimball and Welch elementary schools.
Amanda Peyton, assistant to the McDowell schools superintendent, said the new school would be built on 12 acres next to the new football field at Mount View High, which is a sixth-12th grade school.
"I taught there," Peyton said. "I taught at Kimball, I taught at Fall River, and I went to school at Welch Elementary. And we know closures are never easy but, you know, it's just — we can make a new school and make new memories and new history and give our students what they need."
Total enrollment at the three schools in fall 2019 was 633. McDowell noted in its closure proposal documents that enrollment is declining — it dropped 17% countywide from fall 2014 to fall 2019 — and officials say they want to use limited money more efficiently.
McDowell said the consolidation would allow it to cut about 20 positions and halve the required number of bus routes.
State board policy recommends that elementary school students spend no more than 30 minutes one way on a bus, but McDowell said its 13 remaining routes would start from about 30 minutes for the earliest pick-up and range up to 55 minutes, one way. For six of these 13 routes, McDowell officials said, the travel time would be the same or less than it is now.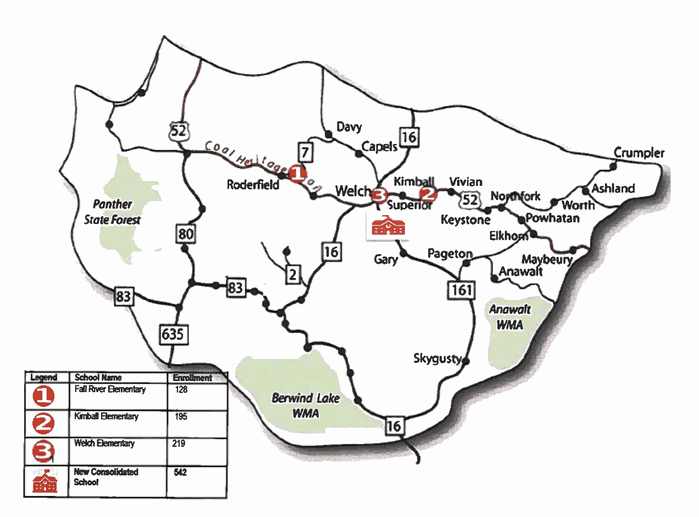 Authority staff wrote that Kimball and Welch elementary schools, both built in 1954, have been well-maintained. But they're both in the 100-year floodplain and have been damaged by floods in the past, officials wrote.
Constructed in 1978, Fall River would become the new home of the "current outdated and oversized McDowell County Career [and Technical] Center," authority staff wrote. The county vocational school is a 13-minute drive from Fall River.
Kanawha County is requesting up to $8.2 million from the authority for renovations and additions to the building that houses Cedar Grove Elementary and Cedar Grove Middle schools. If the authority agrees, part of that building would be demolished and the middle-schoolers would be transferred to DuPont Middle, a roughly 20-minute drive away.
This fall, Cedar Grove Middle's enrollment was about 160. Its peak over the past eight years was 176.
Mineral County is requesting up to $19.1 million to build a new Frankfort area school to consolidate Fort Ashby Primary, Wiley Ford Primary and Frankfort Intermediate schools.
"These three schools are in very poor condition, with boilers and other HVAC [heating, ventilation and air-conditioning systems], windows, doors, roofs beyond their life expectancy," authority staff wrote. "Numerous health and safety deficiencies were found.
"Frankfort Intermediate School's drinking water supply was found to have metal debris present, so students and staff must use bottled water at all times," authority staff wrote, and at Fort Ashby, "the gym/cafeteria and kitchen still show exposed asbestos tile, which is visibly cracked and chipped."
Mineral schools Superintendent Troy Ravenscroft said, "there was no opposition, really," to the proposed consolidation.
"We had one person speak, total, and that was at the first [closure] hearing," Ravenscroft said, and the speaker was in favor.
Wayne County is requesting up to $23.9 million to add to and renovate Buffalo Middle School and turn it into a prekindergarten-eighth grade school, allowing Buffalo Elementary students to move there, authority staff wrote. The elementary school would be torn down.
The buildings are almost right across the road from each other.
"There will be zero effect on transportation routes," Wayne schools Superintendent Todd Alexander said. He said Buffalo Middle was built in 1980, and the authority's funding would add a new wing there.
"Let's invest in one community school, so those kids can continue to go there for the next 20 to 30 years, and we have a viable school," Alexander said.
"School closures and consolidations are heartbreaking," state school board member Debra Sullivan said. "And I believe that none of us want to see that happen, and so we need to understand the financial situations that are driving this — that it's not for lack of interest in the welfare of children."
Among the financial situations: State school funding is largely based on student enrollment. When it drops in a county, so does funding.
The authority's 10-member board includes three members of the state school board, plus the state schools superintendent, who is an employee of the state school board.