In his 27 years as an underground coal miner in West Virginia, Gary Hairston noticed that it took some backup to breathe easier.
"There was a lot better protection in a union mine," Hairston recalled. "The union backs you."
Hairston found that a union representative would investigate miners' complaints.
"It's like night and day between a union and a nonunion coal mine, when it comes to extreme overexposure to coal mine dust," said Sam Brown Petsonk, a Beckley attorney who has represented miners in black lung benefit and safety grievance cases.
Hairston, now president of the Black Lung Association, was a nonunion miner at the now-defunct Massey Coal Co. in 2002, when he had to retire from mining coal at 48 years old because of advanced black lung disease that has taken away the wind he needs to play with his grandson.
Fifteen years later, former Massey Energy chairman and CEO Don Blankenship finished serving a year in federal prison and a halfway house after his conviction for conspiring to willfully violate mine safety standards at Massey's Upper Big Branch Mine, in Raleigh County, where 29 miners died in an April 2010 explosion.
A 2018 National Institute for Occupational Safety and Health report found that prevalence of severe black lung in Central Appalachia was as high (5%) as it's been since record-keeping began in the early 1970s.
Coinciding with the rise in black lung's prevalence in West Virginia has been a steep decline in union membership among miners.
The number of union coal employees in the Mountain State dropped from 5,468 in 2009 to 2,850 in 2019, according to U.S. Energy Information Administration data — a decline 16 percentage points greater than the drop in nonunion members during the same time span.
Meanwhile, the share of income going to the bottom 90% of West Virginians shrunk from 63.5% in 1979 to 56.3% in 2015, according to an analysis from the left-leaning nonprofit think tank West Virginia Center on Budget & Policy.
But the income share flowing to the top 10% of earners in West Virginia rose from 36% in 1981 past 45% in 2015, as the state's unionization rate plummeted from 38.3% to 15%, according to the think tank.
"So we march and we speak out and we organize, and through an exercise of solidarity, we continue to work for the day our ancestors dreamed of," United Mine Workers of America spokesman Phil Smith said. "That's what Blair Mountain means to me."
Smith was reflecting on the Battle of Blair Mountain during an online roundtable discussion on the battle's meaning for workers upon its 100th anniversary. Smith moderated the discussion on Aug. 19 with a panel of West Virginia Mine Wars Museum board members.
The battle was the largest labor uprising in U.S. history, pitting 7,000 to 10,000 coal miners with rifles and red bandannas around their necks trying to unionize against 3,000 state policemen, private security forces and other strikebreakers in Logan County.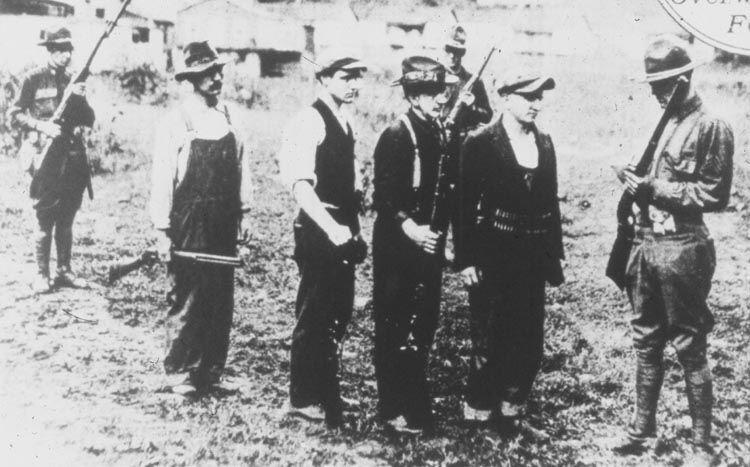 The conflict eventually created awareness of the poor living and working conditions of miners, and it inspired a more robust organized labor movement that spurred rapid wage growth in the decades that followed World War II.
"When we saw the unions begin to decline in the 1980s, what were the things that came under fire?" said Lou Martin, West Virginia Mine Wars Museum board member and associate history professor at Chatham University. "Pensions and health care were at the top of that list, followed by the eight-hour workday and the five-day workweek, and workplace safety."
But when she taught an archival storytelling course at West Virginia University for Honors College students during the 2018-19 academic year, university film studies librarian Beth Toren realized Blair Mountain didn't mean anything to her students — most of whom were from West Virginia.
None of them knew about the West Virginia mine wars — bloody conflicts starting in 1912 that led up to the battle that left up to 100 dead.
So Toren and other educators are preserving the memory of the battle for future generations, amid long-term union decline and an array of anti-union laws adopted by West Virginia legislators.
"I think, in many respects we're reaching a point where many of the same things are happening," Smith said in comparing the present day to the circumstances leading up to the Battle of Blair Mountain. "And we're not going to recognize it, unless we're teaching our children about it."
What's taken for granted
The miners were battling corporate power wielded by mine operators who perpetuated a police state that controlled their lives. Coal operators hired private detectives who harassed and evicted miners. They owned housing and the stores at which miners and their families were forced to buy food, clothes and tools with scrip, currency the miners enduring dangerous working conditions were paid that could be used only at the company store.
"The Battle of Blair Mountain shows what life was like before we had a system of legalized collective bargaining where workers had to fight literally to live a decent life and protect basic civil liberties that we take for granted," Martin said.
The federal government intervened against the striking miners, dispatching troops and a squadron of aerial bombers. The miners, who had marched from Marmet to help unionize in Logan and Mingo counties, were unwilling to fight U.S. soldiers and laid down their arms.
"It's an example of solidarity, of coming together in service to a cause," Kyle Warmack, program officer at the West Virginia Humanities Council, said of Black, white and immigrant miners joining together in battle.
Collective action has been key for miners throughout West Virginia history, from a 1969 strike of more than 40,000 miners that led to the state's first black lung law to a 1989 strike of thousands of miners in the state to protest the Pittston Coal Co.'s termination of health care benefits that led to the 1992 enactment of the federal Coal Act ensuring health benefits for retired miners, their spouses and dependents even after former employers had gone out of business.
But the West Virginia Legislature has taken aim at unions in recent years.
In just its 2021 session, the Legislature passed bills officially declaring any work stoppage by public employees to be unlawful (Senate Bill 11) and eliminating the right of public employees to have union or other labor organization dues deducted from their paychecks by their employers (House Bill 2009).
Kanawha County Circuit Judge Tera Salango sided with labor organizations in June. She granted a preliminary injunction that has kept House Bill 2009 from taking effect.
The Republican-controlled Legislature made West Virginia a right-to-work state and repealed the state's prevailing wage law in 2016, overriding then-Democrat Gov. Earl Ray Tomblin's vetoes to do so.
Right-to-work laws allow workers in unionized workplaces to choose not to pay union dues while still reaping union benefits.
The state's prevailing wage law mandated a minimum wage for workers on state-funded construction projects.
"We're in danger of going backwards now, as we try to make unionizing illegal in some states," Martin said.
Role reversal
West Virginia teachers and other school personnel walked off the job in 2018, in the state's first statewide public school worker strike to protest. The strike was over, in part, what they believed were inadequate pay and benefits after the state ranked 48th among the 50 states and Washington, D.C., in average teacher pay in 2017, per the National Education Association.
In honor of the miners who fought the Battle of Blair Mountain nearly a century earlier, they wore red as a symbol of solidarity.
It marked a role reversal for the state's teachers. For generations, teachers across West Virginia had been part of an educational system that deliberately ignored the mine wars.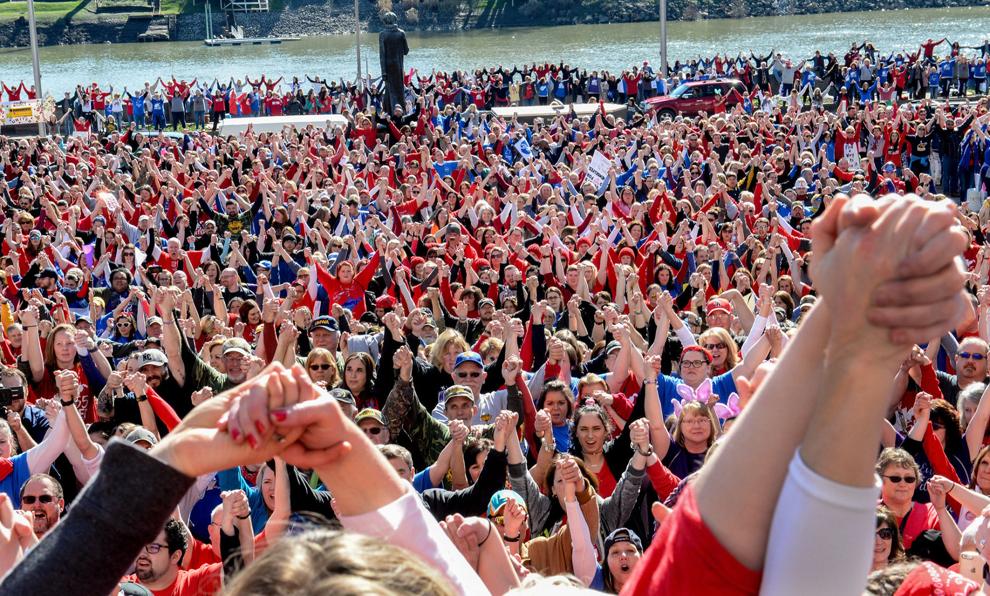 Included in the archives at Matewan's West Virginia Mine Wars Museum — itself founded only six years ago — are history textbooks used in West Virginia schools from the 1930s through the 1980s that don't mention the mine wars.
Chuck Keeney, vice president of the Friends of Blair Mountain and s history professor at Southern West Virginia Community and Technical College, learned nothing in school about his great-grandfather, Frank Keeney, president of the local UMW district during the Blair Mountain battle.
Keeney noted that the coal industry and political establishment-powered American Constitutional Association worked to keep the mine wars out of state history textbooks.
"[They did that] so that the people themselves had this notion of the coal industry only being a benefactor," Keeney said during the Aug. 19 discussion on the battle, recalling that one textbook referred to coal as a "wonder substance" that civilized West Virginia.
Today, West Virginia eighth-grade social studies teaching standards call for students to "[i]dentify the labor/management strategies that have affected West Virginia's economy," including yellow-dog contracts — generally illegal agreements by which employees agree not to join or stay in a union.
But curriculum decisions in West Virginia are made at the county level. Kanawha County Schools spokeswoman Briana Warner said the Battle of Blair Mountain is included in the county's eighth-grade textbook.
"The text was adopted around 10 years ago, and we've been teaching it at least that long," Warner said in an email.
Logan County Schools also includes the Battle of Blair Mountain in its curriculum, according to Melody Thompson, secretary to the superintendent.
The Mine Wars Museum formed an educational advisory committee of mostly eighth-grade teachers across West Virginia to revise museum lessons about the mine wars aligned with state curriculum standards.
The museum offers lessons on its website, at wvminewars.org/lesson-plans, which include contemporary newspaper accounts and roleplay to analyze conflicting sides of forming a union and whether to join the march on Blair Mountain.
"I've noticed that the lessons are really starting to take off," said Mackenzie New-Walker, the museum's director and a daughter, granddaughter and great-granddaughter of West Virginia union coal miners.
Toren has overseen a multimedia mine wars history project called Mountaintop, offering free archival photograph reproductions in the mail, videos and resources for teachers.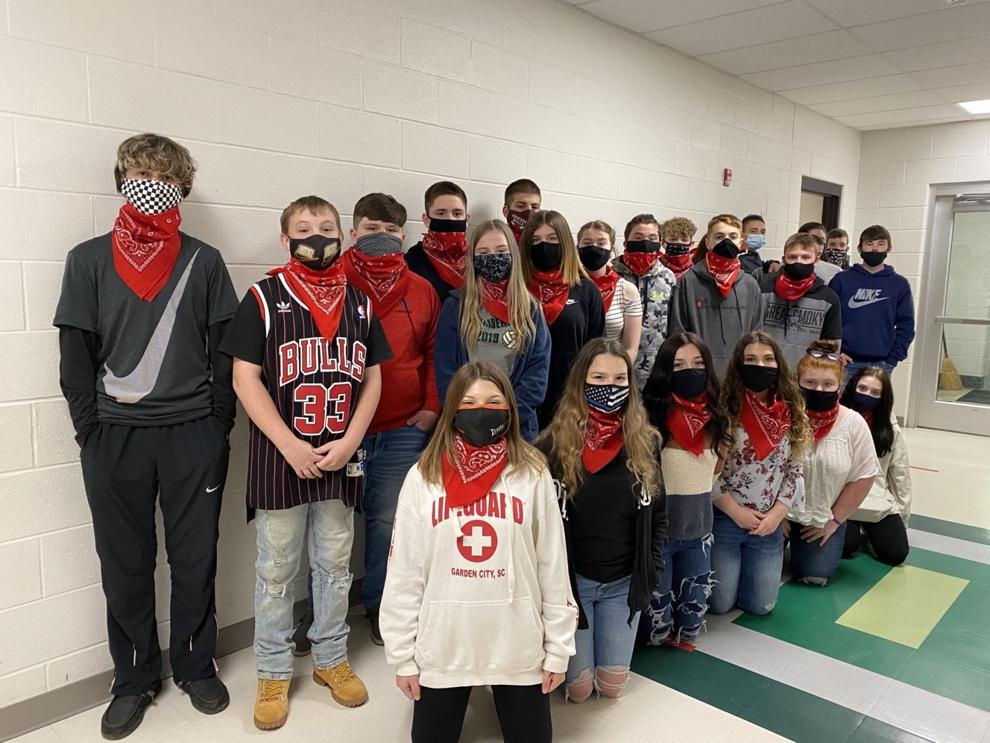 "I think this is an important history for us to study, as we have reached this point where union membership is so low, where so many people are struggling that they're hungry for learning about events like this," Martin said.
Legacy at stake
Toren wants to see less income inequality.
"Don Blankenship was making an enormous profit by just flouting safety laws, and then people died," Toren said of the former CEO who made $17.8 million the year before the Upper Big Branch disaster.
"The story of Blair Mountain to me is also a story about who the enemy is, to be blunt about it," Barbara Ellen Smith, West Virginia Mine Wars Museum board member and former director of the Women's and Gender Studies program at Virginia Tech, said during the roundtable discussion. "I mean, you know, we're talking about very wealthy folks who have managed to enrich themselves through political control, as well as their control in the workplace."
The labor victories that followed the Battle of Blair Mountain bolstered its legacy. But the battle with the most at stake is always the next one.
"A lot of people would say, 'But the federal government had passed laws about minimum working standards,' " Martin said. "But those things can be reversed when working people don't have an effective voice for change."
"A legacy is never a static thing," Warmack said.