It had been just 10 days after 4 inches of rain in 30 minutes flooded every underpass in his city.
So Huntington Mayor Steve Williams had plenty to say Thursday when he joined a press conference via Zoom to talk infrastructure priorities with other local elected officials throughout Appalachia.
Recalling rough estimates provided by engineers who work with the Huntington Water Quality Board, Williams said it could cost about $130 million to replace two pump stations built more than 70 years ago.
"Now you take however many communities just along the Ohio River, we're talking about billions, if not trillions of dollars in investment just to make sure our communities are safe," Williams said. "Just imagine the economic devastation that occurs if all of these levees start to continue to crumble."
The focus on burdensome infrastructure maintenance costs amid worsening flooding brought on by the climate crisis came during Thursday's press conference hosted by ReImagine Appalachia, a coalition of environmental and community organizations across the region.
Williams told the story again less than an hour later at another Zoom press conference. His public push came as Congress inched toward final passage of billion-dollar investments in West Virginia's infrastructure that could transform the state's economic and energy future.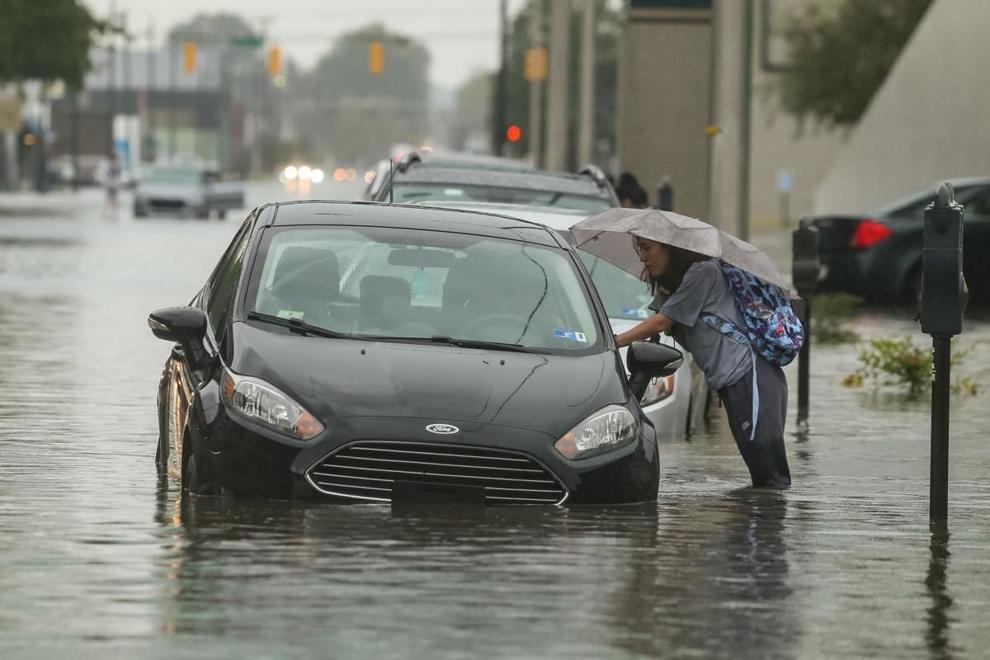 Or it could all fall apart.
Friday marked a month since the U.S. Senate passed a $1.2 trillion bipartisan infrastructure package that would include $65 billion for broadband, $110 billion for roads and bridges, $55 billion for water infrastructure and $11.3 billion in abandoned mine land reclamation funding.
"On balance, the infrastructure program is a real win-win for everybody," West Virginia Coal Association President Chris Hamilton said, anticipating the bill could spur an increase in steelmaking, boosting metallurgical coal production.
But final passage of any infrastructure investments will be a steep challenge for Democrats, despite their majority in Congress.
House Speaker Nancy Pelosi, D-Calif., has said she expects a vote on the bipartisan infrastructure bill by Sept. 27. She set a goal of passing that bill and a $3.5 trillion budget reconciliation package by Oct. 1.
All Senate Democrats must get behind the budget reconciliation package to ensure passage given a lack of Republican support.
The plan would strengthen the nation's social safety net through expanded Medicare, enhanced child care and housing support in addition to protections for unions.
It also would seek to address the climate crisis by authorizing grants for electricity providers that increase clean electricity use by 4% or more annually and penalties for those that don't, a methane emissions fee on the oil and gas industry and multibillion-dollar investments in electric vehicle infrastructure, energy efficiency and appliance electrification rebates.
"We need to move away from carbon-producing fossil fuels … so I'm urging Sen. [Joe] Manchin to support the Build Back Better budget," state Delegate Jim Barach, D-Kanawha, said during one of last week's press conferences, namechecking President Joe Biden's proposal to establish a clean energy standard, expand clean energy tax credits and create a new civilian climate corps. "We're talking a lot of money, but it's not an expenditure. It's an investment. We're talking an investment that will go on for decades."
Manchin, D-W.Va., has signaled he doesn't see it the same way.
Speaking to reporters at the United Mine Workers of America's annual Labor Day celebration Monday in Racine, Manchin cited concerns about the pandemic, inflation and the U.S. withdrawal from Afghanistan as reasons for his opposition to the budget package as currently proposed.
"We need to be prepared to meet all that," the senator said. "You just can't run yourself so thin as far as finances that you can't meet your obligations."
Manchin wrote an op-ed published in the Wall Street Journal earlier this month calling for a "strategic pause" on the budget reconciliation bill.
His office did not respond to a request to explain his stance on a clean electricity incentive program aimed at reducing power-sector carbon emissions 80% by 2030.
Hamilton predicted the Democrat-proposed program would cause an "almost immediate shutdown" of West Virginia's coal-fired power plants by paying electric utilities to convert to other base fuels.
"We think that would be disastrous for our state, and, of course, for the state's bedrock industry," Hamilton said.
In an evenly divided Senate, the centrist Manchin's positions, including an "all-of-the-above" energy approach that embraces fossil fuel use, threaten passage of the clean electricity program and some of environmentalists' other top climate priorities.
The Senate Energy and Natural Resources Committee chairman, who has held millions of dollars in assets in a coal brokerage he founded in 1988, Fairmont-based Enersystems Inc., noted the bipartisan infrastructure deal he helped pass last month in the Senate includes more than $12 billion for carbon capture technologies.
Such technologies capture carbon dioxide emissions from sources such as coal-fired power plants and reuse the carbon dioxide to create products or store it permanently underground in geologic formations so it will not enter the atmosphere.
Capturing, removing and storing carbon – a practice so far unproven at commercial scale – is seen as critical in the struggle to slow climate change. Politicians representing constituencies like West Virginia, where coal still plays a major role in the economy and electric generation, have embraced developing technologies to make those processes easier as a way to keep coal in the energy mix.
But climate advocates such as Lucia Valentine, West Virginia coordinator for the national anti-air pollution group Moms Clean Air Force, want the massive investments in clean energy that Manchin's pushback is jeopardizing.
Last week, Valentine and her family had to leave their Shepherdstown home due to flooding, an issue she noted global warming has exacerbated statewide.
"The system clearly no longer supports us," Valentine said.
Clean electricity incentives
The House Energy and Commerce Committee on Monday will consider climate proposals that include a clean electricity performance program.
Authorizing grants for electricity providers that increase clean electricity use by 4% or more annually and penalties for those that don't, the program is designed to decarbonize the electric grid by 2035. It would exclude natural gas by defining clean electricity as generation with less than 0.1 metric ton of carbon dioxide equivalent per megawatt-hour.
"We believe that is unfair," Gas and Oil Association of West Virginia Executive Director Charlie Burd said. "Natural gas burns cleaner than coal. Obviously, we believe given the vast amounts of electricity that need to be generated in our country, that the omission of using natural gas as a fuel source for cleaner electricity is flawed."
A report released Thursday by the independent economics consulting firm Analysis Group and commissioned by environmental groups found a clean electricity payment program would result in an increase of 7.7 million jobs, a $907 billion economic boost and $154 billion more in increased tax revenues for federal, state and local governments by 2031.
The analysis includes renewable energy, nuclear, low-emission fuel (like synthetic gas) and carbon capture and sequestration as qualifying sources as well as 10-year clean energy tax incentives.
Reaching the program's 2030 carbon emissions reduction goal would add 3,508 full-time jobs here and swell total earnings for state residents by $172 million through 2040 and bring $20.9 billion of investment in new power plants, according to a report by West Virginia University researchers and economic modeling experts.
But the infrastructure deal the Senate approved Aug. 10 does not include most of the legislative proposals from Manchin and Sen. Ron Wyden, D-Ore., on which the report bases its projections.
"To do what we are proposing and to get the job creation and the energy cost savings that we outlined, you absolutely need the rest of the package," said Tim Cronin, a fellow at the WVU College of Law's Center for Energy and Sustainable Development, one of the organizations behind the report.
The analysis assumes enactment of Wyden's version of clean energy tax incentive extensions proposed under Biden's American Jobs Plan and a bill Manchin sponsored to incentivize domestic manufacturing of advanced energy technologies by funneling investments into coal communities and other regions hurt by dwindling manufacturing jobs.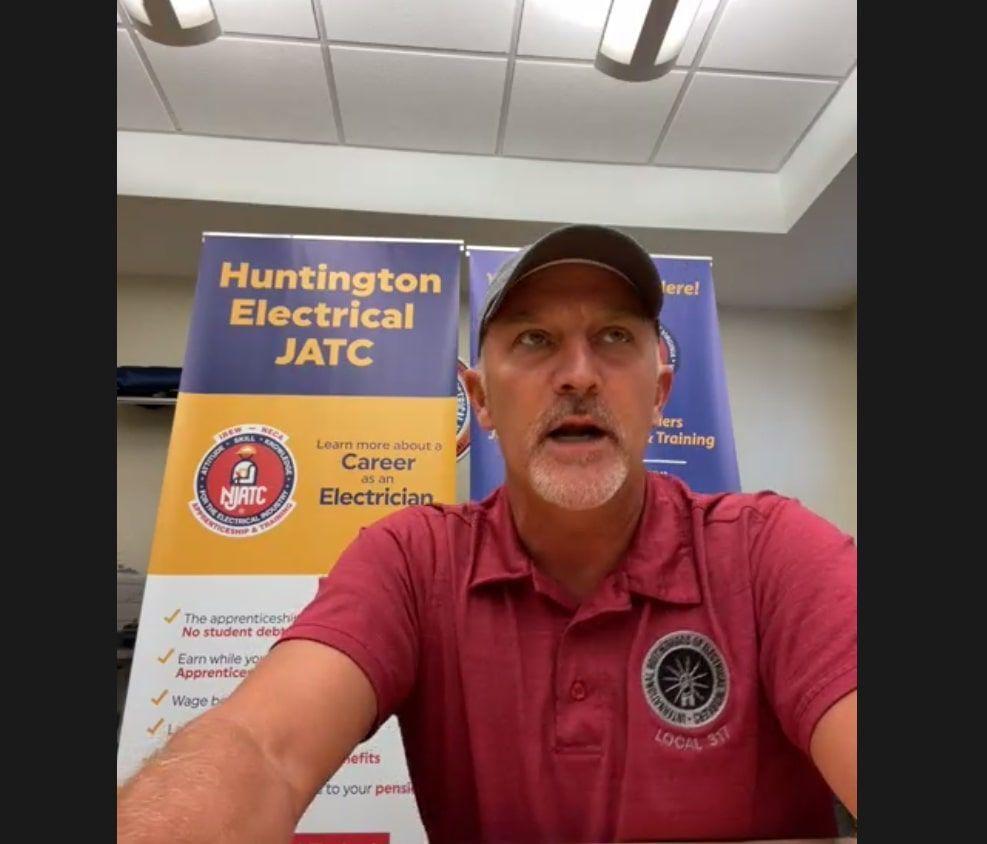 Skip Bailey of International Brotherhood of Electrical Workers Local 317 in Huntington observed during a press conference Thursday that West Virginia appeared to be lagging neighboring states in renewable energy development.
"If there ever was a time to get behind the Build [Back] Better budget, I would love to urge Sen. Manchin, [Sen. Shelley Moore] Capito, anyone in the state to get behind this," Bailey said. "I think it could put West Virginia out ahead of the curve."
Capito was among 19 Senate Republicans who joined Democrats in voting for the bipartisan infrastructure deal but has opposed Democrats' budget reconciliation package. Capito introduced a failed amendment last month for the $3.5 trillion budget resolution that would have allowed the Senate Budget Committee chairman to limit or prohibit a federal clean energy standard imposing higher energy costs on low-income households or causing coal or natural gas workers to lose their jobs.
An analysis released by environmental scientists and public health experts in July found the 80% carbon-free goal would prevent more premature deaths per 100,000 people in West Virginia than in any other state except Kentucky.
The researchers estimated 317,500 lives saved from 2020 to 2050.
"West Virginians deserve clean air," Valentine said.
The Gas and Oil Association of West Virginia and West Virginia Manufacturers Association were among 130 oil and gas, chemical and other business groups to sign a letter to Capito — the Senate Environment and Public Works Committee's top-ranking Republican — and committee Chairman Sen. Tom Carper, D-Del., urging them to reject a Senate Democratic proposal to create a new methane emissions tax.
The measure would tax methane emissions at a default rate of $1,800 per ton in 2023, increasing 2% above inflation in subsequent years.
"That tax, as it's written, would punish oil and gas companies that have already made efforts to reduce their emissions," Burd said. "And emissions on pipelines and wells are going to occur. There's kind of no way around it if you're fitting pipes together and doing things over time, those things have the ability to leak."
"At a time when we should be working to grow domestic chemical production, which is particularly beneficial to the West Virginia economy, we fear this measure drives these jobs away to countries where environmental regulation and operations are not held to the same standards as they are in the United States," West Virginia Manufacturers Association President Rebecca R. McPhail said in an email.
In an analysis released Thursday, Resources for the Future Fellow Brian C. Prest argued fees on methane emissions from oil and gas would have small effects on natural gas prices while incentivizing companies to reduce methane leaks.
Since methane impacts the climate more rapidly than carbon dioxide — it's more than 25 times as potent as the latter greenhouse gas at trapping heat in the atmosphere — Prest concluded reducing methane emissions can help the country achieve quick reductions in greenhouse gas emissions to achieve near-term targets.
"Right now, emitters do not have sufficient financial incentive to reduce methane emissions because the market value of the lost methane is much smaller than the environmental costs," Prest contended. "Policy will likely be needed to reduce the amount of this powerful greenhouse gas in the atmosphere."
Other measures the House Energy and Commerce Committee will consider Monday include $4 billion to the Department of Energy for plug-in electric drive vehicle project grants; $3 billion for direct loans to produce zero-emission medium and heavy-duty vehicles, trains, aircraft and hyperloop technology; and $1 billion for grants for domestic production of zero-emission vehicles.
State Delegate Sean Hornbuckle, D-Cabell, last week advocated getting in on the rising electric vehicle market.
"It is the new thing," Hornbuckle said during a press conference. "And it would be crazy for us to not jump at the opportunity to start producing things such as electric vehicles, buses, trucks. It's just what our country is trending to. It would pay huge dividends."
Hornbuckle talked about middle-class families, arguing Biden's Build Back Better agenda would allow them to "get back in the game."
Then Hornbuckle turned his thoughts toward someone he's called a family member of his own.
"I want to make sure that I'm asking Sen. Manchin … I call him Uncle Joe," Hornbuckle said. "I just want you to continue to do what you've always done, which is bring home the bacon for West Virginia. And this Build Back Better agenda, that's what it's gonna do. I'm asking you, Uncle Joe, to pass that."