Dean Meadows knows it could happen to Wyoming County again.
"We could see the loss that we've seen in the past," said Meadows, the county's longtime emergency services director.
What Meadows can't rule out is another flood draining Wyoming County's already dwindling population through relocations. Wyoming County has lost nearly a fourth of its population since 2000.
A July 2001 flood destroyed 360 homes and substantially damaged another 1,200. A fifth of the county's residents were directly affected by the flood, Meadows recalled.
For Wyoming County, a place Meadows said is composed of "either mountains or valleys," hazard mitigation meant buying out homeowners living in floodplains and preserving open space in those areas in perpetuity, to avoid further destruction.
"I feel like we're in a better situation than we've been in for years," Meadows said of the county's flood resilience.
But buyouts come at a cost.
"Now you just destroyed a community, if you bought 20 homes out," said Meadows, who also is president of the West Virginia Emergency Management Council. "In a small, unincorporated community, that's a big loss."
Wyoming County has acquired more than 130 houses through buyouts since 2001, Meadows said. County officials aren't eager to see their tax base shrink further as a result of more buyouts through a Federal Emergency Management Agency grant program funded mainly by the agency but administered by the state and local communities.
Nearly two-thirds of Wyoming County properties are prone to flooding, according to FloodFactor, a risk-approximation tool created by the New York-based nonprofit First Street Foundation.
County demographics raise the stakes. Nearly 23% of the county's residents lived in poverty in 2019, nearly 7 percentage points more than West Virginia and more than twice as many points as the national clip of 10.5%. More than 84% of county housing was owner-occupied, 20 percentage points more than the national rate. Twenty-two percent of residents were 65 or older. Among those younger than 65, 27% had a disability from 2015 to 2019, more than thrice the national percentage of 8.6%.
Other West Virginia communities similarly face existential crises every time floodwaters deluge them.
After flash-flooding June 23, 2016, left a trail of destruction across Southern West Virginia, claiming 23 lives and destroying more than 5,000 homes, residents told Elkview insurance agent Dean Jeffries they were leaving.
Some left the state behind, driven by the prospect of their children attending "portable school" — classrooms on stilts where middle- and high-schoolers in Elkview and Richwood have studied for years since the flood destroyed their former school buildings.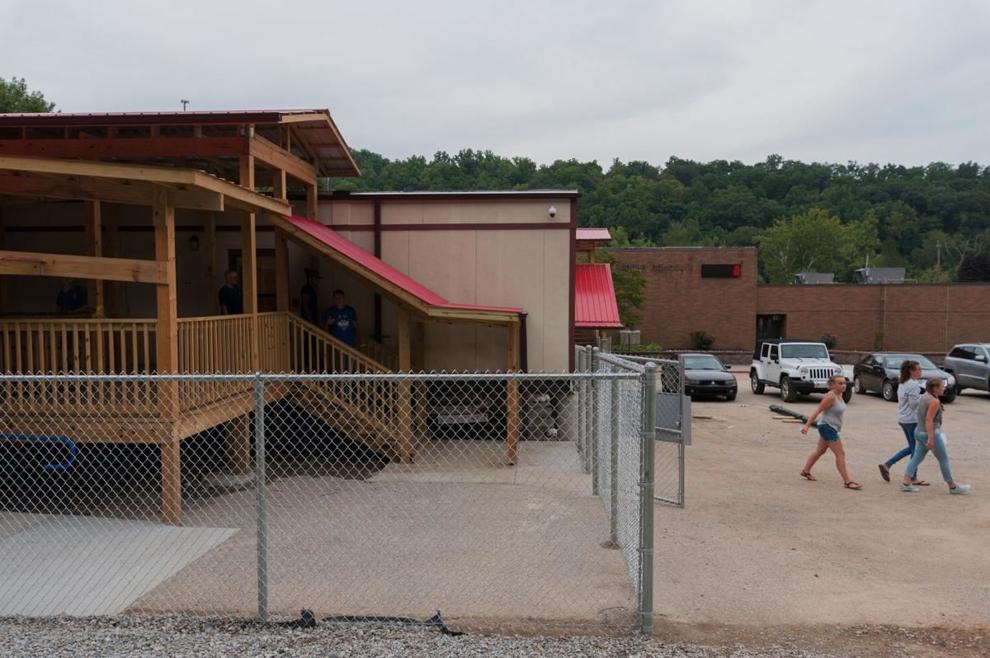 Others displaced by the flood were looking for a reason to leave, Jeffries said.
Five years later, vital state and federal flood-mitigation efforts are just getting going.
Years-long delays in implementing state flood control measures and decades-long denials of federal support have elevated West Virginia's flood risk amid the worsening climate crisis.
"It's a frustration to me that we haven't been able to do any flood-mitigation work, partly because of budget and partly because there's not a very comprehensive plan," said Sen. Chandler Swope, R-Mercer, co-chairman of the Joint Legislative Committee on Flooding. The Legislature approved the panel in April 2017.
Jeffries also co-chairs the committee, inspired by the flood to seek office and appointed to the state House in 2018 by Gov. Jim Justice.
"One of the things we discovered after the 2016 flood was that the preparation for something of that magnitude was not there," Jeffries said.
Emergency personnel and elected officials responsible for reducing flood risk said West Virginia has mustered much-needed momentum in its race to play catchup. They touted a recently revived state office focused on flood protection planning and greater cohesion among flood responders.
"That's the biggest thing we found out had been going on," Jeffries said. "There was no continuity between the local level and the state level."
With West Virginia suffering seven FEMA-declared flood disasters since 2010 and a nation-high 3.2% decline in population over the same span, reversing the state's population flow depends, in part, on controlling its flood flow.
"We know the next flood is coming," said Senate Minority Leader Stephen Baldwin, D-Greenbrier, a member of the joint flood committee. "It's just a matter of when."
Finally moving from discussion to cohesion
June 2016 marked the halfway point of Brian Farkas' 10 years with the West Virginia Conservation Agency, which works with local, state and federal officials to assess flood-related damages and address stream blockages.
That month's flood also marked what the Conservation Agency's executive director called a "bright and shining line" in the state's approach to flood mitigation.
"Before 2016, yeah, you kind of talked about mitigation," Farkas said. "But now, when we talk about mitigation, we're actually serious about the mitigation to the extent of, OK, how can we actually do it? More people are taking an active interest in looking for solutions now."
Farkas cited House Bill 2935, the state law passed in 2017 that established the flood committee, composed of five members each from the Senate and House of Delegates.
"We've really just been involved in recovery work for five years, just getting back to where we were, getting people back in homes and getting people into homes out of the floodplain," Baldwin said. "So, moving forward, I think we've gotta be focused on mitigation ... . We've gotta be focused on stormwater, streams, dams."
House Bill 2935 also established the State Resiliency Office, which administers disaster recovery and resiliency money and may coordinate flood protection programs. The office did not become operational until May 2020. It launched a website last month.
The office became embroiled in controversy over delays in implementation of Rise West Virginia, a $150 million federal flood recovery effort to repair and reconstruct single-family housing and rental units damaged in the 2016 flood.
The Department of Commerce, within which the State Resiliency Office was created, halted office activities in February 2018. Acting Commerce Secretary Clayton Burch recommended that West Virginia National Guard Adj. Gen. James Hoyer take over the board that oversees the office in June 2018, after Justice ousted former Commerce Secretary Woody Thrasher, who chaired the board, amid fallout over the Rise West Virginia program.
Thrasher had written to then-flood-committee chairman Ed Gaunch in 2018, saying the office's goal was to "transition from blueprints to reality."
Bobby Cales took over as state resiliency officer after the office was rebooted last year. A Justice appointee, Cales deferred comment to the Governor's Office, which could not be reached for comment. Swope also deferred comment on the resiliency office to the governor.
A Commerce Department spokesman did not answer questions about flood mitigation.
Cales told the flood committee in an interim legislative session meeting last month that the office's short-term plan is to "continue to form the foundations of the office" and stay engaged with agencies dealing with disaster preparedness and recovery. The long-term plan is to build a risk-management task force with federal, state, local and volunteer agencies with which the office has worked over the past year.
The board overseeing the office is composed of the state resiliency officer, directors of the divisions of Natural Resources and Emergency Management, the West Virginia Conservation Agency executive director, the West Virginia Emergency Management Council president, the National Guard adjutant general and secretaries of the Commerce, Environmental Protection, Health and Human Resources, Homeland Security and Transportation departments, plus two nonvoting House and Senate members.
The board has met four times, once a quarter, since May 2020. That's already been enough for agencies to discuss how they can address disasters and make better connections with each other, according to Farkas.
"We can work on joint projects we otherwise might not have known about," Farkas said.
Meadows, another board member, said the Resiliency Office will eliminate the problem of state agencies not being on the same page.
"As long as those entities keep talking, it's going to keep the momentum moving forward," said Jeff Jones, FEMA's federal coordinating officer for West Virginia.
The most urgent action item is cross-agency coordination, said Lawrence Messina, spokesman for the state Department of Homeland Security that houses the Division of Emergency Management.
That's where the Resiliency Office's work to help state agencies coordinate comes in, Messina said in an email.
"This effort is new but picking up speed," Messina said.
Passed by the Legislature in April and taking effect next month, Senate Bill 389 eliminates a public-notice requirement for Resiliency Office board meetings. Jeffries attributed that to the involvement of Department of Homeland Security personnel and public safety concerns, noting that office reports are presented at public flood committee meetings.
Now that the Resiliency Office has been refreshed, it's aiming to do the same for the state flood protection plan.
Last updated in 2004, the 365-page plan serves up a long list of flood control recommendations, such as updating floodplain maps, integrating geographic information systems (GIS) with flood damage data, building-code updates and funding stream restoration.
Farkas said he doesn't think the Conservation Agency has been hampered by the plan not being updated for more than 16 years.
"Things are being done, maybe with a plan in the back of our mind or not," Farkas said
Meadows said the greater interagency communication fostered by the Resiliency Office is much more important than whether the state flood protection plan is updated. But the office is still working to update the plan by mid-2022.
"That's a pretty heavy lift," Cales told the flood committee last month.
Feds poised to help more
The flood protection plan discusses at length an issue that long has dogged flood control efforts in West Virginia: lack of economic justification.
"In West Virginia, as in many parts of Appalachia, there are only a handful of municipalities that contain the population density and development values that can generate sufficient flood damage benefits to justify construction of major flood protection measures," the plan notes.
The declaration of policy in the federal Flood Control Act of 1936 states that the federal government should improve watersheds and other navigable waters for flood control, in part, "if the benefits to whomsoever they may accrue are in excess of the estimated costs."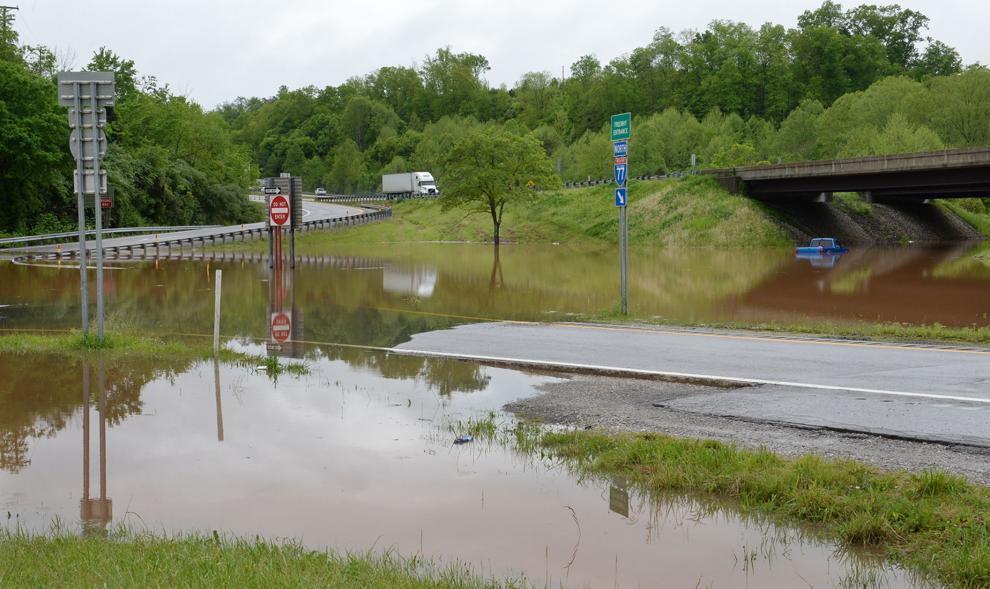 That language has drawn criticism for encouraging evaluations of vulnerable communities as too poor to merit flood control funding.
There were 252 deaths from floods or flash floods from 1960 to 1996 in West Virginia, chronically one of the poorest states in the country. The death toll was higher than in any other state except Texas and California, according to the flood protection plan.
Traditional cost-benefit analysis has been heavily skewed toward protecting high-end property values, while leaving economically disadvantaged and rural populations and the environment with escalating risks and costs, said David Conrad, water resources policy adviser for the Association of State Floodplain Managers.
"I think the exploding national costs of flood disasters are beginning to convince a growing spectrum in Congress that these changes are necessary," Conrad said in an email.
The bipartisan Water Resources Development Act of 2020, signed into law in December, requires that the U.S. Army Corps of Engineers consider "environmental quality benefits and other societal effects" when evaluating future water resources development projects.
In March testimony before a House subcommittee, Association of State Floodplain Managers Executive Director Chad Berginnis hailed the still relatively new law for embracing nonstructural flood risk management techniques, which include relocation of at-risk structures, floodproofing, berms and floodwalls, and elevating existing structures.
"We're seeing a growing series of directions from Congress and increasing awareness of federal agencies that the current rules for planning and evaluating projects have been failing the public in many ways," Conrad said.
That doesn't mean federal support has suddenly become as forthcoming as promised.
Congress has yet to appropriate funding for a Kanawha River basin feasibility study authorized in 2016 that would assess alternatives for flood risk management in communities throughout the basin, including tributaries, in West Virginia, Virginia and North Carolina, according to U.S. Army Corps of Engineers Huntington District spokesman Brian Maka.
The estimated cost of the study is $3 million and would be shared equally by the Corps and state, Maka said, adding that the state has provided a letter of intent to provide the money, once the Corps receives its federal appropriation from Congress.
Ground-level progress
Farkas knows well what 7-1-3u is.
It's the designation for the state code that gives counties and municipalities authority to treat streams to prevent floods.
Farkas recalled the Conservation Agency's work with other agencies to keep a stream in place that had been severely degraded by a 2017 storm that also undercut a low-water bridge, blocking residents' access to their homes.
Last year, the agency teamed up with the Division of Highways to keep a stream in Randolph County from undercutting Route 33 after a June 2019 storm. Unlike Marshall County, Randolph didn't have money to chip in, so officials relied on in-kind contributions instead, taking care of contracting and obtaining land rights.
"We try to get the counties and cities to use their authority," Farkas said.
After the town of Bath, in Morgan County, was inundated with more than 4 inches of rain in 2016, local officials used soil, trees and roots to soak up stormwater, working with the Thrasher Group engineering firm and the council to develop a green infrastructure plan, said Matthew Pennington, environmental program coordinator for the Eastern Panhandle Regional Planning and Development Council.
Then, officials identified sites within the town's watershed that could be retrofitted with green infrastructure stormwater facilities.
"They just look like gardens, in some cases," Pennington said, adding that the green infrastructure played a key role in reducing damage from a 2018 flood.
The West Virginia GIS Technical Center in Morgantown estimates that there are 95,000 primary structures in the high-risk floodplains of West Virginia. The center is ready to perform analytics of building exposure and damage, new development in flood zones and other factors.
"The risk assessment results published at the building-level or community scales will be beneficial for hazard mitigation planning at the local, regional, and state levels," Donaldson said in an email.
Dams dissected
Infrastructure is key to flood control, officials said.
House Bill 4634, establishing the Southern West Virginia Lake Development Study Commission, sailed through both Statehouse chambers last year, eyeing the construction of one or more lakes as a potential opportunity for hydroelectric generation and resort developments.
At a COVID-19 news briefing earlier this month, Justice said he would "dearly love" West Virginia to build lakes as flood control measures, as well as recreation magnets.
A bill proposed by Delegate Joshua Higginbotham, R-Putnam, would have expanded the lake development study commission. The legislation stalled in the last session.
"I like the idea of hydroelectric [dams]," Swope said. "I think it's very worthy of consideration, but it would probably take a tremendous amount of engineering and planning and studying and all that to develop the designs to go forward with it ... . Projects like that are decades projects, not years."
West Virginia's 170 small-watershed flood-control dams control 845 square miles and provide $38 million annually in average flood benefits, according to the National Resources Conservation Service. That was the sixth-highest average monetary benefit in the nation and more than any neighboring state, as of May 2020.
But no dams have been built in West Virginia since 2009, with just one rehabilitation taking place since 2013. That site was rehab in the Deckers Creek watershed and made the dam a dedicated public water source, in addition to a flood-control device.
The last two small-watershed flood-control dam rehabilitations cost a combined $18 million, according to Farkas.
Replacing all of West Virginia's 170 small-watershed dams could cost nearly $1 billion, Farkas estimated.
"These things tend to become very expensive, based on the size of the structure," Farkas said.
But nature doesn't just bring flooding. It prevents flooding, too.
Testifying in a U.S. Senate hearing on natural features in water resource projects, Corps senior research scientist Todd Bridges noted what he called "an abundance of natural capital," such as wetlands and mangroves, throughout the country that has averted billions of dollars in flood damage.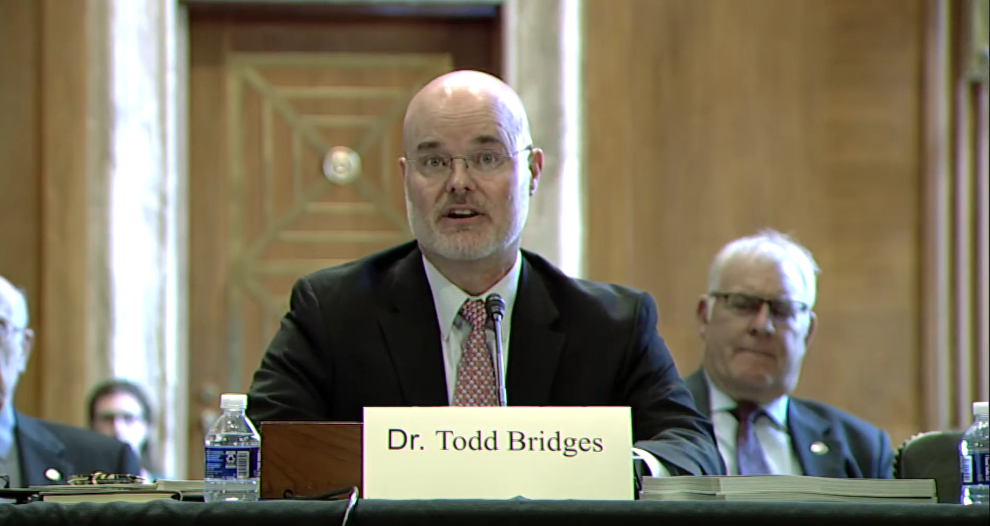 Wetlands make up 1% of West Virginia's land surface. Sen. Shelley Moore Capito, R-W.Va., the Senate Environment and Public Works Committee's top-ranking Republican, asked Bridges if nature-based flood mitigation solutions work better on coasts than on mountainous terrain like West Virginia's.
Bridges responded with examples of nature-based solutions on tough terrain far and near, from reforestation investments in Scotland and England to nature-based stormwater management solutions in Huntington.
"With engineering with nature, what we're talking about is looking across the entire landscape to find ways in which we can ... relieve the burden from conventional structures by spreading [water] out and slowing it down," Bridges said.
"As much of the country is moving away from dams, it doesn't seem very logical for West Virginia to be moving toward [them]," said Nicolas Zegre, associate professor of forest hydrology at West Virginia University.
Dams have drawn criticism for disturbing water flow, causing habitat loss and contributing to downstream flooding by limiting channels' ability to pass floods.
"We'd like to see more focus on maximizing natural flood mitigation measures, such as preserving wetlands and restoring them where they have been removed," West Virginia Rivers Coalition Executive Director Angie Rosser said in an email. "The more we can restore floodplains to their natural functions, the better off we'll be."
"You can't just go, well, we're only going to pay to operate it for 20 years," National Resources Defense Council senior policy analyst Rob Moore said. "Once you put a dam in, it's there. And you can't let it fail."
Suggested solutions
Three- to five-year maintenance plans for each river and stream in the state would go a long way toward resolving flood concerns, Meadows said.
"We're seeing our streams and our rivers start to fill up, not only with sediment but with trees that are falling," Meadows said. "It's really causing quite an issue."
Rosser cited states such as South Carolina, Virginia and Texas, where revolving loan fund programs support local resilience and pre-disaster mitigation projects.
"There's a need for Congress to create additional funding resources that states and localities can leverage for resilience planning and projects," Rosser added.
Culverts crossing roads in West Virginia are too small, causing them to become blocked and overwhelmed when handling stream flow, Zegre said.
"It's my belief that a lot of our flooding that we see up in the hollers and up in headwaters is actually related to culverts being undersized," Zegre said. "And so the state, I think, should undertake an assessment for understanding whether our culverts are the appropriate sizes for the kind of rainfall that we're having here."
Baldwin wrote a letter to Justice, Senate President Craig Blair, R-Berkeley, and House Speaker Roger Hanshaw, R-Clay, earlier this month, urging the Legislature to use surplus money to support Conservation Agency dam and stream projects.
Baldwin blasted the Legislature on Thursday for not allocating any of the $1.95 billion it appropriated during a special session that day expressly for statewide flood mitigation.
The state had a $389 million revenue surplus through May because of an influx of about $6 billion in federal pandemic stimulus money and two income-tax filing deadlines in the 2020-21 budget year, on July 15, 2020, and May 17.
"This is what always happens. Our state leaders put it off for next time, and it never happens," Baldwin said in an email. "Why is saving lives, property, and money not a top priority?"
Memory behind the mitigation
Climate change promises more crises for communities already facing dwindling populations and tax bases.
"The trend line couldn't be clearer," Moore said.
West Virginia was affected by 12 billion-dollar disaster events, 11 of them floods, that cost an estimated $110 billion from 2010 through 2020, according to NOAA data.
Heavy rainfall has become more frequent in West Virginia, where temperatures have warmed 0.5 to 1 degree Fahrenheit in the past century, according to the U.S. Environmental Protection Agency.
Climbing temperatures and shifting precipitation patterns are likely to make floods and droughts more intense, according to the agency, with flooding becoming worse during winters and springs, and droughts parching the land more in summers and falls.
"I think people realize, because they experience it every day ... more frequent, more intense storms that produce more runoff," Baldwin said. "There's just nowhere for the water to go in our topography."
FEMA has awarded West Virginia $109 million in flood grants since 2007, and $658 million since 2006 in Public Assistance, a program that funds disaster recovery efforts, according to agency spokesman Gabe Lugo.
Last year marked the start of a new FEMA pre-disaster hazard mitigation program. FEMA reported that $500 million is available for the first grant cycle. Applications selected for review and potential funding will be announced this summer. FEMA received requests for $3.6 billion.
Communities will have to step up, Farkas said.
"There's only so much money out there," Farkas said, "and we're going to have to become more self-resilient."
Greater coordination among local, state and federal agencies, and changes in federal policy and investment patterns, have West Virginia better positioned to reduce flood effects, even as climate trends threaten to increase them.
Next month marks 20 years from what Meadows calls Wyoming County's worst flood ever.
Farkas said it helps to remember the anniversaries. The focus on preventing and mitigating floods has a "different feel" than it did before the 2016 flood, he said. He wants that feeling to stay.
Memories dim, he said. "And we can't allow that to happen."