A police officer whose family politically supports Marion County's top prosecutor won't face charges after driving twice the speed limit in a crash that killed an elderly man.
Jakob Streyle was traveling more than 70 mph in a marked 2016 Dodge Ram pickup in July 2019 when he T-boned the truck into an SUV driven by Steven Gene Santini, 72, who was killed a block away from the home, where he had lived with his wife, Emily, for 15 years.
Streyle was not operating the police pickup's emergency lights or sirens, nor was he responding to a call, civil court documents showed.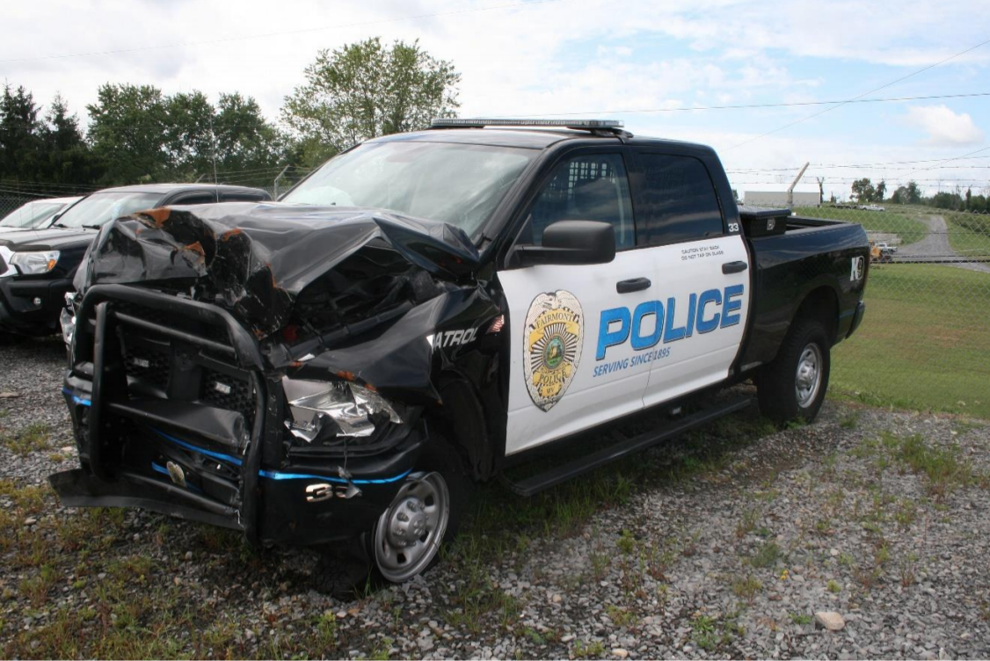 Fairmont police neither disciplined Streyle nor responded to a request for comment.
Marion County Prosecuting Attorney Jeff Freeman wrote to sheriff's investigators that he could not conclude Streyle was at fault. Freeman cited in state Code the Authorized Emergency Vehicles section in his letter clearing Streyle. The section defines what traffic laws authorized emergency vehicles are allowed to violate when emergency lights or sirens are activated.
Police vehicles are the only emergency vehicles not required under the code to use an audible siren or emergency lights.
Freeman said "the height of the entire dispute" is that multiple witnesses said Santini ran the stop sign on Bison Street before turning left onto Country Club Road. Streyle and fellow officer Christoper Guinup were traveling west on Country Club.
Santini's wife alleges in a civil suit that sheriff's investigators did not initially take statements from two people driving directly behind Santini at the intersection. Freeman said the statements that came later from those people were in "serious conflict" with other witnesses and video surveillance from inside the Smoker Friendly store next door.
On the day of the crash, Fairmont police posted on their Facebook page a report that a police truck had collided with a vehicle driven by a man who had run a stop sign. The post said the truck "was not being operated at an extensive rate of speed."
The sole witness cited in the initial police report told Marion County Sheriff's Deputy William Piggot he was traveling east on Country Club Road while Streyle's police truck traveled toward him. The witness said Santini's Subaru Forester "was not slowing and entered directly into the intersection without stopping." The driver of the police pickup "did not have time to avoid the accident."
A crash report cited the witness as located adjacent to Lawrence Street. Lawrence and Bison Street are approximately 375 feet apart. A state Department of Transportation building blocks almost all of Bison from the east lane.
The Santini family did not learn until March — eight months after the crash — that Streyle had been traveling more than twice the speed limit, their lawyer Tony O'Dell said. The Santinis' insurance company contracted an independent crash reconstructionist, who determined Streyle was driving at least 73 mph in the seconds before the crash.
"The family was led to believe ... that the Fairmont police officer was driving the speed limit," O'Dell said. "That is very troubling that the police department allowed this family to go for months not knowing what actually happened to their husband and dad."
One of four subsections in the Emergency Vehicles Code allows authorized vehicles to exceed speed limits, but only when the driver does not endanger life or property.
The section's final line reads: "The foregoing provisions shall not relieve the driver of an authorized emergency vehicle from the duty to drive with due regard for the safety of all persons, nor shall such provisions protect the driver from the consequences of his reckless disregard for the safety of others."
"Thus, there appears to be many reasons why Streyle's operation was not privileged under this section," said John Whitehead, a constitutional attorney and president of The Rutherford Institute, a nonprofit civil liberties defense group based in Charlottesville, Virginia.
"To the extent the prosecutor bases the non-prosecution decision on that law, it seems wholly misguided," Whitehead said.
Freeman said there was also the issue of the stop sign.
"We've got a number of witnesses who indicate — a larger number of witnesses, actually — that indicate that Mr. Santini ran the stop sign and that that caused the accident and that the officers did not have any opportunity to stop," Freeman said.
"So when you have conflicting evidence," he said, "when I have to prove a criminal case beyond a reasonable doubt, and I can't even rule out which person is at fault and which person is not at fault for an accident — I certainly can't then attach criminality to either of the drivers' conduct."
Seeking reelection in November, Freeman publicly thanked Streyle's stepmother for endorsing him in a recent Facebook post.
"Thank you for the signs!" she wrote. "I'm sorry we weren't home when you stopped by!"
"No, thank you! An endorsement by your family means a lot!" Freeman replied.
Freeman said he maintains professional relationships with the Streyle family. Jakob's father, Karl, was a state trooper who was sometimes on the opposite side of Freeman while the latter was a defense attorney. Freeman noted the same has been true with Jakob Streyle.
Fairmont police hired Streyle's brother four months after the crash.
"They're all involved in law enforcement," Freeman said, "so anytime you get that as a prosecutor — that kind of support, certainly it means a great deal, but we don't have a personal relationship between myself and any of the Streyle family."
Santini's son Steve recently marked his first Father's Day following the July 10, 2019, crash.
"The lack of accountability says that my fathers' life did not matter," Steve Santini wrote. "He can be killed in the middle of the day on his way to the bank without any consequences. Steve Gene Santini was a good and kind man. He was a loving husband and a great dad. We think about him and miss him every single day. And he deserves justice."