SUMMERSVILLE — Yards away from where black mold-drenched floors collapsed under their feet two years ago, Vesper and Dee Hanshaw now spend their days shuffling about and staying busy in what Dee calls their miracle home.
It's been 18 months to-the-day since a representative with RISE WV handed the Hanshaws the keys to their new home. The keys came following four years and a short legal battle with the State of West Virginia to get the couple out of a house that had been 9-feet-deep in flood water on June 23, 2016, and into a place where they at least felt safe to breathe.
"It was just really, really bad, but we made it," Dee Hanshaw said from the couple's new home in Drennen in Nicholas County. "I mean, God was good. We made it. It might not have been the best time in the world, but I was telling Vesper the other day, I said, I love my house. And I'm so thankful."
The Hanshaws weren't the only family who had little more to do but survive and wait for RISE WV officials to give them the green light and resources they needed to rebuild their home, as evidence by a class action lawsuit filed in November 2019.
Now, five years after the flood and one administrative trip-up after another, state lawmakers say state officials have worked to take their mistakes and turn them into lessons to avoid making them again the next time disaster strikes the Mountain State.
First established by Gov. Earl Ray Tomblin in 2016, RISE WV was set up to be an agency to administer money and other resources as thousands of West Virginians worked to rebuild their homes and businesses following the flood in Clay, Fayette, Greenbrier, Jackson, Kanawha, Lincoln, Monroe, Nicholas, Pocahontas, Roane, Summers and Webster counties.
RISE WV was set up as part of the state Department of Commerce.
By 2017, the state had received $150 million from the U.S. Department of Housing and Urban Development to repair and reconstruct homes destroyed by the flood.
While the money came into the state, the houses didn't start going up as quickly as state officials had expected.
Gov. Jim Justice temporarily halted the RISE WV program in February 2018, shortly after the federal government authorized the state to begin spending money for recovery.
The catalyst for the freeze was a change order in a contract with Horne LLP, a consulting firm hired by the Department of Commerce to help administer the program. The change order increased the contract with Horne from $900,000 to more than $17 million.
Justice's Commerce Secretary Woody Thrasher and two other employees, including the person in charge of RISE were fired as a result of the lack of results from the program.
Legislative auditors later found that contractors who had been paid to build 49 homes had built zero by June 2018, two years after the flood.
After the Department of Commerce was out of the RISE picture, the West Virginia National Guard took over the program. The Hanshaws and state lawmakers credit the Guard, particularly retired Maj. Gen. James Hoyer, with getting the program under control and getting homes built with support from West Virginia Voluntary Organizations Active in Disaster, more commonly known as VOAD.
Looking back, Sen. Chandler Swope, R-Mercer, said it's clear the Department of Commerce wasn't equipped to administer the program, which he said suffered from a lack of communication between state and federal officials as well as a lack of institutional knowledge by state officials as to how federal disaster aid was supposed to be administered.
"The state agencies did not have the experience at all and had to learn from zero," said Swope, a co-chairman of the Joint Legislative Committee on Flooding, established after the flood. "It was communication and just knowledge — people just didn't know what the rules were. Someone in the state has to talk with someone in Washington. There was a real learning curve to understanding what goes on, and that was the first year of recovery."
During a Joint Flood Committee meeting in May, Jennifer Ferrell, director of community advancement at the West Virginia Development Office, told committee members that is on track to complete the construction of the remaining of 110 homes by the end of 2021. In 2020, Ferrell told the committee that all 406 homes RISE WV had approved for construction would be completed by the end of that year, but in May she said the COVID-19 pandemic and associated issues with construction supplies set back construction.
The Gazette-Mail attempted to contact Ferrell and State Resiliency Office Director Bobby Cales for this story but did not receive responses to those requests.
Justice on Tuesday acknowledged the fifth anniversary of the flood during his COVID-19 news conference.
"The power of the water was unbelievable, but the power of West Virginians standing together as they have done int his pandemic was always there," Justice said, commending the National Guard for recovery work.
Hoyer, who has since retired from service and works as a senior associate vice president at West Virginia University, acknowledged the anniversary by thanking law enforcement officers, first responders, and volunteers, for their response to the flood.
"We should be proud of the way West Virginia responded to that flood, the way we took care of each other and our fellow West Virginians," Hoyer said Tuesday.
Representatives with the Governor's Office did not respond to a request for comment about flood recovery from the Gazette-Mail.
While meetings took place in Charleston in the wake of the flood, Dee and Vesper Hanshaw became so accustomed to living in a mold-covered home, they didn't notice how much the mold was becoming part of them.
At a recent check-up, Dee Hanshaw's doctor told her he noticed that she no longer smelled like mold and her breathing was improving. Vesper Hanshaw's doctor recently prescribed him a new breathing treatment to help break away mold from his lungs. Vesper Hanshaw was being treated for asthma and COPD before the flood, and he has one kidney and experiences neurological issues, which Dee Hanshaw said resurfaced a few months after the flood.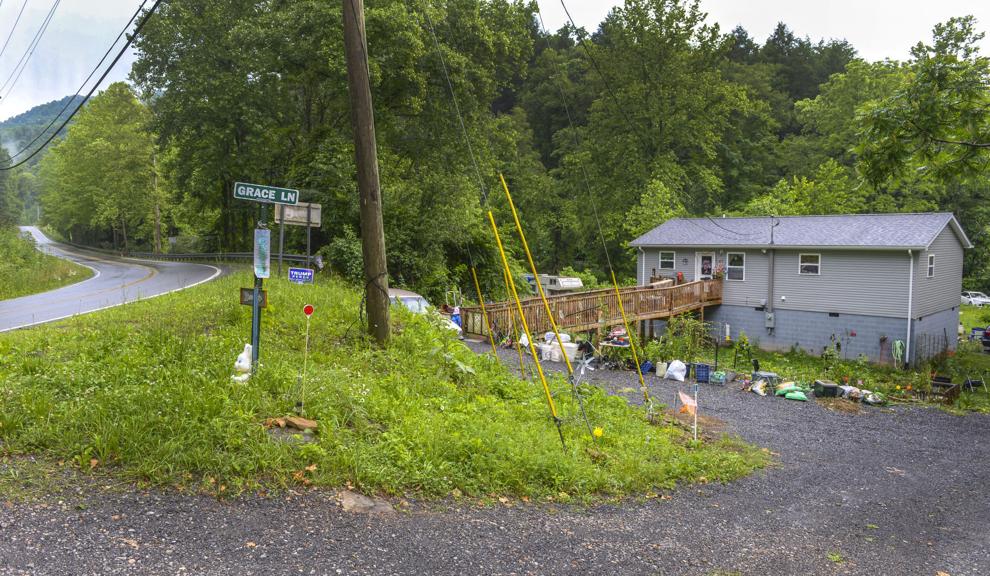 "I guess we got nose blind," Dee Hanshaw said Monday. "I started thinking, and I still think about it. I mean, all these people, they'd see us in the grocery store, and they come up and give you a hug, or when I would go to church and stuff, and I keep thinking, nobody ever said anything about it. But I guess people knew, but you know, they just treated us like they always have."
Adding to their issues, the flood-damaged floor collapsed under Vesper Hanshaw in early 2018. The couple's washing machine had crashed through the floor in another part of their home a few weeks earlier.
Dee Hanshaw began washing the couple's clothes in their front yard with an occasional trip to a laundromat when time and the couple's $1,000 Social Security income allowed it.
After the story was published, Dee Hanshaw said her friends and family told her they didn't know the couple had been living in such conditions. Friends and neighbors offered to haul trailers to their property for the Hanshaws to live in but legal hurdles and the cost of hauling a trailer made it impossible for the Hanshaws to take up their friends' offers. One friend in particular finally helped pushed Dee Hanshaw through her hesitation to take legal action against the state, three years after the flood.
On Nov. 21, 2019, the state engaged a contractor to begin construction on the Hanshaws' new home.
The late Kanawha Circuit Judge Charles King held a hearing on Dec. 17, 2019, where Dee Hanshaw said he set a deadline for the state to finish construction on their home.
Without King, Dee said she and Vesper likely would still be in their previous home, which had at least three inches' worth of black mold growing in the walls and foundation.
"The judge, he was awesome," Dee Hanshaw said. "[The lawyer for the State of West Virginia], she's like, 'Well, we can have it done in so many weeks.' And [King] looked at her, and he said, 'So why haven't you?' ... He said, 'You've already got paid to do this. Why haven't you done it?' "
King signed an order closing the case in October 2020, seven months after the Hanshaws moved into their new home. King died in December 2020.
Delegate Dean Jeffries, R-Kanawha, is co-chairman of the Joint Committee on Flooding with Swope.
Jeffries wasn't in the Legislature in 2016, but the aftermath of the flood was motivation for him to pursue an appointment and subsequent election to office.
"As an outsider not really being in the Legislature, you really don't understand what's going on," Jeffries said.
As someone who experienced the aftermath of the flooding, Jeffries, from Elkview, about a 15-minute drive northeast of Charleston, said even he had to attend multiple training sessions to come to understand the mechanics of long-term recovery for people affected by the floods.
People in Clendenin, the next town over from Elkview, have rebuilt that town into a recreation center based around the Elk River, the very body of water that threatened to swallow it whole five years ago, Jeffries said.
"I've been on both sides of it," said Jeffries, who is an insurance agent by trade. "These folks have been through a lot. I think we have seen one thing out of recovery, and that's the resiliency of the people. I know they're tired. I know a lot of people, we're five years out, and I have spoken to people in the last few days who remember the flood like it's yesterday. They're still exhausted, but we have hope."
Part of Jeffries' hope is in the West Virginia Resiliency Office, born out of the early response to the flood in 2016.
The Legislature established the office to not only assist in recovery efforts, but to establish plans and protocols for the next disaster that befalls West Virginia, with the goal that state officials don't allow history to repeat itself when West Virginians need the most help.
Senate Minority Leader Stephen Baldwin, D-Greenbrier, and a member of the Joint Commitee on Flooding, often joins Jeffries as the lawmakers who ask the most questions of state officials who are in charge of flood recovery and preventing, or at least limiting, damage from future flooding and other disasters.
Baldwin said the efforts made by several people to get RISE WV out of limbo in 2018 were significant, saying there was a time when State officials were radio silent to West Virginians and lawmakers when it came to getting answers to sort out what was going on.
"I couldn't get any information," Baldwin said. "There were times when it felt pretty hopeless."
With the crawl toward completing construction on homes, Baldwin said it's been difficult for lawmakers to get past the first phase of recovery to begin planning how to respond to the next disaster.
When the state should have completed construction on homes, helped restore infrastructure to flood damaged communities and supported new economic development, Baldwin said the state has used up all of its resources to keep RISE operational, and communities in the state are still hurting.
"Most towns are struggling more than they were pre-2016 right now," Baldwin said.
Baldwin, Jeffries, and Swope said work is still ongoing to establish plans among the state agencies that make up the West Virginia Resiliency Board, which includes four lawmakers and all of the governor's Cabinet secretaries.
Part of the state's resiliency plan will be to put together a plan based on the lessons learned from this recovery and build a new plan to put the state in a better position to have people already trained on how the state and government emergency response plans work, Swope said.
Each cabinet secretary will be responsible for coming up with a plan that includes the resources each state department has for the next disaster.
"I don't know how long that's going to take," Swope said. "What you are trying to do is build a disaster management plan for a dozen state and federal agencies."
The resiliency plan also includes an on-the-ground effort to better identify bodies of water that are prone to flooding and making sure support exists to ensure those areas are regularly cleared of debris and maintained to avoid high water.
"The plan will have to be an ongoing living document that's updated every year," Swope said.
Is the state better prepared to handle a disaster than it was five years ago?
"I think the answer is absolutely yes," Swope said. "We are better prepared. We did learn a lot of lessons. Are we 10% prepared or 50% better prepared? We're probably 20 or 30% prepared for the next one. With the help of the Resiliency Office, we can help close that gap."
Dee Hanshaw said she knows the creek near their home could still flood. She said even in the years leading up to the 2016 flood, friends and neighbors would clean out debris from the creek after a hard rain.
The Hanshaws had to make copies of all of their birth certificates, insurance paperwork, and other documents that were nearly consumed by mold in their last house.
Friends and family have given them new furniture to furnish their new home, as well as Coca-Cola memorabilia, which the Hanshaws have collected for years.
Those same friends and family stop by three or four nights a week to eat dinner at the Hanshaws' new house along the newly minted Grace Lane, and they finally are starting to feel like they're at home again.
"I saw one of my friends the other day, and he said 'I saw you finally got your house finished. Thank God,'" Dee Hanshaw said. "I said, 'Honey, I do every night before I go to sleep, every morning when I open my eyes and several times through the day because it is still hard to believe.' You look over there and see how we lived for four years. It's amazing we're alive."