BLUEFIELD, Va. — No one here panics when the grass changes color at 81-year-old Bowen Field, a baseball stadium nestled in Bluefield, Virginia, yet operated by the city of Bluefield, West Virginia.
The cold-hardy Northbridge Bermuda hybrid shifts to a dormant brown in the fall, a form that's resilient to the harsh winters that can often blanket this part of two states. But have no fear: It always reverts back to its natural color in the spring. The grass takes a shade of green that's darker than emerald and glistens when moistened either by man or by God.
It took a global pandemic to stymie a pattern that repeated continuously since baseball arrived here in 1924, with the 2020 season crumbling to the coronavirus before it could get started. Even now, with so many remaining unknowns regarding COVID-19 or the world at large as we tiptoe closer to 2021, folks in this community still trust that baseball will once more be played when flowers bloom.
Then again, their faith is reinforced by the fact that Bluefield has a team. It doesn't yet have a name, it doesn't yet have a roster. But it does have a schedule — and that's a definitive win when it comes to a radically changing baseball landscape.
Cities and towns across America have been jostled or jettisoned by Major League Baseball's recent wave of contraction throughout its player development system. About 40 teams have lost their MLB affiliation, including all four of West Virginia's minor league teams.
It remains to be seen if that ultimately means professional baseball returns to the capital city — or even the state. That's the current condition of sports in West Virginia, as its three other minor league baseball teams are going the amateur route.
The Morgantown Black Bears — a former rookie-level affiliate of the Pittsburgh Pirates — is now part of the new six-team MLB Draft League that will begin in May and fill the rosters with draft-eligible players. It shouldn't be a huge shift, considering Morgantown already shares a stadium with a university (Monongalia County Ballpark with West Virginia University) and has a history that dates back only to the penultimate year of the Obama administration.
It's a different narrative, however, for Bluefield. After nearly 100 years of professional baseball, it finds itself navigating unfamiliar waters.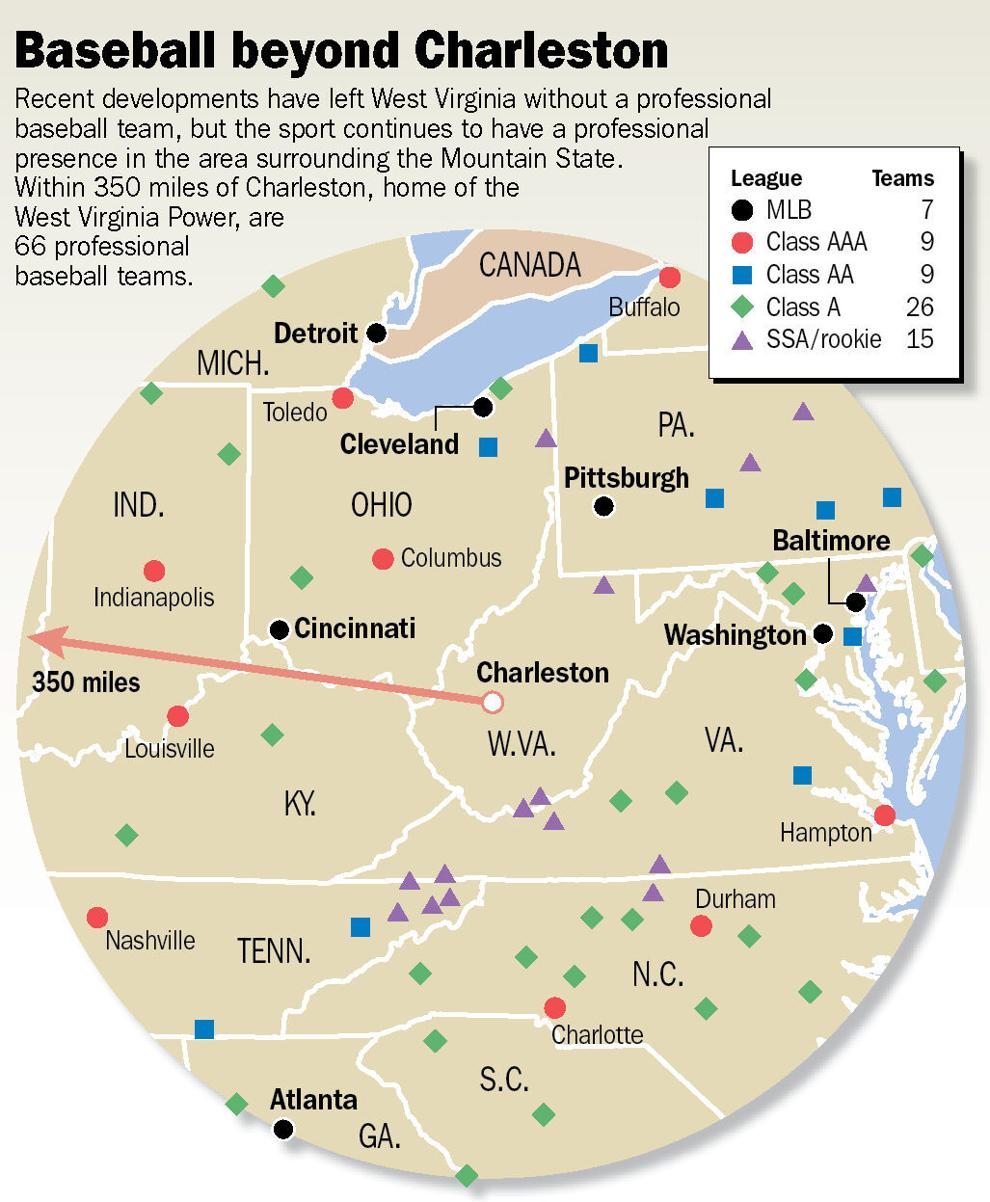 After all, pro baseball has been as much a part of this community as the railroad tracks that slice through the heart of the area. Bluefield baseball has been affiliated with six MLB organizations, including a 52-year marriage to the Baltimore Orioles. It's been a farm team of the Toronto Blue Jays since 2011. Along the way, some future Hall of Fame players, eventual MLB managers and even a baseball icon suited up near the coalfields.
However, the pipeline from the mountains to the majors will no longer be quite as streamlined.
Bluefield and its nine Appalachian League brethren will now be part of a collegiate wooden-bat league operated by USA Baseball. Rosters will consist of rising college freshmen and sophomores, and the 54-game season will start June 3 — slightly earlier than in years past — with teams playing a pair of two-game series each week and having Mondays off.
It's still baseball, and game-day operations will go pretty much unchanged: Nine innings is still the target and the strike zone will change only with the whims of the home plate umpire. But the guys in spikes no longer will be playing for pay while eyeing the fastest route to the big leagues.
So, yes, it will be different.
"Small-market baseball is tough to operate," Bluefield general manager Rocky Malamisura said. "And in the middle of contraction and a pandemic, this is one of the best outcomes we could imagine."
That's an optimistic outlook, when juxtaposed against the statements and sentiments declared by other teams that found themselves on the wrong side of MLB's cut line.
However, Malamisura is probably the best source for an assessment of things with regard to Bluefield baseball. He grew up a long home run away from Bowen Field; his dad, Patsy, was a ticket collector for decades; and Rocky is now in his fifth year running Bluefield's front office.
Still, even if there's a presumed bias thanks to his loyalty to his employer and his ability to peddle his product, Malamisura said the move some would call a demotion might actually make the most sense. A key piece of evidence: the nearly 80 cases of Bluefield Blue Jays caps sitting around the team's office.
Bluefield, like all official Minor League Baseball teams, was beholden to certain protocols and restrictions because of licensing agreements between MiLB and its parent clubs. That often meant minimum orders of 288 caps and 48 T-shirts — all because the team logo is the property of the MLB team.
By being a self-contained business, Bluefield — and its in-county rival Princeton, also in the Appalachian League — finds itself in a less-restrictive world with regard to team-branded merchandise. The team now owns its logos and trademarks, thus providing the latitude to not only order items in budget-friendlier quantities, but to also utilize other local businesses, such as printers, retailers, etc.
Teams also will have the ability to change up some design aspects of merchandise and create new products available for fans. So instead of, for example, a cap being swapped out maybe every two years, there will be a diverse array of options for the consumer who wants more than the standard cap. And more options means more sales opportunities, which equates to additional revenue.
"We just got a shipment in October of 288 hats," said Danny Shingleton, Princeton's fourth-year GM. "When you buy things from [MiLB], it's a little more expensive and you have to order a certain amount. And that's kind of tough, especially for our size market. I mean, we don't need 500 logoed baseballs. We'll have those for years."
In the end, though, the most important sale will be pitching the baseball itself. That's the biggest challenge for Malamisura and Shingleton.
Princeton's baseball heritage doesn't predate the Great Depression, and the list of future stars who've played at Hunnicutt Stadium would encompass a few pages, instead of a few volumes. But it's had an MLB tie since it was founded in 1988, first with regional favorites the Pittsburgh Pirates and Cincinnati Reds. Princeton has had an affiliation with the Tampa Bay Rays for the past 23 years, so all the community has known is a partnership with a big league team.
That will take some retraining, something both GMs say will be softened thanks to the nature of the restructured Appalachian League's new nature.
Unlike in years past, the traditional minor league ebb and flow of players arriving and players leaving no longer will apply. Instead, the rosters packed with college players will have very little change from opening day until the last game of the season. That kind of continuity should provide a rare opportunity in the world of lower-level baseball, a chance for the community to form relationships with players, and vice versa.
"That's the challenge," Shingleton said. "People love affiliated baseball because they know the chances of a young man coming to Princeton or Bluefield has a shot to be in the majors. But hopefully, from what we've been told, is that these freshmen and sophomores coming here will be the upper level of collegiate baseball. And there's a good chance that these guys will eventually get drafted."
Shingleton, like his counterpart who works only about 12 miles away, conceded that there are still plenty of unknowns and things to be worked out. And, like Malamisura, he declined to offer up any details of his team's new name, saying an announcement won't come until late next month or, perhaps, early February.
But he said an announcement will be coming.
And, all things considered with regard to the state of some teams and the world, that's a win.