LEWISBURG — In Edith's Health and Specialty Store, Agatha Ubaldi, 87, and her husband surveyed a rack of supplements and vitamins Wednesday.
Days before, the couple arrived in Lewisburg from their home state of Connecticut. It was their third time visiting the town. They make the trip as temperatures cool and leaves here begin to change. This year, though, while the skies were clear and sunny for their arrival, an invisible cloud hung over their vacation destination.
In September, West Virginia led the world in per-capita COVID-19 spread and infections. And Greenbrier County led West Virginia.
Ubaldi and her husband, who are vaccinated, made the trip anyway. They were pleased to comply with signs directing people to wear masks.
"That's a simple, simple request from the lovely people here," Ubaldi said. "It made us feel better about the trip, too."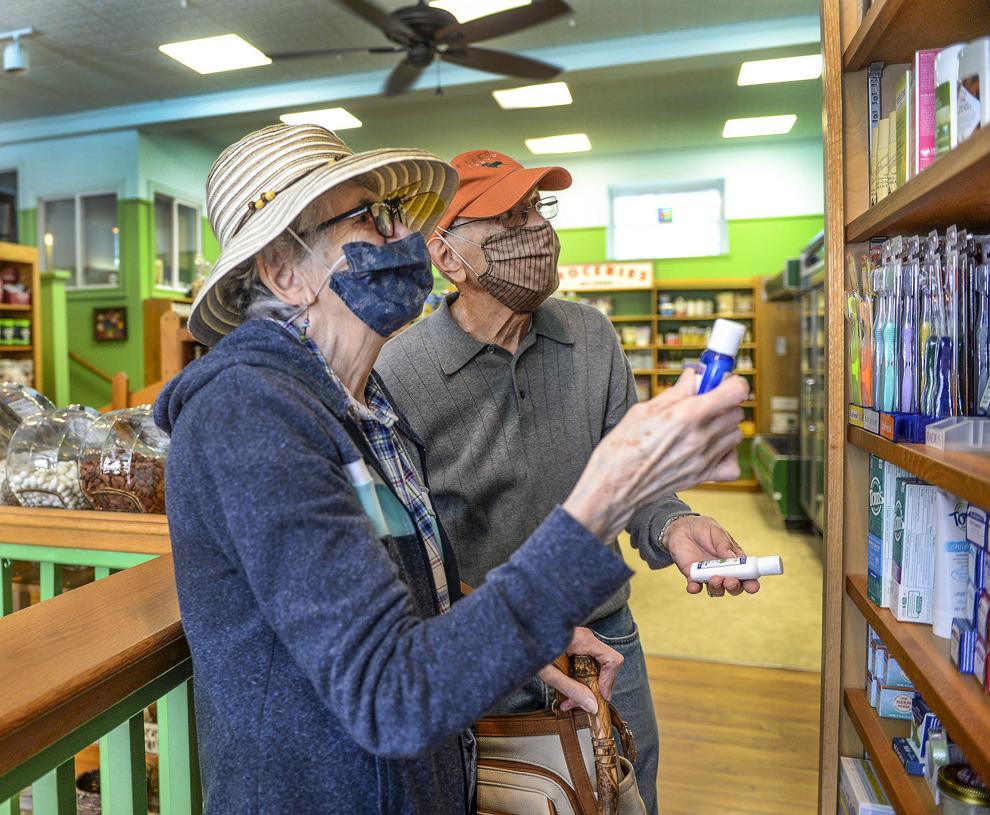 Some mask signs were hung after the Greenbrier County Health Department issued an indoor mask mandate Sept. 18.
The state's hospitals were overwhelmed at the time, said county health officer Dr. Bridgette Morrison.
"We were at capacity, yet all other hospitals were too," Morrison said. "There was no transferring patients out, or very limited transfer options, simply because again, everybody is overrun. When you have such significant, substantial threats of spread in your community, a layered approach is best.
"From what we were seeing, the amount of death and of people getting sick, I knew our vaccinations weren't going to be enough. We could see, I think, clearly, something else had to be done."
When the mandate was implemented, active virus cases both in Greenbrier and statewide were triple what they were at the same time last year. And unlike in 2020, there were no mitigation strategies in place to slow the spread.
Morrison pleaded with the public, she said, until pleading wasn't enough.
"The board always supported me and I'm grateful for that. For us, it really was the choice of doing nothing and waiting it out or at least trying to see a change," Morrison said. "This way, we have a chance of getting out of this better. It was a necessity."
The Mercer County Health Department followed Greenbrier's lead within days, but no other counties have.
Gov. Jim Justice, who lives in Greenbrier, enacted mandates during the initial virus surge last year, but has opposed reinstating them since, even as cases soared. "I do not feel comfortable with this mandates stuff," he said last week.
But health experts across the board agree: masking indoors slows the spread of the virus and lessens the stress on health care systems.
"We needed to help our hospitals, our physicians. Wearing a mask — it's not asking a lot. It's a simple thing everyone can do to protect our community," Morrison said. "That's what I want people to understand: masking is a tool we have and should use in this pandemic to save lives."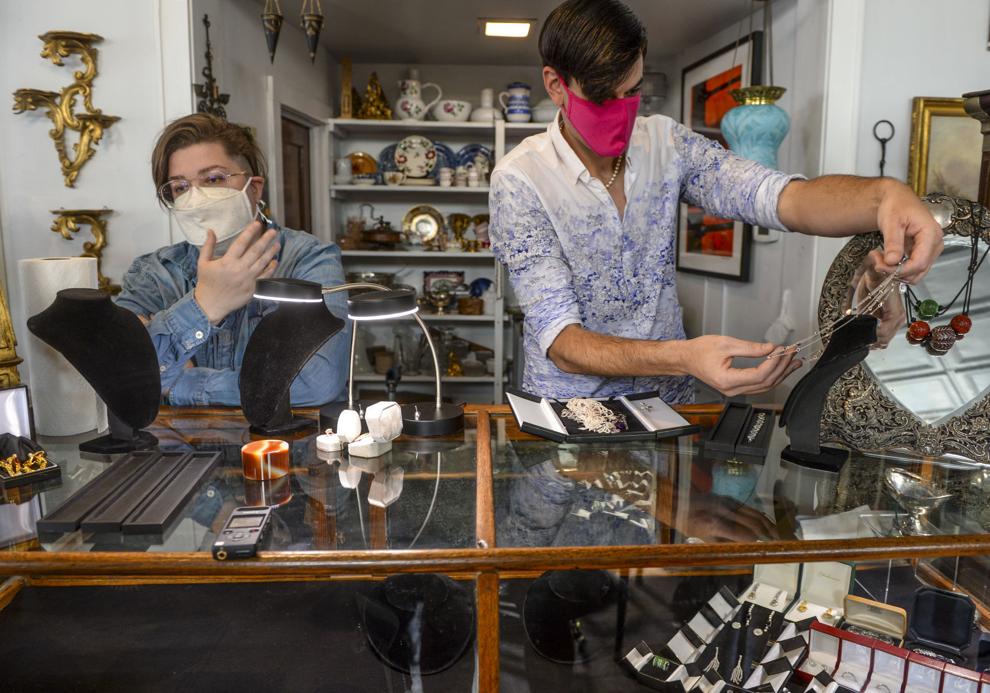 Most people observed Wednesday during a trip to Greenbrier wore masks, a stark difference compared to other parts of the state.
Adrienne French, an art dealer from Cleveland who moved to Lewisburg and opened an antique boutique last spring, said she appreciated the health department's move.
"People are either absolutely compliant or they ignore the sign and the rule completely. We have had visitors we've had to ask to comply, and when you ask you kind of see them make their decision, whether they'll stay or leave," French said. "Now, the rule is everywhere. I think that sends a message, and I support it. I am vaccinated, and I wear a mask out of respect for other people. It's not asking much for them to do the same."
The business community, said Lindsay Jones, owner of Edith's, is mostly in support of the new policy. Having the authority of the health department bolsters their pleas when they ask customers to wear a mask.
"We're doing the best we can to enforce this and keep people safe, and that's what we're reminding people if they don't agree," Jones said.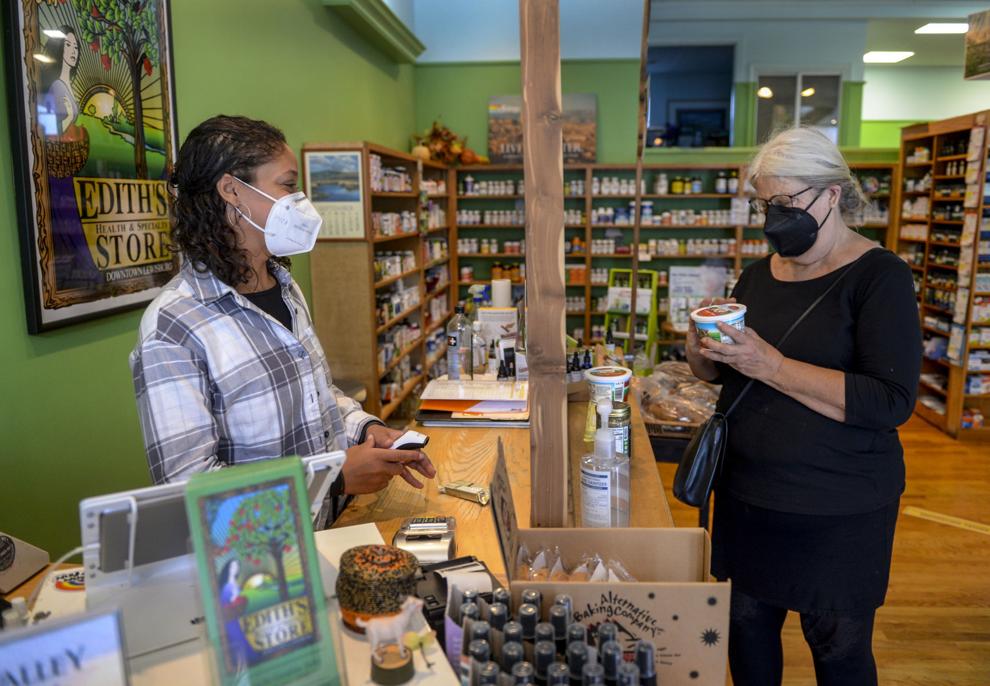 Most people are complying without complaint, but some strongly oppose mandates like the county's, said Edith McKinley, 74, who lives around the corner from the specialty store she founded and once owned.
She said she's lost friends to the debate. Some people she's known for years have turned their ire to Morrison and the health department. "They're getting a really bad rap," she said.
The state's inaction hasn't eased matters, she said. Nor did it help to hold the state fair there a few weeks ago. McKinley called that "a huge mistake."
"But if you heard the way people outside of the county were talking about it," McKinley said, "well, they don't have to live with the consequences from it. Unfortunately, we do. We are."
A COVID-19 testing and vaccination tent is set up on the fairgrounds just a few minutes down the road from the health department and hospital.
About 54% of eligible Greenbrier County residents are vaccinated, according to state data.
"We really wish we could get more people vaccinated; we started out so strong. Unfortunately, we have this significant ... subset of our population that just doesn't want to get vaccinated and is making it difficult for all of us," Morrison said. "That's why we need to wear masks indoors; if we can't get more vaccinations quicker, we need to do something."
Greenbrier didn't see a change in case numbers overnight with the mandate. As of Friday, the county reported 288 active COVID-19 cases. Weekly case averages for the county are slowly skewing down.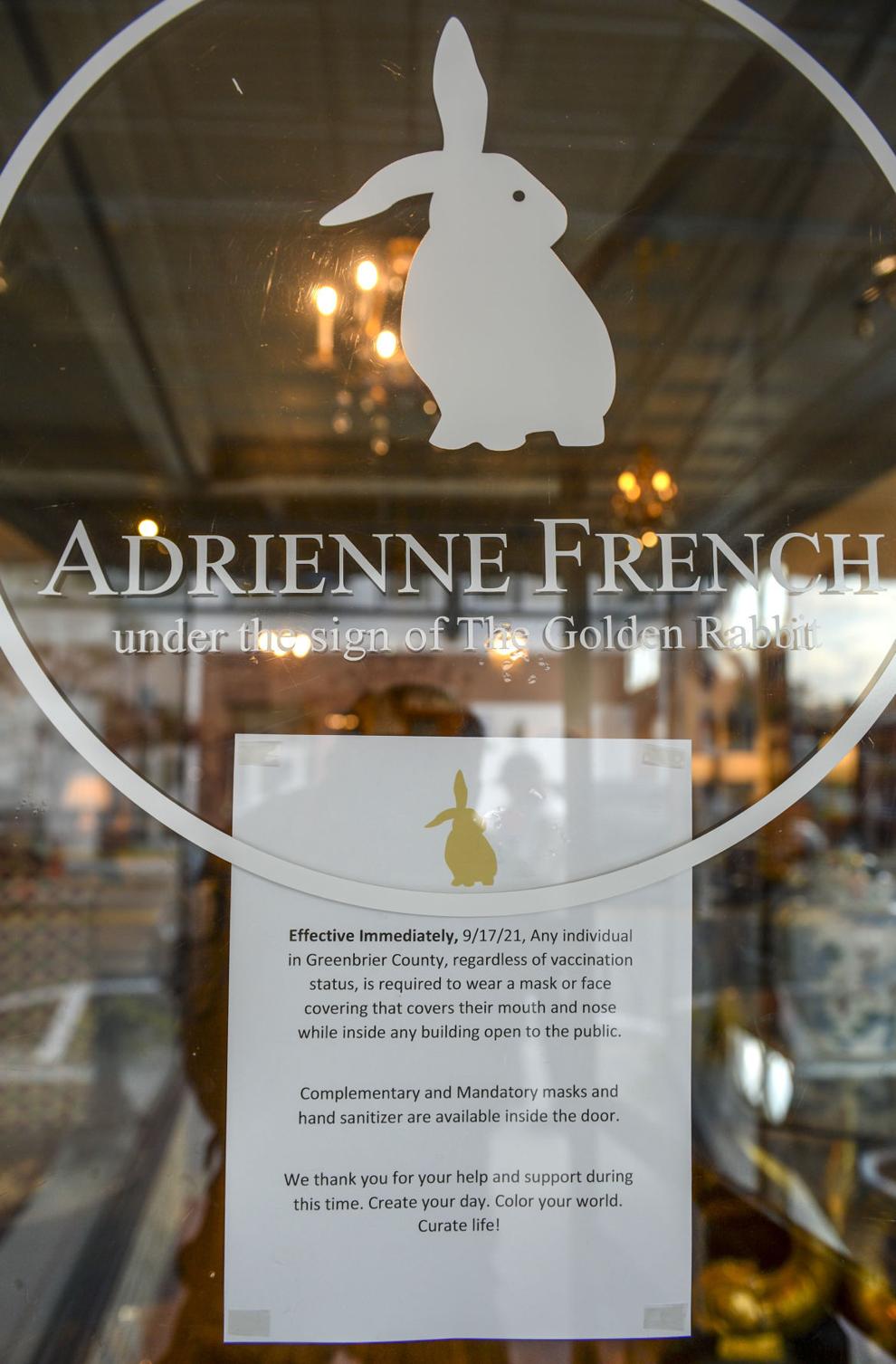 Morrison said this is how mitigation strategies work: the further from when they're implemented, the more of an effect communities see.
"It may take a bit to notice the difference, but we are. Our numbers have shown a difference in the last couple of weeks. Now is it just from [the mandate]? No, but we have started to see this, and I do believe the masking helped," Morrison said. "We're still running at near capacity at our hospitals, though. They're doing an exceptional job, but we are still there."
The situation is similar across West Virginia. As of Friday, there were 14,014 active COVID-19 cases statewide, nearly half as many as two weeks ago but still more than in any previous surge. The state so far reports 3,722 deaths related to COVID-19.
Other numbers remain high. On Friday, 958 people were hospitalized with the virus, 269 receiving intensive care and 172 on a ventilator. Hundreds of overworked hospital staffers are being quarantined. Patients are being treated in hallways and parking lots due to a lack of beds.
Mike Honaker, head of the Greenbrier County Department of Homeland Security & Emergency Management, said matters are still dire. His department oversees public safety in the county, working hand in hand with police, firefighters and medical first responders.
Throughout the pandemic, 911 calls in the county for domestic violence, overdose emergencies and other issues have continued to stream in. Filled hospitals added strain.
"Ultimately, we will be able to help with upgrading equipment and supplies, but the toll it's taking on the people, that's the greatest toll of all," Honaker said. "These people are working day in and day out, around the clock. Normally they're on 12-hour shifts. Today, it's 14-, 16-, 20-hour shifts. The impact in a large community like this, it's huge."
Greenbrier County is home to about 35,000 people. During the day, however, that population "swells" as people travel to the School of Osteopathic Medicine and Greenbrier Resort, among other places, Honaker said.
"So, there's more driving time, there's longer shifts for those folks. And I tell you, when you're around them, we're around them a lot, you can just see the wear and tear on these folks," Honaker said. "They're at the point now it's not about making overtime. It's, 'How do we get out of this?'"
Honaker said he supports vaccinations and masks but not mandates.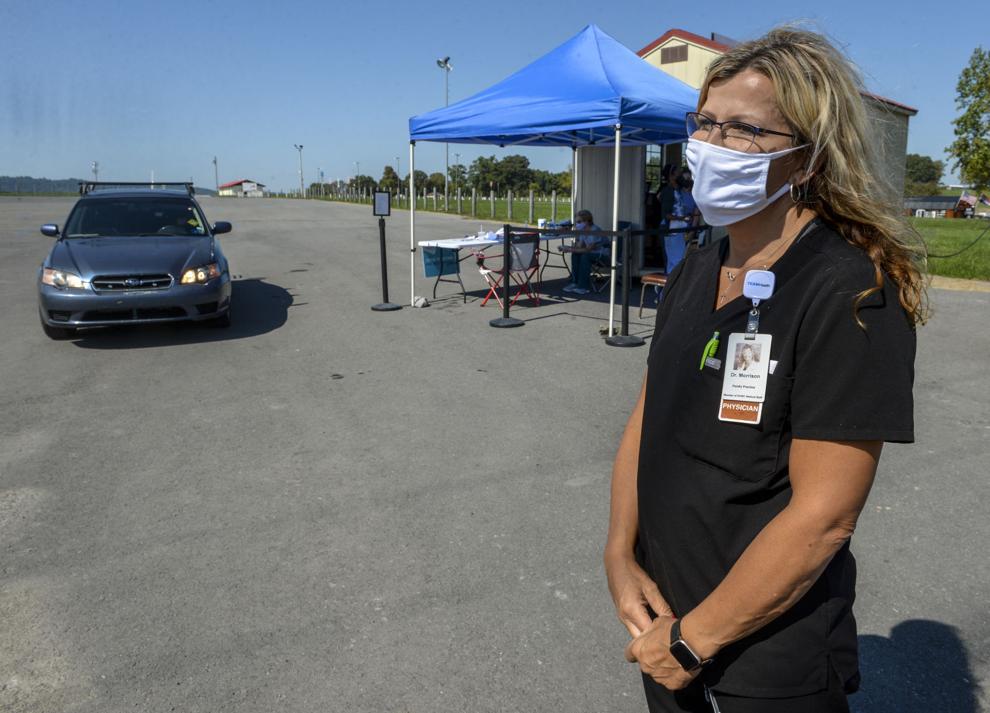 "The answer to this pandemic is not going to be what the government comes up with, whether that's mandates, throwing money at problems. This ultimately is going to come down to the people in any given community making the decision to wear that mask," Honaker said. "Think about the vaccination — don't push that on anybody. … But we have got to maybe dial up people's sense of urgency about [how] it's not time to go back to gathering in large crowds, or not washing our hands and not social distancing."
Urgency has been a tough sell for Justice, who's used the bully pulpit of regular COVID-19 press briefings to poignantly urge vaccinations and masks, making references to "body bags" among a wide range of other appeals. He's touted local control on mandates, leaving local officials to shoulder the burden as the state's chief executive mixes messages.
"When you have strong support from the federal level, from the state level, it is much easier to get this point across," Morrison said. "When we're all speaking the same language, when it's true evidence backing a policy and not emotion, not politics, it's much easier.
"The governor has been clear this time, as far as he didn't want to do that statewide. From the county level, based upon what we're hearing, it's just easier when it comes from the state and federal level down to [implement]."
Morrison said she has been harassed for her decision to implement a mask mandate. Some of the same people who rallied around health professionals like her last year, with banners and celebrations, are attacking her now.
"Everybody wants to argue with everything, especially us," Morrison said. "And it's like, we're just trying to do what evidence-based medicine tells us, not politics. We're trying to do what we have to do to save lives, and that's it. We want to take care of each other, and some people are making it unnecessarily difficult. It hurts at times, really, but if I save one life, if I keep one person from getting hospitalized, then that's OK. It's worth it."