West Virginia's world-leading rate of new COVID-19 cases is forcing weary healthcare staffers to make difficult decisions on who gets treated with available intensive-care beds dwindling.
An early leader in the vaccines rollout, West Virginia was engulfed last week by the pandemic, plunging to the bottom nationwide in vaccination rates, recording six straight days of peaks in virus hospitalizations and, according to Johns Hopkins, soaring to a worldwide high in new cases per 100,000 people.
Against that bleak backdrop, hospitals are feeling the burden both in providing care and within their own depleted ranks.
More than 500 staffers statewide are quarantined because of infection or exposure, said Jim Kaufman, president and CEO of the West Virginia Hospital Association. Remaining staffers are being reassigned to other units to keep pace with demand. Top officials are weighing which units and services can be temporarily shut down.
"Anybody that needs care today, they're really trying to serve them, but there is a real toll here," Kaufman said "The hospitals are strapped."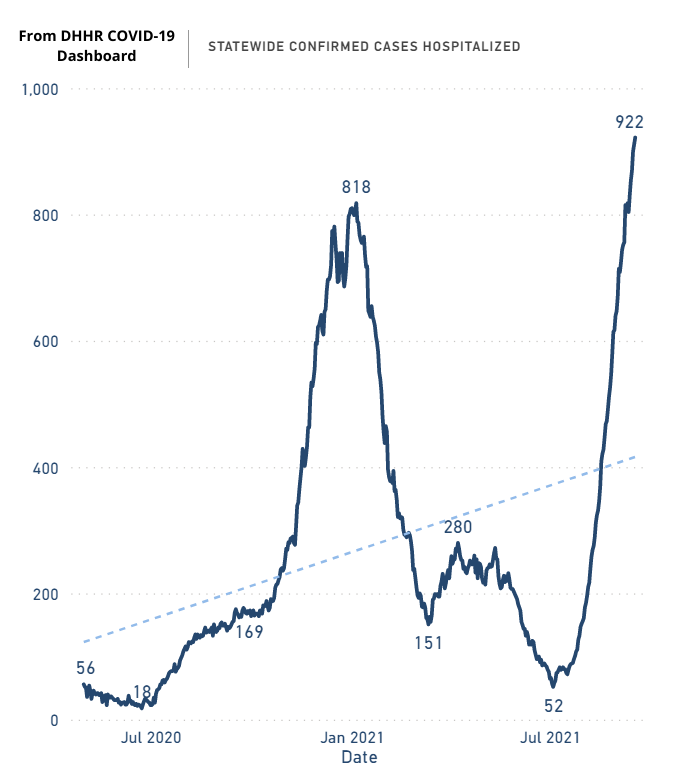 On Friday, 922 people statewide were hospitalized with COVID 19, more than 82% unvaccinated, 277 in intensive care and 169 on a ventilator.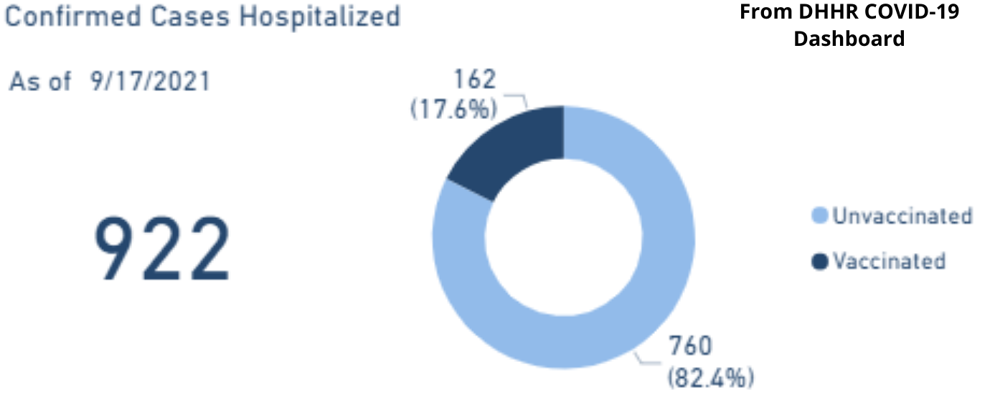 All intensive-care beds were filled at one Kanawha County hospital Thursday, said county commission President Kent Carper. That same day, West Virginia University Hospital System announced nine of its hospitals were "operating at a crisis-level standard of care." One declared an emergency because of the strain COVID-19 patients were putting on oxygen systems.
"Make no mistake, this crisis is real," the announcement read. "[O]ur ICUs are all full [and] our providers are working around the clock to care for their patients."
Total active cases hovers near 30,000 statewide. That tops the individual populations of all but three West Virginia cities or towns.
The worst might be yet to come. State coronavirus czar Dr. Clay Marsh has said the state's virus peak might be a week or more away.
"There's going to be a lot of loss, a lot of hard decisions in that time. Now we're asking ourselves, how do we get folks to stay out of the hospital?" Kaufman said. "Long term, the biggest thing we can ask everyone to do is go get their vaccine for COVID-19, and we recognize that more than 90% of patients in intensive care are unvaccinated."
How hospitals handle it all depends on a wide range of variables, said Dr. Joel Segel, an associate professor of healthcare policy at Penn State University.
Those not yet overrun might defer procedures or treatments that are not time-sensitive, as Kaufman said many West Virginia hospitals are doing.
Others could divert patients elsewhere if there aren't enough staffers or beds. That is occasionally happening here, Kaufman said, but so far there have not been significant issues in getting severely ill or injured people into beds.
Extreme circumstances, Segel said, could force doctors into "rationing care."
"It's true triage," Segel said, "in the sense they're trying to get a sense of who they can provide care to with the best outcomes and who may be, unfortunately and sadly, too far along."
This complicates responding to other diseases and ailments in a state already known for some of the poorest health outcomes in the nation. The health care infrastructure is decentralized, with vast rural areas served by chains of small clinics with limited resources for preventative or specialist care.
That frequently results in patients being transported to providers in larger urban areas, but options are narrowed amid the surge.
Heart disease, cancer and accidents, including drug overdoses, are the leading causes of death in West Virginia, and those cases frequently require hospitalization. Limited options put more people at risk of dying or becoming severely sick.
Staffers inside hospital emergency rooms and intensive-care units aren't alone in feeling the strain.
Emergency medical technicians and paramedics are sensing it, too, said Monica Mason, head of the Kanawha County Ambulance Authority, which covers 911 square miles and receives calls roughly every 11 minutes.
"That's a lot of calls for a lot of people, and there is no room anywhere right now," Mason said.
Hospital wait times are extended, leaving paramedics stuck in hallways, waiting rooms or parking lots for hours and reducing the number of available responders, Mason explained.
"On our end, we've gotten creative," Mason said.
Sometimes, a single EMT is assigned to wait with a few patients until they can be admitted while other responders handle calls. But that practice takes a toll.
"And then we have one worker in a room, often a small room, with two or three people who have COVID-19," Mason said. "Our EMTs are exhausted, and they're not going to stop but the demand on everyone right now — it's like nothing we've seen."
That is true for hospitals here and across the country.
"My sense is that, everywhere, almost every hospital is doing everything they can. Even when they hit capacity, they're doing all they need to do — all they can do — to keep up," Segel said. "They're getting creative, making makeshift rooms. But there is a point, yes, where you are out of space and out of workers and you can't do anymore."
Hospitals are urging people to use other services, such as those provided by primary care physicians and clinics, for situations that aren't emergencies.
The Kanawha-Charleston Health Department is offering monoclonal antibody treatments for people infected by COVID-19 or at severe risk as a "last ditch effort" to keep them out of the hospital.
That program will be expanded across West Virginia, said James Hoyer, head of the state interagency task force on COVID-19.
Doctors, nurses and first-responders are scrambling to keep pace without help of mandates to slow the virus spread. Football games are drawing large crowds and events, such as Bridge Day, are continuing.
Billed as the state's largest single-day festival, Bridge Day is held the third Saturday every October, drawing thousands of people to the New River Gorge Bridge in Fayetteville to watch BASE jumpers and rappelers descending nearly 900 feet from the massive span.
Jerry Long of Jan-Care Ambulance Service in Oak Hill told WCHS-TV that the event in some years sends 30 people to the hospital.
"So the thought of having thousands of people come to our area," Long said, "and the thought that they may need a hospital bed or have an injury or an illness or need health care and we may not be able to offer that to them, that's disturbing."
Organizers decided to continue the event hours after Gov. Jim Justice said during a COVID-19 press briefing that cancellation would be unacceptable.
"We're having football games and everything where we have the big gatherings and everything," the governor said, "so why in the world should we not have Bridge Day?"