DRENNEN — In shades of white, orange, black, blue and green, the mold in Dee Hanshaw's Nicholas County home sprawls on just about any surface it can find.
"I didn't know mold came in so many colors," she said.
The air inside is thick with moisture and a piercing smell of bleach — it's the only way to fight off the fungi.
The wood floor under the water heater droops downward, so Hanshaw uses a stick to prop it up. The wood floors near the bathroom are starting to give. The washer and dryer had to be moved outside for worry of the weakening floor beneath it.
Boxes mark the floor areas Hanshaw worries might cave in.
And after long enough, everything picks up the mold — the floors, hanging clothing, the walls.
After the June 2016 flood, water pooled underneath the home of Dee, 60, and her husband, Vesper Hanshaw, 61. This triggered a slew of moisture-related problems.
In January, the Hanshaws signed a contract with RISE West Virginia, a $150 million federal relief program to provide housing for low-income families whose homes were damaged in the flood.
RISE was set to build the Hanshaws a new home in late spring or early summer until the construction firm who won the contract dropped out.
"It may not be this year," Dee Hanshaw said of the new completion date estimate. "But this house will not make it another winter."
According to staff with RISE and West Virginia Voluntary Organizations Active in Disaster, the Hanshaws declined an offer for VOAD to pay their rent in a new place while they wait.
The Hanshaws disputed this.
Either way, Jenny Gannaway, executive director from VOAD, said Friday the offer stands.
"If she'll move out next week, we'll pay for it," she said. "We'll help make sure she's in a secure and sanitary place."
The Hanshaws are one of 384 clients who, more than three years after the flood, are still somewhere between signing a contract with RISE and seeing actual work begin on the demolition and construction process for their new homes.
RISE has built 51 homes to date, leaving 426 cases outstanding.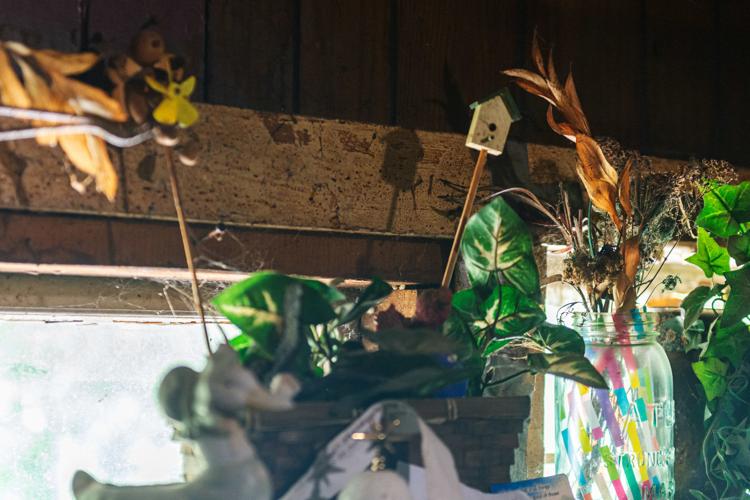 'Just barely surviving'
Vesper Hanshaw had his share of respiratory problems before the mold set in — according to his wife, he suffers from asthma, COPD, has a history of heart attacks and has been treated for blood clots that have shown up in both his lungs.
He has been on disability since a construction accident in 1987. Dee Hanshaw has been on disability since a car crash in 2010.
A part of Dee Hanshaw, she said, thinks RISE is just waiting out their deaths to scratch another name off the queue.
Waiting on a new home is expensive in itself. Dee Hanshaw said to keep the house warm in the winter, she runs up to five different space heaters, while keeping shower curtains up in the doorways to trap heat. The power bills spike to between $400 and $500, which can mean a summer month or two without power.
That comes on top of the $110 per month she spends on two storage units to keep their stuff free of the mold and moisture in the house.
She said between the power and storage bills, and a car payment, she doesn't know how she's supposed to fix her home without help.
"I feel like I'm being a pain, and I'm not trying to be," Hanshaw said. "We're just barely surviving."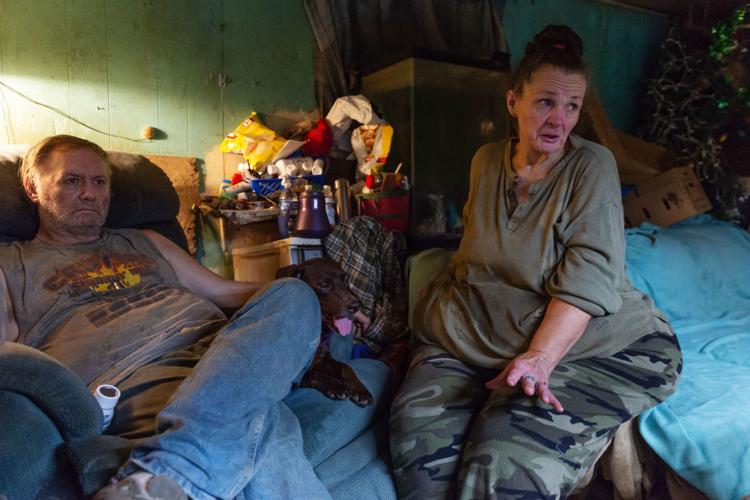 'Not so cut and dry'
A cabinet secretary, his top lieutenant and the woman in charge of RISE were all fired in connection with RISE's poor performance.
Maj. Gen. James Hoyer, adjutant general of the West Virginia National Guard, took over RISE on June 4, and under his watch, the program has steadily built 51 houses in those 13 months. The U.S. Department of Housing and Urban Development still classifies it as a "slow spender," meaning it's spending 10 percent less than the monthly pace required to fully use its funds by the target closeout date of the end of 2023.
However, as Maj. Holli Nelson, a spokeswoman for the National Guard who works with RISE, said, the progress made in the last year is a tough sell after looking at the outstanding cases.
That's not to mention that some of the cases remaining are inherently the more complicated ones.
"Some of these cases are just really difficult cases to work with and are just not so cut and dry," she said.
While the Hanshaws dispute anyone from RISE ever offered them alternative housing while they wait for their new home, both RISE and VOAD officials firmly stood by it.
"They just don't want to leave this house where their dogs and things are, and I understand that," Gannaway said. "But I didn't want anybody thinking we had left this family with no help."
Dee and Vesper Hanshaw have lived in their home since 2003. Vesper grew up there. Any rental they find would need to have space for their five dogs.
The Hanshaws, and RISE, are waiting for a construction firm to bid on their house. There have been no takers on a new place.
On Friday, with what Dee Hanshaw said she believed to be a new promise that the rent would be covered — both RISE and VOAD said the offer has been there all along — she went out to look for a new apartment while she and Vesper wait it out for a bidder to come in.
"I think it's getting to the point where it should be about our turn," she said.