At first, John Nelson thought he would set aside two days a week to cut the hair of his unvaccinated customers. With a sizable rise in the number of delta variant cases, the vaccinated Nelson didn't want to run the small risk of contracting the virus and passing it on.
Some of it is safety. And some of it is straight, thrown-down messaging. He's a little miffed at non-vaccinated folks who "haven't gotten around to it yet;" believe the vaccine is a poisonous mix brewed up by strange deep state operatives; or who just don't want to do it because the government has urged them to.
"It's no longer my intention to give up my life or freedom for non-vaxxers," he said during an interview at his salon Monday. "I'm tired of living my life for them."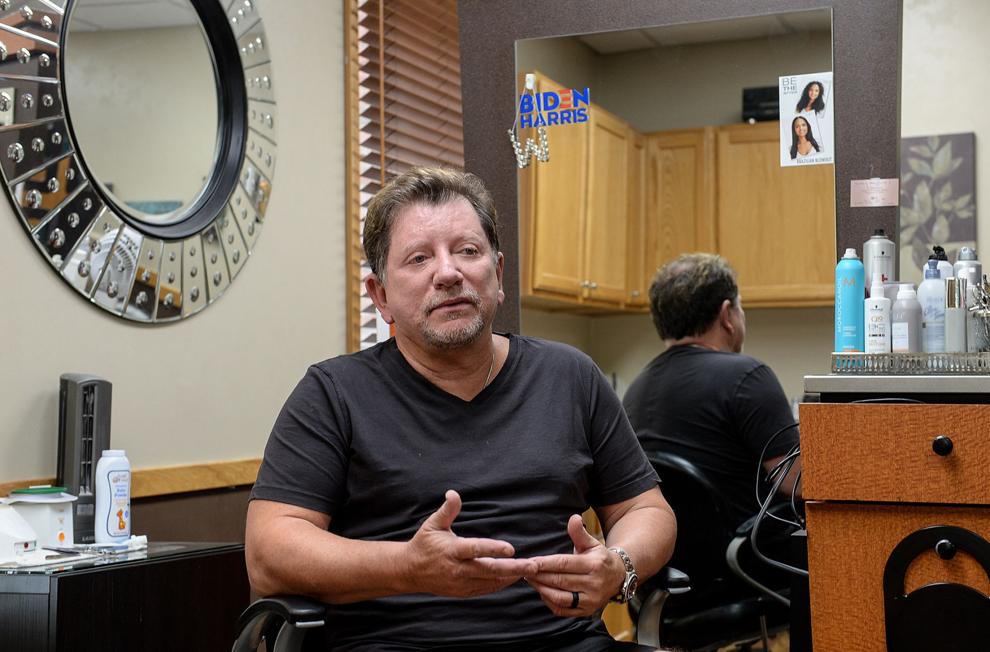 A vaccine opponent might ask of Nelson and other vaccine supporters, "If this vaccine is so foolproof, why do you care if I get it or not?" To Nelson, the problem is wider than making sure he doesn't get sick. He is aware that children under 12 are too young to be vaccinated. The longer residents dally in getting one, the more the variant spreads, the more cases rise and the more his life is disrupted with a repeat of masks, restrictions and lockdowns. So his tactic is a blunt one.
"The more we turn them down and lock them out then that's all the more pressure to get vaccinated," Nelson said. "At this point it's just being stupid."
Upon entering Nelson's shop, customers are expected to wear a mask, wash their hands where Nelson can see them, have their temperature taken and show a full vaccination card if one isn't already on file.
There is certainly a distinction between the 66-year-old Nelson's situation and other business owners who may feel the same way but are unlikely to take such an action.
He and husband Donald Dunlap are well-established and comfortable. Nelson survived seven weeks of shutdown last year, though he's not eager to repeat it. He can afford to lose a few customers. What's more, a hair salon is not nearly as high traffic an affair as, say, a supermarket, where displaying a vaccine card might be a logistical nightmare.
Many of Charleston's businesses these days are small affairs. They're desperately trying to make up for money lost during the past 16 months and not likely to turn away customers, vaccinated or not.
Same goes for employees. Food and retail establishments are still complaining of not enough help. It's doubtful that they're going to demand to see a vaccination card before clocking in.
It's not the same everywhere. The Associated Press reports the federal government, the state governments of California and New York, and tech giants Google and Facebook are among companies that have or will demand vaccinated employees. Sports observers have opined that the NFL will make it very difficult this season for unvaccinated players, greatly inhibiting contact with teammates and disrupting preparation routines.
While businesses here have yet to implement drastic measures in employing workers or serving customers, there is at least one sign parents are concerned for their children. Fifty miles to the west in Huntington, home school enrollment rose about 400 students, from 634 to nearly 1,000 from the 2019-2020 to the 2020-21 school year. It's expected to rise again this year.
To Nelson's customer Jerri Nibert, the choice isn't a matter of personal rights. It's not as if the government doesn't already influence our lives, she says.
"I don't like to stop at a red light when I'm in a hurry, but I do it for my safety and the greater good," Nibert said. "I got a smallpox shot when I was five or six. I didn't like it, but I've never had smallpox. You couldn't go to school if you didn't have one."
Nibert stressed she is not overly concerned about getting sick, but doesn't want to bring it to her granddaughter, father or mother-in-law.
"I'm probably going to wear a mask when I go to the doctor from now on," she said. "Why are they in there if they're not sick? I probably should have been doing that for a long time now."
Another customer, Kate Porter of Charleston, said getting vaccinated is "part of being in a community. Everyone has to help each other. My big concern are for those under-12 and immunocompromised, who can't get the vaccine."
Nelson sounds as if he will stick to his mandatory-vaccine guns. He wonders about how many more cruises he and his husband will have to miss and how many other aspects of society will again have to shutter.
And, he ruefully chuckles, what aging man quibbles with the exact ingredients of Viagra?
"They'll take that blue pill and not think another thing about it," he said, grinning. "They don't care what's in it, they just know it works."