Eleven days after mud, rocks and trees tumbled onto Blue Creek Road, trapping a community of hundreds of people for 24 hours on a wet, snowy Christmas Eve, Columbia Gas Transmission filed a request with the federal government to abandon a nearby gas well.
"No steep slopes are present within the project [area] and, overall, landslide incidence ... is low," Columbia wrote Jan. 5 to the Federal Energy Regulatory Commission.
That was news to the nearly 600 residents of Blue Creek Road.
Slides are common on the winding road near Elkview. Heavy rain knocked two boulders, a combined 450 tons, onto Blue Creek at 3 p.m. on a Tuesday in April 2015. Herbert Hoover High School students walked around the boulders to make it home.
Blue Creek Road is the way in and out for the people who live there. Four-wheeler trails flood during heavy rain. On Christmas Eve, people cleared debris with chainsaws and directed traffic themselves before state road crews arrived Christmas morning.
A landslide blocked the road for hours on back-to-back Fridays on May 29 and June 5, and another eight times in 2020, according to Kanawha County Commission staff. Jersey barriers tucked into the hillside force the road into a one-lane, which seems to be a permanent fixture on Blue Creek.
High above the fresh asphalt, Columbia trucks rumble along a 3-mile-long gravel access road in a hillside laden with heavy rocks and fallen trees. The utility's claim that no regular landslide activity occurred in the area was puzzling, commissioners remarked in a Jan. 7 meeting.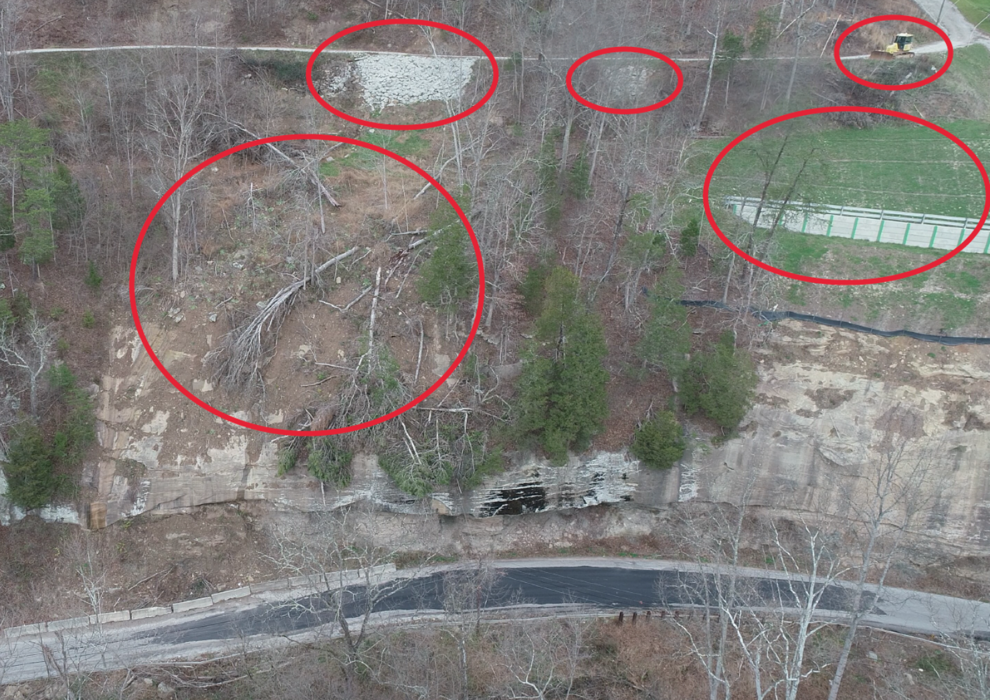 Columbia had relied on the gas well for storage since 1958. Kanawha Commission President Kent Carper said TC Energy — formerly TransCanada — the corporation that acquired Columbia in 2016, is trying to "cut and run."
"At the very least, what's going to happen is that road is going to be blocked — a road that you know is blocked all the time, sometimes for days or two at a time — and someone's going to die of a heart attack, or die of a stroke or a baby is going to die because we can't get them to the hospital in one of our ambulances," Carper said.
"It's a miracle someone hasn't been killed yet. But someone will if somebody doesn't fix it."
A lawsuit could be a last resort, commissioners declared Feb. 4. Columbia sent a letter Thursday to commission attorney Isaac Forman detailing the utility's intention to clear loose debris.
The Kanawha County Planning Office sent the property's owners and Columbia a notice Feb. 18 and a final notice March 12, charging them with violating Kanawha County's public nuisance ordinance along with other state-level infractions.
"Columbia disputes that any of its activities have resulted in the landslide referenced in the Notice of Violation," wrote Matthew Casto, an attorney representing Columbia.
The company recently retained an engineering firm to study the hillside and examine historical records, Casto said: "It was determined that Columbia did not construct the access road at issue and none of its activities appear to have caused the slip."
But a site visit revealed immediate safety concerns over loose boulders and downed trees, Casto wrote.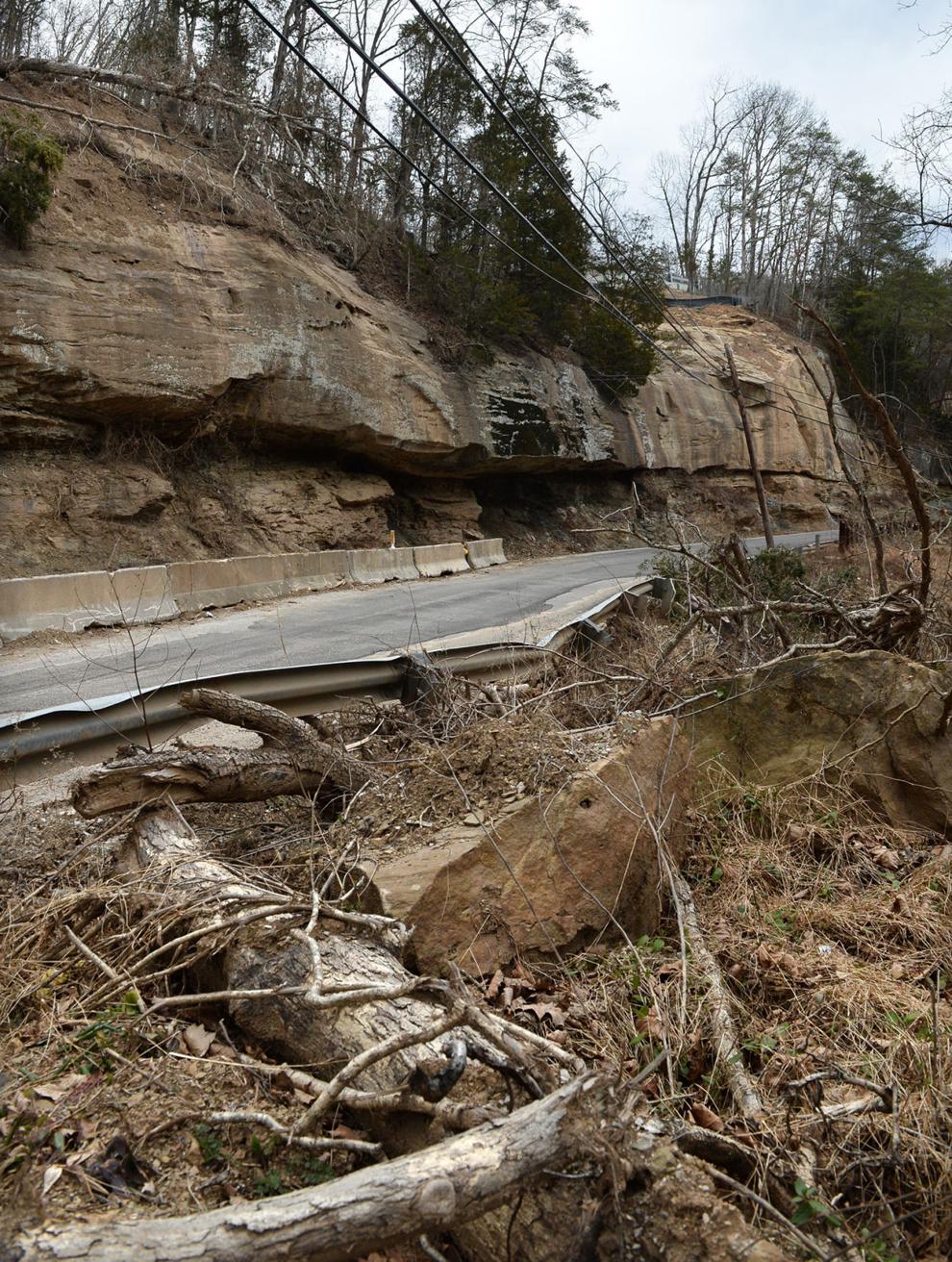 "While Columbia does not believe it has any obligations as to the ongoing slip based on the current evidence and inspection, as a good corporate citizen, and in an effort to address a safety concern, Columbia intends to mobilize a crew to the site and remove some of the existing material that presents as a potential safety risk to the travelers of Blue Creek Road," he wrote.
"It is our hope that this will relieve the immediate concerns of Kanawha County and allow the parties additional time to perform a full geotechnical inspection of the site rather than engaging in needless litigation," Casto continued. "Please be advised, however, that none of the work which will be performed by Columbia or its contractors, is an admission of liability or that it played any role in the current slip."
In response to a list of questions regarding the abandonment filing and recent events, TC Energy provided the Gazette-Mail a short statement:
"Our primary focus is public safety and we remain committed, as a good neighbor, to working collaboratively with the county and state representatives to find a mutually agreeable solution that ensures the safety of the public and our personnel as they maintain the assets."
Marsha Tracey and her husband, Steven, of Elkview, have owned since 1998 the rights to the property through which the access road passes, she said Friday. The access road was built long before Columbia started using it, she said. Others use the road and Columbia crews have worked on erosion control.
"The gas company has been extremely helpful in this and I thank them very much," Tracey said.
She said whoever built Blue Creek should have known undercutting the hillside and leaving it exposed would leave it vulnerable to slides.
"Civilizations exist by consent of geology, subject to change at anytime, without notice," she said.
The timing of the abandonment filing was not lost on county commissioners.
Columbia requested permission to plug five gas wells, four located farther south toward Pinch. The well in question is accessible only by the access road above Blue Creek Road. These wells were all underperforming, Columbia wrote in the filing.
"[Columbia's] activities in and around [the access road] have caused or contributed to recurring landslides which periodically block Blue Creek Road, deprive the Blue Creek residents of access to their homes, endanger motorists and cut the affected area off from emergency fire and medical services," Forman, Kanawha's attorney, wrote in a March 15 filing with the federal energy commission protesting Columbia's proposed abandonment.
The gas company had built a concrete retaining wall on the hillside, laid stone and installed a culvert along the access road to abate recurring landslides, according to the document.
"Those efforts have not been successful and appear to have redirected the groundwater, thereby shifting the landslides to a different portion of Blue Creek Road," Forman wrote.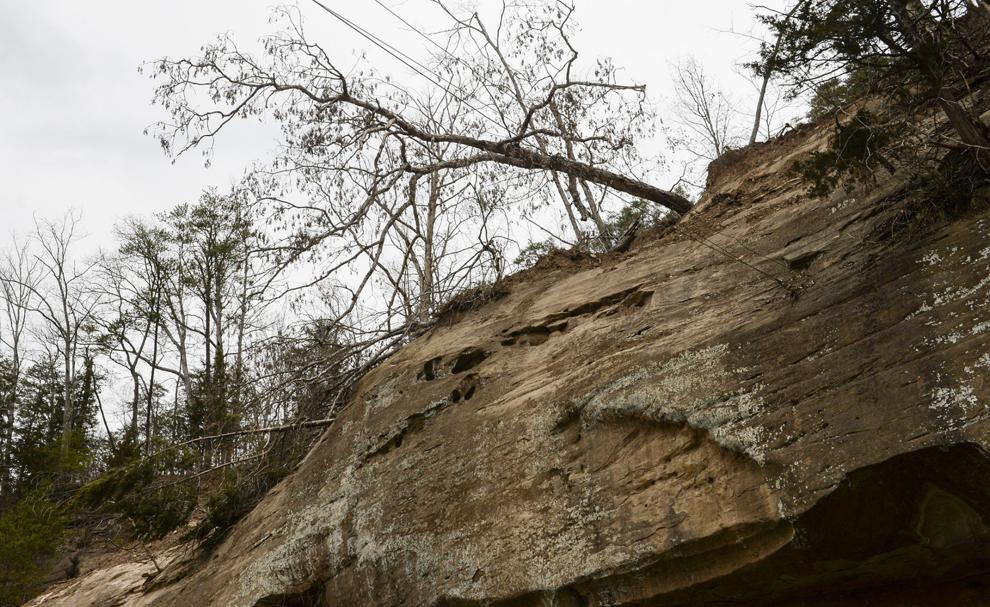 Kanawha County's protest also took issue with Columbia's claim in the abandonment filing that landowners would assume responsibility for the land, while the gas company would still own the underground oil, gas and storage rights after its abandonment.
By virtue of this statement, Forman wrote, Columbia would duck any responsibility for future slides.
The energy commission requested clarification March 23 from Columbia on how the company's use of the road would not contribute to landslides.
Columbia responded with a statement similar to its original answer, with its definition of "landslide."
"Landslide is a general term for a variety of downslope movements of earth materials," the company wrote. Specific geologic conditions, like steep slopes and large amounts of water, and a trigger mechanism, like vibrations or increased weight on slopes, are needed to cause a "landslide."
Since the access road is stable and no "earth-disturbing activities," like blasting, graveling or grading near the road, are planned, Columbia claimed the incidence of a "landslide" along Blue Creek Road "is very low."
People along Blue Creek Road have lived with the hazard for years while blame has been passed from the county to the state to the utility to property owners.
TC Energy's pledge to conduct a full geotechnical assessment to identify a permanent solution prompted a minor celebration at Thursday's Kanawha Commission meeting.
"Anybody bring a football to spike?" Commissioner Ben Salango said.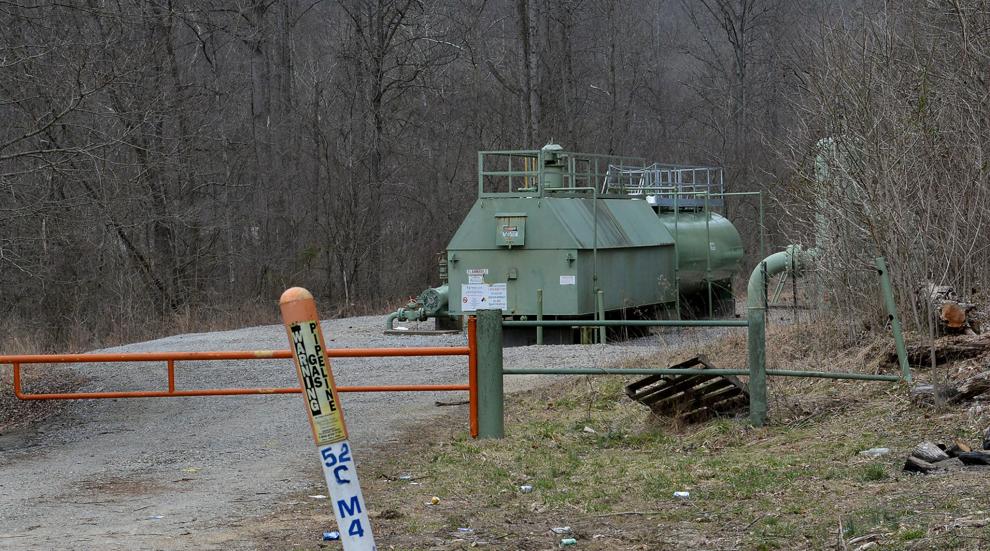 A late January site visit with state road officials led to the state working with the commission, Commissioner Lance Wheeler said. The Department of Transportation sent a letter March 12 to the federal energy commission calling for a closer review of Columbia's abandonment application. The transportation agency said the state has spent $50,000 and 525 man hours "dealing with the slides resulting from [Columbia's] activities at this location."
Blue Creek appeared at the top of a list of 100 Kanawha County roads in need of immediate repair in 2017 under Gov. Jim Justice's Roads to Prosperity program, Deputy County Manager Andrew Gunnoe said. Nothing happened.
The commission asked Justice to include Blue Creek on the governor's $50 million Medical Access Road program last summer. That also went nowhere. The state Department of Transportation heard, then declined pleas last fall to work with property owners on a long-term fix.
Agency officials said they "cannot go on the private property to repair the slide, and that all they can do is respond when [the hillside] falls and clear the road," Gunnoe said.
Columbia has asked Kanawha County to delay filing litigation. Until there is a fix, commissioners said, the threat will remain.