Anna Payne almost began to glow after the names for the first and second runner-ups for Miss Kanawha Majorette were announced at the 74th annual Gazette-Mail Kanawha County Majorette & Band Festival Tuesday night.
She could see it was all coming down to her and just one other. After festival announcer Adam Harris called her name, she positively lit up — she beamed.
After it was all over, the George Washington High School senior, clutching an oversized trophy, a bouquet of roses and trying to hold onto a case for her baton, said she was shocked.
"I had a lot of high hopes that this would be my year," she said, "but I really didn't know."
Two years ago, Payne had come close. She'd finished as the second runner-up.
Sydney Moore, who won the title in 2019 with St. Albans High School and now twirls for Marshall University, was on hand to crown Payne Tuesday night at University of Charleston Stadium at Laidley Field.
"It feels so good," Payne said.
The past year and a half during the pandemic, Payne said, had been hard for her.
"I lost motivation," she said. "I just wasn't getting it."
Payne said her mother told her that she looked like she'd stumbled. George Washington's Patriot Band director Mark Hardman, Payne said, had even talked to her about whether she was still able to keep up.
"I just had to snap out of it," she said.
It was a good night for George Washington High School, which was again named the Festival Grand Champion. There was no festival last year and, while the COVID-19 pandemic interrupted the line of band festivals, it didn't stop the Patriot marching band's streak of wins.
Tuesday night made number four.
"We had a good night," Hardman said. "We were fortunate that we didn't lose much in the time off. We managed to keep things going."
The director said his band had tried to keep busy and focused. They'd performed a couple of times over the past year, had a spring concert and had returned to band camp at Cedar Lakes, in Jackson County.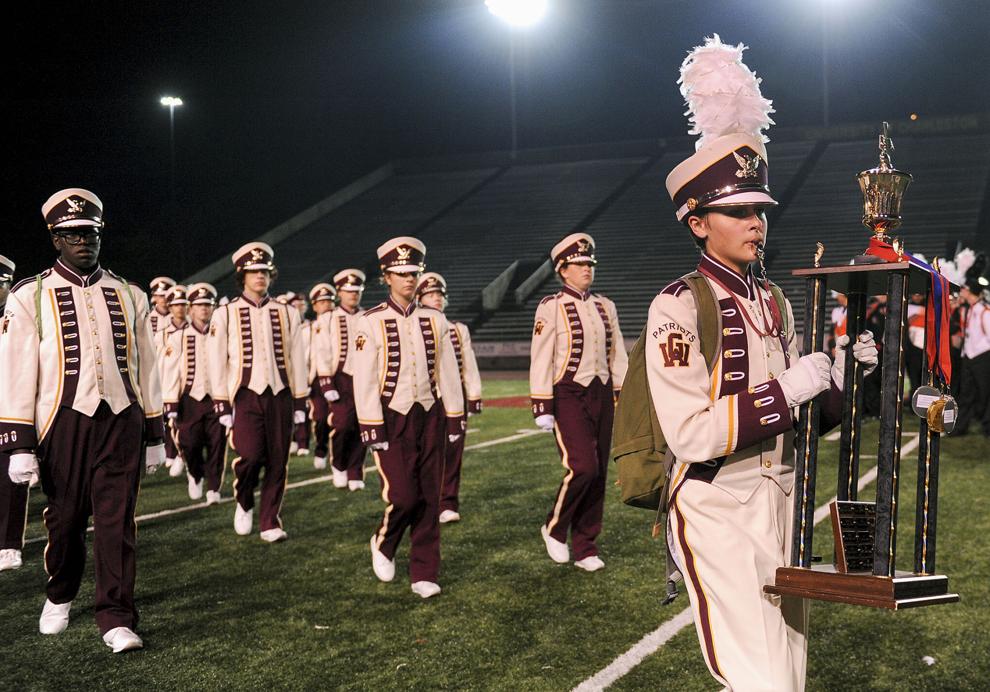 "Last year, we couldn't do that, and that wasn't good," he said.
Hardman was proud of his band, but he said he was just proud to be there.
"It was good to see all of us back out here again," he said. "It was good that we were all able to come back out here in uniform and march."
Things weren't quite as they were two years ago, of course.
All of the bands had shrunk some in the time away. The crowd watching from the stands had shrunk some, too, but it's to be understood that it will take a year or two to rebuild.
Nevertheless, the bands and their fans seemed to fill up some of that empty space at Laidley Field with energy, enthusiasm and sound.
The bands played louder. Their friends, family and fans clapped louder. They gave Marshall University's Marching Thunder, the guest band for the festival, a warm welcome.
Each high school brought a little something different to their shows at the festival. There was innovation. There was humor. There were props.
Riverside High School played trash cans and dabbled in kung fu fighting. St. Albans High School had a complex setup that required a crew to put together and take apart, while Capital High School added an electric guitar to the mix.
Sissonville's show had a mystical elemental feel to it, while South Charleston showed off a lot of rhythm.
Nitro sounded like it brought half the school to cheer for them. Fans spelled out "Go Nitro Wildcats" in the stands and shouted as loud as anything.
Herbert Hoover's show was about persevering, never giving up hope and to just keep trying.
The children on the field, all of them, provided the example.