For the second consecutive year, a Charleston Thanksgiving tradition has taken on a slightly different look.
Last week, volunteers with the annual Frank Veltri Thanksgiving Dinner put together 524 bags containing ingredients to make about 2,100 Thanksgiving dinner meals and delivered them to high-rise apartment buildings in Charleston.
Coordinator Angie Douglas said the change from the way the meal has been traditionally served — at a mass gathering with some prepared meals delivered — is a response to COVID-19.
"Because of COVID, we weren't able to secure a location to do a sit-down meal. Last year was just not safe enough," Douglas said. "And with the rise [in COVID-19 cases] and everything this year again, it was still not safe to do a sit-down meal with people so close together and taking off masks and everything.
"So we had to do the bag groceries for Thanksgiving so they could prepare the food at home on Thanksgiving Day."
Work on "Thanksgiving in a bag" started Thursday, with unloading food and filling bags. That continued through Saturday, when the bags were delivered, Douglas said.
"[The bags] went to all the Charleston area high-rises," Douglas said "And there's some low-rise apartments that are for the seniors and the disabled that we deliver to. And some long, outstanding people that used to work with Veltri at the Holley Hotel that we still make sure they get food because they're now up in age and unable to get out."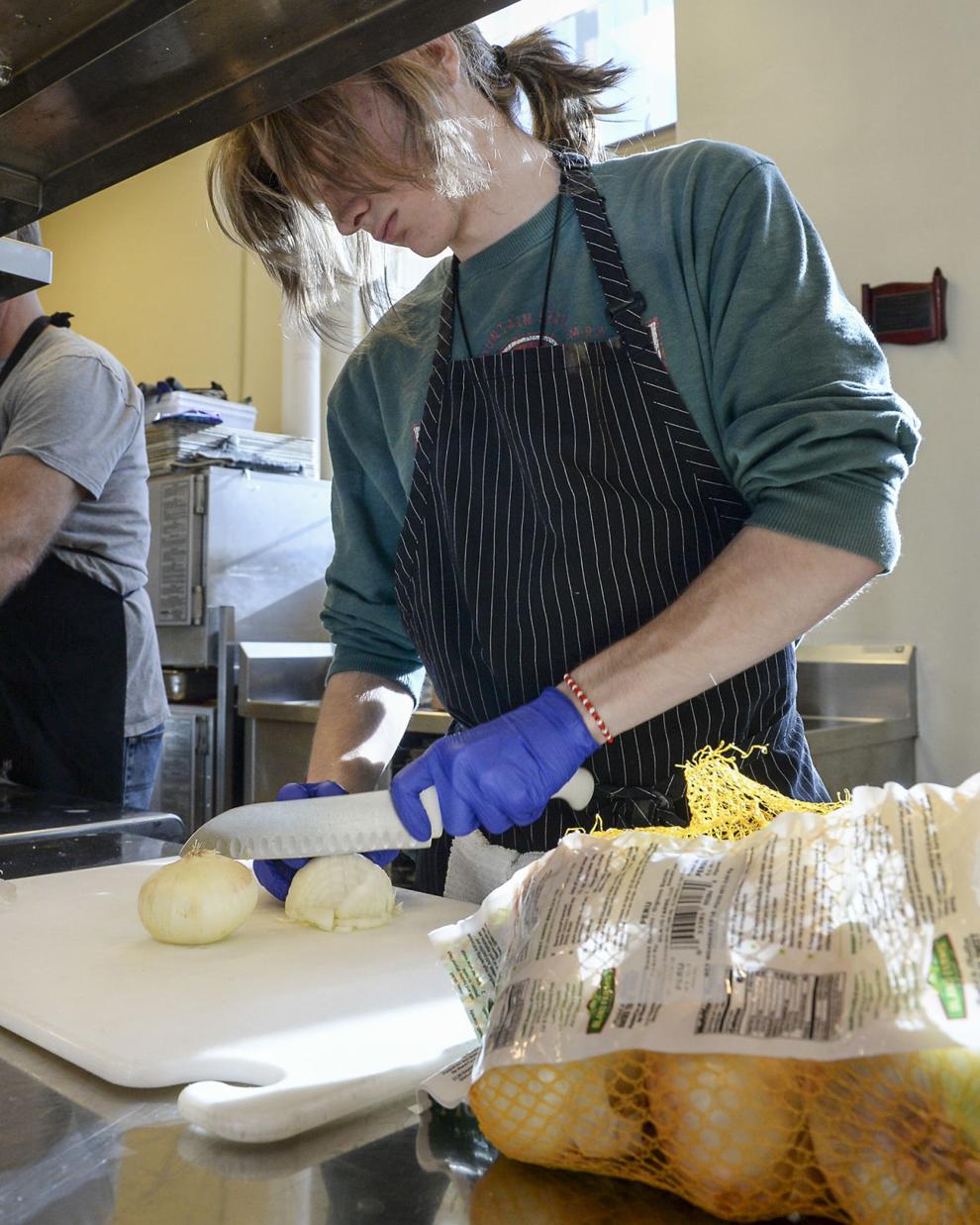 About 150 people volunteered this year, she said.
"We couldn't do this dinner without all the volunteers," Douglas said.
One group in particular, the Nitro High School boys basketball team, stepped up and "saved us," she said.
"We had a big group of boys to come and help us with the heavy lifting and moving of the bags and staging the bags and stuff and filling them," Douglas said. "And then they came back the next day for delivery. And they delivered as a group to one big high-rise. And they ended up helping us out and taking the bread trays back to the Piggly Wiggly for us, as well. So they were a huge help."
The Veltri dinner dates back to 1967 at the old Holley Hotel. Frank Veltri died in 2001, but left an endowment with the Greater Kanawha Valley Foundation so the dinner could continue.
This year, to follow the stipulation Veltri left in the endowment that a hot meal be served as well as food delivered, organizers will again partner with Manna Meal to offer a sit-down turkey dinner Thursday.
"The biggest thing that Veltri gives Manna Meal is really money to feed people," said Traci Strickland, director of the Kanawha Valley Collective, which handles the financial aspects of the Veltri dinner. "Manna Meal is a well-oiled machine. Manna Meal has not missed a beat feeding people through the pandemic and showing that it can be done safely. So really, it was a no-brainer to partner with them for this."
Amy Wolfe, director of Manna Meal, said the soup kitchen anticipates feeding between 325 and 350 people on Thursday, up about 100 from the number they feed on a typical Thanksgiving.
Last year, when Manna Meal first absorbed the sit-down portion of the Veltri dinner, it fed 336 people, she said.
"I'm anticipating there will be about the same," Wolfe said. "Maybe a little bit more, because our numbers have been slightly more elevated this year than like this even this time last year, which is hard to believe."
Manna Meal is limiting the number of volunteers working in its kitchen to three. That means its 10-person staff will absorb the extra work in preparing the Thanksgiving meal, she said.
"They're taking all that on while we're still feeding 400-and-some people a day, normally," Wolfe said. "It's a lot. And they've absorbed it all. This group of individuals that works with us, they are amazing. They are good, and very mission driven. Because I don't know that we could have done what we've done without those exact people.
"And this is all a free dinner. We're more than happy to partake in that."
Thursday's dinner will include turkey, mashed potatoes, sweet potato pie, macaroni and cheese, and rolls.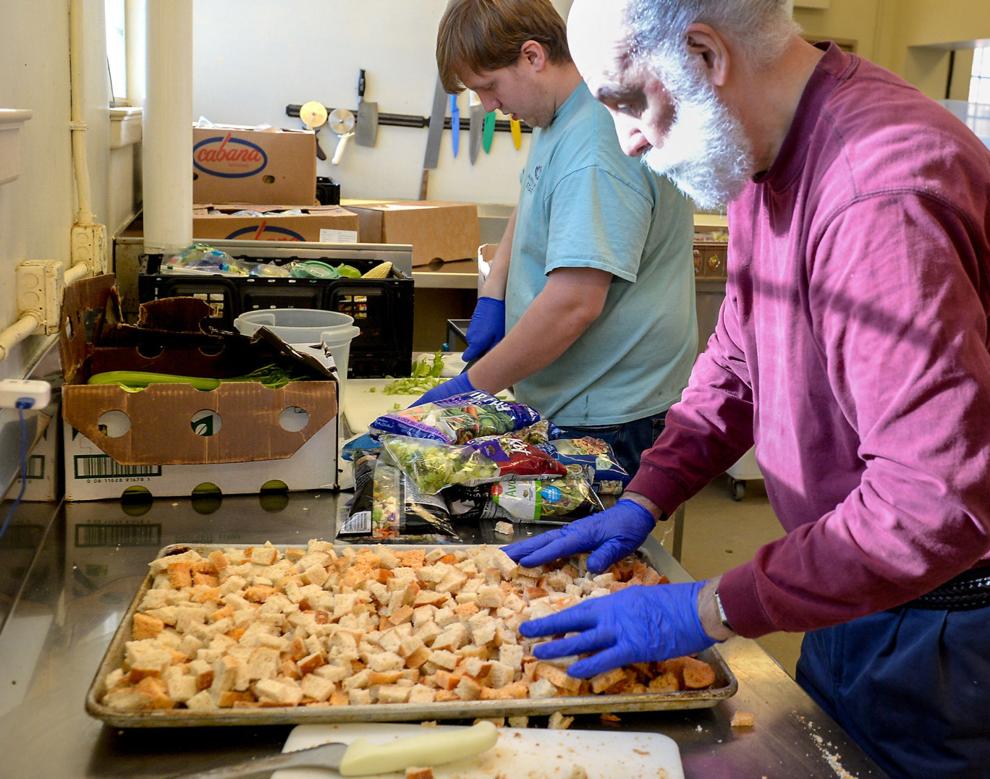 Wolfe said the Thanksgiving meal will be "elevated,' compared to meals Manna Meal typically serves.
The staff will decorate the room and put out table cloths.
The soup kitchen is still serving food in to-go containers — another COVID-19 precaution. This meal will be served from plastic containers, instead of Styrofoam.
Wolfe said she wants the dinner to feel special to the people who come.
"Everyone deserves to celebrate," Wolfe said. "And it's nice to be able to do that for them, for anyone that wants to come through the door. No judgments. It's just, 'Hey, we're here. Come sit down with us.'"
The Thanksgiving meal will be served from 11 a.m. until 1 p.m. Thursday at Manna Meal, 1105 Quarrier St.