The people of Clendenin would just like to move on.
It's been a grueling five years. The June 2016 flood tore no community apart like this northern Kanawha County town. Reminders of the devastation linger as bureaucracy has tried its best to slow Clendenin's comeback. But residents who never left say it's the future keeping them here.
"We're over this flood. Clendenin's back enough," said Dave Knight, a resident and local business owner. "We're looking forward."
The new bridge on the Elk River leads right to Yak House Rentals, where Knight runs a growing one-man kayak rental business. More than 700 people, mostly from out of town, rented from the Yak House last year, he said. Knight also operates his insurance business next door on the corner of French Street and Elk Avenue West — both properties marked by the caged kayaks and paddles out front.
Knight said he plans to turn the Yak House, a two-story house with a living space upstairs and deck out back, into a short-term rental for overnight kayak groups. He'll soon start renting mountain bikes as well, just in time for the rail trail that's being built directly through town and expected to be finished this summer.
Downstream from the Yak House, the Division of Natural Resources will soon start construction of a boat ramp on vacant riverside lots where four houses sat before being wiped out by the flood, said Clendenin Mayor Kay Summers. Upstream, construction of a ramp and loading area is underway at the Elk River Public Access — a usual swim spot for locals, Summers said. The state is also building a ramp near where the new elementary school will be along U.S. 119. Clendenin will maintain these ramps after they're built.
The foot of the old bridge leading to Main Street, washed out by the flood, will be reconstructed into a stage, Summers said. The northern hills and Elk River will provide the backdrop.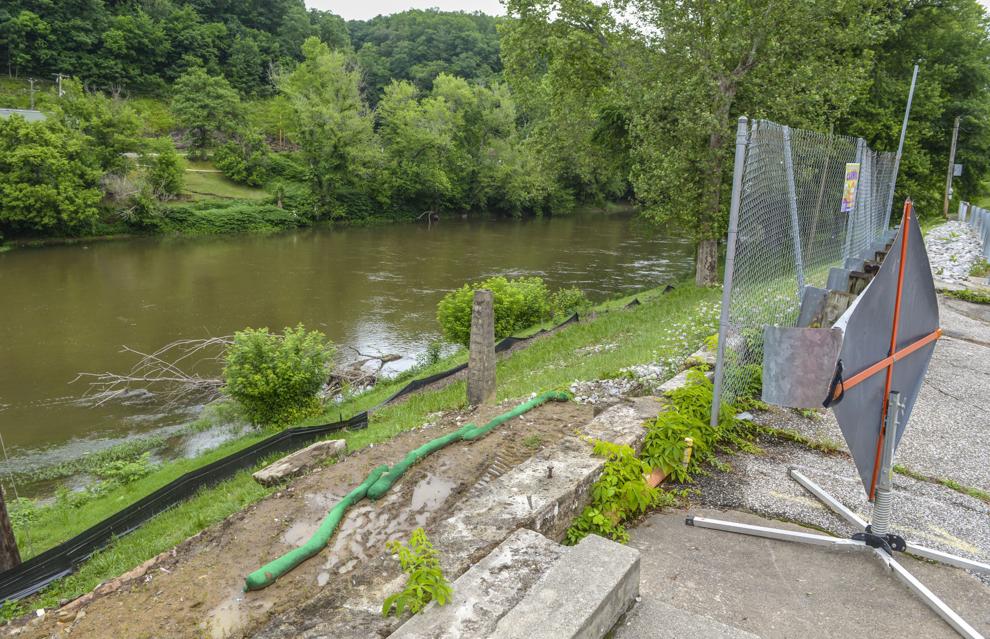 On Main Street, the empty Chase Bank building was bought recently by the owners of Bricks and Barrels, a popular upscale restaurant in downtown Charleston, Summers said. They will operate a brewery and tap room at the corner location.
The building sits riverside on the west side of Main street, in line with local favorites: Elk River Baking Company, Julio's Mexican Restaurant and Momma Payne's Diner. All just around the corner from Paddler's, a beloved watering hole for locals.
"We're looking to become a little Fayetteville," Knight said. "We want to be a destination."
Fayetteville, now-nationally recognized due to its National Park and Preserve designation in December, has been known to West Virginians as a top-tier recreation hub for years now. Tax revenue generated by recent development has sparked the region's economy. While Fayetteville has its upsides, Knight said Clendenin has its own identity and treasured history it can promote.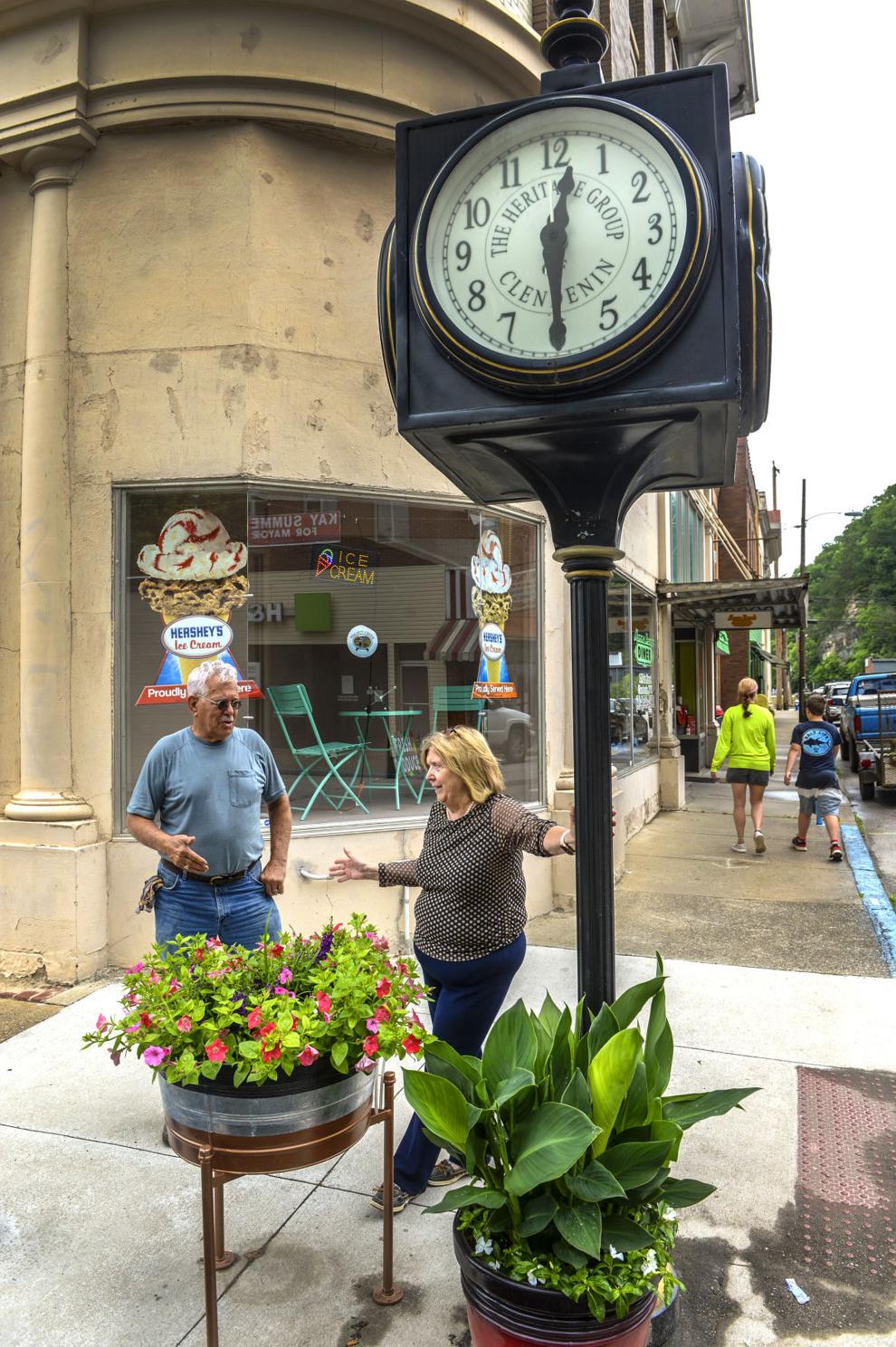 The Elk River is home to plenty of development these days, Summers said. Clendenin still has a ways to go. Creating a recreational tourism economy is part survival. There isn't much widespread economic development happening in the region.
Since the closure of the Union Carbide plant — the world's first petrochemical plant, which once consumed a hillside near Clendenin — population and workforce numbers have not recovered.
"It sounds like we're money crazy, we're really not," Summers said. "But we have to find different ways to make money so we can keep a police force. We have people working for us. We have a street department."
The town's population is 1,227, but that's according to the 2010 Census. Due to delays in the release of the most recent population data, residents of Clendenin won't know how many neighbors they've lost until later this year. Many people left five years ago, and a lot have died since, Summers said.
When the COVID-19 pandemic began 15 months ago, the Clendenin Health Center was one of the first communities in the state to start testing its patients for coronavirus. While nasal swabs were scarce everywhere in those first weeks, the large yellow testing tent in the health center's parking lot served as dim light in a dark time. Now emerging from the pandemic, Clendenin is looking for its moment in the sun.
'I thought it was the end'
Vickie Mahaney's home was raised earlier this month.
Mahaney, 70, lived out of her garage for about two weeks while Federal Emergency Management Agency workers built the raised foundation where her home now sits. Her property just above the riverbank, Mahaney and her neighbors suffered significant wreckage from the flood. While some built their homes back higher, and some families chose to leave, Mahaney and others waited for their turn in the federal flood relief program.
Workers jacked up her home on metal beams, raised nearly 10 feet off the ground. Mahaney said after waiting years for papers to clear, help finally arrived nearly five years to the day of the flood. While office paper-pushers remained slow, the workers sent to Mahaney's home raised the entire structure in swift and dramatic fashion, she said.
"The [head] guy said, 'Boys, get on the corners and watch,'" Mahaney said. "I sat here and watched in awe."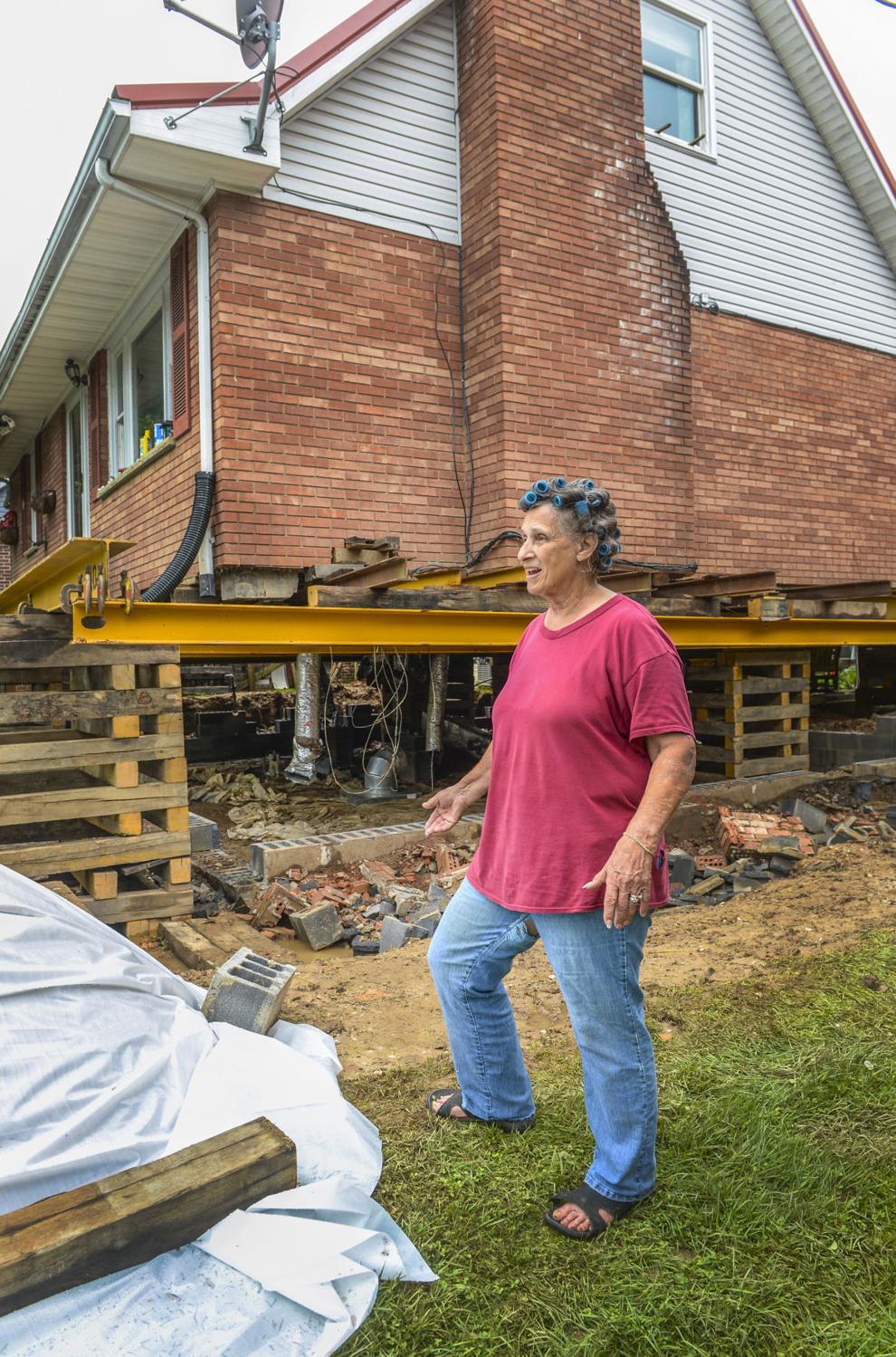 The last five years haven't been all bad. About 38 inches of water flooded into Mahaney's home in June 2016, but she's worked to fix it up, she said. It's been the threat of the next flood — and for five years, Mahaney and neighbors have lived with their homes in the same vulnerable positions.
FEMA brought in new homes for some low-income residents along the base of the hillside, where flooding caused damage similar to homes on the riverbank. These modern-style homes were trucked in and pieced together in two or three large sections each, Summers said. The agency doesn't allow anything permanent, like beds or living space, to be placed in the basement of these homes.
These homes suffered from both Elk River flood water and from heavy rains rushing down the mountain — all pooling together at the base of the hillside. Even the basements of the homes further up the bank, where Mahaney said she found safe haven as the water level rose, weren't safe from leakage that day. Wash-off from the mountain made its way into her friend's basement, she said.
It was still safer than her place, where Mahaney said she raced from a neighbor's backyard after water started inching toward their toes.
"When the river topped his bank, I grabbed the dog and got back down [to my house,]" Mahaney said. "I hadn't looked out front, but there was two feet of water out front in the street."
Residents who were around in both June 2016 and June 2021 have similar stories of that day, but the more vivid memories are of the extensive cleanup efforts afterwards. Had West Virginians, youth, faith and nonprofit volunteer groups not come in droves in the months following, Summers said, recovery would have dragged on for years.
Summers, who was reelected as mayor June 8 after holding off two write-in challengers, said the politics and bureaucracy affiliated with disaster cleanup can make one question why exactly they entered public service in the first place. Summers was first elected in June 2019, so while she wasn't top gun during the flood, the bulk of the long-term recovery effort has fallen into her lap.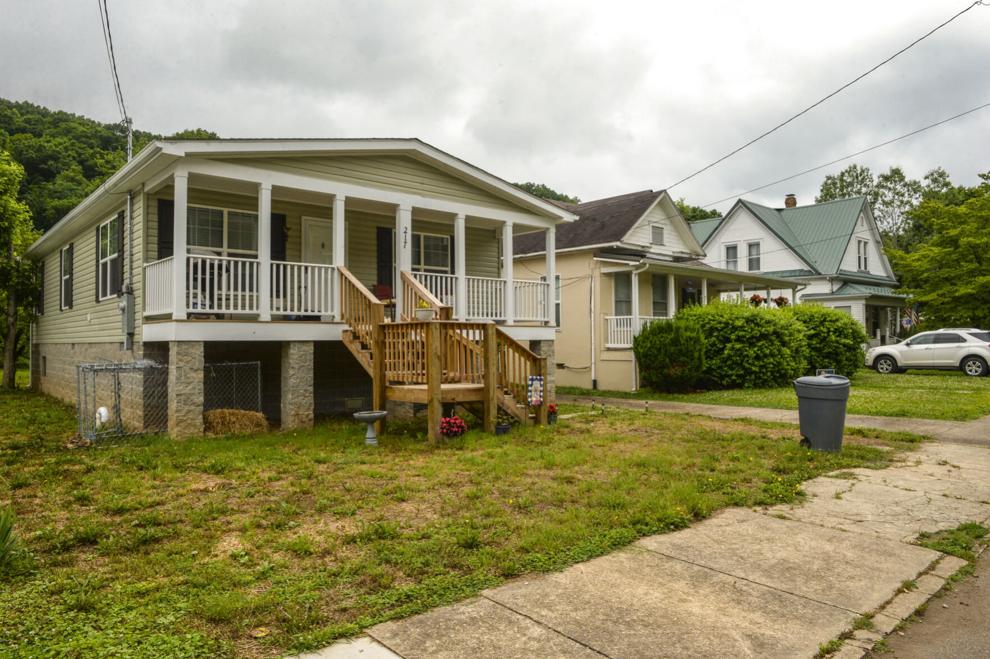 Almost 9 feet of flood water poured into Summers' home, she said, and the river snatched two of her family's cars. A Clendenin resident for more than 50 years, Summers said she entered the world of politics so she could help her neighbors. One term down, it's now the major infrastructure upgrades needed that threaten the town's future most.
With $460,000 coming into the city's bank account via the American Rescue Plan, Summers said even that will just make a dent. New floodgates, stormwater drains and the new elementary school are expensive, and they all badly need funding, she said.
It's difficult to move forward when a number of big brick reminders of the devastation are scattered throughout the town. The old elementary school — formerly Big Sandy High School — still stands, rotted and decaying. Summers said today the century-old building serves only as a hotspot for people using drugs or hiding out. The Clendenin Public Library now resides in the basement of the health center, but the flooded out old library still stands on Cardinal Street. Smith's grocery store across the river remains unoccupied. And not all of the flood-damaged houses have been torn down.
Summers secured $109,000 at a recent Kanawha County Commission meeting to fix a drain that's been in disrepair since before the flood.
"The previous administration decided they didn't like [this drain], and they put two truckloads of cement down this hole," she said. "And what happened? It stopped up all the drains. So all the drains backflow into the buildings. This has been going on since 2015."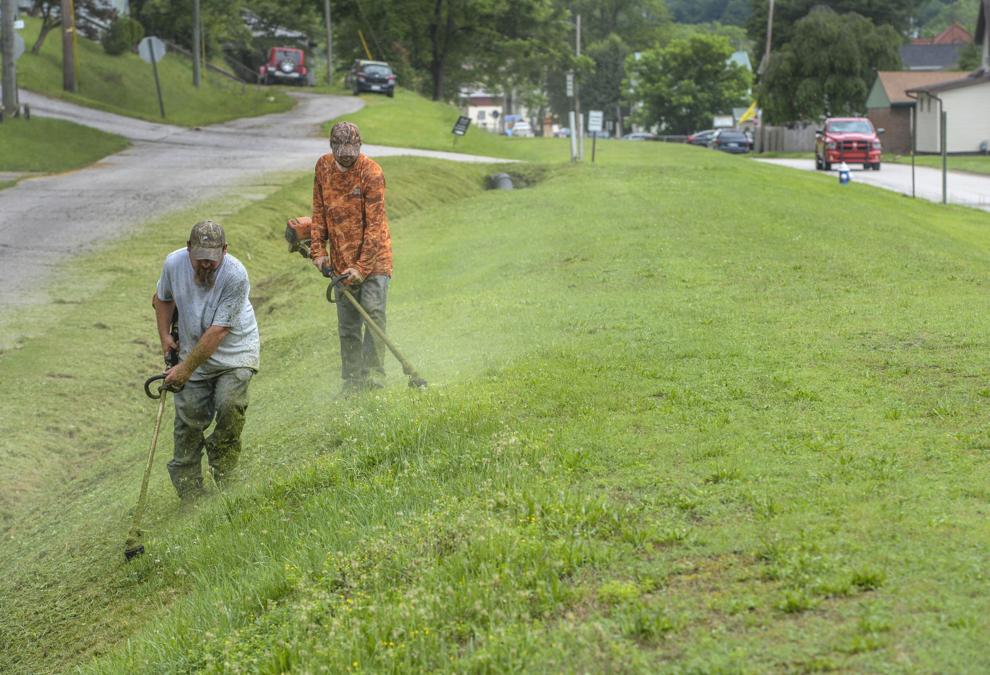 One long-awaited activity in the return to normalcy — the recreation center next to City Hall will soon reopen for the town, Summers said. The facility serves as the community hub for senior citizens.
"For five years they haven't been in here," Summers said. The hope for a reopening is the second week of July.
The mayor said she stays concerned for Clendenin's elderly residents, who haven't had many outlets to connect in the last five years. She hopes this can return some semblance of social life. Affordable housing for seniors remains one of Summers' top priorities, she said.
Bill Sloan, a Clendenin resident, credited Summers for the progress she's made in her first two years in office. Standing on the corner of Main Street, Sloan said five years ago you probably couldn't have convinced him that the town would ever make it.
"I'm impressed at how far we've come," he said. "In the beginning, I thought it was the end."
Although, Sloan said, you're not going to get him to stick around again if Clendenin experiences another thousand-year flood.