Trooper Newton Higginbotham followed a woman from her night shift at a gas station. He pulled her over and approached her vehicle.
"I'm going back to my car, and when I come back, I want all your clothes off," the West Virginia State Police trooper said, according to a lawsuit filed against him in federal court.
It was nearly midnight on a back road in Petersburg. The woman was on probation on charges tied to drug use and didn't want to risk going back to jail. So she took her clothes off. Higginbotham sexually assaulted her, putting his fingers in her vagina, according to internal police records and a lawsuit. The assault lasted about two minutes until a car drove past, ending the encounter.
"Don't tell anyone this happened," the woman said Higginbotham told her.
As authorities investigated her allegation, another woman came forward and accused Higginbotham of another sexual assault.
Higginbotham claimed both encounters were consensual, but acknowledged to a State Police investigator that he used his status as a trooper to get himself alone with the women. Both women were in vulnerable positions — one on probation, the other seeking the trooper's help obtaining a domestic violence petition against her husband.
"It has been determined that reviewing the content of each interview conducted as a result of this Inquiry would lead a prudent person to believe the allegations made by both females," 1st Lt. Kevin Smouse wrote in the report.
Higginbotham resigned, but he was never charged.
The FBI investigated and determined a sexual encounter occurred during the traffic stop, but it was consensual. According to the State Police, the FBI agent never interviewed the second alleged victim.
Regardless of the State Police's investigative findings, state officials said they were "without sufficient information" to admit or deny the allegations lodged in the lawsuit before deciding to settle.
The State Police internal report, which had not previously been made public, was obtained via Freedom of Information Act request. However, the State Police redacted the specific sex acts Higginbotham is said to have performed.
Higginbotham declined an interview request.
Despite the forceful admission from State Police, Grant County Prosecuting Attorney John Ours did not charge Higginbotham.
"If the FBI and U.S. Attorney's Office aren't into it, then I'm not either," he said. "Part of the decision a prosecutor has to make is, is this case easy to prove beyond a reasonable doubt."
Several experts in criminal law and working with sex crime victims criticized the handling of the Higginbotham case.
William Ihlenfeld, a former U.S. Attorney for the Northern District of West Virginia, took umbrage with Ours' statement.
"If you're not trying the tough cases, then you're not trying the right cases," Ihlenfeld, now a Democratic state Senator, said.
The vulnerability of the two alleged victims is no coincidence, according to Camille Cooper, a spokeswoman with RAINN, a prominent anti-sexual assault organization.
"People who exhibit predatory behavior will look for people to target that they can easily discredit," she said. "That's why women with drug problems, women who have criminal records — offenders will target those women because they're vulnerable, and they're easy to discredit."
Cooper questioned the independence of the investigation, as did Loree Stark, legal director of the American Civil Liberties Union of West Virginia.
In a place like Grant County, with fewer than 12,000 residents, a prosecutor should not be investigating the same officers he works with on cases every day, Stark said. If prosecutors opt against charging an officer, they should provide a clear reason why.
"In order to hold themselves accountable, they should be open about these things, they should be transparent about these things, and there should be a paper trail from point A to point B," she said.
Superintendent Jan Cahill declined an interview request and did not answer specific questions. In a written statement, he said there are differences between State Police's internal, administrative investigations and criminal investigations — namely the rules of evidence and the rights of the accused. He said the department can't speak for prosecutors who declined to bring cases, or insurers who decide to settle lawsuits.
"Higginbotham was investigated both criminally and administratively," he said. "Allegations of misconduct were substantiated based upon preponderance of the evidence; again, where rules of evidence and Fifth Amendment privileges do not apply as they do in a criminal matter. The Department of Justice chose not to pursue the matter criminally."
A Gazette-Mail review of other State Police disciplinary records reveal other alleged criminal behavior the agency substantiated. In 2015, investigators determined that Trooper Richard Spearen falsified DUI reports to "justify productivity." In 2016, they determined that Trooper Steven Demaske was moonlighting as private security at a bar with his State Police cruiser and uniform (a felony offense). Spearen resigned. Demaske was fired. They both eluded criminal charges.
In other words, even when police explicitly wrote, as with Higginbotham, that their troopers committed a crime, the troopers were quietly forced out of the department, but steered free of public or criminal scrutiny of any kind.
Calling the cops on a cop
On Sept. 2, 2017, Higginbotham went to meet a woman at her mother's house.
He was supposed to photograph the woman's injuries so she could use the photos to get a restraining order against her husband.
She said the trooper took some pictures, then said he was going back to his car. He told her that when he came back, if she was still in the living room, he would know she didn't want to do anything sexually. But if she was in the bedroom, he would know she "wanted him," according to her interview with the State Police.
She said she rejected his offer and called his behavior "disgusting," which made Higginbotham mad.
"Well, I'm in your home alone and I don't know if you have weapons on you and I'm going to need to search you," the trooper said, according to her.
During the search, Higginbotham joked, laughed and said "you know you like it," by her account.
Higginbotham violated her during the search, she said, requiring her to throw her elbows into his vest and call a friend to intervene and help end the episode.
After the alleged assault, Higginbotham did not appear at a hearing where a judge considered imposing the restraining order against the woman's husband. The judge denied the request.
The State Police withheld specific details of the sex act Higginbotham allegedly performed, citing "privacy" issues. However, its investigation states that the search was performed in a manner indicating it was performed for sexual gratification, not officer safety.
"Stop, stop, you're not searching me you motherf-----," she said to him, according to the State Police.
Higginbotham acknowledged that he searched her for sexual purposes but denied assaulting her or imposing any kind of ultimatum, the report said. He said she "got a little flirty" with him and she "flashed me." He claimed she invited him to frisk her, saying "you can pat me down if you want."
The FBI never interviewed the woman. The State Police report does not indicate why. The bureau declined to answer questions and denied a FOIA request for its report.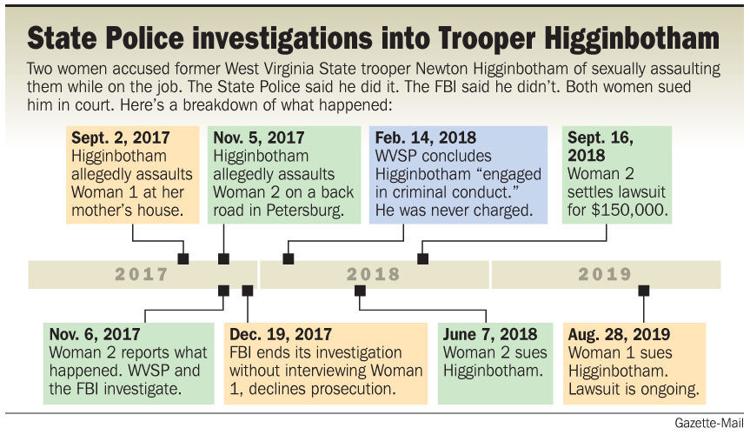 Two months after the first alleged assault, Higginbotham turned on his police sirens to pull over the second woman who would accuse him of assault.
She had just finished her night shift at a gas station. She said Higginbotham, who would stop in regularly for gas and chewing tobacco, told her as she left that it would be "cool" if he "pulled someone over and they took their clothes off," she said to State Police.
Higginbotham followed her from there and pulled her over and, as she told the State Police, coerced her to remove her clothing. She said she felt afraid to decline the offer because she "didn't want to take the chance of going back to jail."
After the alleged assault, she called the Grant County Sheriff's Department, which brought in the FBI.
Higginbotham told investigators that when he spoke to the alleged victim at the gas station the night of the alleged assault, she asked what he was doing that night. He said he was looking for drunk drivers. She then told him she used to be a stripper, and if he pulled her over "it would be crazy and you would enjoy it." So he pulled her over "to go mess with her" and she started taking her clothes off and masturbating. She then took his hand and pulled it toward her genitals, prompting him to penetrate her with his fingers — all according to Higginbotham.
He said she was a "willing participant" and "she encouraged it."
This statement, according to Cooper, of RAINN, actually supports the victim's allegation — not Higginbotham's denial. Even taking him at his word, she questioned what kind of ethical law enforcement officer engages in two consensual sexual encounters that occur while on the job in a two-month period.
"Here you have a cop, that, regardless of what he's saying regarding whether it's consensual or not, he's admitting that this conduct happens," she said. "That's so far over the line as to acceptable conduct for a law enforcement officer that it lends weight to the victim's statement, it doesn't detract from it. There's a lot of emphasis on whether the victims are credible and not a whole lot of emphasis on his credibility."
According to the State Police, FBI Special Agent David Rouser definitively concluded that Higginbotham "screwed up" and engaged in a sexual act with the woman he pulled over. However, he said the encounter was consensual and didn't believe Higginbotham violated her civil rights.
The State Police and the FBI found some inconsistencies in the accounts of both women. However, they processed them differently.
For the FBI, Rouser said the inconsistencies left him "inclined to assign more weight to Trooper 1st Class Higginbotham's version of what transpired."
After the alleged assault, Higginbotham estimated that he called the woman between five and eight times. She answered twice and recorded the calls and gave the tapes to investigators. Rouser said she sounded at ease, the report states, and Higginbotham sounded friendly, "not as a typical rape victim would converse with a subject."
The State Police, however, found different witnesses who spoke to the alleged victims after the reported assaults. They reportedly told investigators what the women told them at the time, and how upset they sounded when they did.
"How do you call the cops on a cop," one alleged victim thought after the traffic stop, as she recalled to the State Police.
In sharp contrast to the FBI, the State Police didn't give much weight to minor discrepancies.
"Although some inconsistencies were identified in the fine details of each allegation, the crux of each allegation were consistent and supported by subsequent interviews," the State Police wrote.
This line of thinking is a common pitfall for law enforcement, Cooper said. Spotty memory is a symptom of trauma, not a reason to discredit an alleged victim of sexual assault. Rouser's notion of how a "typical rape victim would converse with a subject" is misguided if he doesn't understand trauma's effect on memory, Cooper said.
Although the FBI did not interview Higginbotham when its agents became aware of the search-and-frisk allegation, the State Police did. Immediately after his interview about the encounter, Higginbotham resigned from the State Police.
When the offenders get away with it, victims stop coming forward to try to hold them accountable, said Nancy Hoffman, state coordinator of the West Virginia Foundation for Rape Information Services.
She reviewed the investigation and pointed out several criticisms of investigative techniques and treatment of alleged victims. Hoffman said she didn't want to rush to judgment with a limited set of facts, but she questioned what more authorities really need to hold someone accountable.
"He admitted it, they've sustained the findings, and if they had lawsuits and settled in favor of the victims, I don't know what else needs to be said," Hoffman said. "The only person who paid no price for any of this was the offender."