A West Virginia State Police trooper issued Dimitrios Patlias a warning for failing to drive within his lane, just before seizing more than $10,000 in cash from him and his wife.
On June 9, Tonya Smith — who was almost eight months pregnant — and Patlias were headed to the Hollywood Casino in Jefferson County. They had capitalized on several promotional offers and had 13 and 14 (respectively) $100 gift cards on them, along with the cash.
The trooper pulled them over, Smith said in an interview, and ranged from accusing them of smuggling cigarettes, to having drugs in the car, to gift card fraud. After searching the car, their persons, and Smith's purse, the trooper let them go with a uniform warning citation.
However, he also took the $10,478 in cash, the 78 "gift cards" in the car, and Patlias' smartphone, according to a property disposition report. Smith said 27 of those cards were gift cards, the rest of them were the kind of rewards program cards you get from any chain business.
Patlias and Smith wound up returning to their home in Egg Harbor City, New Jersey, stripped of all their cash but $2, without ever having been charged with a crime.
"It was a disgusting way of being treated," Smith, a nurse, said. "We work hard for our money."
The seizure was part of a practice known as civil asset forfeiture, where law enforcement officers have the right to lay claim to property they argue was used in the commission of certain crimes.
Under the West Virginia Contraband Forfeiture Act, once property is seized by an officer, authorities can file a motion in civil court — separate from criminal proceedings — to claim the property via forfeiture.
The unusual nature of the proceedings leads to some strange case titles. For instance, in Morgan County, Assistant Prosecuting Attorney Raymond Boyce initiated one case in circuit court, naming a Hyundai Elantra, an ignition key, a cell phone, a digital scale, and $523 in U.S. currency as respondents.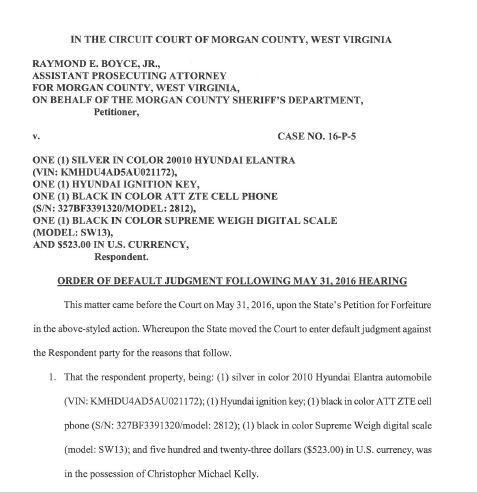 In that case, the court granted the forfeiture. The Morgan County Sheriff's Department received 90 percent of proceeds, and the prosecutor's office received the other 10 percent, as per state code.
Once a prosecutor initiates a forfeiture proceeding, the person whose property was seized will likely need legal aid to file motions in response to reclaim their property, where the cost of a lawyer often outweighs the value of the goods seized. Upon 30 days of inaction after the prosecutor's motion, the property is forfeited to the state by default.
Even if suspects are acquitted of the charges filed against them, they still need to go through the civil procedure to reclaim their property.
In February, the state House Judiciary Committee considered a bill that would tie civil asset forfeiture to its respective criminal proceeding, i.e., if you're acquitted criminally, the seized property cannot be forfeited. The bill died in committee.
Those in support of the practice say the ability of law enforcement officers to use forfeiture laws can hamstring drug dealing networks by leaning on their finances, which can be more effective than criminal charges. They also point out that the proceeds can help police buy much-needed equipment.
Smith said the law seems to incentivize bad behavior from otherwise good police officers.
"To me, this law, now that I've learned of it, it turns police officers into dishonest crooks," she said. "I feel like I was in a movie."
After the Gazette-Mail reached out to the state police Monday with inquiries about the seizure, and after weeks of Smith calling police, the Jefferson County prosecuting attorney and local politicians, Smith said an officer returned her and Patlias' possessions in full Thursday evening.
When asked a number of questions about the seizure of Patlias and Smith's property Tuesday, a state police spokesman confirmed the details but said he did not know whether the seized property had yet been forfeited.
"A complaint was made by Mr. Patlias, and an active IA investigation is ongoing," he said.
Matt Harvey, the Jefferson County Prosecutor, said the state police notified his office informally of Smith and Patlias' seizure, and he and his staff declined to make any effort toward forfeiture.
The West Virginia branch of the American Civil Liberties Union, which lobbied on behalf of the asset forfeiture reform bill, filed Freedom of Information Act requests to a host of police stations and sheriff's offices around West Virginia, which were provided to The Charleston Gazette-Mail.
The documents obtained and accompanying responses show most agencies don't have any espoused policy or training for officers regarding asset forfeiture. There is no statewide tracking system, and recording varies by county and municipality.
While most records indicated goods were forfeited in accordance with convictions, this was not an absolute rule.
Many of the seizures involved amounts of cash in the ballpark of $1,000. Many of them included automobiles.
The Berkeley County Sheriff's Office said it could not produce a comprehensive list of all items forfeited. However, in the list it could provide, the property included cash, a 55-inch LG TV and a 1997 Ford Thunderbird.
The Monongalia County Sheriff's office sold a long list of property, which included forfeited and abandoned assets, at an auction. The list included a Nintendo Wii with controllers, shoes, jumper cables, a Mickey Mouse watch, a jogging stroller, Legos and others. Regardless of how it was obtained, all the funds went into a forfeiture account.
Most counties said they had no written policy to provide regarding training or general procedure with seizures and forfeitures.
"The Sheriff's Department does not have any documents relating to internal policies, guidance, guidelines or training regarding the process of civil seizure and forfeitures," wrote Jennifer Scragg Karr, assistant prosecuting attorney for Putnam County.
Smith, now a new mother, said the experience left her with "a bad taste in her mouth" for police officers, and now, she'll have to figure out how to teach her son to respect law enforcement while she's afraid to go near them.