A woman has accused a former West Virginia State Police trooper of sexual assault after the trooper entered her home in 2017 to arrest her boyfriend.
The woman, identified as "C.K." in a lawsuit filed in McDowell Circuit Court, named the State Police and Ralph W. Justus, a former trooper in the Welch detachment, as defendants in her filing. Justus has been accused in several lawsuits of using excessive force while on the job.
The lawsuit says the alleged assault occurred around 3 a.m. on March 25, 2017. Justus was placed on paid administrative leave two days later.
A State Police spokesman said last week that Justus no longer is employed by the State Police. An agency spokesman said Monday that his termination was the product of a completed internal investigation, and that a criminal investigation is underway.
In her lawsuit, C.K. says Justus and another trooper entered her home to arrest her boyfriend. The troopers pulled her boyfriend out of bed and assaulted him while placing him under arrest, she claims.
Capt. Joe White, director of the State Police Professional Standards section, said the troopers entered the house under a fugitive-from-justice warrant from Virginia authorities.
C.K. alleges that Justus returned to the house after placing her boyfriend in a police cruiser and had her lift up her shirt and pull down her pants as part of a search. The troopers then left, and C.K. went to her neighbor's house, the lawsuit claims.
At 3 a.m. the next night, the lawsuit states, Justus knocked on the neighbor's door in full uniform, said he needed to speak with C.K. and placed her in his cruiser's back seat. He allegedly told her he could arrest her for harboring a fugitive.
"Defendant Justus then asked Plaintiff what could she do for the State for him not to arrest her," the lawsuit states. "Defendant Justus then said, better yet, what can you do for me."
C.K. says she asked Justus what he was talking about and that he suggested they have sex. She says she refused and told him he should take her to jail. Justus then said, "they told him to come back and arrest her."
After stopping at her house, Justus searched her again and instructed her to go into the house, following her as she did, the lawsuit states.
According to the lawsuit, the power had been shut off to the house, so Justus used a flashlight as he followed her through. He then ordered C.K. into her bedroom, she claims.
"Despite the fact that Plaintiff had already told him she was not going to have sex with him and that she would rather be taken to jail, Defendant Justus, in an improper and excessive use of force, sexually assaulted plaintiff," the lawsuit states.
After Justus left, C.K. reportedly went to her neighbor's house and told him what happened. The neighbor then helped her get to the hospital, where a sexual assault examination was performed, the lawsuit states.
Eric Buckner, an attorney representing C.K., said police did not charge the woman with a crime.
White said Virginia authorities notified his department of C.K.'s allegations, which prompted the internal investigation.
"We were notified by Virginia authorities that she had arrived at a hospital in Virginia and was making allegations of sexual assault involving one of our troopers," he said. "An investigation was opened up at that point, based upon her accusation that she was sexually assaulted."
The West Virginia State Police would not release the Justus internal investigation report.
The McDowell County Prosecutor's Office rejected a public-records request for documents related to an investigation into C.K.'s allegations. The rejection letter revealed, however, that some relevant information has been gathered for a grand jury.
"Information obtained by our Office was obtained for the Grand Jury and cannot be released unless so ordered by our Circuit Judge," says the letter, signed by Prosecuting Attorney Edward Kornish.
There are no indictments on file for Justus in McDowell Circuit Court. Kornish would not comment for this report.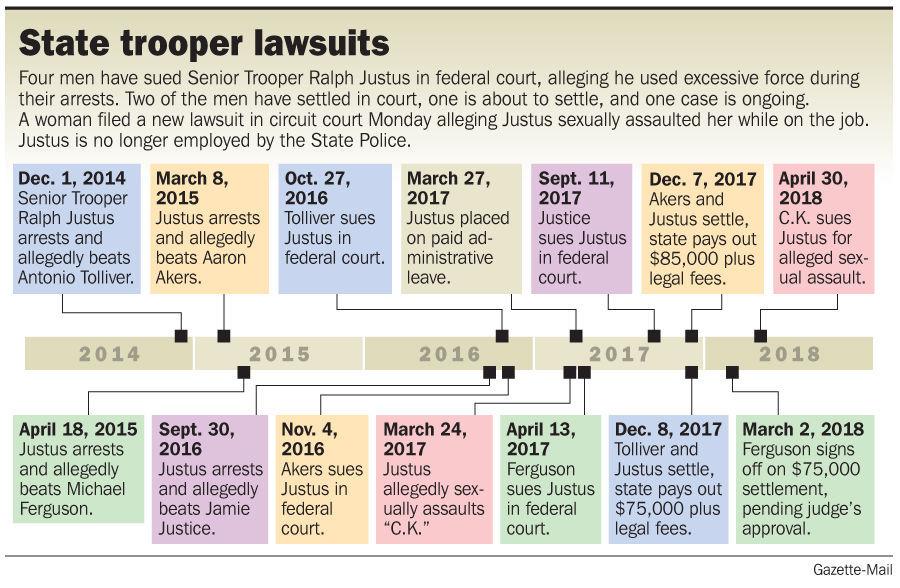 Three of the four cases have ended with the State Police paying out settlements to the accusers before Justus was deposed or the cases went to trial. The first two cases resulted in settlements for a combined total of $190,000. The third settlement, which still needs to be formally accepted by a judge, is on track to end in a $75,000 settlement.
The alleged rape occurred roughly five months after two men had filed lawsuits against Justus in federal court. Justus was placed on administrative leave two days after the alleged rape.
When asked why the department acted so swiftly after the rape allegation and not after two allegations of using excessive force, White said, "It's not uncommon for lawsuits to be filed against members of the State Police. The mere fact that allegations are made that are identified in a lawsuit does not necessarily prompt us to put a trooper on administrative leave while that suit is being litigated."
The Welch detachment has wound up in the spotlight before Justus. The Charleston Gazette reported in 2000 that a trooper was accused of having broken down two doors before finding a Welch man, his pregnant girlfriend and 11-year-old niece hiding in a bar office. The man, Neal Rose, was beaten and hospitalized.
An investigation led to the firing of one trooper and the transfers and suspension without pay of three others. It also uncovered women and alcohol inside the police barracks after the incident. Two of the women were under 21 years of age.