By the time West Virginia State Police Trooper Derek Walker joined the roadside beating of a teenager in Martinsburg last fall — an incident that would prompt a criminal indictment of his partner and a lawsuit against four officers involved — he'd just emerged from a turbulent summer.
In July 2018, he'd been accused of "highway robbery" after seizing $10,000 in cash from a New Jersey couple without charging them with a crime. He was also tangled in a lawsuit with a 51-year-old woman who accused him of smashing her head into the side of a truck during an arrest.
Apart from that, Walker had used force three times in other incidents, which triggered an alert in the State Police's Early Identification System. The system is designed to spot officers who use force three times or draw two complaints within 90 days. State Police Superintendent Jan Cahill and his top staff then review the incidents and decide whether supervision, training or employee assistance is warranted.
The system's warning against Walker was "referred to the Internal Review Board and closed with no further action taken at this time," according to Walker's EIS report, dated Oct. 31, 2018.
Three weeks later, Walker and three other officers beat the Martinsburg 16-year-old in front of a dashboard-mounted camera. They unleashed a flurry of kicks, punches and stomps. Trooper Michael Kennedy, one of the officers on scene, picked up the handcuffed teen after the beating and threw his limp body to the side of the road. He later slapped the teen across the face, twice.
Walker and Kennedy were fired in January. Kennedy faced criminal charges over the incident in an October trial, and awaits a verdict from U.S. District Judge Judge Gina Groh.
Both troopers filed grievances over their firings, according to the State Police. An administrative law judge denied Walker's grievance, a decision Walker appealed. Kennedy's grievance is pending.
Walker and Kennedy, along with two Berkeley County sheriff's deputies, were sued over the incident — something State Police brass are used to.
Data provided by the West Virginia Board of Risk and Insurance Management shows that the State Police has paid about $3.1 million in settlements since 2015, plus about $400,000 in legal fees, in connection with wrongful-action lawsuits involving its troopers. More than two-dozen others are still navigating the legal system.
The lawsuits, often settled without any public awareness, detail allegations of wrongful deaths, sexual assaults, beatings on State Police property and other transgressions.
An analysis of hundreds of pages of internal, criminal and legal records shows a clear pattern. The troopers get cleared internally. The lawsuits get settled with taxpayer money. The troopers go back to police work.
State Police Maj. Joe White, who runs the agency's Professional Standards section that oversees officers' conduct, said all organizations have cases like Walker and that there's no way to prevent them.
"There's never going to be a policy or procedure or rule or guideline or early identification system that's going to catch outliers," White said. "If somebody is going to do something that's outside of our policies and procedures, and they're not going to stay within our guidelines, every so often, you're going to have something like what happened in Martinsburg occur."
However, available data shows that the EIS acts as more of a clearinghouse for officers' uses of force than any attempt to stymie excessive force.
Between 2015, the oldest available data, and September 2019, the State Police's Internal Review Board reviewed 103 officer uses of force from a pool of some of its, statistically speaking, most aggressive officers. Not a single review prompted action. This report is believed to be the first public accounting of the State Police's EIS data.
This data excludes the year 2017, when the State Police says it failed to maintain EIS logs, despite a state law requiring them to do so.
"As far as having a quarterly report or an annual report for '17, I'm just going to tell you we just don't have it," White said. "However you want to write that up or document it, I just ask that you don't beat the colonel up over it. That's my responsibility. I'll own it."
The State Police declined to identify the last time the IRB found an officer's use of force warranted ordering training, supervision or the Employee Assistance Program the state law allows for.
At least four officers reviewed and cleared by the IRB have been sued for their on-the-job conduct, which would go on to cost $1.87 million in settlements and nearly $200,000 in legal fees, since May 2014. Some of those officers settled the lawsuits before triggering an EIS alert, some after — Trooper Jarod Tupper settled an excessive-force lawsuit in between two separate IRB reviews (neither of which required him to undergo training, supervision or an employee assistance program).
The EIS data underscores the original flaw in the State Police's disciplinary protocol. When troopers use force or a citizen files a complaint against them, troopers investigate their own, and the department fights to keep its findings private.
Putting a name on a list that "virtually nobody knows exists," let alone knows how to access, is not any real deterrent to civil rights abuses from officers, said Eli Baumwell, policy director for the Americal Civil Liberties Union of West Virginia, after reviewing the Gazette-Mail's findings.
"When law enforcement sees they're covered when these investigations never turn up misconduct or never result in prosecution, that sends a clear message to law enforcement that we've got your back," he said. "That's the opposite of being proactive."
In the rare occasions an EIS alert leads to officer discipline, it sometimes comes with an acknowledgement from police — internally — that a trooper committed a criminal act.
Records show that the State Police substantiated allegations of misconduct of Trooper Newton Higginbotham sexually assaulting two women, Trooper Richard Spearen of falsifying police reports to justify productivity during a DUI patrol, and Trooper Steven Demaske of moonlighting as a private security guard while using department resources (a felony).
All three troopers were fired or resigned, but they were never criminally charged — even though the State Police believed they had committed crimes.
Cahill declined interview requests for this report and did not answer specific questions. In an emailed statement through a spokeswoman, he said the State Police doesn't decide who gets prosecuted or what lawsuits get settled — prosecutors and insurers do that.
He defended the EIS, saying it's useful in identifying employees in need of assistance and "enabling intervention with appropriate support to prevent more serious disciplinary issues from arising, if necessary."
The superintendent added that complaints against the agency have plummeted. A Gazette-Mail analysis of 20 years of annual reports shows that allegations of misconduct have decreased dramatically, although the rate at which complaints are substantiated has slightly increased. The reports don't measure uses of force by troopers on an annual basis.
Taxpayers foot the bill
Former State Police trooper Ralph Justus was accused of raping a woman after arresting her boyfriend at their residence in March 2017. Justus settled the case for $395,000, plus about $18,000 in legal and attorneys fees.
Justus alone would run up a tab of about $975,000 over six settlements coupled with legal fees, mostly for alleged beatings of suspects. One particularly vivid allegation states that Justus and Tupper knocked a suspect unconscious on the parking lot of the Welch detachment, requiring hospitalization. A seventh lawsuit against Justus is pending.
The State Police didn't place Justus on administrative leave until the first two lawsuits had been filed and a woman said he had sexually assaulted her. He resigned in April 2018, amid more lawsuits and settlements.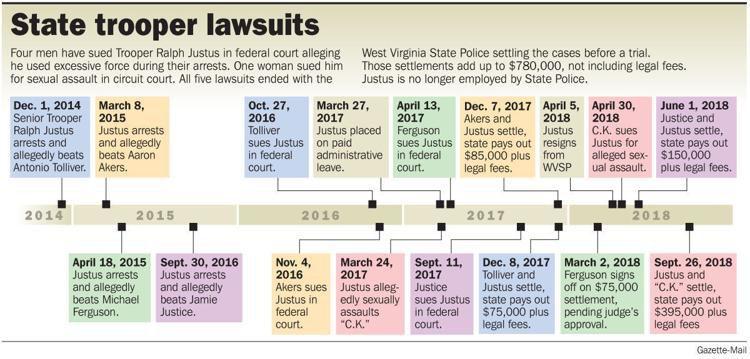 He's not the only trooper accused of sexual assault. Two women accused former trooper Higginbotham of sexual assault in separate cases. One settled for $150,000. The other case is ongoing.
Trooper B.D. Gillespie settled a wrongful-death case for $700,000 after fatally shooting 18-year-old Timothy Hill at the foot of Hill's driveway in 2014. The early morning confrontation that led to Hill's death concerned some wet underwear two others had thrown on Gillespie's police cruiser as a prank after they went swimming.
Two men, Chester Cyrus and Eric Leary, filed lawsuits in 2014 against Troopers Michael McMillian and Codie Wingo. Leary claimed McMillian "curb stomped" him in the midst of a beating. Cyrus said he was repeatedly beaten by multiple officers until he defecated on himself.
The lawsuits were settled for $165,000 each, with a combined $80,000 in legal costs. In 2018, the Internal Review Board reviewed three uses of force by McMillian in a six-week period. The board opted against requiring any training or supervision.
Between 2014 and 2019, at least four officers who triggered EIS alerts and IRB review settled lawsuits that had been filed against them. The officer count might be higher, although the State Police claims to not have EIS data from 2017, and the law only requires the agency to preserve disciplinary data for four years.
While lawsuits are only allegations, the payouts can be telling in themselves, said Max Schanzenbach, a law professor at Northwestern University.
He co-authored research on the Chicago Police Department, identifying a strong relationship between citizen complaints and legal payouts. He said it's typical to see a small number of officers in a unit commit the vast majority of wrongdoing.
"What we find ... is that these folks are racking up significant allegations over a long period of time before they get whacked with a civil liability," Schanzenbach said. "You can actually make pretty good predictions about who's going to be involved in a significant civil judgment, and I think those types of judgments are pretty good indicators that there was a really bad act that happened."
He said a program like the State Police's EIS should be used to rid the force of dangerous troopers before taxpayers foot a bill or someone gets hurt.
"Any employer in any context who had this kind of information about its employees, especially when they're dealing with the public, would be making use of it," Schanzenbach said. "Why our public agencies are declining to do so is an important question."
Melissa Giggenbach, a former public defender and current program director of the WV Innocence Project at the West Virginia Univerisity College of Law, said she's concerned with a number of "alarming" use-of-force lawsuits navigating the federal court system against state troopers.
However, she said, one should use care when connecting the EIS data and legal settlements, given the reported decrease in complaints against the State Police since 2000.
Cahill made a similar point. He said no system can entirely eradicate wrongdoing, but, as a whole, State Police policy has been effective at reducing allegations of misconduct, and preserving the public's trust while protecting the rights of employees.
"The fact that the IRB reviewed employees who were named as defendants in civil litigation does not indicate that the EIS is a flawed system," he said.
One state trooper; 3 lawsuits; 13 investigations
In September 2015, Trooper Nathan Stepp came to believe (mistakenly) that Josh Fisher was on home confinement when Stepp found him, his brother, Justin, and some friends at the Go-Mart in Elkview. By the end of the encounter, the two brothers were under arrest and Josh Fisher's elbow was fractured.
The incident marked Stepp's second time under internal investigation since July 2015, according to the earliest records the State Police provided, due to the four-year records retention policy. The episode marked one of 12 times police would open and close investigations into Stepp's use of force in a three-year window. Fellow troopers investigated and cleared Stepp each time.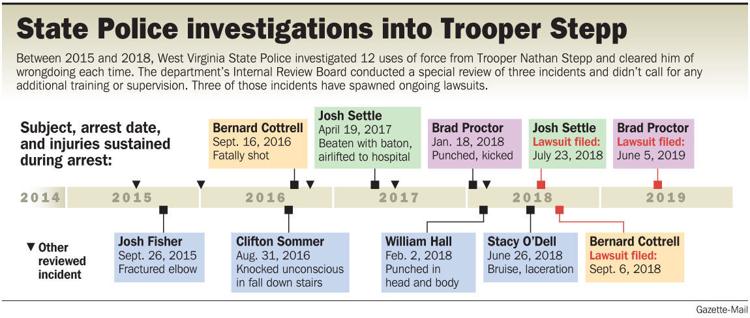 In separate interviews with the Gazette-Mail, Justin Fisher said Stepp "chokeslammed" him. Josh Fisher said Stepp kicked his elbow in, fracturing it. Stepp said in a written statement to investigators that he tackled Justin Fisher and fractured Josh Fisher's elbow while trying to "apply pressure" to free his arm to handcuff him.
An internal investigation cleared Stepp of wrongdoing.
About a year later, 67-year-old Clifton Sommer, cuffed at the wrists and under arrest by Stepp, was knocked unconscious when he tumbled down the stairs and slammed his head into a slab of concrete.
Stepp told the trooper conducting the internal investigation that Sommer tripped over his loose-fitting pants, causing the fall.
Sommer said Stepp pushed him.
State Police records of the internal investigation note Sommer's claim that Stepp pushed him down the stairs, but nothing in the file indicates that investigators ever asked Stepp if the allegation was true. Stepp said in a written statement only that the handcuffed Sommer's pants sagged and dropped when Sommer let go of them at the waist.
"The gentleman then missed the first step and began to run down the stairs due to losing his balance. Upon reaching the ground, the gentleman fell on his back and struck his head," Stepp wrote.
The internal investigation, the fourth into Stepp's conduct in a year, cleared him of wrongdoing.
Two weeks after Sommer was knocked unconscious, Stepp and other officers fired 29 rounds at Bernard Cottrell, a 65-year-old schizophrenic man who allegedly pointed a shotgun at them. Cottrell died. An internal investigation, the fifth into Stepp, cleared him and the others of wrongdoing.
The 12 incidents and subsequent internal investigations into Stepp's conduct go like this: Fellow troopers investigate the use of force and systematically clear Stepp of wrongdoing.
Three of those suspects would go on to file lawsuits against Stepp — one from Cottrell's estate, alleging wrongful death, and two from other men claiming that Stepp beat them viciously and without justification. All three lawsuits allege drastically different courses of events from those depicted in the department's internal investigations.
The three lawsuits are ongoing, although in a holding pattern, given Stepp's recent deployment this past summer with the National Guard.
For Russell Williams, an attorney handling two cases against Stepp, the internal investigations are part of the problem. How does it make sense, he asks, to trust troopers to adequately investigate the conduct of co-workers who put their lives in one another's hands?
"Sheriff's departments in this state, if there's an issue, they usually have an investigation done by the State Police, or they get an investigation from a neighboring sheriff's department," he said. "The fact that these guys get to literally investigate themselves, it just blows my mind."
On Feb. 23, 2018, Stepp deployed his third use of force in a 36-day window. This triggered an EIS alert and IRB review. As with every other officer's use of force the IRB considered, it did not recommend any training, supervision or assistance for Stepp.
"Internal Review Board considered the facts and circumstances surrounding each incident," the one-page report states. "The Board determined 'no further action is required' per Legislative Rule."
A few months later, Stepp and another officer charged a woman with driving under the influence. In the course of her arrest, Stepp said she tried to "jerk" away from the officers while handcuffed, falling to the pavement, cutting her chin and shoulder.
An internal investigation, the thirteenth into Stepp, cleared him of any wrongdoing.