The Speaker of the House of Delegates said Thursday an investigation is underway regarding a lobbyist spotted using an access card to enter the Capitol building.
"Our security personnel have run through who came in with cards at different times and they've come back and talked with us and said we're going to speak with the people that they've identified as possible people who came in around that same time," said Speaker Tim Armstead, R-Kanawha.
Electronic access cards are generally only granted to state employees, elected officials and members of the media.
A video provided to the Charleston Gazette-Mail appears to show Chris Hamilton, a lobbyist and known ally of Gov. Jim Justice who represents the West Virginia Coal Association -- where he is the senior vice president -- and the Business Industry Council, entering the building.
After watching the video, which is taken from a distance and is of fairly low quality, Hamilton said last week he believes it is him entering.
He declined to comment on the investigation.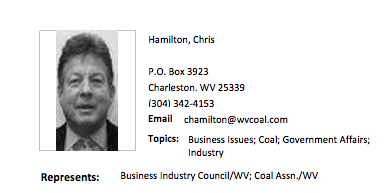 Armstead's announcement came after House Minority Whip Mike Caputo, D-Marion, sent a letter to Armstead, and the media requesting Armstead investigate Caputo's floor speech about an unidentified lobbyist allegedly entering the building via an access card.
"I write today regarding my remarks made in the House Chamber about a lobbyist entering Building 1 of the Capitol with a swipe card," he said. "I would like to know if you have obtained any information about this incident and if so, what action was taken in response."
The Department of Military Affairs and Public Safety confirmed an investigation is ongoing.
When asked what happens when the investigation concludes, Armstead said he is still working on that, as the House of Delegates does not have specific policy on the matter.
"There's not really necessarily a policy in place for that, because, we've never really, to my knowledge had a situation where someone was using a card that had not been authorized to them," he said. "So we're trying to figure out whose card they were using and we'll have to take appropriate steps at that time."
The Gazette-Mail reported last week that while Hamilton seems to have used another person's access card, only one lobbyist was issued one from the state.
That lobbyist, Larry Puccio, represents two of Gov. Jim Justice's companies, and a laundry list of others. He received the card when he began leading Justice's transition team.
When asked whether lobbyists should have special access to the building, Armstead said they should not.
"I personally do not think so, but that's just my personal opinion," he said. "I don't want there to be certain people who can pay to have access and other people not have access. I would rather, other than officials who work here and members of the building — those people should have access cards, but I believe, personally, that if we're going to ask the person who comes up here and watch the session any day, I think everyone else should as well."
Kevin Foreman, director of Capitol Police, could not be reached to comment for this report.