Legislation to phase out West Virginia's personal income tax in annual multiples of at least $150 million passed the House of Delegates on a 77-23 vote Monday.
Several unresolved questions remain about who the bill will help or hurt.
Offered as a counterpoint to Gov. Jim Justice's plan to cut income taxes by 60% in the first year, House Finance Chairman Eric Householder, R-Berkeley, conceded Monday that House Bill 3300 is intended, in part, to curb state government.
"It does control the growth and rate of spending," he said. "That is important because many of our citizens have real concerns that growth in state spending is out of control."
West Virginia's $4.57 billion general revenue budget has been flat for the past two years, and Justice has called for flat budgets for the next three years. That includes proposing a 2021-22 budget bill that is nearly $5 million less than the current budget.
Critics of the House plan said Monday there is too much uncertainty over the bill, particularly over what programs and services would need to be cut if the tax cuts fail to generate levels of economic growth promised by proponents.
"Just four years after we had a hole in the state budget that was over 10% of the total budget, we're talking about cutting taxes," said Delegate John Williams, D-Monongalia.
He was referring to budget shortfalls of $450 million and $400 million in 2016 and 2017.
"We're about to go down the yellow brick road straight to Kansas," said Delegate Larry Rowe, D-Kanawha, alluding to what has come to be known as the Kansas experiment.
In that state, similar income tax cuts failed to generate promised economic growth, resulting in budget shortfalls that devastated public schools, road projects and other programs and services.
Delegate Doug Skaff, D-Kanawha, suggested the House bill is a hasty response to the Justice tax cut plan. He said it is based on false assumptions that current state budget surpluses signify a strong economy when they are actually being driven by what he called "artificial money coming into the economy" in the form of federal pandemic relief and stimulus funds.
A report to the Legislature from the Department of Revenue concluded that the state has received nearly $6 billion in federal pandemic stimulus in the past year, not counting what it is slated to receive under the American Rescue Plan Act.
Skaff called on legislators to study the issue during interim meetings this summer, saying the Legislature otherwise could be forced next year to actually enact spending cuts first posed in a poll of delegates at the start of the session. Possible spending cuts cited in that poll included eliminating state funding to Marshall and West Virginia University, and eliminating Promise scholarships.
"What does this bill do to attract young professionals to West Virginia?" asked Skaff, who is president of HD Media, parent company of the Gazette-Mail.
As drafted, the bill would shift about $204 million a year in tax revenue and lottery profits into an Income Tax Reduction Fund, an account that would accelerate the income tax phase-out each time its funds reach $400 million.
More than $164 million a year would come out of a lottery fund that provides about $290 million to the state and is currently used to fund Promise scholarships and senior citizen income tax credits. It also pays off economic development bonds, infrastructure bonds, School Building Authority debt service and bonds for higher education and State Parks construction projects.
Delegates rejected, by a 77-23 vote, an alternative to instead give each taxpayer a one-time $150 reduction on income taxes, a cut that also would cost the state about $150 million.
Delegate John Doyle, D-Jefferson, lead sponsor of the amendment, said the vast majority of West Virginia taxpayers would come out ahead under his plan, since individuals with incomes of between $35,000 and $55,000 would see only $14 of savings in the first year under HB 3300.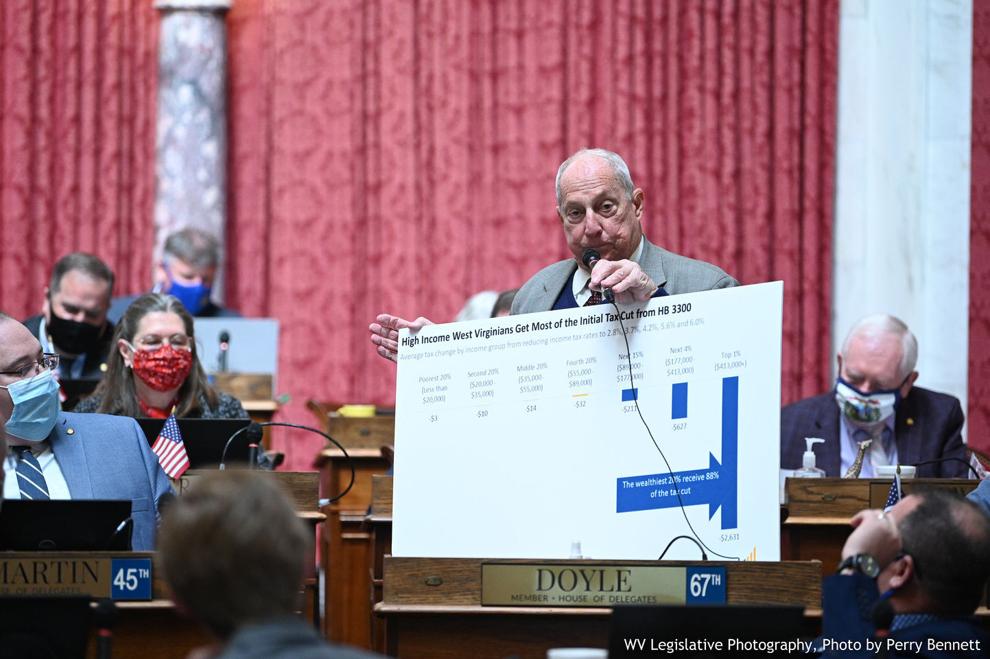 He said that, under the House bill, 88% of the $150 million tax cut will go to taxpayers earning $200,000 a year or more.
"It is simple. It is fair, and it is fiscally responsible," Doyle said of the rejected alternative.
Delegate Mick Bates, D-Raleigh, said waiting a year on the tax cut plan makes sense, saying it would be premature to enact tax cuts before the U.S. Treasury releases its rules on how states may spend the American Rescue Act funds.
The Treasury has yet to offer an interpretation on language in the act that prohibits states from directly or indirectly using federal stimulus funds to offset tax cuts. Bates said passage of the House bill could result in the state having to forfeit a portion of the more than $2 billion in federal aid it is set to receive.
The bill now goes to the Senate, where its future is uncertain. In 2017, the Senate passed an earlier version of Justice's income tax reduction plan, a bill that was supported by many current members of Senate leadership, including President Craig Blair, R-Berkeley.
However, that bill died in the House over concern about its proposed hikes in sales taxes and other regressive taxes.
In its current form, Justice's plan would cut income taxes by $1.07 billion in the first year, but would partially offset the lost revenue with a host of sales tax and other tax hikes totaling more than $900 million.
Those proposed hikes have been criticized by business organizations, including the West Virginia Chamber of Commerce and the Business and Industry Council.
Justice's measure (Senate Bill 600, House Bill 2027) has not been taken up in either chamber, making its prospects grim with Wednesday being the deadline for passage of bills in their house of origin. However, the Senate could amend Justice's bill, or portions of it, into HB 3300.
"Basically, the only one who supports the governor's plan is the governor," Bates said Monday.
Justice has spent much of the month conducting town hall meetings and state and national news interviews attempting to drum up support for his plan.
During his Monday COVID-19 briefing, Justice continued to tout the plan, calling it the "single most important thing to the state that has ever been put before you."
Justice said his plan would be the equivalent of every household in the state receiving a $1,400 stimulus check each year, and blamed lawmakers and business officials who don't understand the plan for spreading misinformation about it.
"You've listened to me so, so, so faithfully," Justice told viewers Monday. "I will tell you without any question, you do not understand what is at stake with the personal income tax. You think, and have been convinced, that it is going to affect you negatively in a material way."
Monday's vote was mostly on partisan lines, with Delegates Roger Conley, R-Wood, and George Miller, R-Morgan, voting against it, and Bates and Delegate Ed Evans, D-McDowell, voting for it.