CAMP CREEK — To get to West Virginia State Parks' newest remote lodging unit, you have to work for it. But judging from its popularity, it's worth the effort.
From a parking area near the Camp Creek State Park and Forest's office, guests shoulder packs containing food, water, sleeping gear, lights and clothing, and begin ascending a series of switchbacks up Farley Ridge Trail.
"The first mile is pretty steep," said Monty Ball, Camp Creek's superintendent. "After that, it starts to level off."
The trail's next 1.5 miles follow a ridgeline to an intersection with Almost Heaven Trail, where a right turn leads the way through the overgrown fields and meadows of a former farm, eventually reaching the Almost Heaven Trail Shelter and its adjacent campground.
Used by backpackers and equestrian campers, it's a great place to grab a spot on a picnic table bench and rest in the shade, but it's not the final destination.
That lies just a few hundred yards away, around the next bend in the ridgeline, where, 3.3 miles from the parking lot, Camp Creek's ranger outpost cabin comes into view. It's one of several off-the-grid getaways, ranging from fire towers to wilderness cabins reached by horseback, available now or in coming months at West Virginia State Parks and State Forests.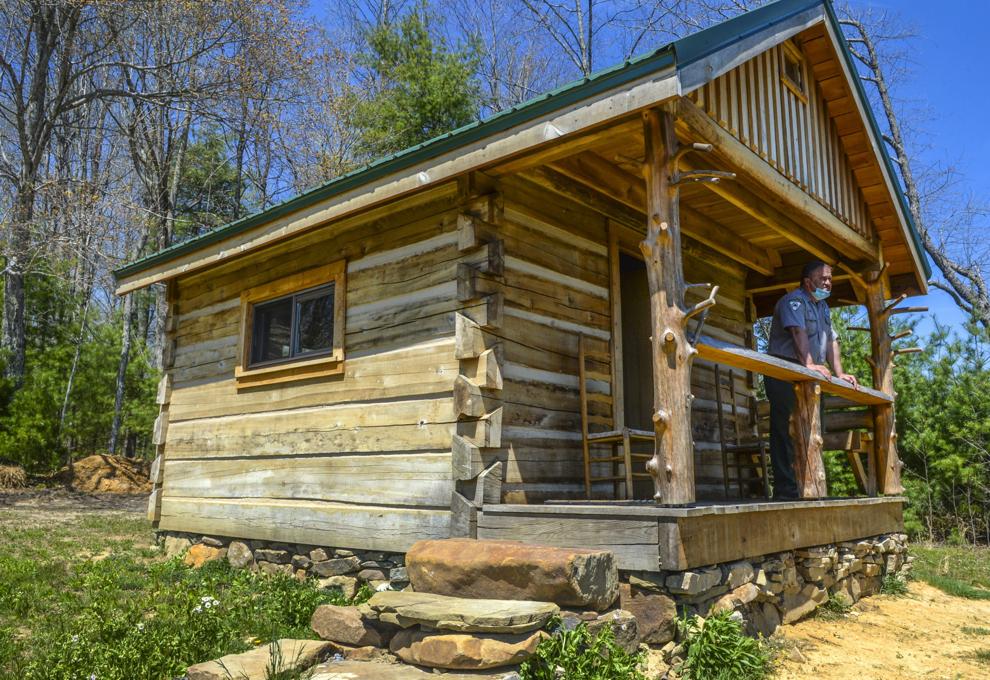 Built by Camp Creek's staff and volunteers from the Camp Creek State Park and Forest Foundation, the new hike-in cabin opened last summer. It was an immediate hit.
"People love it and we're extremely proud of it," said Ball, as he approached the cabin's porch, the roof of which is supported by matching tree trunk segments that have been peeled and polished, with numerous branches left intact.
"All of the wood used to build the cabin came from here in the state forest, using a portable sawmill the Foundation got for us," Ball said.
The idea was to follow the lead of the Civilian Conservation Corps, the Great Depression-era public works program, and use native materials, superb craftsmanship and attention to detail to build a structure both attractive and durable. Many cabins and picnic shelters built by Corps crews 80 or more years ago remain in use across the state parks system.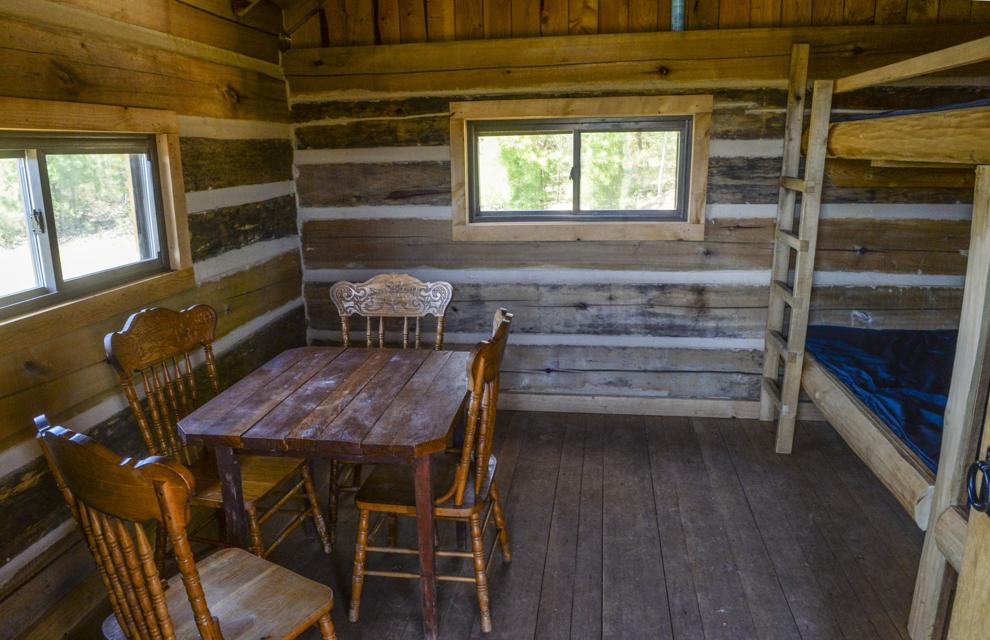 Precision-notched logs make up the walls of Camp Creek's ranger outpost cabin, which rests on a stacked fieldstone foundation and is topped by a green metal roof. Inside, a pair of bunk beds and a twin-bed loft, all with built-in cushions, provide sleeping space for five. A wooden dining table and chairs occupy the center of the cabin's hardwood plank floor.
Outside, a fire ring, picnic table and cooking grill occupy a grassy area off the front porch, behind which waves of forested hills and ridges stretch toward the horizon.
"Here, you are totally isolated in the center of a 5,500-acre state forest," said Ball. "You can't find a better situation to avoid COVID or have a wilderness experience."
For cabin guests with a hankering for more hiking, there are more than 30 miles of trails to explore at Camp Creek State Park and Forest, located about 2 miles off Interstate 77 in Mercer County. Camp Creek is also home to 7 miles of trout streams, the state park system's first equestrian campground, a Wi-Fi equipped campground with RV hookups and a primitive campground for tent campers.
The Camp Creek Ranger outpost cabin rents for $49.99 a day. Since the cabin lacks power and water, guests need to pack in their own water, food, utensils, lighting and bedding and pack out their own trash. A new high-tech, low-maintenance micro-flush toilet that uses stored rainwater and a population of redworms to process waste will soon replace the cabin's conventional outhouse.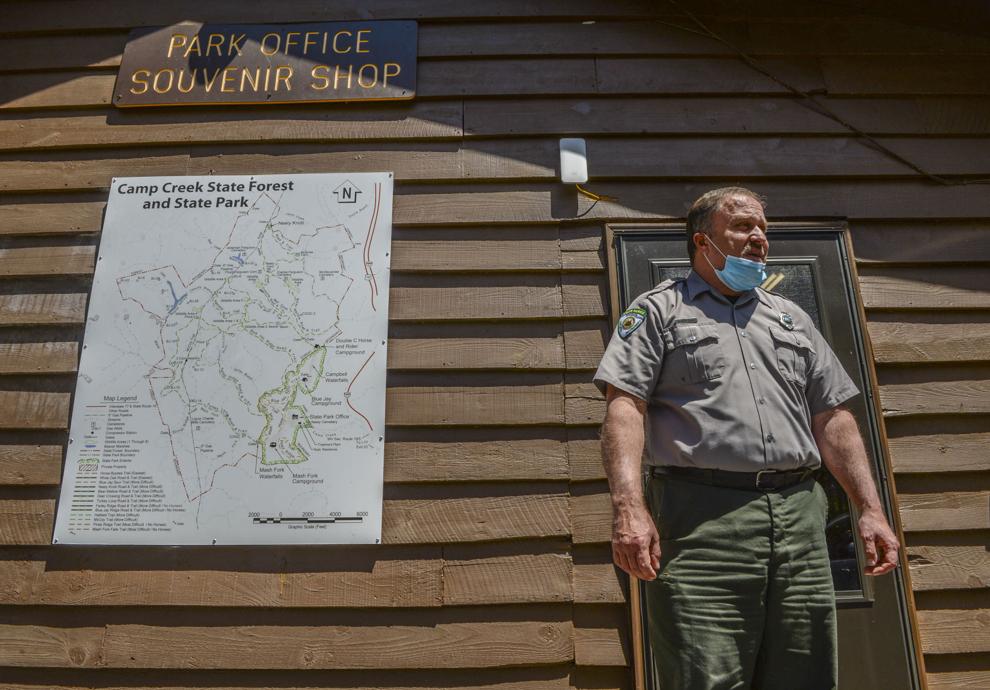 Reservations can be made through the West Virginia State Parks call center at 833-987-2757, or by calling Camp Creek's office at 304-425-9481.
Those seeking an even more remote getaway may want to consider the Bald Knob wilderness cabin at Cass Scenic Railroad State Park. It takes a horseback ride of four hours to reach the cabin, once the living quarters for seasonal forest fire lookouts who spent their days in the cab of an adjacent 60-foot observation tower, scanning the horizon for plumes of smoke.
The adventure begins at Autumn Breeze Stables at Snowshoe Mountain Resort's Silver Creek area, where wranglers make sure guests know the basics of how to mount, turn, back up, stop and get their horses moving. Once oriented, guests and guides hit the 6.2-mile trail through the highlands to Bald Knob, crossing the headwaters of Shavers Fork once and passing by the abandoned town site of Spruce, a timber town that boomed in the early 1900s before going bust in the 1950s, and crossing onto state park land.
The cabin, perched on the 4,843-foot summit of Bald Knob, just 19 feet lower than the top of West Virginia's highest point, Spruce Knob, had been rented to solitude-seekers by Cass Scenic Railroad State Park for several years prior to 2014, when park officials opted to close it. Back then, guests rode the park's excursion train to Bald Knob Overlook, the end point for most daily trips, and hiked a bit more than half-a-mile up a jeep trail to reach the cabin.
The fire tower, built in 1923, had a cab too small to double as a living space, so the cabin was built to give observers a measure of comfort.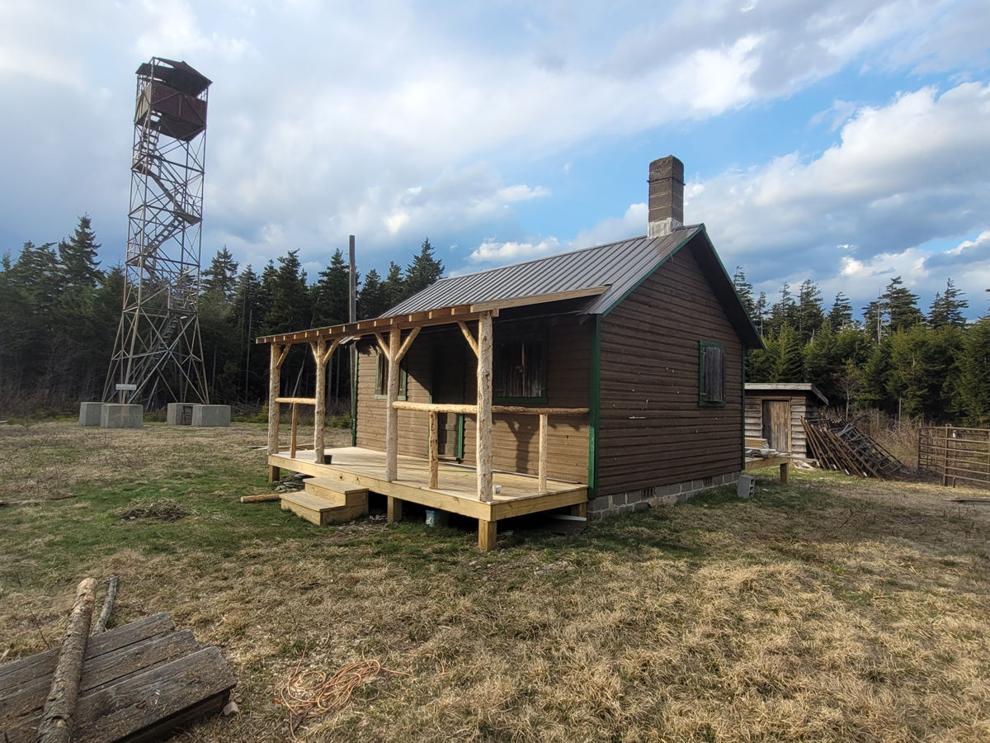 The Autumn Breeze Stables staff spent much of the past winter and spring taking that comfort level up more than a few notches by installing new roofing, building a new porch, repairing windows, painting inside and out, and setting up a corral to keep the ride home secure.
The once worn and weather-beaten cabin, last used by fire spotters in 1977, now looks like new and comes equipped with two queen beds and a futon, a wood cook stove that doubles as a heater, oil lamps and rechargeable LED lights. Guests — limited to groups of two to eight individuals — bring their own sleeping bags, while guides pack in all food and beverages, and handle cooking and clean-up chores.
"No cell service, no Wi-Fi and no worries," said Autumn Breeze co-owner Skip Heater. "We're hoping to have our first paying guests come for Memorial Day weekend."
Trips to the cabin are expected to continue through winter, weather permitting. The stable staff is used to snow — they operate Snowshoe Mountain's sleigh ride concession.
"There are not a lot of places where you can still be really and truly out in the wilderness," said Marshall Markley, superintendent at Cass Scenic Railroad State Park. "This is one of them."
The Bald Knob wilderness cabin getaways cost $425 per person, plus state sales tax. Call 800-759-7239 for reservations.
Markley said the Bald Knob fire tower is expected to get some TLC in coming months to make it safe for the public to climb the treads to its observation deck.
"The bids are out and it may be ready this summer," he said. "You have a beautiful view from there. You can see the Green Bank Telescope and all of Snowshoe and Silver Creek and beyond."
Meanwhile, 20 miles to the south at Seneca State Forest, the state park system's best known remote rental unit — the Thorny Mountain Fire Tower — is fully booked for the rest of the year.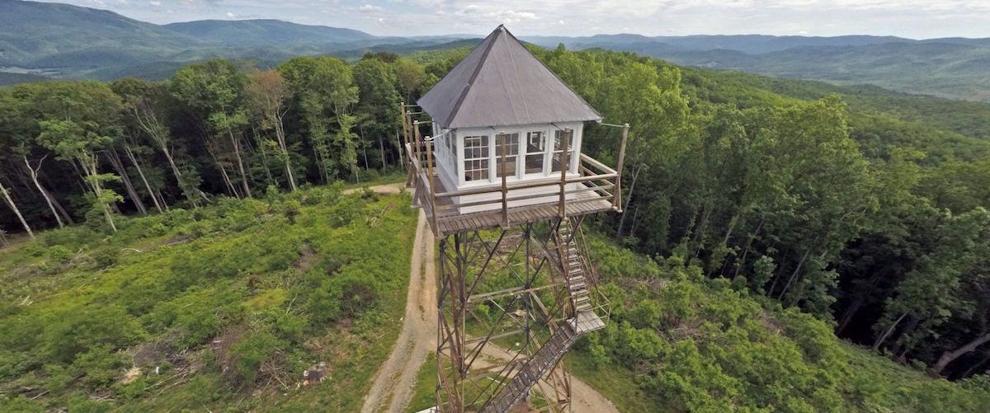 "It's been that way since the end of last season," said Superintendent Jeff Layfield. "I get phone calls every day from people wanting to stay there or get on the cancellation list."
Built in 1935, the 65-foot-high forest fire lookout station atop a 3,385-foot peak was refurbished over several years prior to its debut as a rental unit in 2015. With a 12-foot by 12-foot wooden cab and wraparound catwalk, it's the only fire tower in West Virginia built big enough for observers to live in.
While scores of fire towers in the western U.S. are available for vacation rental, the Thorny Mountain Tower is the only such unit east of the Mississippi. The tower is equipped with two cots and with foam mattresses and floor space with sleeping bag room for others, and a picnic table and grill at its base.
It rents for $99 a night Sundays through Thursdays and for $109 on Friday and Saturday nights. It is open May 1 to Oct. 31. "We have a waiting list starting a minute after midnight on May 1," Layfield said.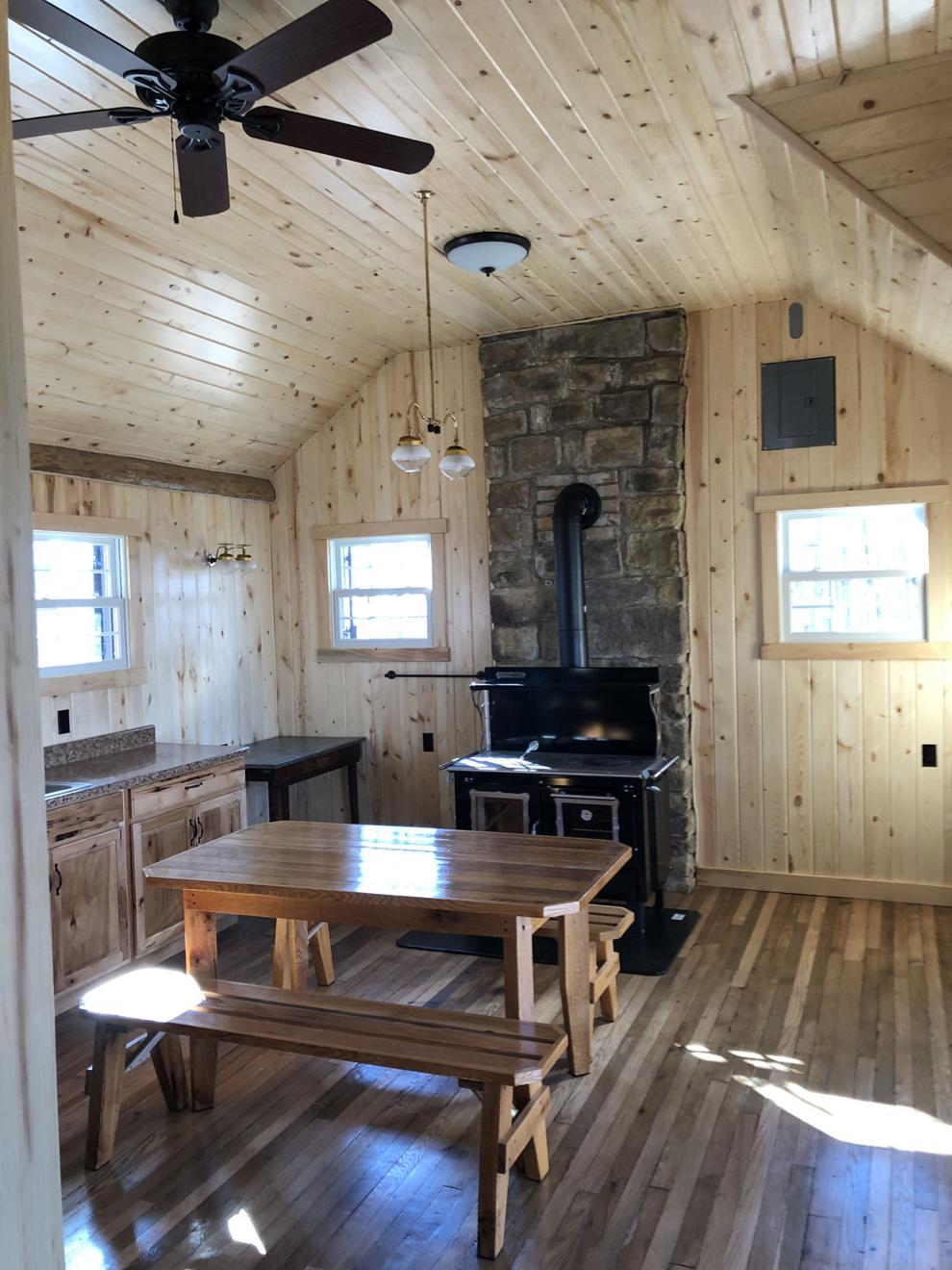 At the base of another 1935-vintage fire tower 100 miles to the northeast, the staff of Lost River State Park recently completed a major renovation of the fire observer's cabin, soon to be available to hike-in guests.
"It could happen any day now," said Lost River Superintendent Mike Foster. "The staff started working last fall on upgrading the building to make it an outpost cabin for guests to use. It's finished now and it really looks nice."
New wood paneling, a kitchen counter and a metal roof were added, and a new wood-burning stove, propane lights, bottle-gas refrigerator, queen size bed and bunks, a dining table and chairs were installed. The cabin, expected to rent for about $100 per night, sleeps four guests, with camping space available outside, where a fire ring and picnic table will be installed. As was the case when the cabin was built, there is no running water or indoor toilet.
Apparently built by the same Civilian Conservation Corps crew that built the adjacent 80-foot Big Ridge Fire Tower, "the cabin really withstood the test of time," Foster said. "The structure and foundation are in really good shape, as are the walls and floor."
A two-mile hike that starts at the base of White Oak Trail is required to reach the cabin.
"It's in a nice remote area with a good view," said Foster. "I think people will like it, and I'm tickled to get it maintained and protected."
Park officials are looking into a possible upgrade to the fire tower, now closed to the public due to safety issues.
Visit www.wvparks.com for more information about Lost River State Park and news about the cabin's availability.