NOLAN — In Mingo County, a small town sits in a straight line running parallel to U.S. 119. On one side of a town, three sets of railroad tracks separate the 20 or so families from the cars on the four-lane. Behind their homes, the Tug Fork River flows, creating a divide between the residents of Nolan and a remote corner of Pike County, Kentucky.
For almost 80 years, a bridge connected these two unincorporated areas. Since opening as a "swinging" bridge in 1943, the Nolan Toll Bridge was crucial to the coal businesses in Mingo and Pike counties.
It provided easy access across state lines. It gave citizens access to jobs in both states. In 1963, it was rebuilt as a hulking, metal structure that could bear more weight and more traffic.
This traffic slowed down as coal production did, but still the bridge was integral to the everyday lives of those in Nolan. The only other entrance and exit from the town lies across the railroad tracks, where trains stop several times a day to switch rails. When they block this intersection, no one can enter or exit the town on the West Virginia side for anywhere from 30 minutes to an hour, or longer.
This served as a minor inconvenience for the residents of Nolan until 2012.
It was then that an 18-wheeler attempting to use the bridge got hung up on the tracks, leading to a train collision and derailment. It spurred both the West Virginia and Kentucky governments to deem the Nolan Toll Bridge unfit for travel — effectively severing Nolan residents' only access to the outside world when the trains run.
"There should be another way out, there really should," said Buddy Whitt, who has lived in Nolan for all of his 74 years. "It wouldn't have been like this back then, I'm telling you — even just 30 or 40 years ago. I guess without the [coal] companies needing it, it doesn't matter much to anyone anymore."
In the years after the bridge's official closing, Whitt and other residents on both sides of the river removed barricades, ignored signs and proceeded across at their own risk, as needed.
"Sometimes, it was our only option," said Patricia Whitt, Buddy's wife.
People on the Kentucky side, Patricia said, still drive across as far as they can, picking people up or dropping things off as needed, before putting their cars into reverse and backing into the Bluegrass State.
They can't come any further across the bridge because, on the West Virginia side, state workers recently dug a huge ditch at the bridge's entrance, preventing any car from approaching.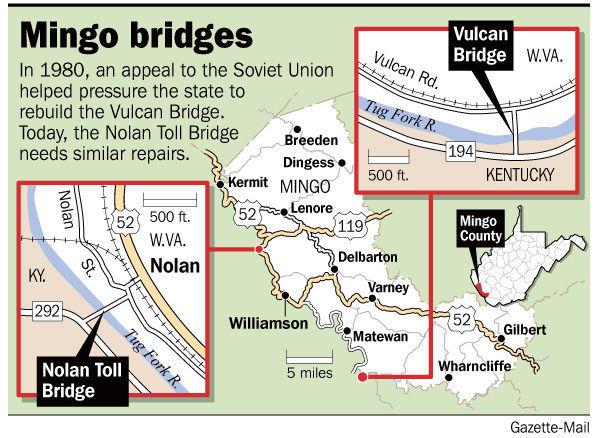 "I'm waiting till I see headlights coming out of [the ditch] one day," Patricia said. "It's only a matter of time. You get a driver coming across here at night, and it's bound to happen eventually."
Even more pressing, Patricia said, is the fact that now — no matter how dire the circumstances — they are at the mercy of the trains.
Buddy recently had open heart surgery, and while recovery is going smoothly, there's really no way to anticipate health emergencies. If a train stops on the tracks, she wonders how anyone could get in to help them, or how they could ever get out.
'The bridge the Russians
almost built'
In the 1970s, on the other side of Mingo County, the small town of Vulcan found itself in a similar situation.
Vulcan, too, sits in a straight line between the Tug Fork River and the tracks. The only legal way in and out of the town is the Vulcan Bridge, which connects residents to the unincorporated community of Freeburn, Kentucky — also in Pike County.
Just like the Nolan Toll Bridge, the Vulcan Bridge was originally built in the early 1900s to assist the local coal business. With a bridge, workers in Vulcan — which was a thriving coal camp — could walk to work in Kentucky's mines instead of rowing across the river. Eventually, the Norfolk & Western Railway established a passenger stop on its line running through the town, meaning more workers could access the mines.
By the 1970s, though, trains traveling through weren't carrying passengers or workers anymore, only coal and other resources. The mines across the river needed fewer workers, not more, and most of the bridge's use came from day-to-day activities by the residents of Vulcan.
In 1974, the wooden bridge gave way to rot and collapsed.
For the 50 or so families in Vulcan, the only way in and out of the town without the bridge was by a narrow, rocky right-of-way sitting on the top of a small cliff and owned by the railway.
For a year following the collapse, John Robinette, a former carnival worker, bartender, notary public and the self-proclaimed mayor of Vulcan, tried working with legislators to repair the bridge.
He spoke to the county, with no luck. He reached out to lawmakers in both Kentucky and West Virginia, with no luck. He tried working through the governor's office to receive federal help, but again, had no luck.
He was told time and time again that there was no money available to spend on the bridge, according to reports in the Gazette at the time.
Finally, in 1976, growing increasingly frustrated with what he saw as American bureaucratic run around, Robinette took his community's problems overseas.
He wrote to the Soviet Union and detailed the situation in Vulcan — the bridge, the state's lack of funding and, in his opinion, the country's lack of concern. His first letter — sent to the Soviet Embassy in Washington D.C. — went unanswered by the Soviet government, at first. Eventually, though, he was contacted by Iona Andronov, a Soviet journalist interested in hearing Robinette's story in person.
On Dec. 16, 1977, Andronov set foot in Vulcan for the first time. Within hours of the Russian's visit, according to news reports, word came down from then-Gov. Jay Rockefeller's office that West Virginia would begin working with Kentucky immediately to build a new Vulcan Bridge.
Charles Preston, of the West Virginia Highways Department, speculated to the Gazette at the time, "that somebody in Washington said, 'do it and shut this guy up.' The story was embarrassing. It became an international incident."
Even with the assurances from the state government, Andronov said he reported to Soviet authorities after his visit that a bridge could quickly and easily be built. The Russians, he said, would have built the bridge if the state "had not kept its promise."
To Robinette, though, the source of the funding for the bridge didn't matter as long as it got done — and soon. "If the Russians call tomorrow and say they'll build a bridge, I'll say go ahead," he told the Gazette on Jan. 4, 1978. "It's first come, first serve."
Two years later, on July 4, 1980, the 300-foot bridge opened — costing a little over $1 million (almost $4 million in today's dollars), with the price split between West Virginia and Kentucky.
Robinette and Vulcan's residents celebrated the opening of what they called "the bridge the Russians almost built" with illegally imported Russian vodka and an American flag hung high.
'FEMA is our only hope'
Buddy Whitt remembers hearing about Vulcan and Robinette when he was younger — it was pretty impressive news. He was in his 30s then, still living in Nolan about 30 winding miles from Vulcan.
"Back in those days I didn't pay a whole lot of attention," he said, "but I've been thinking about it lately, I have."
Buddy describes the closure of the Nolan Toll Bridge as heartbreaking. In the 1960s, he was a part of the crew hired to build the new bridge. He worked for years on it, and lives just 50 feet to the left of it.
For decades, he watched it flourish.
Serving as a toll bridge, car drivers paid about 15 cents to cross. Three cents meant you could walk or bike over and for 50 cents to $1.20, truck drivers — including those carrying coal — could haul their loads across.
In 1987, the bridge brought in $90,000 to $100,000 a year (about $193,000 to $215,000 today), and more than 1 million tons of coal were carried across it, according to reports in the Gazette at the time.
For nearly 80 years, it expanded the small town of Nolan and that corner of Pike into bigger, intertwined communities. Some children in Nolan attended school across the bridge, and vice versa. With no parks in Nolan, kids went to play in Kentucky. What used to be a simple walk across the bridge is now a safety risk, navigating the ditches and loose beams left by workers and people scavenging metal from the structure.
"There's no walking path anymore," Patricia Whitt said. "All it takes is one little step the wrong way."
Most infuriating of all, the Whitts said, is the lack of communication they've received from the local and state governments about the bridge. At one point, there were active efforts to get the bridge reopened.
Now, all they've been told officially is that the bridge is unsafe. Occasionally, workers will be sent to the site, but the Whitts aren't sure why. Some have said they're going to "leave it down to nothing," Patricia said, meaning there may be plans to tear it down all together, but still there hasn't been any official correspondence.
The Whitts, just as Robinette was, are frustrated.
"I'm disgusted. I helped build that bridge," Buddy Whitt said. "If I knew how to get ahold of someone in Russia, believe me I would. Maybe they'd be more help."
Delegate Justin Marcum, D-Mingo, grew up in Nolan. A huge campaign sign reading "Marcum For Senate," a tribute to his short-lived state Senate campaign that he put a stop to a few weeks ago, can be seen from the four-lane.
"We've tried to get the bridge into the budget, but it's a lot of money," Marcum said. "I love Nolan, I grew up there. I'd love to see it reopened, I would."
Marcum said there are several challenges he's encountered in efforts to re-establish the bridge.
One — the most difficult obstacle to overcome — is that repairs to the bridge aren't an option anymore. An engineer did a report on the bridge recently, Marcum said, and noticed an alarming amount of metal beams had been stolen from the structure. Now, building a new bridge is the only option.
This means now it's a $30 million project, compared to prior estimates of it costing a third of that.
Another problem lies in the fact that no one knows who actually owns the bridge. In the 1960s, a group of local families came together and created the Big Creek Bridge Co. From there, the property was passed on to children of the families, and there's no clear line today on who has rights to the land. According to filings at the West Virginia Secretary of State's office, the company dissolved in 2008.
This, Marcum said, creates more problems for any public agency that would be interested in fixing it.
Marcum believes the only chance of reopening a bridge now is by working with West Virginia's national legislators — like Sen. Joe Manchin, D-W.Va., and Rep. Evan Jenkins, R-W.Va. — to procure funds from the Federal Emergency Management Agency. Talks with legislators were going for a while, Marcum said, but "fizzled out."
Will Powell, a spokesman with FEMA, said via email that there has not yet been anything filed on behalf of the Nolan Toll Bridge that would make it eligible for any funding. West Virginia Voluntary Organizations Active in Disaster, a state nonprofit focused on uniting different agencies when disasters occur, does have a specific project focused on bridges, Powell said. The process for Nolan's bridge is unclear, however, since it was not damaged in a natural disaster like a flood, so it may not qualify for help from VOAD.
Marcum said it's a project he's remaining focused on, but truly believes "FEMA is our only hope."
'They left us with nothing'
For the residents in Nolan, daily life means watching the tracks outside their windows and starting a timer every time a train stops.
"I do, almost every time. I take pictures, I take videos. It's a part of our life," Patricia Whitt said.
A few days after Buddy Whitt was released from the hospital following his heart surgery, Patricia saw him out at the railway, shouting at the engineers in frustration.
"I cussed them out a bit, I did," Buddy said with a small smile.
Patricia rolled her eyes. "I thought he was about to have a heart attack — right out of the hospital and we were going to have to go back. Who knows how we'd get there."
The already quiet town has grown even more isolated without the bridge — as are its residents. Friends and family who used to stop by regularly don't even bother anymore if they see the train, Patricia said.
"Who can blame them?" she exclaimed. "A quick hello turns into an hour waiting by the tracks. Who has time for that?"
In 1980, at the Vulcan Bridge dedication, Robinette printed out programs with a tongue-in-cheek message written on the front page.
"Thanks? To all the coal mines of Mingo and Pike counties, not one of whom helped in any way on this bridge," it read.
As frustrated as those in Nolan are, and no matter how many calls they make or appeals for help, they aren't sure they'll ever get it.
"Everyone is just used to it," said Darby Browning, a Mingo resident and longtime friend of the Whitts. "That's Mingo for you — crooked."
Patricia nodded emphatically.
"We feel like we're a third-world country — but no one cares," Patricia said. "People came here, they took our gas, they sold off our coal, they used our bridge and they didn't give us anything back. They left us with nothing."