There's a war on hemp in West Virginia.
Though state laws allow for the cultivation, sale and purchase of industrial hemp, Mike Stuart, U.S. Attorney for the Southern District of West Virginia, and his office filed a civil lawsuit against a Mason County hemp farm and related parties earlier this month for violating the federal Controlled Substances Act.
Both hemp and marijuana come from the cannabis sativa plant. By state law, hemp must be comprised of less than 1 percent THC, the psychoactive component of marijuana. Documentation from the West Virginia Department of Agriculture states it will test harvested hemp to ensure it is comprised of less than 0.3 percent THC, even with federal law.
Hemp is used to make textiles, foods, fabrics, cosmetics, agriculture products and others. However, it is still a Schedule-I controlled substance, on par with with heroin and LSD. Despite state and federal restrictions, current industry estimates report U.S. hemp product sales at nearly $700 million annually, according to a June 2018 report on industrial hemp from the Congressional Research Service.
Stuart, on behalf of the federal government, is suing Matthew Mallory of CAMO Hemp WV, and Gary Kale of Grassy Run Farms. Grassy Run Farms owns the land. The suit alleges the respondents purchased their hemp seeds in Kentucky and brought them over the state line into West Virginia. On the farmers' application to grow hemp, they indicated they would buy internationally.
Additionally, the complaint states the defendants indicated they would install security measures around the farm, such as fencing, a gate with a chained lock, cameras and signage that the crop is devoid of THC. However, that allegedly hasn't happened.
The complaint says the state pilot program only allows hemp producers to obtain seeds internationally, via the West Virginia Department of Agriculture. It charges the farmers with the ongoing manufacturing, cultivation, possession and intent to distribute marijuana — not hemp.
Because the charges are civil and not criminal, the farmers' plants, property, equipment and seeds could all be seized and forfeited to the government. Stuart's complaint states the U.S. is subject to receive either $250,000 in civil penalties or twice the sum of the defendants' gross receipts, whichever is greater.
In a phone interview Friday, Stuart said the suit isn't a statement of a position for or against hemp, but really is about an issue of lax regulatory oversight from the West Virginia Department of Agriculture.
"Based on the action we filed, I think it's plain that this dispute doesn't center on a public policy debate about industrial hemp, but on the dangers of lax regulation [and] oversight by a state agency which is trusted by the people of West Virginia to enforce its regulatory scheme," he said.
He emphasized public safety via regulatory oversight is what matters, not a pro- or anti-hemp posture.
"I understand there needs to be a boogeyman, a bad guy standing in the way, but my goal is public safety, every single day of the week," he said.
While Stuart, a former West Virginia Republican Party chairman, and Fred B. Westfall Jr., an attorney at his office, are leading the prosecution, Carte Goodwin, a former Democratic U.S. senator, and Booth Goodwin, a former U.S. attorney and Democratic gubernatorial candidate, are defending the farmers.
In a brief seeking to dissolve a temporary restraining order prohibiting the harvesting and selling of the hemp, Carte Goodwin and Phil Reale, another attorney for the farmers, argued that state law legalizing industrial hemp does not require growers to buy seeds internationally, although it allows them to.
"There is nothing in West Virginia law that imparts such an obligation on growers or that would suggest a grower who buys seeds from another state would be subject to suspension or revocation of its industrial hemp license," court documents state.
On a federal level, the farmers' attorneys argue the Agricultural Act of 2014 — commonly referred to as the Farm Bill — which is still current law, protects their rights to grow hemp under state laws. Also, the Farm Bill and related provisions of a federal appropriations bill together state that no congressional appropriated funds can prevent the transportation, processing or sale of hemp under a state program authorized under the federal legislation.
In other words, Stuart's office cannot spend "federal appropriations to interfere with or otherwise frustrate the intrastate or interstate transportation of industrial hemp grown or cultivated as part of a Farm Bill-authorized agriculture pilot program."
While Judge Robert C. Chambers has not yet issued a final ruling on the case, he sided with the defendants in part and struck down pieces of a temporary restraining order and will now allow the farmers to harvest, dry and process the "marijuana," although he ruled they cannot transport or sell it at the moment.
A Grassy Run representative declined to comment. Though Stuart granted an interview, he said he could not speak to specifics of the case, citing ongoing litigation. A CAMO spokesman could not be reached. Mallory's attorney declined to comment.
In a written statement, Norman Bailey, chief of staff to the state agriculture commissioner, said West Virginia's laws and regulations are silent as to the source of seeds for participation in the program, although Kentucky (via departmental rules) and North Carolina (via advisory opinion from the state attorney general) have both concluded buying seeds over state lines is not a violation of federal law.
He said the department is monitoring the situation and has not yet decided whether it will intervene in the case. However, he said if the department were to intervene, it would be on behalf of the farmers to protect the state's agricultural interests and to clarify state law.
"Matthew Mallory is in material compliance with state laws according to our records," Bailey said. "We have requested he update any inaccuracies within his application, given the information recently provided to [the department] by [Stuart's office]."
Moving target
Hemp has been and will continue to be a moving target, as far as its regulatory landscape goes.
In 2017, the West Virginia Legislature passed the Industrial Hemp Development Act, which permits anyone looking to grow hemp commercially to obtain a license through the state commissioner of agriculture.
Laws like West Virginia's are only possible via the 2014 Farm Bill, which allows certain research institutes and state departments of agriculture to grow hemp under a pilot program.
Earlier this year, the governor signed a bill allowing the agriculture commissioner and his office to promulgate rules to launch a seed certification program in West Virginia, meaning area hemp farmers could legally buy certified seeds within state lines. However, those rules are in their early stages, according to state Department of Agriculture spokesman Crescent Gallagher.
The current Farm Bill expires at the end of the month, and both the U.S. House of Representatives and the Senate have passed different versions of the legislation that each chamber must agree on before it comes to the president for approval.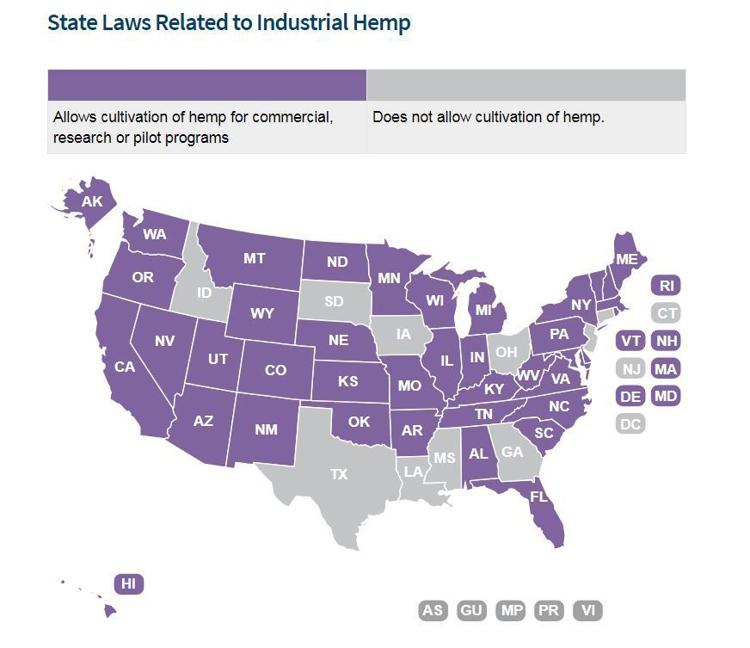 Agriculture Commissioner Kent Leonhardt declined an interview request. However, in a written statement, he said hemp has a lot of potential in West Virginia, although this case could tamp that down.
"The WVDA believes this case could have drastic, adverse effects on West Virginia's and other states' industrial hemp programs," he wrote. "This could lead to a loss of a potential cash crop for the Mountain State. As we look to agriculture's future, we know West Virginia will have to focus on a variety of specialty crops to grow our agricultural economy. Industrial hemp has the potential to be one of those crops with the necessary infrastructure."
J. Morgan Leach is the CEO of the West Virginia Farmers Cooperative, which includes the defendants in the suit. He said just about everybody in the industry buys hemp seeds across state lines. International seeds, he said, are inconsistent, expensive and are subject to damage in the transportation.
He said the lawsuit will have big industry implications.
"This is going to be a groundbreaking lawsuit, potentially, for the hemp industry," he said.
Between the state Legislature demonstrating support for the hemp industry, and a Congress inching toward full backing as well, he said there's an undercurrent of political motivation from those trying to tamp down on hemp farmers.
"They're trying to get us on these technicalities, and we're trying to figure out and build on this industry," he said. "This is what West Virginia needs more than anything right now."
Leonhardt said, given hemp's potential and federal legislative backing, he doesn't understand Stuart's motivation.
"We are confused on why the U.S. Attorney's Office is working so diligently to thwart a growing agricultural industry in the state," he said. "Especially, one that Congress has clearly shown its support for, and when there are so many other serious issues affecting West Virginia."