Holly Bradley circled back to the podium with one more plea.
"Please hear us," Bradley said.
Standing in front of the YWCA Mel Wolf Child Development Center in Charleston, the 32-year-old Hillsboro mother of two boys, ages 5 and 2, had already made her case.
Bradley had explained why she wanted the U.S. Senate to quickly approve the $1.75 trillion, 10-year social and climate spending package passed by the House of Representatives last month.
Bradley had noted that the bill would extend a child tax credit that has provided her $600 a month since the summer, a crucial lifeline for her and her husband after the health care nonprofit where they work cut their pay a combined $1,000 a month in response to fundraising limits amid the pandemic.
"Our children have lived through one of the most isolating and chaotic years in modern history, the uncertainty of almost everything weighing on them," Bradley said into the microphone, surrounded by fellow supporters of the spending package known as the Build Back Better bill. "So I think the least our lawmakers can do is ensure these families can pay rent and put food in their bellies."
Bradley was one of three speakers during the pro-Build Back Better event organized by West Virginia progressive groups. The stop was the second of three on a two-day bike tour showcasing people and places the groups say have the most to gain from the bill's passage.
It was one of many events that West Virginia citizen advocate groups held urging quick passage of the legislation this past week.
Supported by most congressional Democrats, the spending package would extend for one year the permanently refundable tax credit of $300 per month per child under age 6 and $250 per month per child ages 6 to 17 expanded by a federal COVID-19 relief package approved by Congress in March.
The package as passed by the House would do much more, allotting $550 billion for clean energy spending, authorizing the first ever national paid family and medical leave guarantee for U.S. workers, extending an expanded earned income tax credit for low- and medium-wage workers and set aside $150 billion for expanding access to home- and community-based care.
But many West Virginia Build Back Better backers saved their greatest sense of urgency for touting the child tax credit this past week given its imminent peril.
Wednesday marked the final round of monthly child tax credit payments.
"The urgency of this issue cannot be ignored any longer," Bradley said.
In West Virginia, 305,000 children qualified for advance child tax credit payments in November, according to Treasury Department data. Households in the state received 181,000 payments totaling $79.1 million, yielding an average payment of $438.
Sarah Brown, mother of three young children and managing attorney at Mountain State Justice, a statewide nonprofit legal services firm focusing on low-income West Virginians, took the podium after Bradley.
Brown said that the firm's clients had been calling office lines for U.S. Sen. Joe Manchin, D-W.Va., to lobby him to get behind the bill.
"During the past 10 years I've represented underserved West Virginians, I've heard countless stories of West Virginians struggling to make ends meet, forgoing food to pay for medication, not filling prescribed medication to pay for food, picking which utilities to pay that month to avoid a shutoff," Brown said. "I'm here today on behalf of those clients and low-wealth West Virginians like them to say that the child tax credit helps them make ends meet."
But Manchin, a key holdout vote in a Senate evenly divided between the Democratic and Republican caucuses, has objected to the child tax credit's inclusion in the Build Back Better bill.
Manchin has insisted that the bill not exceed its current $1.75 trillion amount and played a pivotal role in the White House halving the bill's original $3.5 trillion price tag.
Manchin has voiced concern that the Congressional Budget Office's projection that the child tax credit would cost $185 billion won't capture the true cost of the measure if it is fully extended over 10 years.
The child tax credit's cost would total nearly $1.6 trillion over 10 years if extended, per the CBO. But the bill caps the extension of the child tax credit at one year. President Joe Biden has pledged that any subsequent extensions would be paid for.
Manchin's office did not say why he does not support the one-year extension of the child tax credit, but the senator has argued the benefit should come with work requirements and taken issue with the timing of the bill.
The maximum credit has been available to taxpayers with modified adjusted gross incomes of $75,000 or less for singles, $112,500 or less for heads of household and $150,000 or less for married couples filing a joint return and qualified widows and widowers.
But all the child tax credit numbers are slated to become zero next month after Biden acknowledged in a statement Thursday that Senate adjustments to the Build Back Better bill could still take weeks beyond Democrats' self-imposed Christmas deadline for passage, namechecking Manchin three times.
"My team and I are having ongoing discussions with Sen. Manchin; that work will continue next week," Biden said, adding that he still thought that Manchin and Democratic Party leaders would ultimately advance the plan. "It takes time to finalize these agreements, prepare the legislative changes, and finish all the parliamentary and procedural steps needed to enable a Senate vote. We will advance this work together over the days and weeks ahead."
The lapse of the child tax credit, which was only worth up to $2,000 per eligible child and did not include 17-year-olds prior to 2021, is expected to have a disproportionately great impact on children in West Virginia — and the local economies that their parents support.
The Niskanen Center, a moderate think tank, found in August that West Virginia had received the seventh-highest boost among all states in purchasing power as a percentage of state gross domestic product from the expanded child tax credit.
But Build Back Better's backers calling on Manchin and Sen. Shelley Moore Capito, R-W.Va., in vain to pass the bill before Christmas highlighted more than just the child tax credit, arguing the legislation was a rare opportunity to drive down utility bills and drug prices while creating jobs and better home care options for demographically vulnerable populations like West Virginia's.
"We need this so bad," Denzel Norwich, 75, a Kenova-based home care provider, said of the bill during a pro-Build Back Better event organized by the health care and social service union SEIU District 1199 at Ritter Park in Huntington Thursday. "We need it to go through."
Among all states, West Virginia had the highest percentage of people with a disability under age 65, second-lowest median household income, third-highest percentage of people 65 years and older and fourth-highest percentage of people in poverty in 2019, according to U.S. Census Bureau data.
"I want to encourage you, Sen. Manchin, to take care of our state, and I know that you will do that," Fred Albert, president of the American Federation of Teachers-West Virginia, said at a state capitol press conference Thursday sponsored by the BlueGreen Alliance, a national alliance of labor unions and environmental groups, and national anti-air pollution group Moms Clean Air Force.. " … [G]et this bill passed through just as quickly as possible. We need this."
"We cannot do it without the money"
Albert said that schools could take advantage of energy efficiency provisions in the bill to take on retrofitting projects that conserve energy and lower school utility bills, freeing up taxpayer dollars to be spent more directly on students.
Speakers at a pro-Build Back Better event in front of solar panel supplier and installer SolarGreen WV in Charleston Monday contended the bill would create clean energy jobs, make it easier for local and state governments to save money through energy efficiency measures and enable greater access to solar in low-income communities.
Alex Gallo, state coordinator for the WV New Jobs Coalition, predicted the bill would help reduce West Virginians' home energy burdens while resulting in safer drinking water.
"We deserve a government that works for us," Gallo said.
Gallo spoke at the first stop of the pro-Build Back Better bike tour, put together by the Chesapeake Climate Action Network Action Fund, Mountain State Justice, West Virginians for Affordable Health Care, the West Virginia Citizen Action Group and the WV New Jobs Coalition.
The Build Back Better bill would provide $9 billion for lead remediation projects, including lead service line replacement funding.
It would set aside $500 million for the Department of Energy to provide funding to states for resiliency, energy efficiency, renewable energy and grid integration improvements at public and nonprofit buildings.
The measure would appropriate $360 million for contractor training grants to support home energy efficiency retrofits and $5.89 billion for state energy offices to provide rebates for retrofits.
Also included are tax credits encouraging solar and wind energy development.
The bill appropriates $392 million for states for fiscal years 2023 through 2026 to invest in nursing home worker recruitment and retention. It also provides direct funding for grants to states to support workers providing aid, nursing and social work services in post-acute and long-term care settings.
In a potential boost for West Virginia given its high concentration of older citizens and people with disabilities, the bill would provide nursing home worker grants to states based on their population of adults 65 and older or with disabilities.
The bill would provide grants to states to expand access to home- and community-based services.
The federal government would increase its share of Medicaid expenses in states that implement programs to improve their home- and community-based services and provide technical assistance for doing so.
Medicaid is jointly funded by the federal government and the states.
The bill would provide $20 million to fund a national technical assistance center, which will develop evidence-based strategies for recruiting, training and retaining direct care workers and providing recommendations for activities to further support paid and unpaid family caregivers.
It would also give $40 million to establish or expand programs to address behavioral health needs of unpaid caregivers of older individuals and older relative caregivers.
Over a 10-year period, the bill would provide $1 billion to support the direct care workforce through renewable three-year Department of Labor grants that states, labor and nonprofit organizations and other entities can use to improve wages in the direct care field and support training and registered apprenticeships.
"Pardon my bluntness, but we cannot do it without the money," Norwich said, 12 years into his career as a home care worker.
Mariah Plante, story collection coordinator for West Virginians for Affordable Health Care, stressed the importance of the bill's funding for home- and community-based services at the third and final stop of the Build Back Better bike tour Tuesday.
Standing before a podium in front of the FamilyCare Health Center on Charleston's West Side, Plante offered her own caretaking of her autistic, nonverbal brother as an example.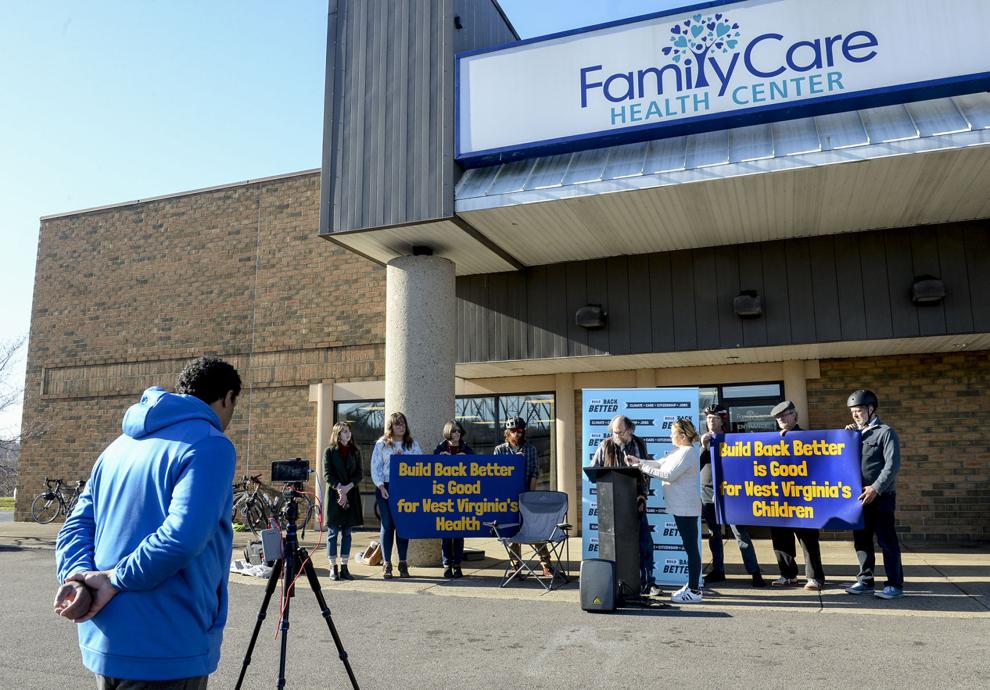 "It's a full-time job but one that I'm more than happy to do because I know that the safest place for a person with severe communication disability is with someone who loves them," Plante said. "I feel very lucky that I get to be that person for him right now, but other families in West Virginia are not as lucky as I am."
Plante argued the Build Back Better bill would help West Virginians help their loved ones live better, happier lives in part by expanding behavioral health service access and improving coordination between Medicaid and home- and community-based services.
"Build Back Better would directly impact my quality of life and my brother's quality of life," Plante said. "It would make this job easier. Sen. Manchin and Sen. Capito, we are calling on you to fight forcefully, quickly and decisively for Build Back Better, not just for West Virginia but for the entire country."
Manchin's resistance
Like all congressional Republicans, Capito has opposed the Build Back Better bill, repeatedly calling it a "reckless" spending program that could exacerbate the nation's inflation.
But some Build Back Better supporters were optimistic that Manchin would sign off on the package before the end of the year — if only because Manchin has already gotten so much of what he's called for in bill negotiations at the expense of much of Biden's domestic agenda.
The bill's cost from $3.5 trillion to $1.75 trillion largely to appease Manchin after he objected to the original price tag.
Manchin's opposition led to the removal of a clean energy incentive program from the budget plan that climate experts say was its most powerful tool to combat climate change.
The $150 billion Clean Electricity Performance Program would have authorized grants for electricity providers that increased clean electricity use by 4% or more annually from 2023 through 2030. Providers would have faced penalties for missing the mark.
Manchin last month cited utility company concerns about reliability under the proposed program as a reason for opposing it.
A September report by the independent economics consulting firm Analysis Group found a clean electricity payment program would result in an increase of 7.7 million jobs, a $907 billion economic boost and $154 billion more in increased tax revenue for federal, state and local governments by 2031.
Manchin has made $4.35 million since 2012 from stock he owns in Enersystems Inc., the Fairmont-based coal brokerage he founded in 1988, according to his U.S. Senate financial disclosures. He has denied his vested coal interests have influenced his policymaking that affects the coal industry. But he has declined to divest his holdings, saying his ownership is held in a blind trust and, therefore, avoids a conflict of interest.
Manchin's resistance to including the first ever national paid family and medical leave guarantee for U.S. workers in the bill — initially set at 12 weeks — resulted in its removal until four weeks were added back into the plan in the House.
The U.S. was the only country among the Organization for Economic Cooperation and Development's 38 member nations not to have any paid leave mandated for mothers as of 2018, according to data compiled by the intergovernmental economic development organization.
Manchin has expressed support for paid leave but said paid leave should not be approved through the budget reconciliation process. That's the track Democrats have chosen for the bill, since it requires only a simple majority in the Senate for passage and no Republicans support the measure.
Manchin had previously introduced legislation with the same aim as other provisions in the Build Back Better bill, including extending the excise tax that powers the financially strained Black Lung Disability Trust Fund and providing tax credits for advanced energy projects.
The Build Back Better bill includes a four-year extension of the excise tax on coal production that funds the Black Lung Disability Trust Fund, which pays benefits to miners disabled by the disease as well as their eligible survivors and dependents when no responsible coal operator is identified or when the liable operator does not pay.
The excise tax rate for surface mining is $0.55 per ton or 4.4% of the sales price, whichever is lower. The excise tax rate for coal mined underground is $1.10 per ton or 4.4% of the sales price, whichever is lower.
But the same rising number of coal company bankruptcies that threatens the solvency of mine reclamation bonding programs in West Virginia and throughout the country has also strained the Black Lung Disability Trust Fund.
A 2020 report by the U.S. Government Accountability Office, a nonpartisan agency that investigates federal spending, found that just three coal mine operator bankruptcies from 2014 to 2016 had added $865 million in estimated benefit responsibility to the fund, with more bankruptcies expected.
The taxes, which dipped for one year only in 2019 to their original rates of $0.50 and $0.25 per ton of underground-mined and surface-mined coal, respectively, are slated to revert to those rates again at the end of the year without action from Congress.
Reverting to the lower rates will mean even less support for the trust fund, drawing the ire of retired miners with black lung like Gary Hairston, 67, of Beckley, president of the National Black Lung Association.
Hairston knows that Manchin and four other Democratic senators reintroduced a bill in September that would extend the excise tax for 10 years.
But there's been greater legislative momentum behind the four-year extension in the Build Back Better bill, so Hairston wants Manchin to finally join that momentum instead of blocking it.
"They ain't even thinkin' about doing the 10 years," Hairston said. "So if he don't back this [Build Back Better] bill, then we'll really be hurtin'."
But Manchin has persisted in his resistance, citing a long list of fiscal concerns, including a national debt nearing $29 trillion, the nation's surging inflation, the uncertain future of the COVID-19 pandemic and what he called "geopolitical fallout" following the U.S. military withdrawal from Afghanistan as reasons for a "strategic pause" on the bill.
Some economists have said that the Build Back Better bill will push inflation upward due to its combination of tax cuts and increased spending.
But proponents of the bill say it has key anti-inflationary provisions, including infrastructure investments that would narrow the gap between supply and demand and child care subsidies that could boost supply by encouraging more people back into the labor force.
Projected fiscal impact
Build Back Better bill proponents say the package would be fully paid for as proposed.
The Treasury Department has said the legislation would generate more than $2 trillion in savings derived from tax hikes on large corporations and wealthy people.
Manchin has challenged that assertion, noting that if programs funded in the bill are extended beyond the scope of the legislation, it would cost the federal government considerably more than the Biden administration projects.
Last month, Manchin pointed to a Penn Wharton Budget Model analysis finding that if all spending provisions in the White House framework were extended for 10 years, new spending would increase by $4.26 trillion while new revenue would rise by just $1.56 trillion over that span.
But independent analyses have found the bill as proposed would be mostly or fully paid for.
The Congressional Budget Office estimated the bill would add $367.1 billion to the deficit over 10 years. That doesn't include revenue the bill will collect from enhanced tax enforcement — a figure the office projected would reduce the deficit $127 billion. The Biden administration has predicted the collection figure will be roughly $400 billion.
The Joint Committee on Taxation, a nonpartisan panel that prepares official revenue estimates of all tax legislation considered by Congress, found last month that the bill would raise $1.476 trillion in revenue over a decade and be unlikely to add to the national debt.
That estimate did not include revenue streams projected from two other provisions of the bill: expanded IRS enforcement and letting Medicare negotiate drug prices.
"The Joint Committee on Taxation's report shows that we must get our fiscal house in order before creating new programs that will continue on far past the initial two, five or six years," Manchin said last month.
The $1.2 trillion bipartisan infrastructure deal that Manchin helped craft and that Biden signed into law last month will add $256 billion to the federal deficit, according to the Congressional Budget Office.
Moody's Analytics, a financial analytics firm, released a finding last month urging passage of both the bipartisan infrastructure deal and the Build Back Better plan, saying concerns over high inflation and an "overheating economy" were "overdone."
"The nation has long underinvested in its infrastructure and social needs and has been slow to respond to the threat posed by climate change, with mounting economic consequences," said the report authored by Moody's Analytics Chief Economist Mark Zandi.
Spending with different priorities
During her turn at the podium in front of the FamilyCare Health Center, West Virginians for Affordable Health Care Executive Director Jessie Ice offered inflation as a reason to enact the Build Back Better bill, not delay it.
"When it comes to inflation, the question for Sen. Manchin and Sen. Capito is straightforward," Ice said. "Will West Virginians get help coping with inflation and the negative impact of COVID on our economy? Will our senators vote to provide help to West Virginia families in these hard times?"
Ice rattled off provisions in the bill that she views as vital for West Virginia families. Extending the child tax credit, funding for home- and community-based services and Medicare prescription drug price negotiation to lower drug costs were among them.
"[W]e call on our senators to move forward now," Ice said. "Don't leave West Virginia families with nothing but a lump of coal for Christmas."
The next day, Manchin's office did praise a massive federal investment that he and Capito both voted for.
The $768 billion annual defense spending bill sailed through the Senate in an 88-11 vote and included a $25 billion spending hike that the Biden administration didn't ask for. It authorizes a $4.7 billion increase for shipbuilding, including five additional battle force ships, and incorporates a $2.9 billion increase to build three guided missile destroyers in fiscal year 2022.
"We do need more help," Norwich said the next day at the Ritter Park press conference, reflecting on what home care workers and others stood to gain from the Build Back Better bill. "We do need more money to help the older people."