In Mingo County, road signs warn drivers to beware of a somewhat unexpected risk — wild horses in the roadways.
There are hundreds of these horses in Mingo alone — only a fraction of the total amount wandering around the southern coalfields, according to Tinia Creamer, founder of Heart of Phoenix, a West Virginia-based nonprofit dedicated to rescuing and rehabbing horses in Appalachia. For years, horses have roamed abandoned mine sites in the region, taking advantage of the thousands of acres of flat land left by mountaintop removal sites, she said.
"This often gets glorified — groups and organizations present it as a boon for tourism, but that's not very accurate at all," she said. "In reality, it's never been a good situation — not for the horses, not for the environment and, a lot of times, not for the people."
The horses, Creamer said, are often malnourished, and some feral. Any plants or crops on the land — usually planted by coal companies or landowners to curb erosion after a mine closes — are often grazed down to the dirt. In the winter, horses make their way down the mountains to towns and roads, where they can destroy gardens and wander onto streets, sometimes getting hit by motorists, she said.
"A lot of people don't know about them, and I guess it's not something that will affect every person, but if it's not managed, it could be a disaster," Creamer said. "No horse, no domesticated animal — and that's what these horses are — should be living this way."
Most of the horses were domesticated at one point and then abandoned on the mine sites, Creamer said. From there, they breed until multiple generations live on the lands. The further the lineage gets from the original horses, the more likely they are to be feral and possibly pose a danger to humans, according to Creamer.
As in most states, it's illegal to abandon livestock in West Virginia, especially on private property that most abandoned mine sites are. The responsibility to enforce these laws is left to local sheriffs, who may not have the expertise — or the means — to handle the horses.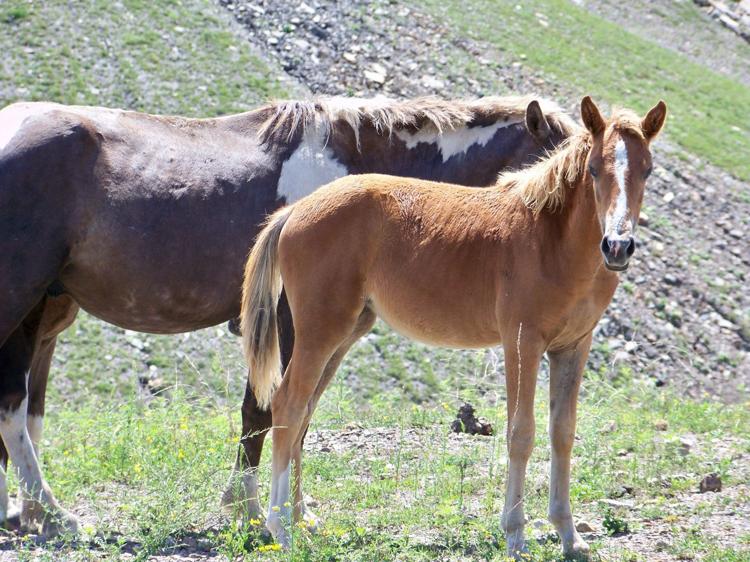 "It's completely illegal, but who is going to catch you, and who is going to prosecute you?" said David Ledford, president of the Appalachian Wildlife Foundation. "Local authorities, most of the time, don't want to deal with it, and they don't know how. It's illegal to turn these animals loose, and it seems the only place that's not enforced is coal country."
Despite it being illegal, Ledford said many people feel a sense of entitlement in letting the horses go on the land.
"The whole 'I've done something forever and you can't tell me to stop' type of mindset," he said.
Others see it as humane, as they think no one else is doing anything on the land, so the horses should be able to roam free, according to Ledford.
"They want to give these horses protection as you would to other wildlife, but the reality is they aren't wildlife — they're livestock, and they need to be cared for as such," he said.
Ron Adkins, an investigator at the state Department of Agriculture, said the agency has been receiving calls and complaints about the horses since he started working there 14 years ago. The problem, though, doesn't fall under the Department of Agriculture's jurisdiction, he said.
"We don't really hear about them until they're, you know, out on the roadway," Adkins said. "Our jurisdiction is limited."
While those at the department like to offer help when they can, a spokesman said their reach is limited, and the amount of help they can offer is often curbed as frequent budget cuts mean they have less resources available to help solve these problems.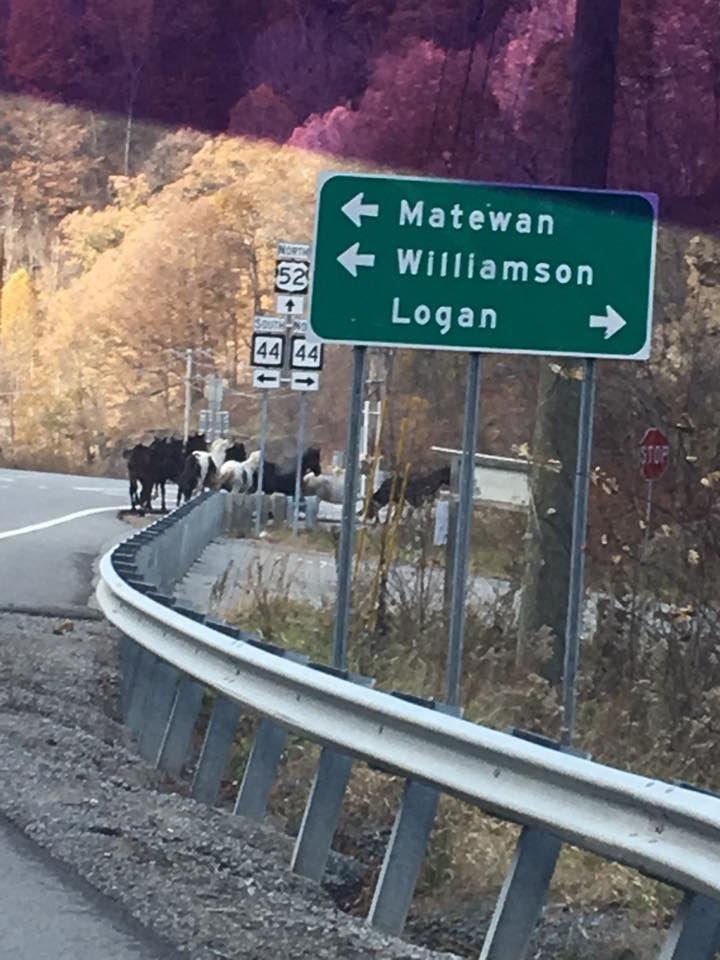 In February, the Department of Agriculture offered support to the Boone County Sheriff's Office and Heart of Phoenix in a corralling effort on an abandoned surface mine near Joe's Creek. In total, nine horses were rounded up and sent to various ranches and trainers throughout Appalachia.
While Creamer classified the expedition as a success, it was a big undertaking. It took coordination from more than 30 volunteers, the sheriff's department, equipment and personnel from the Department of Agriculture, and a mine official that supervised the endeavor.
The rescue came about after years of the sheriff's department being flooded with calls about horses near the land. Creamer said it's not something that could happen very often unless the effort gained regular support from various agencies, including property owners or mining companies that own the lands the horses roam on and local residents, many of whom get upset when they hear the horses may be removed.
"Some people think of these horses as their own, since maybe they're roaming close to their houses or neighborhood, but they don't take care of them," Creamer said. "It's a 50/50 thing — 50 percent of people are desperate for them to be moved and 50 percent are opposed because they think it's this cool thing, but they are rarely thinking of the horses' well-being."
'Dramatic impact on wildlife'
Wild horses on mine sites aren't native to West Virginia, and they are present in almost any area of Appalachia that has abandoned mines, Ledford said. Herds also roam around eastern Kentucky and Virginia. As in West Virginia, those populations are growing as more of the horses breed, he said.
The horses turned out on these lands are essentially wild, but many locals don't like to think of them as such, Ledford said.
For years, Ledford has worked with coal companies throughout the region on habitat restoration efforts on mountaintop removal mine sites, including reforestation projects on top of mine land to accommodate native animal species that may have been displaced when mining was active. The horses have made this especially difficult in the last few years.
"They eat everything, just everything down to the dirt," Ledford said. "They can graze everywhere, and they do. When they do that, though, we run the risk that it won't grow back."
Ledford's bigger concern, though, is the effect the horses can have on other animals trying to reacclimate to the environments.
Elk were reintroduced in West Virginia for the first time in about 150 years in December 2016. Since then, several different herds have been brought from Kentucky and even out west, released in the southern region of the state to roam the coalfields.
Ledford, who is a leader in the effort to reintroduce elk to Appalachia, said the horses tend to make the elk wary. Since there are many, many more horses than elk currently, they can sometimes run them off the mine lands, he added.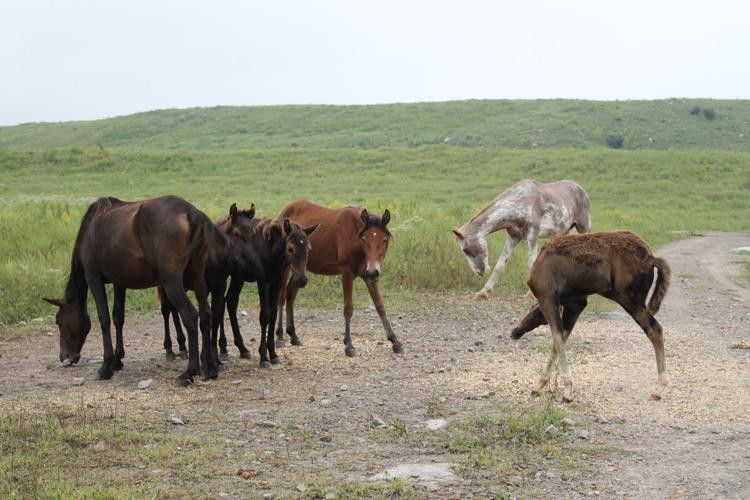 The horses' grazing, too, can lead to negative ecological effects for other animals who depend on some of these plants for their homes or survival, according to Ledford.
"Some people see them as something special — another little unique thing for Appalachia," Ledford said. "These lands, though, are kind of like a big prairie and they aren't meant for horses. They have a dramatic impact on wildlife and other ecosystems."
'A damn crazy situation'
Projects started on mine sites after coal mining stops, or even just slows down, are meant to be economic endeavors to help provide surrounding areas with opportunity after the benefits of coal bleed out.
"The way the law was written — in theory — dictates that the land should be returned, as close as possible, to how it looked before, unless there is a better use for the land," said Nathan Hall, president of Reclaim Appalachia, an organization dedicated to converting former mine land to community and economic assets. "Here, they've been pretty lenient on what they mean by better use. Because of these lax standards, in most cases [the land] is not going to go back to its native makeup."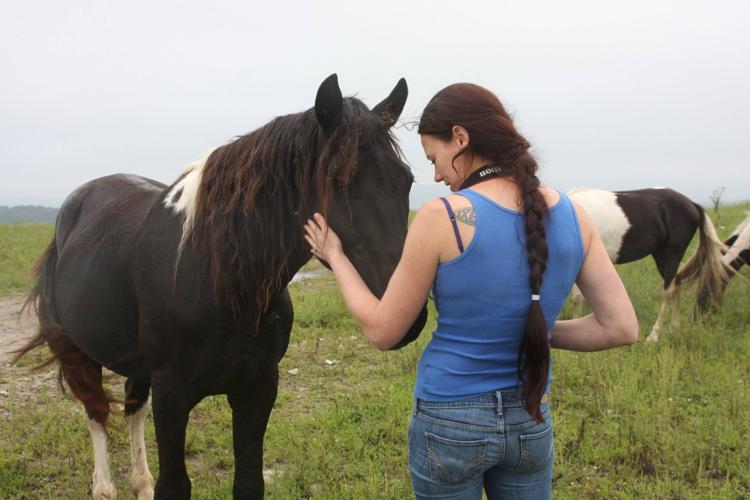 Hall works on several reclamation projects in Southern West Virginia, including a few in Mingo County, where his organization is trying to set up agricultural projects, like farms and crops, on old mine sites.
Horses, he said, don't cause him much of an issue today. Before, though, he worked in eastern Kentucky, where he would encounter them all the time.
Hall isn't convinced horses can cause as much ecological harm as others tend to claim, even in areas where they graze.
"A fence can usually deter a horse," Hall said. "Elk, though, elk are bigger; they aren't going to respect a fence unless it's a pretty stout, strong fence."
But since the horses are already free ranging, fencing off regions is only going to drive them to other areas, meaning more could end up in towns and on roads, Creamer said. The herds, too, are consistently growing as more people abandon horses and more of them breed, she added.
Creamer doesn't see the problem slowing down yet, as recent years have meant a decrease in interest for horse ownership and an increase in cost, especially in Southern West Virginia, where poverty levels and unemployment rates lead the state.
"People are just perpetually dumping their horses when they can't afford them. Sometimes, if they've heard of [Heart of Phoenix] they'll call, but we can only house so many horses," Creamer said. "We need a multi-year plan, expert training and to break this big thing into sections — without figuring out all the little pieces first, it's insurmountable."
Creamer would like to see legislation drafted in the near future that would help herd the horses and better enforce abandonment laws. During the legislative session this year, she took the problem to several legislators she said expressed interest in hearing more and trying to find a solution.
In the meantime, though, the problem is just going to grow, as the precedent for the practice is already set, Ledford said.
"It's kind of like graffiti in public bathrooms," he said. "After the first person draws on the wall, everyone else thinks it's okay if they do so. It's the same with the horses — if one person sees or hears about someone else turning their horse loose, they're going to think to do the same. It's a damn crazy situation, but we've got to be thinking about it."