ROANOKE — West Virginia's hunters are pretty satisfied with the way wildlife officials manage the state's deer herd, but most of them would like to see the buck limit reduced at least a little.
So says a survey conducted late this summer by the state Division of Natural Resources. DNR officials made the results public at the recent meeting of the state Natural Resources Commission, the seven-member panel responsible for setting hunting-season lengths and bag limits.
According to the survey, 65 percent of licensed hunters said they were satisfied with the way deer are managed in the Mountain State. A majority of licensed hunters said they would prefer to see the buck limit set at one or two bucks instead of the current three.
DNR director Steve McDaniel said he ordered the survey be done in order to better market the state's deer hunting resource to residents and non-residents.
"I'm here to see if I can sell more hunting licenses," he added. "I want to know what our landowners want, as well."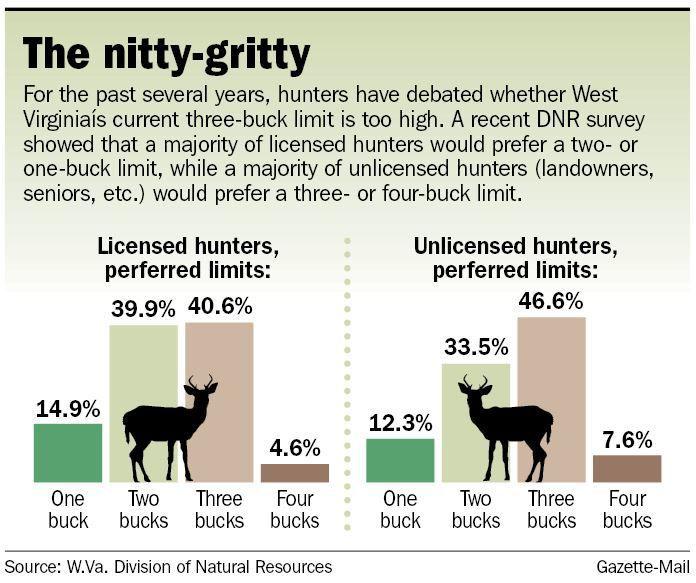 To get a statistically accurate survey, DNR officials randomly chose 8,500 hunters from the state's Electronic License System database and mailed questionnaires to them. Six thousand of those hunters were hunting-license purchasers; 2,500 were unlicensed hunters, mostly landowners or senior citizens exempt from having to purchase licenses. Those numbers roughly approximate the proportion of licensed to unlicensed hunters in the state.
Thirty-one percent of the licensed hunters and 28 percent of the unlicensed hunters responded to the survey. DNR officials had expected about 26 percent for each, so the higher-than expected return gave researchers confidence that the survey's results can be considered accurate within plus or minus 4 percent.
The questionnaire asked hunters how satisfied or dissatisfied they were with deer management in West Virginia, how important hunting on the opening day of buck season was to them, whether they'd prefer a Saturday opener or the traditional Monday opener, what the annual maximum buck limit should be per hunter, and what the state's base-license hunting privileges should be.
A second portion of the survey sought hunters' opinions as to whether the buck, archery, antlerless, and muzzleloader seasons were too long, too short or just right.
For the most part, hunters expressed satisfaction with the status quo.
Sixty-five percent of licensed hunters and 70 percent of unlicensed hunters said they were satisfied with the state's deer-management program. Twenty-two percent of licensed hunters and 11 percent of unlicensed hunters said they were dissatisfied. The rest said they were neither satisfied nor dissatisfied.
Despite their overall satisfaction, a majority of licensed hunters (54 percent) said the annual maximum buck limit should be reduced to one or two. Fourteen percent said they would prefer a one-buck limit, 40 percent a 2-buck limit, 41 percent the current 3-buck limit, and 5 percent a four-buck limit.
Unlicensed hunters had a decidedly different point of view. The majority (54 percent) preferred a 3- to 4-buck maximum, while 46 percent favored a reduction to one or two. Twelve percent said they would like a one-buck limit, 33 percent a two-buck limit, 47 percent a three-buck limit, and 8 percent a four-buck limit.
Regardless their opinions on the buck bag limit, hunters overwhelmingly considered the opening day of the buck season important, and they also overwhelmingly wanted it to stay right where it is.
Roughly 70 percent of both licensed and non-licensed respondents said they considered opening day to be very important, and an additional 20 percent said they considered it somewhat important. Only 10 percent said they didn't consider it important at all. Similar percentages said they'd prefer for the buck season to begin on its traditional date, the Monday before Thanksgiving, rather than on the preceding Saturday.
The results were less clear-cut on the question of base-license privileges. Asked if they favored keeping the current three-deer base limit (one either-sex deer in archery and muzzleloader seasons, plus one antlered buck during the firearm season) or adopting a two-deer limit (one antlerless and one either-sex across any season), licensed hunters preferred the three-deer limit by a 55-45 margin. Unlicensed hunters preferred it, too, by a 61-39 margin.
When questioned about season lengths, 70 to 75 percent of licensed respondents replied "just right" for the state's archery/crossbow, buck firearm and muzzleloader seasons. Sixty-six percent said the antlerless season was just right, with the rest evenly split between "too short" and "too long." Non-licensed hunters' responses varied a bit, but stayed within the margin of error.
The survey's results drew some criticism, mainly from hunters who have been pushing for a one-buck season limit. Members of the Quality Deer Management Association questioned why so many hunters who purchase extra-buck tags were included in the survey, and why so few young hunters were surveyed.
Randy Tucker, the biologist who designed the survey, explained that the hunters who received questionnaires accurately represent West Virginians' license-buying tendencies and demographic profile.
DNR director McDaniel said agency officials plan to commission Southwick Associates, a noted nationwide polling company, to conduct a second survey. He didn't give a timeline for it to be completed, but hinted it would be sooner than later, and indicated he would work with one-buck-limit proponents to make sure their concerns are addressed.